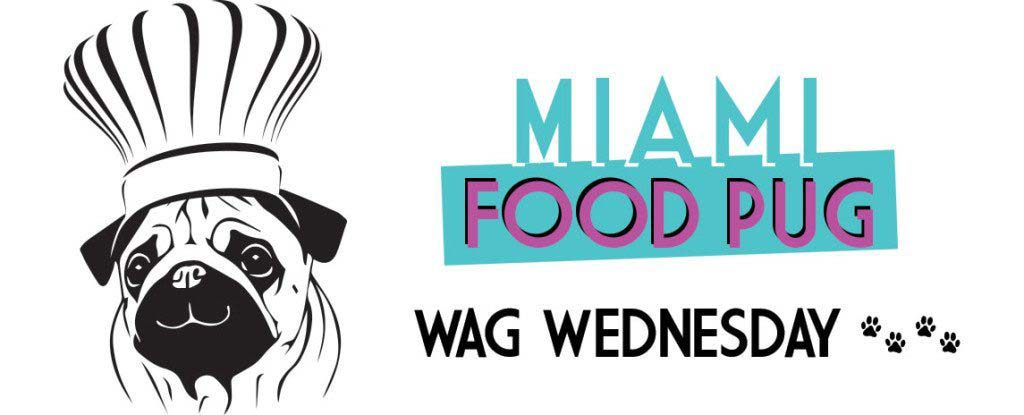 Since starting the blog, we've interviewed many members of the hospitality industry, and one constant among the interviewees has been a profound love for their pets. We thought it would be great to share this love with our readers.
That's why we launched an ongoing feature called "Wag Wednesday" to showcase industry peeps and their pets. Know someone who wants to be featured? Email us at bark@miamifoodpug.com.
This week, we're featuring Eddie Baida, Chef at Bertoni Gelato Caffè, and his Rottweiler/Shar Pei mix, Bella.
Your Name: Eddie Baida
Your Pet's Name: Bella Baida
Sex: Female
Age: 7
Breed: Rottweiler/Shar Pei
How did you come to own your dog? What drew you to her?
If ever there was a 'love at first sight' story, this is it!  My girlfriend (now wife) really wanted to adopt a dog. We went to Humane Society after Humane Society searching for a dog that we could add to our family. Finally, she convinced me to go the Miami-Dade Animal Services to take a look.  I was hesitant because I couldn't imagine going to a place that does to any animal what they do to the dogs they're unable to place in homes.
We walked in the room, and all the dogs came up to the front of their cages — like dogs looking for homes do — and in the corner I noticed one little girl that laid in the back and just looked so dejected.  I watched her for a while, and other families approached her cage and she didn't even glance in their direction.  I walked over to take a closer look, and she immediately walked to the front of the cage, sat down and placed her paw on the bars, looking right at me with those big brown eyes, like "Let's get out of here." That's when I knew.
After a week or more of looking at puppy after puppy and dog after dog, we had found our new family member.
What's the story behind your dog's name?
She was just so sweet and mellow and so so so cute.  'Bella' just fit!  Our friends joked with us that I was a huge Twilight fan (Edward and Bella). But the truth is that we just didn't think any other name would fit as well!
How would you describe your dog's personality?
Mellow, sweet and only wants to make people happy.  She is honestly pretty sensitive, which is so endearing.
How has owning a pet made your life richer?
The real question is how has she not enriched my life?  Bella is so loving and sweet.  She is completely loyal; who can say it's not so great to be welcomed home, no matter the hour, with an enthusiastic wag of the tail?
Tell us a funny story about you and your dog.
When we first adopted Bella, she wouldn't walk through any door thresholds and was especially leery of elevators. Whenever the doors to the elevator opened, she would snuggle in our arms even deeper.  We felt bad for her, but knowing how harmless doors and elevators are, we couldn't help but laugh!
Every time we wanted to take her out for a walk, we had to carry her until we were outside of our building. It took weeks for her to feel secure enough to venture through a mighty door on her own!
Are you involved in any pet organizations or philanthropies?
When we lived in Colorado, we volunteered at the local Humane Society and helped a friend who fostered dogs.
We follow a lot of dog social media accounts like Doug the Pug, Rocco's Contemporary Life, and Menswear Dog. Do you? Which are your favorites?
I follow @piggysmallzz, @AnimalPlanet, @NatGeoWild  and @insta_animals on Instagram.
See past editions of Wag Wednesdays here.