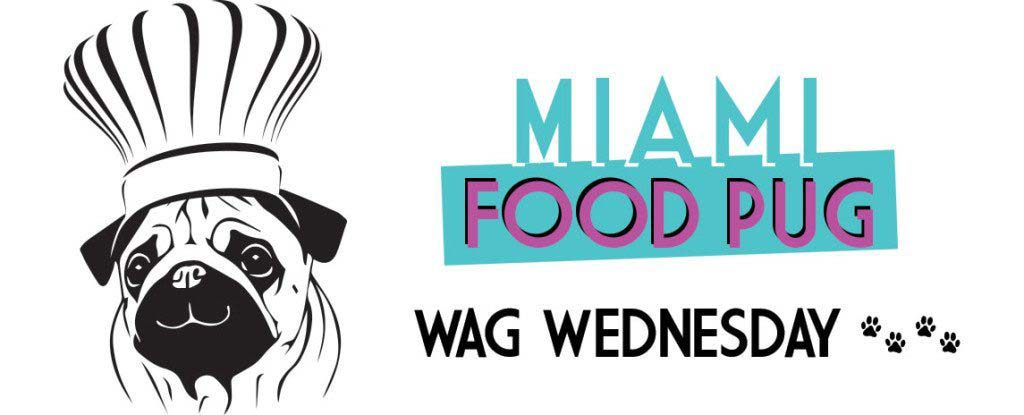 Since starting the blog, we've interviewed many members of the hospitality industry, and one constant among the interviewees has been a profound love for their pets. We thought it would be great to share this love with our readers.
That's why we launched an ongoing feature called "Wag Wednesday" to showcase industry peeps and their pets. Know someone who wants to be featured? Email us at bark@miamifoodpug.com.
This week, we're featuring Virginia Gil, Editor of Time Out Miami, and her poodle, Lola.
Your Name: Virginia Gil
Your Pet's Name: Lola
Sex: Female
Age: 15
Breed: Poodle
How did you come to own your dog? What drew you to her?
I was bent on getting a dog my junior year of high school. So, after school, my best friend and I used to drive around looking for pet stores until we found this one on SW 8th Street that sold cute little white poodles. I fell in love with Lola (I picked out the name before even getting the dog) and nagged my mom until she finally caved in and surprised me with a dog. Older me would warn against shopping for puppies, but teenage me just really, really wanted a dog. Adopt — don't shop!
What's the story behind your dog's name?
I think Kelly Osbourne had a dog named Lola? Or maybe it was Madonna's daughter Lourdes that inspired it? To be honest, I'm not sure. I just really liked the name.
How would you describe your dog's personality?
She loves love! Lola loves hugs, belly rubs, kisses — anything that requires you giving her endless amounts of attention.
How has owning a pet made your life richer?
She's my bud! She makes me laugh! She was my coworker while I worked from home for the last year; she was also lumbar support as she insists on sitting right behind me all day. We also watch TV together, race down the hallway after walks and chase each other around the house. Around her, I'm playful and silly, which I can't say about most people.
It's said that dogs reflect their owners and vice versa. How does this apply to you and yours?
I think I imitate Lola more than she imitates me. She makes this weird Furby-like purring sound that I've adopted. She darts from the elevator to our front door after walks, which I also do. Lola will push her way into any available space or nook (no matter how uncomfortable) so long as it means being next to someone/can lead to petting, and I tend to do that, too — though I do it more to annoy my husband than anything else.
Tell us a funny story about you and your dog.
For the first few years of her life, Lola always peed herself when she got excited. I remember one time I carried her out to the car so that my friends could see her and she peed all over the car. It was this steady stream of dog piss that we just couldn't keep from happening. Each of us kept passing her around in hopes that she would stop, but she didn't. I remember we just kept yelling, "THERE'S PEE EVERYWHERE!"
Lola also likes to sneak behind my pillow or hide in places to sleep. One time, she got stuck behind my mom's recliner for hours. We had no idea where she was but would hear her whimper (which she would stop doing when we called for her, of course), and it took hours to figure out that she was stuck behind the footrest. It was the funniest/most frustrating four hours we've spent together.
Are you involved in any pet organizations or philanthropies?
No, unfortunately. But I did donate old towels to the Humane Society this winter! Got to keep the puppies warm.
We follow a lot of dog social media accounts like Doug the Pug, Rocco's Contemporary Life, and Menswear Dog. Do you? Which are your favorites?
I love the Dogist and appreciate the one-liner he includes about each dog. Dogs Who Brunch is also fun, because who doesn't like seeing a dog pretend-drink a mimosa?
Grace Chon is a great animal photographer who is based in L.A. She posts incredible shots of dogs dressed up, wearing wigs and just generally being cute.
See past editions of Wag Wednesdays here.