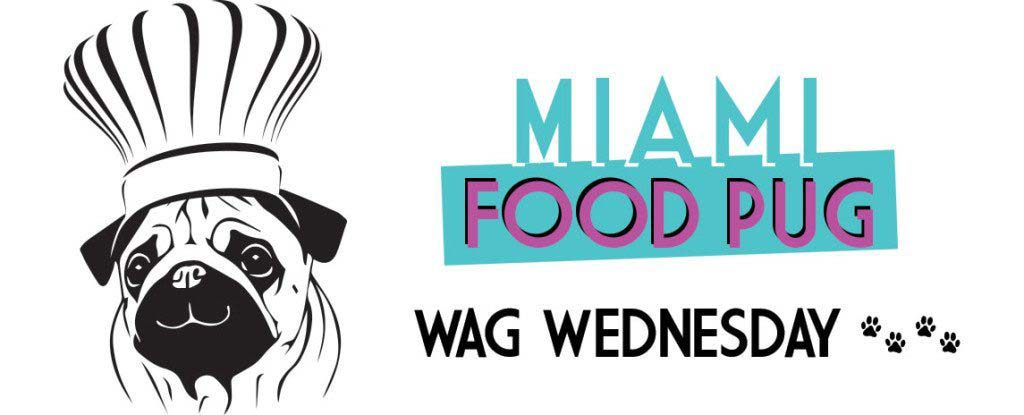 Since starting the blog, we've interviewed many members of the hospitality industry, and one constant among the interviewees has been a profound love for their pets. We thought it would be great to share this love with our readers.
That's why we launched an ongoing feature called "Wag Wednesday" to showcase industry peeps and their pets. Know someone who wants to be featured? Email us at bark@miamifoodpug.com.
This week, we're featuring Mario Alegre, Executive Banquets Chef at W South Beach, and his Schnauzer-ish, Macho.
Your Name: Mario Alegre
Your Pet's Name: Macho
Sex: Male
Age: 2-ish
Breed: Schnauzer-ish
How did you come to own your dog? What drew you to him?
I just moved into a new apartment, and I had been wanting a dog. I went over to the Humane Society in North Miami just to take a look. When I saw him, I didn't even know he was a Schnauzer. He was the badass of the group. He was the one beating the other dogs up. There was one of those little Paris Hilton dogs jumping in his face, and he was just slapping it away. I admired his character and all of a sudden I was signing the adoption papers.
What's the story behind your dog's name?
It was really just the first thing I thought of when I saw him. Growing up, my brother and I would watch wrestling and Randy Savage went by the nickname Macho Man. It's kind of funny; I know he's a small dog, but I think the name suits him well.
How would you describe your dog's personality?
He's definitely an introvert. If he were a human, he would be a lazy dude. A Netflix binger, for sure. He loves to just lay around all day on my couch and let out these big sighs like he's had such a rough day. I bring him outside to play and make sure he's getting his activity, though; he's actually pretty fast.
How has owning a pet made your life richer?
After a long day in the kitchen, it's nice to come home to your buddy that's missed you. Even if I just went outside for 2 minutes and I walk back in, he can't even control his excitement. I love it — it never gets old.
It's said that dogs reflect their owners and vice versa. How does this apply to you and yours?
I think we have similar personalities. We're either at 100% running circles around our studio apartment on South Beach or doing some serious napping on our free time.
Tell us a funny story about you and your dog.
I like to say he's a daredevil. Every time we are in the car, he really thinks he's going to escape and jump out of the window. I was in the car with a friend and ran into 7-Eleven really quick. I guess my friend wasn't paying attention, and the next thing I know, Macho had jumped out the window and was following me around the store. He has some pretty serious separation anxiety.
Are you involved in any pet organizations or philanthropies?
I loved the whole process of rescuing him at the Humane Society. I think they do a great job in their efforts to find these animals homes, and in the meantime, keep them in a safe place. It would be amazing to become more involved there since I have such a great success story.
We follow a lot of dog social media accounts like Doug the Pug, Rocco's Contemporary Life, and Menswear Dog. Do you? Which are your favorites?
@norbertthedog & @brussels.sprout are my top two, for sure. I can look at their posts all day; they crack me up.
See past editions of Wag Wednesdays here.