When we booked a flight to San Diego on a whim, we had no idea what to expect. After falling in love with Los Angeles and finding San Francisco "just okay" in 2016, we hoped that our sudden decision to revisit the West Coast would end up with us creating some fun memories.
That's exactly what happened in last month's trip. In fact, we created our biggest memory yet: We got engaged. But that's another story for a different day. If you find yourself in San Diego, prepare to fall in love with the city.
Here are some of the things we love about America's Finest City:
Beautiful Weather: Mild, sunny weather year-round gives Miami a run for its money.
Manageable Traffic: Having experienced extreme gridlock in Los Angeles and terrible drivers in South Florida, rush hour in San Diego is nothing.
Short Commutes: Everything is so close. Although we had a car, we ended up Ubering to many spots because it cost less than $6-$7 per ride.
Great restaurants: We ate a ton, as you'll soon see. The fish tacos are legit and so are the avocados. In fact, we ate enough avocado to put most millennials to shame. #basicbitches

Stay
Since it was our first time in San Diego, we asked around to figure out where to stay. Most people said the Gaslamp District, a lively downtown neighborhood with no shortage of bars and eateries. We set out to find a hotel in the heart of it all and stumbled upon Andaz San Diego.
The Hyatt boutique hotel had everything we needed for a comfortable three-night stay: a central location, affordable accommodations and a cool vibe that just resonated with us. How could you not like a place that offers you a welcome beer (or two) upon arrival? Our king-bed suite with a separate seating area and spacious tub/shower combo helped kick off our vacation in style and comfort.
You won't want to leave your room, but the hotel offers plenty of distractions if you decide to venture out. There's a 24-hour gym along, a pool, and an STK-branded rooftop lounge with tasty bites and beverages — to name a few activities.
Also, you don't have to spend an arm and a leg for parking. The hotel offers a self-park option at the garage two blocks away for $15 a day; it's an absolute steal in Downtown San Diego. First-timers and regular visitors to the city will be hard-pressed to find a better hotel at this price in such a fun neighborhood.

Eat + Drink
The first food that comes to mind when we think of San Diego is the almighty taco. Thanks to Hodad's, burgers are close to taking that crown. The Ocean Beach joint reminds us of The Filling Station (RIP) in Downtown Miami: monster portions and lots of beer in a casual, dive-y setting. And oh yeah, a killer SoCal playlist.
Most burgers clock in at under $10 but are worth much more; you'll find yourself stretching your jaw to fit them in your mouth. Our suggestion: Start with one of the mini-sandwiches on your first visit and then work your way up the list on subsequent visits. You will be back.
You can't go a block without running into a restaurant or five in Little Italy. After stuffing our faces at a few nearby spots, we came across Crack Shack and wished we had a second stomach. There was no way we were leaving sans some of Chef Richard Blais's cuisine, so we squeezed in what seemed like one of the lighter items on the menu: a Matzo Ball Pozole.
Two things you should know:
It was not light.
You need to order it.
Each spoonful of the gigantic soup was packed with crazy-awesome flavor. Thankfully, the soup was large enough for two people so fighting was kept to a minimum. We need to go back for the signature fried chicken, but if the pozole was any indication, Crack Shack won't disappoint. Not hungry? Pop up to the bar for a craft cocktail. Just make it a point to visit one way or another.
Three words: breakfast hot dogs. That's just one of the epic plates available at this Cheesecake Factory-esque joint. The restaurant is (unsurprisingly) all about the most important meal of the day. Expect fun morning takes on stuff you'd usually enjoy later in the day, including breakfast jambalaya, breakfast bacon mac and cheese, and breakfast burgers (see a pattern?).
Everything is humongous, so you'll probably want to order just one plate for two people. If you have the room, though, we suggest individual dishes since it all sounds good. But seriously, get those breakfast hot dogs.
They say you always remember your first time. We sure do: Our first taste of tacos in San Diego came courtesy of Puesto, and we're still thinking about them a month later. The Mexican restaurant has various locations, so you're never too far from one in SD. And thank goodness for that because we'd be there every day if we lived in the neighborhood. It's hard to beat the three-taco mix-and-match deal for $16, and items like the filet mignon taco are worth the upcharge.
Heck, even the guac had us in awe — so so so so fresh — and the mezcal and tequila selections are no slouches either.  The worst part of our meal? It had to end.
We had heard fish tacos in San Diego are like no others, and it's true. Oscar's Mexican Seafood in Pacific Beach ruined all other tacos for us. Seriously, we could have died after eating their smoked fish taco, and we would have looked back on our lives satisfied. Tacos just taste better on this side of the states, and Oscar's is the poster child for deliciousness.
Tacos are just one part of the menu, though. Ceviche, burritos, grilled fish and tortas are offered, but honestly, stick to the tacos. We had six — three each — and wanted another half dozen. Fair warning: The line can get really long.

Kettner Exchange
Upon arriving at Kettner Exchange, head to the lounge upstairs. It's there that you'll find a long list of bar bites and creative cocktails pair well with the spacious outdoor venue. This is a place to see and be seen: We went early in the evening, but it was already crowded. That's not surprising considering how nice the place looks. Reserve a cabana, enjoy the self-serve beer taps and nosh on some tuna tacos. You deserve it.

Do + See
There's a reason this attraction appears on just about any list about San Diego: You can easily spend a whole day here observing animals. The 100-acre site is home to over 3,700 creatures, and the various exhibitions let you get up close to many of them.
Right now, the newest exhibit is Africa Rocks, which transforms a part of the park into the African continent. Penguins, baboons, crocodiles … they're all on display on this side of the zoo. To see the animals in action, it's best to arrive earlier in the day when they're out and about. Otherwise, you may find yourself staring at sleeping animals.
Wear comfortable shoes and drink a lot of water; we spent a whole morning at the zoo and only experienced two-thirds of it, so hydration and comfort are important. Tickets aren't cheap ($54 for adults), but you get a lot for the money.
"Bohemian" is probably the best word to describe this seaside town. Ocean Beach is home to eccentric souls and shops, and you can't help but kick back and relax while you're in the area — it's so chill.
Home to independent businesses galore, OB offers a wealth of food (see Hodad's above) and a ton of activities to keep you busy all day long like beach volleyball and kayaking. Don't miss Dog Beach, where you'll see pups running around and playing with their owners.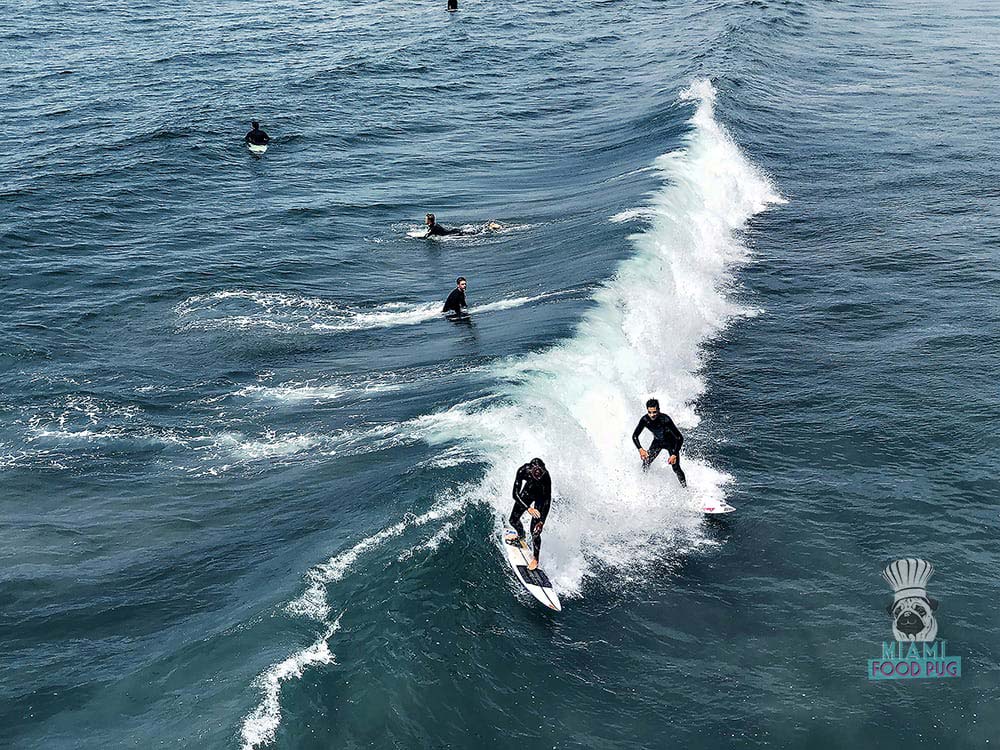 North of Ocean Beach is Pacific Beach, a place with even more stuff to do than Ocean Beach. Unlike its Southern counterpart, PB's population skews younger. The namesake pier is a must, as are all the taco shops around the neighborhood; prepare to be overwhelmed with food.
Oscar's is a favorite (see above), but if you want something a little less casual, there's PB Shore Club that offers unparalleled views of the water and bomb fish tacos. Speaking of the crystal-clear water, surfing is huge here. Rent a board or bring your own and join the army of surfers riding waves and soaking up some sun.
Call us biased, but we love Coronado Island. We're not just saying that because we got engaged here, either. The place is beautiful. Heck, getting here is a sight in itself: Hop on the ferry to and from the island at sunset and try not to gawk at the San Diego skyline.
The entire island is walkable, but give your feet a break and rent a bike at Ferry Landing. No matter where you end up biking, make sure Hotel del Coronado is on the list. The iconic Victorian hotel is humongous and practically a mini-city. The beach next to it also offers a cool sunset view (and doubles as a great place to propose — just saying). The island even has its own brewery!
La Jolla, another notable beach destination in San Diego (see a trend?), deserves all the praise it gets. If nature is your thing, then this is paradise. The upscale neighborhood's coastline is littered with cool rock formations, endless waves and SEALS. Disclaimer: As tempting as it sounds, do not walk out onto the rocks to pet the seals.
Aside from the beach, you'll find Birch Aquarium, Scripps Park and a ton of attractions to cross off your "First Time in San Diego" list. One highlight: Sunny Jim Cave, where you can go down and watch the waves crash against the rocks up close. It's quite the trek down an ominous stairwell, but your quads will be in great shape afterward.
Parking can be tough in La Jolla, especially later in the day, but we ended up parking at La Jolla Shores Beach and Ubering our way around town. Unless you enjoy a lot of uphill walking, you should do the same. And oh yeah, make a pit stop at Puesto for tacos.
Many of San Diego's museums are located in Balboa Park, a sprawling cultural park that should be on any traveler's checklist. With so many options in one place, it can be tough figuring out which museums to visit.
The highlight of our Balboa Park visit was Mingei International Museum, a small museum that spotlights folk arts and crafts. We're not the type of people to usually enjoy this type of art, but the food collection caught our eye. Entitled Feast, the exhibition features over 2,000 food-related items from countries around the world, including Ethiopia, Panama, Mexico and more. The American Quilts exhibition was also fascinating — who knew quilts could be cool?
You've probably noticed, but our list is full of outdoorsy spots. Because so much of San Diego life revolves around the beach, that shouldn't be surprising. You'd think you'd reach a breaking point visiting beach after beach after beach, but that's the thing: You don't. We never tired of it.
There's so much beauty around you that you want to take it all in, and Sunset Cliffs Natural Park is a great spot to do so. As the name suggests, these cliffs are ideal for catching a sunset. During your visit, don't be surprised to see a wedding photo session in action or an engagement underway. Should the cliffs be too crowded to grab a seat, you can still enjoy an awesome view from your car — yay air conditioning.