The 6th Annual South Beach Seafood Festival is back to take over Miami in October on the sands of South Beach. This Florida seafood festival kicks off Miami's globally-recognized stone crab season October 16-20, 2018 in the best way that South Beach knows how!
South Beach Seafood Festival is not your typical east coast seafood festival, but a high-end experience that showcases the talents of South Florida's leading chefs and culinary masterminds via a diverse group of events where guests experience the best seafood in Miami. For 20 percent off your tickets, use our SoBe Seafood Festival 2018 promo code PUG!
When you hit Miami in October, the South Beach Seafood Festival is the place to be October 16 – 20, 2018, all to benefit a great cause in Miami Dade County with CI Foundation's EAT SMART program.
Saturday's beachfront event, South Beach Seafood Festival, brought to you by William Hill and presented by Jack Daniel's, Coca-Cola, GOYA Foods, and Baptist Health South Florida spans five blocks and welcomes over 14,000 seafoodies to enjoy a day of fun in the sun in the South Beach Chic way.
Get ready to indulge in the best seafood festival at pop up cafés from 20 hand selected leading restaurants. They're showing off 70+ different mouthwatering eats from Florida's freshest seafood in Miami. All these seafood dishes are paired with complimentary all-day open bar for everyone
Upgrade your GA ticket to check out the 1 ½ block VIP Experience! When you enter the Land Rover North VIP Hospitality Village, you get treated to the best of Miami in October!
• From private lines to Joe's Stone Crab Miami for some of the best seafood in Miami,
• To a walk thru California Wine Country with William Hill,
• A Woodford Reserve speak easy with all day live music,
• The interactive Celebrity Cruises "EDGE" rooftop,
• Baptist Health South Florida Health and Yoga wellness retreat,
The guest-favorite and oversized GOYA culinary Pavilion will feature tons of VIP experiences during the day:
• The GOYA Sampling experience,
• Papa's Raw Bar Seafood World, a
• The Coca Cola College Game Zone
• ….and by night turn, the GOYA culinary pavilion turns into the ultimate dance party brought to you by Rockwell Talent with extended hours until 9:00pm.
Festival ticket prices start at $45 and VIP is $150, and tickets can be purchased here. Use our South Beach Seafood Festival 2018 promo code PUG to save 20 percent on your tickets.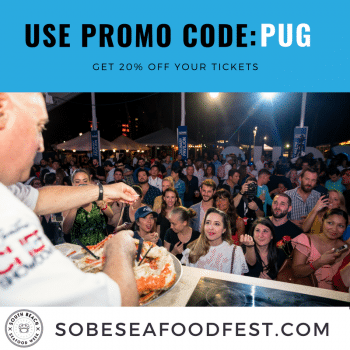 Ahead of Saturday's festival, there's loads of delectable fun for the culinary inclined, including the VIP Chef Showdown on Friday, October 19.
This is the battle of all battles where the finest South Florida chefs take their chance at showing off the best seafood in Miami at 11th & Ocean Drive in the GOYA's Culinary Pavilion inside the Land Rover N Hospitality Village.
14 chefs are paired head to head creating 7 different seafood battles where guests #CHOOSEYOURCHAMP. Guests will visit different battle stations to sample and vote before the chefs from each battle take the GOYA Culinary Pavilion kitchen stage and a panel of judges along with the guests decide who holds the title in showcasing the best seafood in Miami.
Reigning champions defending their titles are:
• Chef James Versfelt of Shelborne in Battle Oyster
• Chef Sean Brasel of Meat Market in Battle Surf 'N Turf
• Chef Jimmy Pastor of Rusty Pelican in Battle Tuna
• Chef Demetrios Pyliotis of Poseidon in Battle Fish
• Chef Masa Hamaya of Dragonfly
• Chef David Salinas of Joe's Stone Crab in Battle Lobster
• Chef Bernie Matz of Bodega South Beach in Battle Taco
VIP Weekend passes are available for Friday and Saturday events, with additional options for hotel package inclusions at host hotel properties, Mondrian or Shelborne. Purchase your tickets on the official website and use our South Beach Seafood Festival 2018 coupon code PUG to save 20 percent on tickets.
The Sobe Seafood Week kicks off Tuesday night, October 16 with various dinners throughout the week to include:
• Tuesday, October 16, 6:30-10PM: An Evening at Joe's Stone Crab
• Wednesday, October 17, 6:30-10PM: Cooking & Cocktails at Meat Market, hosted by GOYA, Herradura, and Meat Market and hosted by Sincerely Miami and StickAForkInMe
• Thursday, October 18, 6:30-10PM: Crabs, Slabs, and Cabs at Shelborne Hotel, presented by Gallo Wines and Menin Hospitality and hosted by The Food-e and Miami Food Porn
For more information on any of the events listed above, visit the festival's official website.