It's hard not to love Brooklyn. Whenever we visit New York, we make it a point to stay in this borough versus that other one over the bridge. There's just a certain charm to the place that captivates us, and it was especially evident during our last visit a few months back.
Our recent trip was quick, with really just one full day to enjoy the sights. Despite the time crunch, we managed to make the most of our journey. If you have a day in Brooklyn, these four spots should be on your list.
When you eat as much as we do, fitness is a necessity. Since we knew we'd be eating a lot on our trip, we made it a point to choose a hotel with our health in mind. That's how we discovered EVEN Hotels, a centrally located lodging near some of the city's top attractions.
The second we walked in, we felt healthy. The place just screams wellness: There's a gigantic fitness center in the lobby as well as a shop with healthy bites and beverage options to ensure your diet stays the course. All-natural eucalyptus linens and blackout shades helped us sleep cozily at night, and the in-room fitness area was stocked with equipment to help us stay active — the television even played fitness videos we could use for our workouts!
Eco-friendly bath products and free high-speed WIFI were the icing on the cake. Even if you're not a fitness junkie, you'll appreciate all the amenities and the fact that the subway station is down the street. Fun fact: There are no odd-numbered floors in the building; everything is even to fit with the theme.
Just a few blocks from EVEN Hotels is Dekalb Market Hall. "Oh, great — another food hall." If that's your first thought, stop it. Dekalb Market Hall is awesome and unlike anything we've encountered in Miami. Each of the vendors has unique architecture and decor that complements the dining experience; going from stand to stand felt like entering a different world every time. The hall embraces the diversity of the borough, and it shows.
But enough about looks. Customers have several dozen vendors to choose from, and you can find just about anything here. Craving Mexican? In the mood for noodz? Have a hankering for a piled-high deli sandwich? Dekalb has it all. Our faves: Wiki Wiki for poke, Pierogi Boys for the namesake food and Pop Cake Shop for diabetes, er, cake push pops.
Pasta is inarguably one of our favorite foods. Personally, it should have its own food group. Whenever we have the chance, we order some. Why are we telling you this? Because we've eaten a lot of pasta in our lives, but few have compared to the fare we had at LaRina Pastificio & Vino.
Sure, a few of us indulged in a four-hour open bar prior to eating here, but everyone in our party — drunk and sober — all agreed that the Spaghetti Aglio e Olio (garlic, olive oil, Calabrian chili, hazelnuts) and Gnocchi (basil & nettle pesto, marcona almonds, sheep ricotta) were hands down delicious. With Top Chef season 14 contestant Silvia Barban behind the place, we should have seen that coming.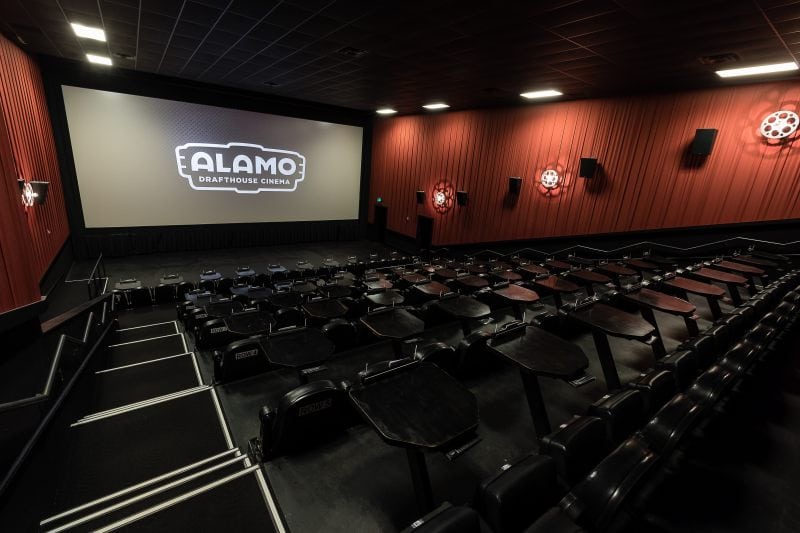 Oh, how we wish Miami would get an Alamo Drafthouse. There are few things as annoying as some asshole(s) texting or checking Facebook during a movie with their phone on full brightness. Or theater patrons who won't shut up. Or just people in general.
Anyway, Alamo Drafthouse takes care of all these problems by forcing customers to be on their best behavior. Persistent loudmouths and phone-checkers are thrown out, and the theater makes that abundantly clear through clever customized ads before each screening. During Deadpool 2, we witnessed Deadpool viral videos and other quirky superhero media that had us wish we had gotten to our seats even sooner.
There's also a ton of food available like flatbreads and tacos as well as a few vegan selections; unlike high-end theaters in Miami, though, prices are actually decent. Depending on the movie, the kitchen may make special cocktails or dishes to make the experience all the more magical. Given the venue's name, beer is a big thing here, and the draft selection is MASSIVE. Come thirsty.
Still, our favorite thing about the place are the common decency rules, which made watching a movie like A Quiet Place — which requires dead silence — a pleasant time. PLEASE OPEN IN MIAMI.