May 24, 2019
Each Friday, we compile South Florida food-related news and events that we couldn't fit on the site earlier in the week, as well as other local news that piques our interest. Want to be included in our next roundup? Shoot us an email at bark@miamifoodpug.com.
La Mar Introduces New Menu
DRINK Miami Returns to The Freehand
Now Open: Tigertail + Mary
Sala'o Opens Next Week
Cafe La Trova Starts Lunch Service
La Mar Introduces New Menu
La Mar by Gaston Acurio, Brickell's renowned Peruvian hotspot at Mandarin Oriental, Miami, released an impressive list of new menu items in honor of its five-year anniversary. Standouts from the new menu include introductions to the Cebiche Bar like Atun Y Sandia ($19), comprised of compressed watermelon, tuna, dashi, wakame salad, yuzu and shiso ice; and new Piqueos Frios like Niguiri Anticuchero ($9) with sushi rice and salmon torched with miso anticuchera sauce and chalaca for a bright, intriguing appetizer.
In the Piqueos section, the kitchen puts forth a few new dishes, including Torrejas de Choclo ($22), corn fritters made from Peruvian large-kernel corn, topped with spicy seafood cebiche. The entrees section sees the largest number of new dishes, including Churrasco a lo Pobre ($85), a 24 oz. Cowboy steak with chimichurri, cannellini beans tacu-tacu, chorrillana sauce and fried banana alongside criolla salad.
The Branzino Chifa ($29) is a nod to Peru's Chinese community with a tender steamed filet served with vegetables, shiitake mushrooms and white chaufa rice. Two dishes for sharing include a platter of cebiche mixtos, jalea de marisco and crab causa in El Cebichero ($52) and the Planchaza ($69), a mixed grill of seafood served with anticuchero sauce, rocoto butter, lime and chimichurri.
The new Peruvian Tiki cocktail menu designed under the direction of beverage director, Iain Harrison, features six new drinks. The Solano de Callao ($17), includes pisco and the purple-corn beverage known as chicha morada combining pineapple, lemon, honey and Jameson. The Barrel O' Pisco ($30) serves two, and features pisco, Cuban-style rum and elderflower along with lemongrass-infused syrup, watermelon, lemon and bitters. The cocktail menu also includes two "Classic Tiki" drinks: the rum-based Trader Vic 1944-Style Mai Tai ($17) and the gin-based Singapore Sling ($17).
An elegant, thoughtful revision of the dessert menu conceptualized by new Executive Pastry Chef Jamon Harper is also on deck, drawing inspiration from the people, landscape, and flavors of Peru presented with modern and whimsical touches. Huatia ($14) pays homage to the traditional clay and soil cooking method for potatoes and is served with warm caramel sauce poured over fire-roasted potatoes, brown-butter powder and smoked cocoa-almond "soil" tableside. Maiz Morado ($14) features this staple Peruvian crop in several dessert mediums, including sweet corn mousse with a gelée made from chicha morada, caramelized kataifi, and corn "husk" tuile with crunchy corn kernels.
DRINK Miami Returns to The Freehand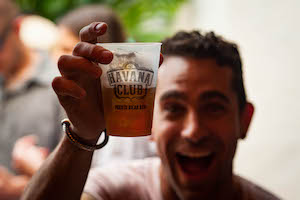 The 4th Annual DRINK Miami Hostel will take place on Saturday, June 1st on Miami Beach at the Freehand. Promising to be bigger and better than previous years, DRINK Miami Hostel will be partnering with over 50 different brands that will set up in rooms and gardens throughout the property each showcasing specialty cocktails in their own decked out spaces. This year's DRINK Miami Hostel will be taking over the entire Freehand property including all three floors inside, the bungalows, both gardens and courtyards, and upstairs at 27 Restaurant.
Excited imbibers will enter the Freehand and receive a passport listing all participating brands, their location, and featured cocktail recipe. Once a passport photo has been taken guests will be free to travel throughout the property as they collect stamps in each room to keep track of where they've been.
"Year after year, the DRINK Miami Hostel continues to expand and has sold out every time. In our 4th year, we're especially excited because it's our biggest year yet, we're taking over The Freehand in its entirety, all of the courtyard and garden areas outside, as well as the upstairs of 27 Restaurant. This continues our commitment to highlighting the best wine, spirits & beer Miami as to offer." says Gabe Urrutia, co-founder of DRINK Miami.
Tickets are $60 and include entrance from 2 to 5 p.m. with unlimited access to each brand or there's a VIP option for $100 that includes an extra hour entry at 1 p.m., a limited edition DRINK Miami t-shirt and tons of brand swag.
Some of this year's brands include Grey Goose, Ilegal Mezcal, Tito's Vodka, Casamigos, Monkey Shoulder, Flor de Cana, Bacardi, Sipsmith Gin, Botran, Writer's Tears, Montelobos, Veza Sur, Coconut Cartel, Q Mixers, Redemption Rye, Campari, Plymouth Gin, Ketel One, Jagermiester, Chinola, and more.
Co-founders of the Miami Hospitality Design Awards, Josh and Aimet Oberhausen, will be in attendance to select the room with the best theme, so expect the various brands to deck out each room in style.
A few sneak peeks include Campari making use of the new garden outside of 27 Restaurant creating a Magic Garden with a tour of Italy where visitors can sip from Sicily to Milan to Bormio with Aperol Spritzes, Negronis, and its distinctive Amari. Upstairs at 27 Restaurant will feature Absolut Elyx, Smooth Ambler, Avion, Lillet, and Jameson. Creative experiences like Veza Sur Brewing Co.'s 'cafecito at Abuela's house' are sure to be crowd pleasers.
For tickets or more information, visit www.drinkmiami.com.
Now Open: Tigertail + Mary
On Friday, May 24 James Beard Award-winning chef-restaurateur Michael Schwartz opens his newest restaurant, Tigertail + Mary (3321 Mary Street at Tigertail Avenue), a lush neighborhood retreat for relaxed American cooking, for dinner in Coconut Grove,. Following Harry's Pizzeria's successful 2015 debut, the Chef's second Grove restaurant is inspired by its one-of-a-kind bohemian lifestyle, easy energy, and textured tropical landscape.
For Schwartz, good food begins with great product, and here the menu celebrates this notion's ultimate expression – vegetables – as well as other fresh, thoughtfully-sourced proteins, like local seafood and meat from animals raised with care. A refreshing cocktail program from the acclaimed team at BarLab (The Broken Shaker, The Anderson) complements the ingredient-focused approach in the kitchen with an emphasis on simplicity and botanical elements.
A Miami native, Executive Chef Stephen Ullrich's menu includes Oysters with mignonette; Steak Tartare with smoked egg aioli, fingerling potatoes, chives; Charred Snap Peas with whipped ricotta, ham, mint, and lemon; Fideos with chorizo, littleneck clams, sea beans, and saffron aioli; Mashed Fava Pizza with ramps, snap peas, asparagus, fontina cheese; Sea Trout with crispy black lentils, herbs, yellow curry; and Slow-Roasted Curried Lamb Shoulder 'Thali', part of a Family-Style section with larger dishes perfect for sharing, served with assorted pickles and sauces, brown basmati, and paratha. Pastry Chef Antonia Grandberry delights with ease in desserts like vegan Pavlova with key lime curd and mango pineapple-coconut sorbet and Rhubarb Crisp with strawberry and quinoa honey oat gelato.
Partnering with Miami-based, nationally-recognized craft cocktail experts Bar Lab, Tigertail + Mary's bar features a well-rounded list of cocktails that are familiar yet interesting, with a nod to the area's roots, its flora and botanical diversity. Rhubarb + Soda takes a flagship aperitif, Campari, and brightens it with the zing of rhubarb and strawberry for a twist on the classic Americano with Cocchi Torino and soda water. Tigertail Daiquiri combines coconut fat-washed white rum with Cocchi Americano, lime juice and fennel syrup. Bottled cocktails provide a perfect pour, including Salty Dove with Paloma lovers in mind, but here with blanco Tequila, lime juice and a house made grapefruit tepache, a bright, fermented mixer with pineapple. Guests can enjoy a rotating selection of Florida beer at the bar's two taps, rounded out with a cross section of approachable local and American craft beers in a range of styles.
There is a new intersection of wine to discover where Tigertail Avenue meets Mary Street in the thoughtful hands of The Genuine Hospitality Group Head Sommelier, Amanda Fraga, who was inspired to take the idea of American wine and redefine it through the Grove's storied lens. There is a whole world of new world wines that drink in the old style – food friendly and approachable.
In addition to a forthcoming mango tree for the restaurant's front lawn to celebrate one of the Grove's beloved summer season treats, the team is cultivating a small, raised bed garden with the guidance of urban farmer and Little River Cooperative founder Muriel Olivares. Freshly planted this summer, the garden has peppers, shiso, basil, sweet potato and more to make the best of Miami's year-round growing season.
Sala'o Opens Next Week
Sala'o Cuban Bar and Pescaderia is set to open its doors Monday May 27, at 11 am, those who care for a sneak peek into their lunch menu can visit May 23 – 26 during their soft opening hours 11AM-5PM, in the heart of Little Havana. The Cuban bar and pescaderia aims to please locals and tourists alike. The restaurant was conceptualized by owners Eliesteban Mena and Oscar Rodriguez who also started Old Havana Cuban Bar and Cocina– a staple in Little Havana just a few blocks away.
The name Sala'o was born from an Ernest Hemingway novel, The Old Man and the Sea. Hemingway spent many years in Cuba, which drove Mena and Rodriguez to create an eatery to pay homage to the writer. As patrons step foot into the 2,300 SQ FT restaurant, they will feel as if they have traveled back to the 1940's and entered Ernest Hemingway's home. With a cozy yet opulent living room feel, the eatery is adorned with crystal chandeliers, marble accents and wooden finishes. Sala'o aims to welcome 85 guests with indoor and outdoor seating available and a welcoming atmosphere. The 30FT bar will be focused on classic cuban cocktail recipes and will sit 15 guests, who will be entertained by modern cuban inspired live music on an elevated wooden stage.
Sala'o owners searched for a chef who understood their vision to tie in Caribbean seafood flavors, while adding a modern touch to home-style cooking. Cuban Chef Jorge Mas, who formerly worked in the Cayman Islands, Barcelonetta and NIU Kitchen, was the perfect fit to bring the menu to life.
The Pescadería will have fresh fish delivered daily from the Florida Keys to the outskirts of Miami, making each dish a "fresh catch", and the oysters will be sourced from the East Coast.
Guests can expect a vibrant Happy Hour Monday through Friday 4pm – 8pm; live music, daily food specials and much more. Sala'o will be open Sunday through Wednesday from 11:00AM – 11:00PM, Thursday through Saturday 11:00 AM – 12:00 AM. Sala'o Cuban Bar and Pescadaria is located at 1642 SW 8 St, Miami, Florida.
Cafe La Trova Starts Lunch Service
Beginning Tuesday, May 28, Café La Trova will launch its lunch service, including a special "Three-Course Express Lunch Menu" for $21. Lunch at Café La Trova will be available Monday through Saturday from 11 a.m. to 3 p.m. The express lunch menu is as follows:
First Course (choose 1):
– Any Empanada Any Croqueta
– Any Salad
– Queso Frito
– Stewed Garbanzos
Second Course (choose 1):
– Mi Cubana! Sandwich
– Lechon con Chicharrones
– Arroz con Pollo
Dessert (choose 1):
– Flan de Mama
– Michy's Bread Pudding