June 28, 2019
Each Friday, we compile South Florida food-related news and events that we couldn't fit on the site earlier in the week, as well as other local news that piques our interest. Want to be included in our next roundup? Shoot us an email at bark@miamifoodpug.com.
New Programming at Serafina
Miami Spice Is Back
Get Your Tickets to ExperienceSOFI
Brunch Launches at 800° Woodfired Kitchen
Palma Juice Co. Opens at The Citadel
Katsuya Celebrates 1- Year Anniversary
RWSB Hosts Annual BBQ Series
Chef Devin Braddock Joins Ark Hospitality
New Programming at Serafina
Mark your calendars, music lovers! Serafina Miami has kicked off Live Music & Karaoke Thursdays. Every Thursday, the star-studded Italian gem is extending Happy Hour (typically from 5-8pm) until 11pm. Patrons can indulge in $10 martinis, $3 Prosecco and $8 pizzas at the bar. In typical Italian fashion, guests are welcomed to revel long into the evening with live beats by DJ Claudio and karaoke.
Happy Hour menu highlights include $9 bar bites such as Grilled Seasoned Lamb Chop with pumpkin gnocchi in a sage and butter sauce with blueberry garnish; Marinated Smoked Beef with EVOO, herbs and hot oil, chef's house slaw with a touch of pesto; and Grilled Portobello Parmesan, with marinara and mozzarella. Guests can also take advantage of the full $8 happy hour menu until 11pm. Standouts include Spaghetti Pomodoro, Meatballs, Porto Benny Salad, Tiramisu and house wines.
Miami Spice Is Back
The Greater Miami Convention & Visitors Bureau (GMCVB) is ramping up for the 18th year of its beloved Miami Spice Restaurant Program. Since its inception in 2001, an estimated one million Miami Spice meals have been served. As the 2019 season approaches, all signs show a projected record-breaking year in terms of participating restaurants.
The two-month long program – August 1 through September 30, 2019 – showcases Greater Miami and The Beaches' diverse and ever-evolving culinary scene and celebrates the amazing restaurants and talents that make Miami & Beaches one of the nation's most delicious destinations.
The 2019 Miami Spice Restaurant Program sponsors are ABSOLUT ® JUICE Strawberry & Apple – brought to you by Planet Earth's Favorite Vodka and Stella Artois. During August and September, fine dining restaurants will offer three-course prix-fixe Miami Spice menus at reduced prices ($23 per person for lunch and brunch / $39 per person for dinner) giving visitors and residents alike a chance to please their palates. Diners can choose from more than 200 participating restaurants in some of the hottest neighborhoods in town – Miami Beach, Brickell, Downtown, Doral, Coral Gables, Little Havana, South Miami, Wynwood, Little Haiti, Sunny Isles and Bal Harbour.
Prices include an appetizer, entrée and dessert; alcohol, tax, tip/service charges are excluded. Among the restaurants new to Miami Spice: AD LIB; Alloy Bistro Gourmet; AQ Chop House by IL Mulino; Bakan; BALEENkitchen; Café La Trova; CVLTVRA; The Deck at the Island Gardens; Doc B's Restaurant + Bar; Fiola Miami; Gusto Ristobar; Isabelle's Grill Room & Garden; La Cerveceria De Barrio; La Estacion American Brasserie; La Placita; Marfil Bistro; North Italia; Osteria Del Teatro; Pairing by Tomas Cuadrado; RWSB; Swan & Bar Bevy; Table 55; The Deck at Island Gardens and The Jim and Neesie.
For a full list of restaurants, click here. Photo by Michael Pisarri. 
Get Your Tickets to ExperienceSOFI
Have you gotten your tickets to ExperienceSOFI yet? ExperienceSOFI is back for its 5th year, with a full takeover of the luxurious South of Fifth Neighborhood. This year will bring together 20+ chefs, globally acclaimed artist, spirits, wines, new restaurants and neighborhood favorites.
On Wednesday, July 17th, guests will embark on a five block dine-around, entering each restaurant's VIP area to sample, sip, mix, & mingle with the city's most respected chefs, artists and celebrities.
Upon arrival, guests will receive their all-access pass, an event map, and a menu of what our chefs and bartenders will be creating for their tour experience. From 6:30 – 9:30 PM, guests will tour, taste and toast to their heart's content on this completely all-inclusive tour!
Use ExperienceSOFI 2019 promo code PUG to save on your tickets! Click here for more information.
Brunch Launches at 800° Woodfired Kitchen
There's a new brunch at 800 Degrees Woodfired Kitchen in Aventura featuring a menu of creative spins on brunch classics and signature woodfired favorites. Brunch is available every Saturday and Sunday from 11 a.m. to 4 p.m.
Highlights include Red Velvet Waffles, Dulce De Leche French Toast, Breakfast Frittata Pizza, Chicken & Waffles, Woodfired Shakshuka and Steak & Eggs along with 800 Degrees Power Bowls, UD's Woodfired Wings, DWade's Woodfired Burger and much more.
Palma Juice Co. Opens at The Citadel
The chef behind Jugofresh, Miami's first cold-pressed juice bar, has opened Palma Juice Co., an environmentally-conscious, small-batch juice joint at The Citadel in Little River. Serving handcrafted juices and food with a little quirk, menu items include fresh juices, like the Leche de Tigre, made-to-order açaí bowls, smoothies, like the Antioxidant Beso, and wellness shots, like Throat Candy. Doing it with the environment in mind, all products will be bottled in glass and served in reusable or biodegradable wares.
"Palma Juice Co. was established because we were tired of the status-quo, and to be frank, the mediocre options available to the consumer, served mostly in single-use plastic," said Darren Laszlo, head chef at Palma Juice Co. "We only use produce at its peak freshness while keeping our process small-batch and made-to-order. We take pride in what we are handcrafting and it doesn't matter who you are or what your flavor palate is, if you like high-quality juices and food that tastes good, you should come to Palma."
Palma Juice Co. believes that the quality of the product has a lot to do with the way it's served. It's why Palma is committed to not using any single-use plastic and taking steps to reduce its carbon footprint.
Katsuya Celebrates 1- Year Anniversary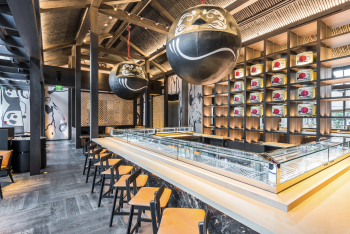 Katsuya Brickell is celebrating their one-year anniversary by launching all-new prix-fixe menus priced at $30 for lunch and $45 for dinner including the choice of an appetizer, entree, and dessert. The menu features signature dishes like the Crunchy Rice with Tuna Tartare, Wagyu Gyoza, Rock Shrimp Tempura Roll, Sizzling Wagyu Ribeye Steak, Katsuya Bread Pudding, and more!
Guests can also take advantage of wine by the glass (red, rosé, sparkling, white) for $11 and Sake Flights including three sakes for $22 (Junmai, Ginjo, Daiginjo).
RWSB Hosts Annual BBQ Series
Summer is here, so it's time to fire up the grill! This July, Executive Chef Josh Gripper will be hosting his annual barbecue series along with Executive Sous Chef Mario Alegre and the rest of the RWSB culinary team. The popular cook-outs feature local guest chefs throwin' down at two themed barbecues. Located in RWSB's own backyard, The Grove, guests can enjoy the delicious spread for only $40 per person (excluding tax, gratuity, and beverages).
Wednesday, July 3, 2019, 6:30PM-10PM
Theme: American
Guest Chefs: Jeff McInnis and Janine Booth (Stiltsville Fish Bar and Root & Bone)
Start off the holiday weekend with the great American BBQ featuring a menu inspired by fare from the husband and wife team's concepts.
Wednesday, July 24, 2019, 6:30PM-10PM
Theme: Italian
Guest Chefs: Michael Beltran and Justin Flit (Navé-coming late-summer 2019);
Niven Patel and Tim Piazza (Erba-coming fall 2019)
These guest chefs are already known for their wildly popular concepts (Ariete; Proof; and Ghee, respectively) but now fans will have an opportunity to sample their Italian interpretations of BBQ as a fun sneak peek into their forthcoming restaurants.
Reservations are recommended as seating is limited. Walk-in guests are also welcome, space permitting.
Chef Devin Braddock Joins Ark Hospitality
Newly appointed Pastry Chef Devin Braddock joins the powerhouse culinary team that makes up Ark Hospitality Group. Braddock was tapped to oversee the bread and pastry division for Ariete, Chug's and Taurus Beer & Whiskey House. Boasting an impressive resumé with more than ten years of industry experience, Braddock embraces her newest venture working alongside celebrated Miami Chef Michel Beltran at his beloved Coconut Grove outposts.
After moving to Miami from Tampa to enroll at Johnson and Wales University in 2009, Chef Braddock quickly discovered that she would benefit more from hands-on experience that comes from being thrust into a busy kitchen. She shifted her focus and accepted her first pastry position at Sunny Isles Italian eatery, Café L'attito and didn't look back.
Soon after, Braddock relocated to Wynwood Kitchen and Bar, where she served as Pastry Chef for three years. In 2012, she accepted a role under the tutelage of James Beard-nominated pastry legend Hedy Goldsmith at Michael's Genuine in the Design District. During her time there, she learned a wealth of knowledge about molecular gastronomy and gives credit to the talented duo for her newfound organizational skills.
Next, she ascended to the role of Corporate Executive Pastry Chef at Chef Daniel Serfer's Miami concepts, Mignonette and Blue Collar. And now, Chef Devin Braddock is pleased to announce her role working alongside one of Miami's great young rising Chefs, Michael Beltran. "I'm excited to work with a team that really sees eye to eye with me on the passion, integrity and hard work that goes into making good food. With so much concentrated talent in one group, I'm excited to see what we can bring to the table."