November 15, 2019
Each Friday, we compile South Florida food-related news and events that we couldn't fit on the site earlier in the week, as well as other local news that piques our interest. Want to be included in our next roundup? Shoot us an email at bark@miamifoodpug.com.
Grand Opening at Grails Sports Bar
Spanish Wine Dinner at Bulla Gastrobar
Verde Launches New Exhibit-inspired Menu
Upcoming Events at LT Steak & Seafood
Swizzle Launches Tiki Mondays
Carnival Cruise Line Debuts Carnival Kitchen
Le Jardinier Launches New Lunch Menu
Now Open in Brickell: Hutong
Street-Wide Brunch Offerings at Española Way
Monty's Celebrates 50 Years
El Dorado 305 Opens on South Beach
Bahamas Relief Fundraiser at Esotico
Grand Opening at Grails Sports Bar
Grails Sports Bar, Wynwood's first and only sports bar, will be celebrating its Grand Opening on Saturday, November 16th. The sneaker themed sports bar will kick off the celebration starting at noon. There will be drink specials, music by Telescope Thieves, and live art by Lil Surge and Abstrk. They will also be giving away prizes including their popular ceramic sneaker themed drink vessel, a 65" TV, Grails New Era Hats, and more! Grails is located at 2800 North Miami Avenue.
Spanish Wine Dinner at Bulla Gastrobar
Bulla Gastrobar Doral, the restaurant specializing in authentic Spanish flavors and tapas at the Shops of Downtown Doral, alongside Spanish wine company Ribera y Rueda, invite guests to indulge in a sensory journey featuring Spanish cuisine and fine wines! On November 20 at 7 p.m., Bulla Gastrobar presents a five-course Ribera y Rueda Spanish Wine Dinner prepared by the executive chef, featuring Bulla classics specially paired alongside Ribera y Rueda Spanish wines from the historic wine region. Don't miss out on the exciting opportunity – reserve your spot today! Click here for tickets.
Verde Launches New Exhibit-Inspired Menu
Guests can experience Verde's newly launched menu inspired by PAMM's current art exhibit Teresita Fernández: Elemental. The exhibit is a collection of the artist's large-scale sculptures, installations, and mixed media works that merge formal and conceptual aspects of her practice through the use of natural materials and the historic genre of landscape to reinterpret relationships between nature, history, and identity. Available now until February 9, 2020, the menu features deep, dark colors, contrasting textures and fresh ingredients.
Begin the dining experience with the Red Beet Tartare ($10) blood orange cream, hearts on fire and crispy black bread. The menu's 'centerpiece' will showcase a contrast of textures with the Pan Seared Salmon ($22), which is prepared with corn purée, french beans, crispy rice, and black olive crumble. For a lighter option, try the Little Gem Salad ($12), green goddess, pistachio and herbs. For dessert, enjoy the refreshing Black Sesame Ice Cream ($8) with freeze dried raspberries.
For reservations or more information, please call 305.375.8282 or visit https://www.pamm.org/dining.
Upcoming Events at LT Steak & Seafood
LT STEAK & SEAFOOD (LTSS) at The Betsy South is partnering with Ron Diplomatico to present an evening of rum featuring a tasting with the spirit's Brand Manager, Jose Luis Ballesteros. The night will begin with a reception in the Lobby, then move to the Ocean Front Deck for paired sips with light bites by Executive Chef Danny Ganem, as well as decadent chocolates paired to the different rums. Special guests include Chef Edgar Leal of Leal Bistro + Art in Wynwood; a cigar roller; and master Domino players from Little Havana. Live Latin music will provide a sultry backdrop to this island-inspired event.
WHEN/WHERE: The 'Discover Diplomatico' event takes place on Friday, November 15, 2019 from 6PM-9PM and is a perfect way to start the weekend. Tickets are limited for this exclusive event and are priced at $52 per person (excludes tax and gratuity). Reservations to this intimate affair are strongly encouraged: (305) 673-0044 or email eferguson@thebetsyhotel.com.
In other news, LT Steak & Seafood is now serving its own proprietary beer, Betsy Rosa. Created by The Betsy South Beach's culinary team in collaboration with HOUSE OF MOTOR Crafted Lifestyle (HOM) a Miami-based collective; the brew is a classical Austrian copper lager, served exclusively at The Betsy South Beach.
The lager is named for The Betsy's two CEOs (Canine Executive Officers) Betsy and Rosa, who are on hand to greet guests during a weekly CEO Happy Hour in the Lobby Bar (every Friday from 5PM to 6:30PM). The beer is light on the palate with notes of lemon zest, fresh baked bread and Allspice, with hints of honey and herbal hops. It's naturally fermented with 5.3% alcohol; a balanced and flavorful lager, loosely based on classic Austrian and German beer styles. Priced at $7 it's perfectly paired with the restaurant's seasonally-inspired steak and seafood menu, or simply on its own at the Lobby Bar.
Also of note, the Lobby Bar is now the only restaurant in Florida offering bone-in Mangalica Ham Carving. Considered the pinnacle of jamon, the super-premium ham is cured in Spain from pigs hailing from Hungary. Available beginning at 5PM each day, the ham is offered at $25/ounce and served with pa amb tomaquet.
Swizzle Launches Tiki Mondays
You can't always buy tropical happiness, but you can go to Swizzle Rum Bar & Drinkery — and that's pretty much the same thing. On Monday, November 18th, Swizzle is launching Tiki Mondays, it's new weekly Monday night party where they will offer original tiki themed cocktails, such as Missionary's Downfall, Queen Anne's Revenge and the Banana Daiquiri, in addition to weekly specials, all priced between $9-$11.
Additionally, on Sunday, November 25th, the Swizzle team will takeover the bar at the Broken Shaker from 4-8pm for a scotch tiki pop up and BBQ, where they will shake, swizzle and stir original Glenmorangie and Ardbeg tiki cocktails. BBQ starts at 2pm.
Swizzle Rum Bar & Drinkery, an intimate and sophisticated craft cocktail bar with a selection of more than 150 rums, a New York City meets Miami vibe and drinks that appeal to both the casual consumer and the cocktail connoisseur. The Miami Beach hotspot has a menu with versatile cocktail list, with a large focus on classic and contemporary cocktails, as well as a mix of spirit forward cocktails and refreshing tropical drinks.
Carnival Cruise Line Debuts Carnival Kitchen
Carnival Cruise Line has announced Carnival Kitchen, an engaging and hands-on culinary experience led by the line's talented chefs, debuting on Carnival Panorama in December. Guests sailing on Carnival's newest ship can enjoy more than 15 onboard cooking classes inspired by the expansive array of international cuisines showcased on Carnival Panorama.
Sample Carnival Kitchen offerings include:
Carnival Classics Workshop Class with Dinner: discover the secrets behind Carnival's most beloved dishes including tuna tartare from Fahrenheit 555 steakhouse, saffron risotto from the Cucina del Capitano family-style Italian restaurant, and of course, the cruise industry's most popular dessert, Carnival's warm chocolate melting cake.
The Orient Unknown Class with Dinner: master the flavors of the Far East by exploring the world of savory noodle dishes, silky soups, succulent satays and divine desserts that take participants on a journey through the cuisines of Thailand, Indonesia, The Philippines and more.
Cake Workshop: follow step-by-step instructions to create a confectionary masterpiece from layering and filling to using hand-made fondant, ornate and edible decorations and more.
Pasta Master Class: explore the art of Italian cooking and preparing homemade pasta by mixing, rolling and molding fresh dough into creative and unique shapes and pair them with delicious sauces from scratch.
Additional classes include sushi rolling, pizza making and pie baking, among many others, and participants have the opportunity to indulge in tastings and sample their creations. One-hour and two-hour morning, afternoon and early evening sessions are available primarily on sea days and can accommodate up to 18 guests at a time. Reservations can be made on Carnival.com pre-cruise or at any restaurant once on board.
Le Jardinier Launches New Lunch Menu
Le Jardinier, the vegetable-forward concept by Michelin-starred Chef Alain Verzeroli, has debuted a new lunch menu. Like the restaurant's signature items, the new menu offerings embrace local and seasonal ingredients, elevated by classic French technique.
Located on the ground level of the Miami Design District's Paradise Plaza, Le Jardinier is steps away from countless shops and local businesses, making it an ideal lunch spot for locals and visitors alike. The restaurant features a spacious patio surrounded by lush greenery, the perfect place to sit outdoors as the weather in Miami cools down. Indoors, guests will find a contemporary space with a striking black marble bar.
Offered from 12PM – 3PM Tuesday through Saturday, and 12PM – 7PM on Sundays, the Lunch menu features dishes such as:
– Chicory Salad with avocado, herbs and yogurt dressing ($17)
– Grilled Flatbread with roasted squash, sunflower seeds and goat cheese ($19)
– Red Snapper with Kohlrabi, ginger and dried olive crumble ($27)
– Chicken Croquet with romesco and pickled pearl onions
– Pearled Barley Risotto with pumpkin, shaved mushrooms and mimolette ($19)
Desserts created by Executive Pastry Chef Salvatore Martone include Orange Truffle Cake ($14); Seasonal Fruit Tart ($12); Apple Crumble Sundae ($12); and Plant Based Ice Creams ($10).
Now Open in Brickell: Hutong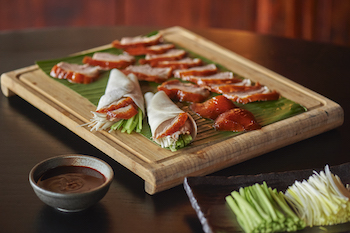 Contemporary Northern Chinese restaurant and bar Hutong is now open in Miami at 600 Brickell Avenue. From its home in Hong Kong, Hutong brings a fresh take on Chinese cuisine with its occasionally fiery Northern Chinese dishes, served in a chic space inspired by the vibrant Miami art scene combined with traditional Chinese design elements. From Aqua Restaurant Group's international collection of award-winning dining concepts, and with restaurants in Hong Kong, Beijing and London, Hutong comes to Miami as the second U.S. location following the New York City opening in 2019.
Hutong offers Northern Chinese cuisine with gastronomic influences from surrounding provinces – Beijing's roast duck, Sichuan's fiery and famous chili peppers and Shanghai's fresh seafood. Hutong offers dinner with a menu divided by starters, dim sum, fish, seafood, meat, barbecue, tofu & vegetables and rice & noodles, made to enjoy and share with the table.
Hutong's menu incorporates signature dishes from Hong Kong and London as well as new dishes created exclusively for the Miami restaurant. The signature Red Lantern is served to the table in a traditional Chinese wood basket overflowing with red Sichuan dried chilies. Crispy pieces of soft-shell crab nestle between them, infused with spices and lip-numbing chili essence. The Halibut Red Star Noodles are served in a clear spicy broth. The red pepper star is opened at the table to reveal the aromatic halibut, noodles and crunchy gong choy.
No Northern Chinese menu would be complete without Peking Duck. Hutong's Roasted Peking Duck is delicately carved at the table. The whole duck is carefully prepared for 24 hours using a traditional recipe said to have been developed over one hundred years ago for the Emperor, making the duck crispy on the outside while the meat remains moist, tender and flavorful.
Starting November 18th, Hutong is serving lunch with its dim sum as a main feature. Hutong's chefs have taken traditional recipes and introduced innovative ingredients such as Rosé Champagne and Lobster. In the Wagyu Beef Millefeuille, tender Wagyu beef is beautifully encased with flaky "millefeuille" pastry that melts in the mouth. Hutong's famous Dim Sum Platter comprised of Sichuan Peppercorn Prawn, Marlin Fish, Prawn & Black Truffle and Wild Mushroom & Spinach is also served for lunch and dinner.
Among the dishes created specially for the Miami restaurant include the Sichuan King Scallops topped with crunchy and fiery red chili, peanut and sesame pieces. And for dessert, Ma La Chocolate Mousse – a smooth rich South American chocolate mousse infused with a heady note of fiery Sichuan chilies.
Hutong is located at 600 Brickell Avenue Miami, FL 33131. Hutong is open for dinner daily from 6 p.m. to 10 p.m. Sunday; 6 p.m. to 11 p.m. Monday through Thursday; 6 p.m. to 12 a.m. Friday and Saturday. The bar is open daily until 2 a.m.
Street-Wise Brunch Offerings at Española Way
Española Way, one of Miami's most historic and picturesque streets, is kicking off high season in the destination with a street wide brunch party on Sunday, November 17, 2019. From 10:30 a.m. to 3 p.m. locals and tourists alike will experience new brunch menus from over six different restaurants, including Hosteria Romana, Boteco Copacabana, Oh! Mexico, Mercato della Pescheria, Havana 1957 and Mare Mio. Nowhere else can guests experience over five different varieties of cuisines and indulge in unlimited cocktails in one place.
Reservations are encouraged via OpenTable in order to sample the most coveted new brunch dishes from several restaurants on Española Way. Oh! Mexico will feature authentic breakfast dishes including Ranchero Tostada with carne asada, refried beans, fried egg, guacamole, pico de gallo, cotija cheese, cilantro crema and salsa roja; Mexican Breakfast Burrito with chorizo, scrambled eggs, roasted potatoes, chihuahua cheese, pico de galo and a side of refried beans.
Mercato della Pescheria will feature Mercato Omelette with country ham, red onions, aged white cheddar and hash browns; Smoked Scottish Salmon Platter with smoked Scottish salmon, chive cream, cheese, pickled red onions, caper tapenade, sliced tomatoes and bagel. Hosteria Romana will feature an Italian style buffet, serving only the freshest ingredients. The buffet will feature signature breakfast plates, fresh fruit, Italian Antipasto, a variety of pastas, salads, desserts and more.
Throughout the day, Española Way will have live dance performances. Brunch will be available every Sunday as part of Española Way's recent multi-million-dollar renovation, transforming the street into a safe, all ages destination with weekly programming, wellness activities, live entertainment and a robust nightlife.
Monty's Celebrates 50 Years
Since 1969, Monty's Raw Bar Coconut Grove has been a local paradise. In spirit of the waterfront treasure's 50th anniversary, Monty's Raw Bar is inviting the city to help celebrate their birthday. On Thursday, November 21st the island inspired "tiki hut" destination will transform into a giant themed luau. "Grovites" and fellow locals will be able to rejoice all under one roof and toast to the many memories (and Pain Removers) they have had.
For this special celebration, Monty's infamous happy hour will be extended from 4 until 10 PM. Happy Hour boasts a generous number of $6 cocktails including their signature frozen Rum Runner and Pain Remover's (ranging from level 1-3 depending on how many additional shots one prefers). Other happy hour delights include Mojitos and frozen spirited treats like Margaritas, Piña Coladas and Miami Vices. Select wine and beer will also be available ranging from $4-$6. A raw bar area will also be set up serving $1 oysters, shrimp, clams and discounted Stone Crab Claws.
Guests are encouraged to arrive between 6 and 8 PM to receive a complimentary lei and watch fire dancers heat up the evening! Throughout the evening, a live band will play island classics in addition to a DJ on deck. The first 200 guests will receive complimentary limited-edition anniversary t-shirts. Loyal customers and new faces can RSVP on Eventbrite here. For more information, visit www.MontysRawBar.com or follow along @MontysRawBarCG.
El Dorado 305 Opens on South Beach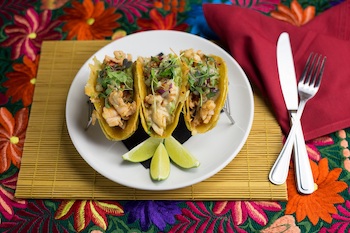 Now open, El Dorado 305 showcases the best of both authentic Mexican and traditional Latin cuisines under one roof. Infusing the new menu with Latin dishes from iLov305's menu, the restaurant and lounge combines the best of both worlds, the high impact entertainment value Miami is known for worldwide with the award-winning cuisine and menu cultivated in El Dorado's Las Vegas kitchen.
Combining the best of both cuisines into a high energy restaurant and lounge "Where what happens never happened," El Dorado 305 rustic aesthetic is tastefully integrated throughout the vibrant 9,000 square-foot multi-level space that transitions from day to night in traditional Miami fashion.
The culinary team at El Dorado 305 is committed to utilizing organic fresh, flavorful, locally grown and sourced non-GMO ingredients to create authentic Mexican and Latin dishes fresh from the kitchen. El Dorado 305 works with local vendors to select the finest sustainable and natural products such as grass-fed beef, farm-raised fish, and free-range chicken throughout its menu.
Notable dishes include savory favorites like burritos, enchiladas, tortas, fajita platters and more. El Dorado 305 offers an extensive assortment of street tacos, signature tacos and vegetarian/vegan tacos with standout options such as the tableside Guacamole & Caesar Salad, the Carne Asada, which features tender marinated steak with lime, onion, cilantro and fresh guacamole; Filet Mignon Taco is made with tender filet, house-made chimichurri sauce and topped with crispy battered onion and micro cilantro; Lobster Tacos with buttery lobster, fresh guacamole, chipotle ranch, salsa cascabel and queso fresco in a toasted cheese tortilla; Fajitas served over a bed of fresh cut grilled peppers and onions on a sizzling skillet with fresh guacamole, sour cream, pico de gallo & your choice of flour or corn tortillas with cilantro rice & your choice of refried or black beans.
In addition to the award-winning dishes that catapulted El Dorado Cantina to top of the charts, the new menu will also offer a selection of classic Latin dishes such as Fricassee De Pollo, Ropa Vieja, Churrasco, Lomo Saltado, Ceviche, and Pineapple shrimp.
Bahamas Relief Fundraiser at Esotico Miami
Join Esotico Miami on November 21st as they throw a party in true Caribbean fashion to raise funds for Bahamas relief.
Throughout the event, attendees will have various opportunities to help raise money for the Bahamas. A portion of proceeds from every specialty cocktail sold that night will be donated to relief efforts. There will be three specialty cocktails created for the event by the famous tiki cocktail bartender, Daniele Dalla Pola. There will also be a special three course prix-fixe menu available with a rum pairing.
The party will kick off at 5 p.m. and run through 10 p.m. There will be complimentary passed hors d'oeuvres from 7 p.m. to 9 p.m. and a live steel drum band playing sounds of the islands from 7 p.m. to 10 p.m.
The cost of the three course prix-fixe menu is $39 per person plus tax and tip. Esotico Miami will also have specials on rum cocktails and rum flights for the event.
The first thirty guests to arrive will receive a goodie bag. To RSVP for the event, click here. To make a reservation for the prix-fixe three course menu, call Esotico at 305.800.8454.