December 6, 2019
Each Friday, we compile South Florida food-related news and events that we couldn't fit on the site earlier in the week, as well as other local news that piques our interest. Want to be included in our next roundup? Shoot us an email at bark@miamifoodpug.com.
Movie Night at Generator
La Placita Teams Up With Goya
Wine Dinner at BLT Prime
Common Threads Hosts Holiday Celebration
The Halal Guys Celebrate 1-Year Anniversary
Holiday Festivities at The Betsy
The Salty Donut's 4th Birthday
Movie Night at Generator
Generator Miami is kicking off its monthly themed movie night with Holiday Classics. For the month of December, Gen Stayers and locals can enjoy holiday classics every Thursday night at 9PM. Get comfy inside the viewing room and revel in American cult classics, enjoy complimentary popcorn, and cocktail specials.
If you're looking for something more filling, The Jim and Neesie's menu is available. Indulge in a Charcuterie Board with three meats, three cheeses, grilled bread, pickled mustard seed, and honeycomb; Hamachi Tartare with shiitake soy ginger dressing, avocado, and crispy quinoa; and Charred Asparagus with crispy poached egg, truffle yuzu, marcona almonds, and pickled Spring onions.
Guests can also enjoy Citrus Roasted Carrots with carrot top pesto, hazelnut crumble, and spiced yogurt; Seared Prawns with black garlic and salsa verde; Cacio E Pepe with housemade fettuccine, summer black truffle, spicy crumb, and lemon zest; 8oz Pan Seared Filet with truffle jus, sweet potato purée, and crispy onion nest; Crispy Skin Airline Chicken with red quinoa, carrot purée, pepitas, and chicken juice; and Charred Romanesco with celery leaf pesto, harissa, micro herbs, and citrus crumbs  — to name a few.
La Placita Teams Up With Goya
Celebrate the holidays Boricua-style with La Placita and Goya on Thursday, December 12!
Prepare for a night of savory food, refreshing cocktails, fun domino tournaments, and parranderos (The Puerto Rican version of Christmas caroling)! For this one night, five-time James Beard Award Semifinalist, José Mendín, is teaming up with Goya's Chef Fernando Desa to create one-of-a-kind Christmas dishes you won't find elsewhere.
The prix-fixe menu, priced at $55 per person, will features selects of Boricua Christmas classics like Lechon Asado, Mofonguitos de Pana, Yuca Robuchon, and more. Tickets can be purchased here.
Wine Dinner at BLT Prime
BLT Prime Doral continues its partnership with honored vintners to host the final of six interactive wine dinners that showcase the best in food and global wine in an intimate setting.
On Tuesday, December 10, 2019 BLT Prime's Chef de Cuisine Tim Elmore will present a menu perfectly paired with the acclaimed Spanish wines of Celler Vall Llach. Dinner will begin at 7:30PM in the Nicklaus Private Dining Room at BLT Prime Trump National Doral. A vineyard representative, along with Chef Elmore, will provide tasting notes and take guests on a one-of-a-kind journey to explore the flavor profiles and components of the pairing.
Priced at $135 per person, seats can be reserved online at BLTRestaurants.com or by calling the restaurant at 305-591-6606.
Common Threads Hosts Holiday Celebration
This holiday season, take advantage of the wonderfulness that is winter in Miami by celebrating with Common Threads at a rooftop holiday "picnic" at Life House Collins Park Hotel. Enjoy delicious drinks and bites from some of Miami's best local eateries while supporting a wonderful cause.
The festivities take place on Wednesday, December 11, 2019 from 7 PM to 10 PM at Life House Collins Park Hotel, 2216 Park Avenue, Miami Beach. Enjoy libations and food from Miami's hippest local eateries including Life House's own Mama Joon, Palmar and The Halal Guys Brickell. Desserts are being provided by iconic Miami institution Versailles and Bachour, whose chef Antonio Bachour was just named Best Pastry Chef in the US by Esquire magazine.
Tickets are priced at $65 each and available here. Proceeds from this event will support Common Threads' local cooking and nutrition education programs in Miami-Dade parks and schools. Event sponsors include Life House Collins, Biscayne Bay Brewing Company, Calma, Miami Cocktail Company and Publix.
The Halal Guys Celebrate 1-Year Anniversary
The Halal Guys Brickell known for its delicious gyro sandwiches and platters , located at 1010 Brickell Avenue will celebrate its one year anniversary with a special event for everyone on Saturday, December 14.
The first 100 customers will receive a free platter or gyro sandwich and everyone after that will receive a BOGO offer that can be redeemed onsite or at a later date. (come with a friend!) There will be a DJ spinning tunes and fun for all.
Holiday Festivities at The Betsy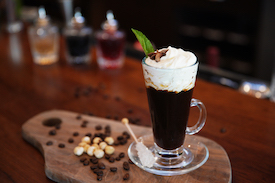 The Betsy South Beach has you covered with entertainment and delicious treats to bring the spirit of the season to South Florida. Betsy patrons can experience the time-honored tradition of roasted chestnuts at holiday time and partake in roasting on the hotel's outdoor veranda.
The Betsy's Front Deck will have Roasted Chestnuts (available Fridays and Saturdays from 5PM-7PM through December 21). Join in with Holiday Carolers at the Lobby Bar (beginning at 6PM) and sip one of the "winter warmer" holiday cocktails highlight the season's most festive flavors.
The Betsy's Pastry Chef Gabriela Amelunge has rolled out the ultimate holiday hot chocolate menu with boozy options at Carlton Room Café – "Naughty or Nice" Holiday Hot Chocolate is available daily from noon-8 p.m.
The Salty Donut's 4th Birthday
This weekend marks four years since The Salty Donut first opened in Wynwood as Miami's first artisanal donut shop.Beginning today through Sunday, December 15th, the shop is celebrating the big occasion in a way they never have before… by bringing back four of it's all-time favorite donuts voted on by the customers themselves.
The Salty team tallied up the most demanded flavors, dating all the way back to day 1 and selected the top four to feature for the birthday celebration. A nod to the donut shop's birthday being during Art Basel, The Salty Donut will also be hosting an online giveaway on their Instagram in collaboration with popular artist, Cooper, where the company will be giving away four custom, hand painted backpacks filled with exclusive gear. Customers are encouraged to stay tuned to Instagram to view the announcement and how to enter!
The four flavors coming back to the menu from December 6th-15th are:
The Unicorn Donut, 2.0: 24hr hand layered rainbow brioche, filled with a citrus infused marshmallow fluff, citrus glaze, topped with chunks of fruity pebble marshmallow crisps
Babka Donut, 2.0: Homemade babka (braided chocolate layered brioche) wrapped inside of our 24 hr brioche dough, valhrona tropilia chocolate glaze, topped with chocolate walnut cookie crumble
Flan: 24 hr brioche filled with a traditional Latin flan, hand dipped in a melted sugar that hardens into a delicious crunchy coating
Cake Batter: 24 hr brioche ring filled with cake batter, marbled white chocolate glaze, topped with crumbles of sugar cookies
In addition to each of these four flavors making a return to the menu at both stores, The Salty Donut will be offering a Birthday 4-box consisting of 1 of each of these flavors on UberEats. Looking ahead to 2020, the company says to expect a more aggressive store expansion, pop-ups, and an even more robust events and catering program.