December 20, 2019
Each Friday, we compile South Florida food-related news and events that we couldn't fit on the site earlier in the week, as well as other local news that piques our interest. Today marks the final Nom News of the year. We're taking a break next week, and we'll be back with a new one on January 3.
Want to be included in our next roundup? Shoot us an email at bark@miamifoodpug.com.
La Petite Maison Launches Six a Huit Menu
Bebito's to Open on South Beach
Redbar and Sweet Caroline Team Up for the Holidays
Grails Sports Bar Host Parranda
Noche Noche Buena at La Cocina
Pink Taco to Open on Ocean Drive
Dolce Italian Introduces Bottomless Sunday Brunch
Coming Soon: Rivertail
Bulla Debuts New Seasonal Menu Items
La Petite Maison Launches Six a Huit Menu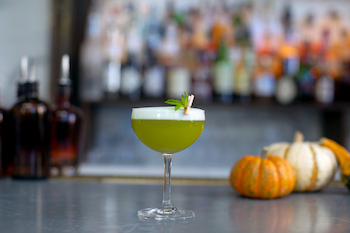 La Petite Maison Miami, the first U.S. location of the world-renowned, London-based restaurant and home to fresh and light French Mediterranean and Niçoise inspired cuisine, has launched Six à Huit, the new afterwork menu available Monday through Friday from 6-8pm. For only $8, guests can enjoy a Cocktail du Jour, a selection of signature and seasonal cocktails, wines and beers, and delectable Petite Bouchees.
Patrons are invited to sip on the Cocktail du Jour, which changes daily: on Monday sip on Monkey Business, celebrated monkey 47 gin with fresh lime and a touch of thyme; Tuesday, the Tomatini, the essence of La Petite Maison in a martini glass; Wednesday, Madame Coco, fresh coconut water, Botran rum and homemade coconut sorbet; Thursday, Lady Paloma, tromba tequila and a touch of pamplemousse rose; and Friday, Fizz des Alps, Grey Goose 'La Poire' dry shaken with elderflower liqueur, topped with smoky ginger ale and a dash of antica formula .
Signature cocktails on the Six à Huit menu include the Peach Mule, a fine mix if Elyx vodka, ginger and peach served in a traditional mule mug; Aperol Spritz, the perfect Italian aperitif; La Fleur Fizz, an effervescent combination of grapefruit, St. Germain and prosecco; The Greenwich, a mystical combination of Havana Club Rum and herbal liquor, balanced with mint and matcha tea; Tonique Provencal, fresh garden herbs with cucumber and citrus to balance the ultimate Tanqueray No10 gin and tonic; and Barrel Aged Negroni, perfect combination of Bombay Sapphire, rubino vermouth and martini riserva special bitter. Reste in an oak barrel to find a deep and smooth flavor.
The wine selection includes 2018 Saint André de Figuière 'Magali', Côtes de Provence, Rosé; 2017 Maison Brotte 'Esprit Barville', Côtes de Rhône, Blanc; and 2015 Triennes 'Saint-Auguste', Côtes de Provence, Rouge. Estrella Damm INEDIT beer will also be available.
The Six à Huit menu will feature ingredient-forward dishes to ensure the freshest ingredients are used. Guests will indulge in Tapenade, tapenade of niçoise olives; Calmars Frits, crispy baby squid; Pissaladiére, onion tart with anchovies; Crostini de Burrata, burrata on toast; Poivrons de Patron, Padron peppers; Ailes de Poulet, marinated chicken wings; Brochette de Boeuf au Satay, beef skewers with satay sauce; and Frites, French fries.
Bebito's to Open on South Beach
Jason Odio, the restaurateur behind popular spots Baby Jane, Ariete and La Otra (previously Sidebar) is pleased to announce his latest culinary endeavor, Bebito's, a dazzling Cuban-American café and bistro slated to open in January 2020 at the newly-renovated Flamingo Point (1504 Bay Road #106 Miami, Beach, 33139). The team behind this new Miami Beach outpost includes all-star pastry chef Dallas Wynn and nationally renowned chef Henry Hane.
Bebito's will be both a neighborhood staple and Miami Beach dining destination. Chefs Wynn and Hane bring that same level of artistry and innovation to bistro classics and divine pastries that they have honed over the years to this new neighborhood cafe.
The crave-worthy menu is comprised of items such as Chorizo Manchego Croquettas; Baked Egg with spinach, artichoke and cheese; Bebito's Burger; Guava Miso Salmon Grain Bowl; Dallas' Special Dulce de Leche Cookies; and a variety of Tostadas — Bebito's version of a tartine with a Cuban twist. A well-curated wine list will also be available and comprised of organic and biodynamic selections.
With new full street access, 100-seat space with free Wi-Fi throughout, Bebito's is designed for residents and guests to use throughout the day. Diners can enjoy their morning coffee courtesy of a pink La Marzocco coffee machine either inside or in the lounge areas on the new outdoor front plaza. A large communal banquette table is ideal for sharing ideas and a midday cafecito break. Counter seating will have outlets for easy access and the mezzanine level is available for lounging longer.
Photo credit: Mixed Media Collective
RedBar & Sweet Caroline Team Up for the Holidays
RedBar and Sweet Caroline, both located in Brickell, are teaming up to bring a Naughty & Nice Christmas Pop-up bar this weekend. Sweet Caroline, the Nice bar, and RedBar, the Naughty bar, will have several Christmas themed cocktails at each bar.
Each bar will be completely decked out for Christmas and incorporate their theme of nice or naughty.
Admission to the pop-up bars is free, but you can purchase a $20 ticket to give you a $10 specially priced Christmas cocktail at each bar. The pop-up bar will run through the end of the holiday season on December 31st.
Grails Sports Bar Hosts Parranda
On Friday, December 20th Grails Sports Bar together with Don Q Rum will be throwing a traditional Puerto Rican Parranda starting at 8pm.
A Parranda is a social event that takes place during the Christmas holiday season in Puerto Rico. It features traditional Puerto Rican music, food, and drinks.
During the Parranda Grails will be offering $3 Coquito shots and $9 Piña Coladas.
Noche Noche Buena at La Cocina
The Christmas season is here and KUSH Hospitality Group's heralded Leah Arts District watering hole, La Cocina Cocteleria, will celebrate the holidays with a very Miami charity event. The Hialeah-themed bar will open its doors the night before the official night before on Monday, December 23 for Noche Noche Buena sponsored by Tito's Vodka.
The festive evening, kicking off at 5PM, will feature everything that makes Christmas in Miami unlike any other. Among the highlights, guests can take their pic with a Cuban Santa; live music by Mofongo de Plena; salsa dancers; a Tony Montana Santa cut-out; a domino tournament with prizes at 6:30PM sharp and much more.
Instead of Elf on the Shelf, there will be 12 days of La Cocina's mascot, Hialeah Hector. In the spirit of giving, the event will include a partnership with local non-profit Shoes for Streets (@shoesforstreets), which will be collecting new and used shoes for the homeless.
Anyone donating will receive a complimentary beer, glass of wine or shot of coquito. Of course, no Noche Buena would be complete without La Caja china with rice & beans, and yuca – pig out for free until everything runs out. Beverage Director, Joel Garcia will be mixing up holiday drinks including bacon-infused vodka shots.
Every hour, when the song "El Burrito Sabanero" (The Little Donkey from Bethlehem) plays, imbibers can grab a $5 Burrito Sabanero drink. Other promotions include a free bottle of coquito with purchase of a $50 gift card and free coquito shots at midnight.
Pink Taco to Open on Ocean Drive
Hailing from LA's Sunset Strip, Pink Taco, the iconic, playful Mexican restaurant brand, is making its way to Ocean Drive in Miami Beach! Opening to the public on Jan. 14, 2020, this one-of-a-kind dining experience brings its signature blend of energy, passion and simple, always made-from-scratch fare to South Beach's famous Ocean Drive.
The iconic restaurant, featuring a fun and lively atmosphere, has an approach to food and drinks that's simple: it's the freshest ingredients prepared with passion. Delicious menu highlights include the namesake Pink Taco, filled with achiote chicken, black beans, avocado, arbol salsa, cotija cheese, habanero & pickled onions; Lobster Enchiladas; Street Corn; Chili Poppers; Guacamole and so much more. At the bar, guests can enjoy margaritas of all kinds – Pink Prickly Pear, Strawberry, Avocado Chile. This location will also feature a Miami Beach special cocktail – the Miami Vice.
Dolce Italian Introduces Bottomless Sunday Brunch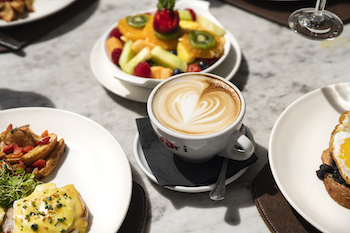 Since opening in 2012, Dolce Italian has served as a Miami Beach mainstay for sublime and sophisticated, yet wallet-friendly Italian cuisine. Now, the popular eatery has debuted a Sunday brunch featuring their signature handcrafted pizzas and pastas, as well as several new dishes that are sure to please. Offered from 11AM to 5PM, the a la carte brunch, paired with bottomless drinks, is the perfect way to enjoy a Sunday in sunny Miami Beach.
Crafted by Chef Paolo Dorigato, the menu is divided into Brunch, Antipasti, Entrees, and Dolci, ranging from traditional breakfast to a heartier fare. Classic Brunch dishes include Avocado Toast ($14) – jalapeño, red onion, tomato, fried eggs; Eggs Benedict ($16) – poached eggs, grilled country ham, English muffin, hollandaise, home fries; and Ricotta Pancakes ($14) – blueberry compote and whipped cream.
Or guests can choose to indulge in some of Dolce's signature pizzas and pastas with Entrée selections like Spaghetti Alla Amatriciana ($21) – smoked bacon, tomato, pepperoncini, caramelized onion; Fettucine Cacio e Pepe ($20) – Tellicherry pepper, pecorino parmesan sauce, poached egg; or Capricciosa Pizza ($17) – artichoke, mushroom, black olive, and Italian ham.
For a sweet ending, Dolci selections include a Fruit & Berry Salad ($10) – mint and ginger syrup; Tartufo Limoncello ($12) – vanilla semifreddo, lemon liquor heart; and Tiramisu ($10) – mascarpone, lady fingers, cocoa powder.
For the health-minded brunch-goers, there is a selection of cold pressed "juicera" options such as the Green Power – cucumber, apple, kale, romaine, spinach, celery, lemon; Rooted Beginnings – carrot, apple, beet, lemon, lime, ginger; and Pineapple X-Press – pineapple, green apple, mint, priced at $12 each.
And as no Miami brunch is complete without out it, guests can enjoy bottomless drinks like classic Mimosas, Bellinis, and Rossinis for $25 per person for up to two hours. Or opt for the upgrade and sip on Whispering Angel Rosé for $35 per person.
Guests can enjoy brunch in the restaurants charming main dining room or outside on their lush garden terrace – opting for a seat with or without the excitement of Collins Avenue – where a DJ will be spinning tunes all day long. Brunch is offered every Sunday from 11AM to 5PM.
Coming Soon: Rivertail
Rivertail, Chef José Mendín's first seafood-driven concept, will begin accepting reservations on Thursday, December 26th at their new location on Fort Lauderdale's historic riverfront.
Initially, Rivertail will open Wednesday through Sunday at 4pm, offering incredible happy hour specials until 7pm including $1 oysters, $2 peel and eat shrimp, and $3 medium stone crab claws. Rivertail's dinner menu, primarily driven by hearty shareables and Chef Specialities is a reflection of Mendín's global experience, drawing on inspiration from a variety of cuisines.
Standout features include:
Tigres, Maine Mussels Croquettes Served in Shell
Crab Donuts, Celeriac, Brioche, Spicy Honey & Sea Salt
Bay Scallops Escargot, Shiso-Garlic Butter, Lime Zest, Sea Salt, Baguette
Mof-Gumbo, Plantain, Creole Seafood Stew, Dark Roux
Chilli Crab, Wok Tossed Jonah Crab Claws, Red Curry, Chiles & Herbs
Rivertail's beverage program by Diego Filet showcases iconic vintage cocktails, as well as, an array of unique creations with a focus on rum and whiskey. Newcomers like the Sea Smoke [Dark Rum, Falernum Liqueur, Cinnamon Agave, Fresh Pineapple, and Bitters] and Green Machine [Gin, Fresh Basil, Cucumber, Fresh Lemon, and Agave Nectar] complement twisted classics like their Monkey Penicillin [Scotch, Fresh Lemon, Honey-Ginger Agave] and the Pisco Sour Vegano [Pisco, Fresh Lemon, Foam Bitters, Agave Nectar].
Rivertail is located at 350 S. Andrews Avenue, Unit 123, Fort Lauderdale, FL 33301. Reservations can be made today r by calling 954.306.2665.
Bulla Debuts New Seasonal Menu Items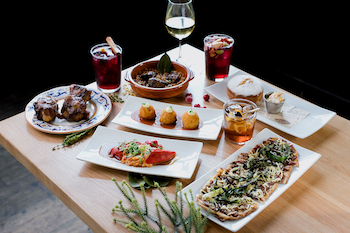 Bulla Gastrobar, the contemporary Spanish-style restaurant located just steps away from the buzzing Giralda Plaza in the heart of Coral Gables, as well as in the center of the vibrant Downtown Doral, launches a selection of new seasonal dishes to welcome the winter months.
Featuring a series of new and unique dishes, Bulla introduces items to the Doral and Coral Gables menus such as a hearty Carrilleras con Fideos ($13) with pasta, braised beef cheeks, sofrito and minced parsley, as well as the Bombas de Rabo ($10) with oxtail truffle sauce, mustard, aioli and micro basil. Guests can enjoy a perfectly braised Oxtail Coca ($16) with a truffle touch, as well as a classically prepared Piquillos Rellenos ($9) featuring piquillo peppers stuffed with braised pork, pimiento cheese and cilantro. Save room for the Tarta Santiago ($11) for dessert, featuring a traditional Spanish cake with toasted almonds, powdered sugar and vanilla ice cream.