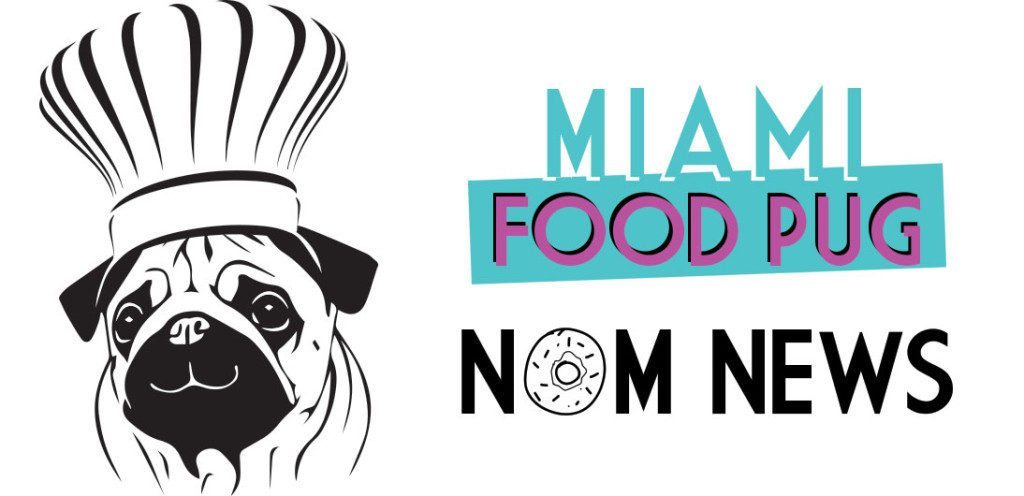 January 17, 2020
Each Friday, we compile South Florida food-related news and events that we couldn't fit on the site earlier in the week, as well as other local news that piques our interest. Want to be included in our next roundup? Shoot us an email at bark@miamifoodpug.com.
Crafted By Corsair Dinner Series Returns
New Executive Chef at Fooq's
Dinner Show at The Garden
Art, Beats and Brunch at Central Fare
Guest Chef Series at AQ By Il Mulino
Hutong Launches Lite Lunch Menu
Ariete Turns 4
Crafted By Corsair Dinner Series Returns
JW Marriott Miami Turnberry Resort & Spa is partnering with South Florida's most acclaimed microbreweries for the return of Crafted by Corsair, the popular monthly Beer & Dinner Series at CORSAIR Kitchen & Bar. This month's collaboration kicks off on Thursday, January 23 at 7:30PM featuring select pours from Biscayne Bay Brewing Company; an independently owned craft brewery and taproom located in the heart of Doral.
Brews will be paired with a 4-course menu meticulously crafted by Corsair Kitchen & Bar's Executive Chef Gordon Maybury and Chef de Cuisine Derrick Connor. Following a beer-based welcome cocktail, guests will sit for dinner in Corsair's private dining room.
Crafted by Corsair dinners will begin promptly at 7:30PM and are priced at $58 per person, excluding tax and gratuity. Seating is limited and reservations are required — tickets can be purchased through tock, link HERE.
New Executive Chef at Fooq's
Fooq's, Miami's award-winning restaurant serving Persian-inspired dishes prepared using European cooking techniques, is proud to announce Clark Bowen as its new executive chef. A Miami native with a passion for his community, Bowen brings 20 years of culinary experience to Downtown Miami's beloved neighborhood eatery as it gears up to celebrate its fifth anniversary this year.
Owned by two-time Michelin star recipient, David Foulquier, Fooq's aims to honor the traditions of Mediterranean and Middle Eastern flavors while continuing to push the boundaries by incorporating French and Italian preparation techniques. Fooq's philosophy of "Feel Good Food" features an international menu selection inspired by Foulquier's global travels and Persian-French heritage. Foulquier and Bowen both share a passion for giving back and using sustainably sourced ingredients, and Bowen's newly updated menu includes primarily locally-sourced proteins from Florida Fresh Meat Company.
Chef Bowen has already been hard at work putting his touches on the updated menu at Fooq's. A new Charcuterie section has been added, featuring house-made cured meats and terrines like the House Pate ($19), served with pickles, mustard and toasts, a Foie Gras Torchon ($24), and a house-made Charcuterie Board ($28). Additionally, Bowen has added some flare to Fooq's popular Spreads menu with his Muhammara and Babaganoush (both $7).
The Small Plates section of the menu now features four new items, including the Farm Salad ($14) featuring local greens and vegetables as well as crispy chickpeas and a pomegranate-mustard vinaigrette; Cauliflower Salad ($15) with vadvouvan mousseline, citrus and carrot vinaigrette, grapes and raisins; Local Burrata ($18) served alongside Medjool dates, beets and candied walnuts; and Stuffed Quail ($28) accompanied by mushrooms, seared foie gras and truffle sherry vinaigrette.
Guests can now also enjoy a new iteration of Fooq's signature plant-based entrée, the Vegan Khoresh ($24), which shows off roasted local Swank Farm eggplant with a pomegranate glaze on a bed of split pea dal, crispy sour cherries and jeweled tahdig saffron rice.
Dinner Show at The Garden
For an energetic evening, head to the The Garden this weekend. The recently opened outdoor restaurant offers a dynamic dinner and show experience at 9 p.m. on Friday and Saturday. Guests are entertained by interactive performance artists on an over-water stage while dining on upscale Medditeranian fare that includes a variety of quality seafood, grass-fed steak and more. When dinner service ends at 11 p.m., a DJ booth, dance floor and bottle service invite guests to come for dinner and stay to celebrate.
Art, Beats and Brunch at Central Fare
Central Fare has partnered with SOCIALXCHANGE to transform the food hall into the ultimate brunch experience, showcasing local artists McKinson Souverain, Zayed Moxam and Reyna Noriega, a live contemporary violinist, and DJ performances by DJ Vybz and DJ Whiskey Chick. Of course, it wouldn't be brunch without delicious eats and bottomless mimosas, and La Estación American Brasserie and World Famous House of Mac will be serving both, alongside other open Central Fare tenants!
To RSVP, click here.
Guest Chef Series at AQ By Il Mulino
To kick off Acqualina's 2020 Guest Chef Dinner Series, Acqualina Resort & Residences & AQ by Il Mulino welcomes Michelin-starred Chef Giuseppe Stanzione of the award-winning Hotel Santa Caterina located along the stunning Amalfi Coast and a member of Leading Hotels of the World. On Tuesday, February 11 and Wednesday, February 12, 2020 at AQ by Il Mulino, Chef Stanzione along with Il Mulino New York Executive Chef Michele Mazza will present a delectable menu celebrating the flavors of the Mediterranean.
Guests will have an opportunity to delight in an intriguing menu beginning with a champagne reception at 7 pm followed by a four-course dinner with perfectly paired wines. Inside the elegant AQ by Il Mulino, the chef duo will guide guests through a culinary experience destined to be quite extraordinary.
Born in Salerno, Italy, Chef Stanzione is the Executive Chef of Al Mare and Glicine restaurants, the latter awarded a Michelin star by the 2020 Michelin Guide. His cuisine embodies local recipes and Mediterranean flavors creating balanced, elegant and innovative dishes. Prior to Hotel Santa Caterina, Chef Stanzione worked extensively throughout Italy and abroad in California, Australia, China and Thailand. After returning to Italy, he expanded his experience working in the kitchens of Convivio Troiani in Rome and Restaurant Arquade in San Pietro in Cariano. In 2011, he became the head of the kitchen at Le Trabe Restaurant in Capaccio-Paestum, where he received his first Michelin star.
The special four-course menu with wine pairings and champagne reception is priced at $95 per person, exclusive of tax and gratuity. Seating is limited and reservations are required. For reservations, call 305.466.9191 or email egiordano@ilmulino.com.
For guests wishing to stay overnight at Acqualina Resort, rates are from $992 per night.
Hutong Launches Lite Lunch Menu
Hutong, the recently opened contemporary Northern Chinese restaurant in the heart of Brickell, launches a new lite lunch menu to alleviate busy mid-work schedules. Available on weekdays from noon to 3 p.m., the menu is a $29 prix-fixe menu consisting of one appetizer, one main dish and two sides.
Appetizer options range from Vegetarian Spring Rolls, Wild Mushrooms & Spinach Steamed Dumplings, Calamari Flowers; main dishes include Pan-Seared Beef Tenderloin, Kung Po Prawns, Eggplant Tempura; and side dishes include Vegetarian Fried Noodles, Chef's Fried Rice, Ginger Kai-Lan and Pea Shoots Wok Tossed. The lite lunch menu is designed to be shared between two or more guests. The a la carte lunch menu is also available.
Guests are encouraged to book a reservation ahead by calling the restaurant at 786-388-0805.
Ariete Turns 4
Since opening in 2016, Chef/Owner Michael Beltran's beloved Coconut Grove restaurant has garnered a ravenous following and received national recognition including mentions in Food & Wine and The New York Times. In celebration of its four-year anniversary, Beltran is throwing an epic pachanga complete with live music, special menus, drink specials, and free birthday cake. The annual party has become one of Coconut Grove's most popular culinary events and this year the team is taking it up a notch with a Caja China and dunk tank.
Taking place on Sunday, January 19, 2020, Ariete's anniversary bash kicks off at 11AM with a special celebration on the back terrace until 4PM. The restaurant will serve Caja China roast pork with black beans, maduros, and white rice ($14); the wildly popular Chug burger ($18); a selection of fritas ($12); and a delicious breakfast sandwich ($13).
Also available will be $10 select signature cocktails crafted by Beverage Director Bobby Gilardi (Champagne Bobby). Drinks include the Chug's Old Fashioned, Em's Tonic, Gloria Estefan, Four Years of Ariete, and Bobby's M(g)oose Juice 2020. The restaurant's popular brunch menu will be available in the dining room.
This year, guests can expect lively entertainment, including tunes by Carluba. At 3:30PM, anyone who would like to dunk Chef Beltran – one of Miami's most outspoken and occasionally controversial figures – will have the opportunity to do so for a $100 donation (three throws per donation). In light of the recent circumstances in Australia, all proceeds will benefit New South Wales Rural Fire Service, the world's largest volunteer fire service.
The celebration continues in the Ariete dining room from 6PM until close, where the restaurant will serve a special three-course family-style feast priced at $49 per person. Designed to be shared and intended for indulgence, the menu will feature fan favorites as well as some special surprises.
Also available will be a limited a la carte menu with signature items including the famed pastrami-style short rib and succulent pork chop. Since no celebration is complete without dessert, all diners will be treated to a complimentary slice of birthday cake made by Executive Pastry Chef Devin Braddock. Additionally, diners can enjoy $10 select signature cocktails and live music by The Problem Kids.
Table reservations for the evening anniversary celebration are suggested and can be made by calling (305) 640-5862.