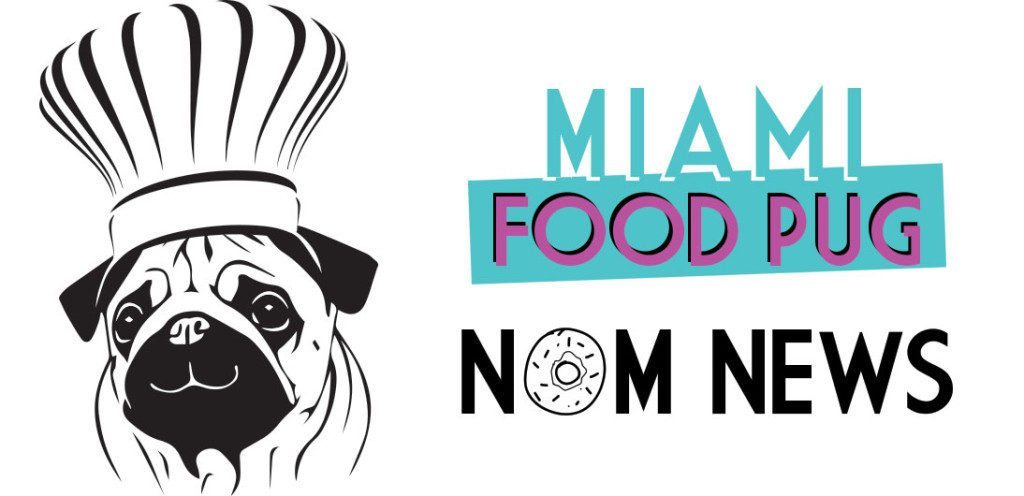 February 14, 2020
We're back with Nom News after taking a break for Super Bowl weekend. Each Friday, we compile South Florida food-related news and events that we couldn't fit on the site earlier in the week, as well as other local news that piques our interest. Want to be included in our next roundup? Shoot us an email at bark@miamifoodpug.com.
Greek Festival at St. Sophia Orthodox Cathedral
Chick-fil-A Comes to Virgin MiamiCentral
Miami Whiskey Mash Returns to Coconut Grove
Cooking Classes at Via Emilia Garden
Omakase Series at 1-800-Lucky's B-Side
PF Pop-Up Dinner at Central Fare
Dogfish Head Residency at Concrete Beach
National Margarita Day at Bodega
Bulla Celebrates 7 Years in Coral Gables
Tap 42 to Open in Coral Springs
Greek Festival at St. Sophia Orthodox Cathedral
St. Sophia Orthodox Cathedral Greek Festival in the historic Roads neighborhood will return from Fri, Feb. 21 – Sun, Feb. 23, 2020.
A celebration of Greek culture, food and wine, the annual tradition (41 years!) features authentic culinary delicacies such as gyros and souvlaki curated by festival veteran Alex Karavias and Chef Giannis Kotsos of Meraki Greek Bistro and Meraki Coconut Grove as well as mousaka, spanokopita, Greek salads and favorite Greek pastries.
In addition, Chef Kotsos along with other local chefs will perform Greek cooking demonstrations while mixologists showcase how to create the perfect Greek Mojito and Ouzo Martini. Families can enjoy a variety of booths offering arts and crafts, clothing, jewelry, religious art, devotional items, books, and cathedral tours, as well as a children's area with rides and games for kids. There will be live music and performances including St. Sophia's award-winning children's dance troupe. All proceeds benefit St. Sophia Greek Orthodox Church.
Festival hours are Friday and Saturday, 11 a.m. to 11 p.m. and Sunday, 11 a.m. to 9 p.m. Admission is $7 for adults and free to children 12 and under. Everyone enters free before 5p on Friday. Guests can purchase tickets on-site.
Chick-fil-A Comes to Virgin MiamiCentral
Chick-fil-A will debut its newest location at Virgin MiamiCentral, the new mixed-use development that serves as a hub for all things transportation, leisure and business that is home to Brightline and Park-Line Miami's new luxury residences. Located on Virgin MiamiCentral's ground floor retail promenade on the corner of 5th Street and 1st Avenue, Chick-fil-A will open this spring, joining a dynamic lineup of over 100,000 square feet of retail spanning three city blocks.
Chick-fil-A fanatics can finally ditch the car when the need for fried chicken hits, since Virgin MiamiCentral offers the most connected dining options in South Florida. With the Brightline rail platform just upstairs, Virgin MiamiCentral's ground floor retail offerings are also adjacent to Metrorail, Metromover and a future Tri-Rail passenger platform. The location is also steps away from multiple downtown office buildings and businesses as well as the Miami-Dade County Government Center and Wilkie D. Ferguson Jr. U.S. Courthouse.
As Miami-Dade's sixth Chick fil-A location, Virgin MiamiCentral will be one of its largest restaurants, comprising nearly 3,000-square feet, designed to fill the cravings of the daytime population of more than 250,000 people living and working in Downtown Miami.
The Virgin MiamiCentral Chick fil-A will feature the latest store advancements and serve classic, fresh food alongside hand-spun milkshakes. The restaurant joins other retail and dining venues at Virgin MiamiCentral including Joe & The Juice and Einstein Bros. Bagels, that are both on the ground floor. Central Fare, Downtown's newest food hall, has a variety of tenants including La Estación American Brasserie, CAO Bakery & Cafe, Rosetta Bakery, World Famous House of Mac, Buck's Crepes, PF by Delicatessen Patagonia and more tasty options on the way. Over the coming weeks Art de Vivre, Kuenko and 800º Woodfired Kitchen will open.
Miami Whiskey Mash Returns to Coconut Grove
The Miami Whisk(e)y Mash™, a celebration of fine whiskies from around the world, returns for a 6th year on Saturday, March 7th, 2020. The MWM will be held at a NEW location, the beautiful Cruz Building (3157 Commodore Plaza). Showcasing 100+ different expressions of whiskies from around the world – Ireland, Scotland, Canada, Japan, Taiwan and the U.S., this is the largest whiskey event in Miami. Attendees will be able to enjoy tastings of whiskies and cocktails, plus delicious light bites, live music by the Damian J. Project, cigars by Drew Estate Cigar Co., and much more.
Miami Whisk(e)y Mash General Admission tickets will be available for $75 online and $95 at-the-door and includes admission from 3-6pm. A very limited number of VIP tickets are available for $100 online. Click here to purchase tickets.
Cooking Classes at Via Emilia Garden
Via Emilia Garden brings homemade pasta and flavorful dishes to Midtown Miami, and they now give guests the opportunity to make the pasta they eat. Cooking class packages are now available for adults and children, offers include:
Adult cooking classes at Via Emilia Garden are based upon request (date and time) and cost $95 per person, which includes a one and a half hour class followed by a lovely meal enjoying your fresh made pasta with a bottle of wine. Classes must be booked in advance and are nonrefundable. Via Emilia Garden also offers a one hour, $70 class that includes one glass of wine.
Kids cooking classes will be offered while the parents are eating and is only available if pre booked. Reservations are required and must be booked three days in advance. Availability is subject to change based on peak hours.
Omakase Series at 1-800-Lucky's B-Side
1-800-Lucky's B-Side by ITAMAE, the famous food hall's renowned Nikkei-inspired sushi bar, has just launched a new ongoing Omakase Collaboration Series. Each session will include a special curated dinner in partnership between Chef Nando Chang, the B-Side James Beard Award semi-finalist chef, and another special guest chef.
The first session, which is on February 17, will feature a collaboration between Chef Nando Chang and guest chef Junior Sushi Chef Shingo from Azabu, where they will focus on specialty nigiri dishes. There will be three seatings with 8 spots allotted in each: 7:15pm, 8:30pm, and 9:45pm. There will be 6 nigiris served – 3 of which will be Nikkei and 3 traditional.
Tickets are $75+tax. For reservations, please contact cansu.mihci@plandosee.com or 786-276-0520.
PF Pop-Up Dinner at Central Fare
PF by Delicatessen Patagonia is giving guests the perfect chance to sample their delicious, traditional flavors with an all new pop-up dinner on Thursday, February 20th at 7:00pm. The Argentinian-inspired eatery, located at Central Fare in Downtown Miami, is hosting a private culinary experience with all-new dishes and pairings. Guests will get to indulge in a carefully curated 5-course menu, plus two drinks, all for $80.
For more information, RSVPs and reservations please email oddkitchen14@gmail.com.
Dogfish Head Residency at Concrete Beach
Concrete Beach Brewery welcomes their off-centered co-workers from Delaware's Dogfish Head Craft Brewery to begin an ongoing residency at their Wynwood-based Social Hall. The residency will kick off on Friday, February 21st, with a collaboration brew day with Concrete Beach, Dogfish Head, and their friends, Argentinian-based Cerveza Artesanal Okcidenta.
This date also marks the kick off for the inclusion of numerous Dogfish Head beers being available on tap on an ongoing basis, and the breweries' first collaborative event, a Beachside Brewers Chat happy hour and meet and greet with Dogfish Head Founder, Sam Calagione, Okcidenta's Marco Málaga and the Concrete Beach Brewery team.
The beer, De Las Americas, is a kettle-sour, with a nod to each brewery's respective region of the world. It features Floridian guava, Delaware-grown wheat, Argentinian rose hips, Argentinean river island honey and a unique sour culture from Okcidenta's Barrel Program. The beer will be available on draft at the Concrete Beach Social Hall beginning March 13.
The Beachside Brewers Chat on the 21st will take place from 5:00–7:00 and all Concrete Beach and Dogfish Head beers will be $2 off and attendees will take home a speciality Dogfish Head pint glass, available while supplies last. Event is open to the public.
As part of the new residency, Dogfish Head and Concrete Beach are planning a variety of collaboration brews, focusing on session and sour ales utilizing local ingredients with De Las Americas being the first. The two breweries will also be working together on a series of events throughout the spring featuring Dogfish Head's signature Randall device that infuses beer with flavor-enhancing ingredients.
National Margarita Day at Bodega
On Saturday, February 22, South Beach hotspot Bodega Taqueria y Tequila is celebrating National Margarita Day with not one but TWO great specials. From noon til 6 p.m. in the front, Avión Frozen Margaritas ($7) will be buy-one-get-one-free. Then from 6 to 8 p.m. in the back, Bodega will be serving up a specialty cocktail, Tropicalé Margarita ($7) made with Avión Silver Tequila, Chinola passion fruit liqueur, lime, agave, and a dash of tiki syrup.
Bulla Celebrates 7 Years in Coral Gables
On Thursday, February 20, contemporary Spanish restaurant Bulla Gastrobar invites guests to celebrate seven years of tapas and sangrias in Coral Gables with a can't-miss anniversary party. Enjoy $5 red sangrias all day long, Paella tastings during happy hour, and festive decorations to welcome the restaurant into an exciting new year in the heart of Coral Gables. To celebrate the fantastic community, the tapas hotspot will also raffle a $50 gift card to one lucky winner.
Guests can reserve a seat at no cost via OpenTable or call the restaurant at (786) 810-6215.
Tap 42 to Open in Coral Springs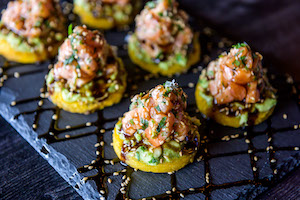 Tap 42 Craft Kitchen & Bar continues to expand throughout South Florida with the grand opening of their seventh location in Coral Springs. On the heels of the opening of their sixth location at CityPlace Doral last summer, the TapCo team is proud to open their seventh outpost, in Coral Springs at University Place. Tap 42 started with a single location in 2015, and now has seven locations within five years of their original launch.
Staying true to the Tap 42 brand, the nearly 5,000 square foot location, features a covered patio area incorporating an indoor and outdoor bar. The new location features elevated gastropub fare under the culinary direction of Partner & Executive Chef, Andrew Balick, with dishes including, Truffle Street Corn Guacamole topped with charred corn, truffle crema, cotija and chile-lime spice; The Impossible French Dip, a plant based patty with mushroom ale jus, caramelized onions, white cheddar and creamy horseradish; Baby Back Rib'wich, a boneless half rack with sweet and smoky BBQ sauce, garlic buttermilk slaw served on a toasted baguette.
Tap 42 Coral Springs menu will also feature handcrafted cocktails, daily programming such as Happy Hour, ½ Off Burger Monday, ½ Off Wine Wednesday, and Ladies Night on Thursday, and their signature bottomless brunch every weekend.
Tap 42 Coral Springs is located at 3111 North University Drive, Coral Springs, FL. Free parking is available in the surrounding parking lot, as well as valet.