August 13, 2021
Each Friday, we compile South Florida food-related news and events that we couldn't fit on the site earlier in the week, as well as other local news that piques our interest. Want to be included in our next roundup? Shoot us an email at bark@miamifoodpug.com
Now Open: M Park
The Macallan Master Series at Toro Toro
Lur Opens at Time Out Market
Veza Sur Partners With the Miami Dolphins
Bulla Gastrobar The Falls Turns 1
Eleventh Street Pizza Launches Happy Hour
Now Open: M Park
M Park is now open at The Shops of Midtown Miami, located at the center's central round-about near Nordstrom Rack and West Elm.
The new park consists of two areas; an open grassy space with tables and benches for relaxing and events and an enclosed playground for kids. The playground is designed for children aged two to 12, consisting of four separate play structures for visitors to enjoy. The play structures feature multiple levels with climbers, slides, rock walls, cargo climbing nets and monkey bars under integrated sail shades. The two sides of the park, connected by a large Gumbo Limbo tree in the center for shade, are surrounded by artificial turf.
"We are excited to welcome the community to the new and improved M Park in the heart of Midtown Miami." said Richard Forrest, Vice President of Property Management. "There was a need in Midtown for a beautiful green space for locals and visitors to stop by, recharge and let their kids play. The Community Development District worked hard to transform M Park into a premier destination for fun, creativity and relaxation for the city of Miami. We are excited and proud to share it with our neighbors and shoppers."
An official grand opening event for the community and local dignitaries is slated for Saturday, August 21. M Park is a destination for local events, as well as a location to relax and enjoy a picnic with food from one of The Shops at Midtown Miami's many restaurants. The park has a maximum estimated occupancy of 210 people.
The Macallan Master Series at Toro Toro
Celebrated Chef and Restaurateur Richard Sandoval returns to Miami to host a luxury culinary experience at Toro Toro, his acclaimed Pan-Latin steakhouse located at the InterContinental Miami. Sandoval and Toro Toro have teamed up with Macallan Highland Single Malt Whisky to present The Macallan M Experience, an intimate, upscale culinary tasting journey complemented by rare, limited edition Macallan flights. Priced at $385 per person, excluding tax and gratuity, the limited attendance four-course tasting curated by Executive Chef Jean Delgado will be guided by a local Macallan ambassador and will feature delectable plates paired expertly with the finest limited edition pours.
The exclusive tasting, which will take place in the restaurant's spacious, private El Matador dining room, will feature four courses including Cobia Tiradito with Macallan 12 Double Cask; Duck Carnitas paired with Macallan Estate; Australian Wagyu Ribeye complemented by Macallan 18 Double Cask; and Cherry Brownie served with Single Malt Macallan 12 ice cream and pours of The Macallan M.
Following dinner, guests will be shown to a private Cigar Lounge and treated to cigars and specialty Macallan cocktails. The Macallan M Experience will take place on Tuesday, August 17 at 7PM. Attendance is limited; tickets must be purchased in advance on OpenTable – HERE.
Lur Opens at Time Out Market
One of the City's most vanguard talents just unveiled one of Time Out Market's newest sensations – imaginative Basque cuisine by none other than Chef Aitor Garate Berasaluze. LUR, officially opened on Wednesday, August 11, 2021. Spanish-born and Michelin-trained, Chef Aitor is one of the city's most provocative talents and is hosting exclusive eight-course dinners every Friday evening at 7:30pm, beginning August 13th.
The experience is hosted by Chef Aitor Garate Berasaluzeand is priced starting at $65 per person (exclusive of tax and gratuity). The special menu will rotate every week and will include two welcome bites, three appetizers, two main dishes, a dessert and optional beverage pairing. There are only 12 seats available each Friday. To purchase tickets and reserve your spot, click HERE.
Photo by Clara Fernandez
Veza Sur Partners With the Miami Dolphins
Veza Sur is partnering with the Miami Dolphins for their first-ever craft beer collaboration and they want their Miami familial to join in the fun by having them vote for a special beer that will debut at the first regular-season game at the Hard Rock Stadium in a custom bar buildout.
Although voting will be open all weekend long, fans will have the opportunity to watch the first pre-season game on the big screen alongside the Miami Dolphins Cheerleaders from 1-3pm, while they cast their votes!
The two Kolsch-style cerveza finalists, Passion Fruit and Blood Orange, will be featured in the voting panel and guests will be able to enjoy FREE tasters of each to select their favorite beer! The winning cerveza will be announced on August 16th and will make its debut in the stadium and at the brewery just in time for the first game of the Miami Dolphins regular season on September 12th.
Bulla Gastrobar The Falls Turns 1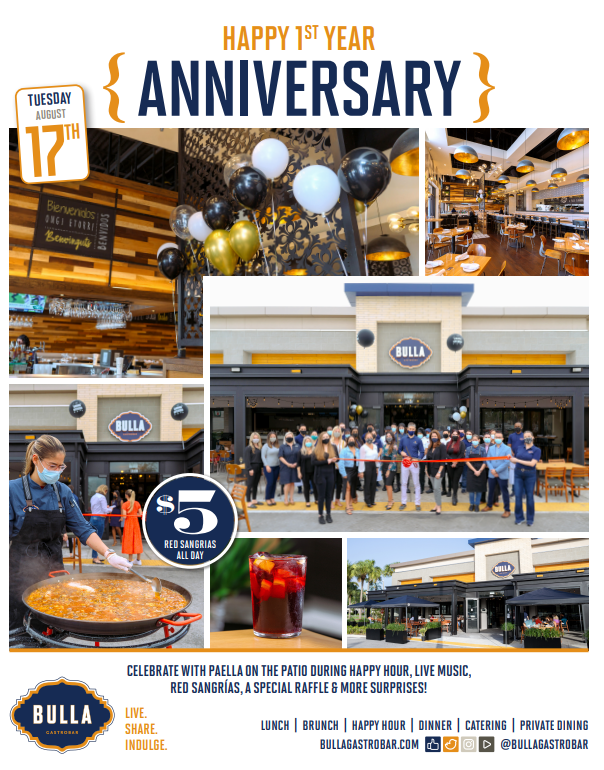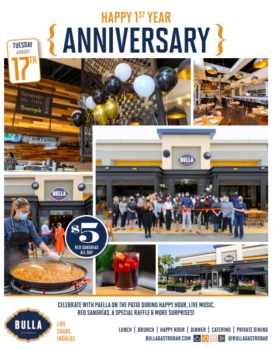 On Tuesday, August 17th stop by Bulla Gastrobar The Falls to help them celebrate their 1st year anniversary! Guests will be able to enjoy $5 sangrias all day long and paella on the patio during happy hour. There will also be live music, such as singing and guitar playing, Flamenco dancing and a special $50 gift certificate raffle that diners can participate in.
Eleventh Street Pizza Launches Happy Hour
Summer Friday just got better! Eleventh Street Pizza just reopened its doors after completely transforming into the pizzeria it was always meant to be. In addition to pizza by the slice, indoor seating and expanded hours, it's now launching weekday Happy Hour (Tuesday-Friday from 3PM-5PM). Enjoy half-off all slices and beer and start the weekend off right!
Photo by 52 Chefs