June 24, 2022
Each Friday, we compile South Florida food-related news and events that we couldn't fit on the site earlier in the week, as well as other local news that piques our interest. Want to be included in our next roundup? Shoot us an email at bark@miamifoodpug.com.
Now Open: 2 Korean Girls
Opening Soon: Sushi By Scratch Restaurants
Power Hour at Eleventh Street Pizza
National Ceviche Day at The Lincoln Eatery
Now Open: 2 Korean Girls

Shelborne South Beach has announced the opening of 2 Korean Girls, a pop-up restaurant operating within the hotel's scenic Oasis Garden, with direct access from the Miami Beach boardwalk. Known for serving Bibimbap and contemporary twists on traditional Korean dishes, 2 Korean Girls is set to bring a new level of dining to the Shelborne. Sisters, Jennifer and Michele Kaminski, spearhead 2 Korean Girls, alongside their mother Chom "Sunny," and James Beard award winning chef, Allen Susser.
2 Korean Girls focuses on the staple Korean dish, Bibimbap. The term "bibimbap" literally translated means mixed rice. Bibimbap is served as a bowl of warm white rice topped with ribeye bulgogi, banchan (seasoned chilled vegetables), gochujang (fermented Korean chili pepper paste) and a fried egg. A contemporary twist to the traditional, 2 Korean Girls crowns the dish with a heart-shaped egg and golden edible stars, adding an Instagrammable surprise for each guest. 2 Korean Girls will also be featured on UberEats, allowing guests to enjoy meals from the comfort of their homes.
The menu will include tasty bites perfect for a day or night at the beach such as Korean Short Ribs (Galbi), Korean style short ribs swimming in a marinade for 24 hours before being grilled to caramelized perfection; Korean Melon Salad, kale + napa cabbage massaged with sesame dressing, topped with white onion, shredded carrots, Korean melon, toasted black sesame seeds; Tteokbokki, a beloved Korean street food snack, Pan seared rice cakes in Tteokbokki sauce; Impos-Seoul-ible Meatballs, bulgogi style Impossible meatballs, glazed with gochujang; Kimchi Fried Rice, with homemade napa cabbage kimchi caramelized and wok-fried to perfection; Korean Fried Chicken, secret seasonings, perfectly crispy, and coated in "Hot Hunny" sauce; 2KG Korean Fried Chicken Sammies, crispy Korean fried chicken thighs, sweet and sour radish, cucumber kimchi, Kewpie mayo, on a toasted potato bun.
Other notable dishes include the Cucumber Kimchi, made fresh in small batches; Napa Cabbage Kimchi, also made fresh using generation's old recipe; and the O.B. aka Original Bibimbap, includes a variety of protein choices such as: ribeye bulgogi, Korean spicy chicken or "Impos-Seoul-ible" meatballs, Korean white rice, sesame spinach, marinated mung bean sprouts, sweet and sour radish, spicy potatoes topped with a heart-shaped egg and Gochujang.
2 Korean Girls is now open Thursday from 5 p.m. to 10 p.m. Friday and Saturday from 5 p.m. to 12 a.m. and Sunday from 5 p.m. to 10 p.m. at the Shelborne South Beach Oasis Garden, located at 1801 Collins Ave on Miami Beach.
Opening Soon: Sushi By Scratch Restaurants
Without question, Miami is having a Michelin moment. Considering the recent tidal wave of adulation from the revered guide, from Bib Gourmands to Stars, the Magic City represented. On the heels of those big wins, California-based Scratch Restaurants Group is announcing the impending opening of its Michelin-starred omakase concept, Sushi by Scratch Restaurants: Miami.
Slated to open at Coconut Grove's historic Stirrup House on July 1, 2022 – with a waiting list already building in anticipation – Sushi by Scratch Restaurants: Miami will signal the arrival of husband-and-wife chef/restaurateurs Phillip Frankland Lee and Margarita Kallas-Lee to Miami's sunny shores.
Housed behind the newly-starred Ariete restaurant in the heart of Coconut Grove, Stirrup House is a historic two-story bungalow that evokes the spirit and mystique of bygone Florida. Sushi by Scratch Restaurants: Miami is taking over the bottom floor of the building, transforming it into a 10-seat counter-only omakase den, manned by a team of three chefs and one bartender. With three seatings nightly (5PM, 7:15PM and 9:30PM), dinner at Sushi by Scratch Restaurants is a literal hands-on experience you won't want to miss.
Each bite is handmade and placed by our chefs, who engage directly with our guests over 17 courses, which lasts about two hours. Lee fell in love with sushi as a kid dining across Los Angeles with his father. In fact, it was his first omakase experience with his father's friend, a sushi chef, which laid the seeds for what would become the family of Sushi by Scratch Restaurants. Locations include Los Angeles, the Michelin-starred outpost in Montecito, Austin and now Miami.
A journey begins 20 minutes prior to the scheduled seating time with a complimentary welcome cocktail. From there, a progressive, intoxicating and alluring tasting experience consisting of strictly nigiri, each item handmade and served as is – no extras, no sidecars of soy sauce or wasabi. In fact, everything is made from scratch, including soy sauce, vinegars, etc.
A seat at Sushi by Scratch Restaurants: Miami is $165 per person plus tax and service. Non-alcoholic beverages are included with beer, wine, sake and Japanese whiskeys available a la carte. There are also two beverage pairing options: $85 (featuring three different sakes, two cocktails and one beer) and $110 (featuring six different pours of sake).
Power Hour at Eleventh Street Pizza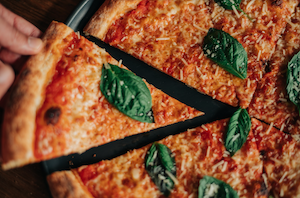 Miami's famed Eleventh Street Pizza recently launched a "Power Hour Happy Hour"! Available Tuesday through Saturday from 11PM-Midnight, the special includes: $3 Carmine Cheese slices, 1/2 off beers, and 1/2 off wines by the glass. What better way to end the night than with Eleventh Street Pizza's drool-worthy slices?
National Ceviche Day at The Lincoln Eatery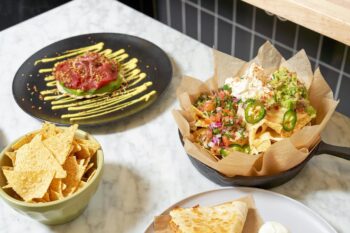 On Tuesday, June 28th, ceviche lovers come together to celebrate the refreshing, yet spicy and delightfully acidic dish. The Lincoln Eatery is excited to announce that in light of this holiday, Cilantro 27 Ceviche Bar will be hosting a ceviche making class.
Cilantro 27 Ceviche Bar is located within The Lincoln Eatery, an immersive culinary destination in Miami Beach located on Lincoln Road. This ceviche bar was created to bring sustainable Peruviane cuisine to the Miami community. The stall is helmed by Chef Nilton Castillo, a native of Lima, Peru who worked under some of the world's most acclaimed chefs, including Daniel Boulud and Jose Andres. Boulud insists, "Castillo makes the best ceviche in the world." As a chef instructor at the Biltmore Hotel in Coral Gables, he has acquired experience teaching classes.
For $30 a person, Cilantro 27 will be welcoming guests to take part in a ceviche-making experience on Tuesday, June 28 from 6 p.m. to 8 p.m. Chef Nilton will teach guests how to make classic ceviche, Causa Acevichada, and a Pisco sour. To purchase tickets, click here.