Dianne here.
After a week of dreadful, ugly weather, the skies cleared up this past weekend just in time for the Hess Select South Beach Seafood Festival. On Saturday, I headed down to the beach to see what some of Miami's best restaurants had to offer in the way of seafood.
Stretched from Ocean and 7th to Ocean and 10th were several booths offering tasty treats from restaurants including Smith & Wollensky, Joe's Stone Crab, A Fish Called Avalon, and Red, The Steakhouse. There was also a performance stage and dozens of tables to sit and eat (if you could find a spot).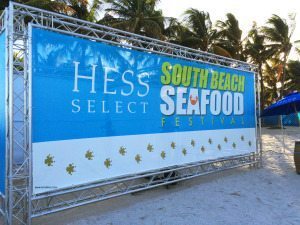 Since it was a seafood fest, there was the expected ceviche, stone crab claws, and oysters available for consumption. Oddly enough, there were also a lot of raviolis offered too – spicy seafood ravioli, shrimp ravioli and lobster ravioli… You get the picture. I particularly enjoyed Cafe Avanti's lobster ravioli in a pink sauce.
But some restaurants offered up something unique like Smith & Wollensky's beef wellington (not a seafood dish but delicious nonetheless), City Hall the Restaurant's lobster truffled mac and cheese, Naked Taco's seafood tacos, and Joe's Stone Crab's lobster cone. The line for Joe's was long throughout the entire fest. People could not get enough of the lobster cone! Sadly, right I was about to get one they ran out. Talk about heartbreak!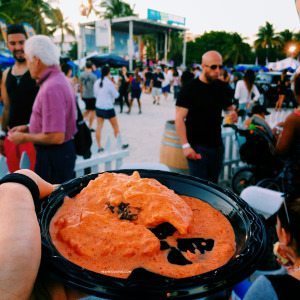 While Joe's broke my heart, A Fish Called Avalon quickly mended it with their delectable Bang Bang Shrimp. This isn't your standard bang bang shrimp with average size pieces of crispy shrimp. No, these were ginormous shrimp – biggest I've ever seen – coated in a sweet chili sauce along with a mint yogurt to cool your palate. It was the best dish of the night for me.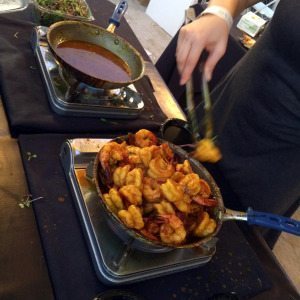 Mixed in with the seafood dishes were desserts from the participating restaurants and some sweets specialists like Crepemaker, Pop Lab Ice Pops, and The Cupcake Bar. I had not heard of Pop Lab before but they reminded me of Feverish Pops (RIP to the Midtown Miami favorite). Pop Lab offers all natural fruit popsicles and "Adult" popsicles if you like a little wine with your strawberries and peaches. I tried their mango strawberry popsicle and it was very refreshing. Not overly sweet and with frozen pieces of fruit in there to give you something to nibble on. Something to note – maybe because I ate the popsicle later in the evening so it wasn't very hot out — but it did not melt as quickly as I thought it would. Thumbs up for no sticky fingers!
The Cupcake Bar offered up cake pops (a popular item at the event), cupcakes, and other desserts. I picked up two pairs of the chocolate covered pretzels. They were playfully decorated with various sugary toppings. Mine had multi-colored sprinkles and neon icing. The pretzels were crispy and the chocolate rich.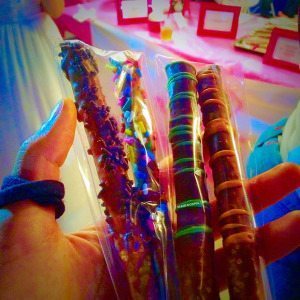 All-in-all, it was a fun and delicious seafood feast. Hopefully, Joe's Stone Crab will save me a lobster cone next year.
– Dianne