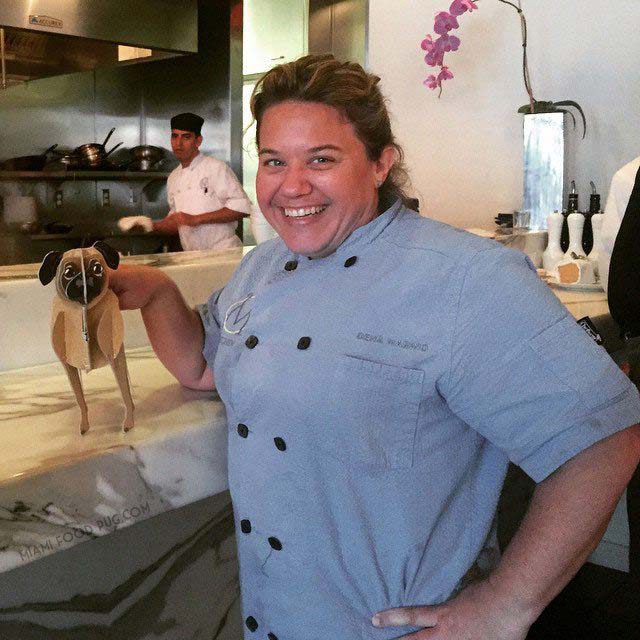 Back in 2012, MC Kitchen first opened in the Design District. Three years later, this Italian eatery is still going strong while many of its neighbors have shuttered their doors. In an area not exactly known for long-lasting tenants, MC Kitchen's longevity is a testament to the quality experience awaiting diners inside 4141 NE 2nd Avenue.
It's a quality experience that we've partaken in several times during the last month. After first meeting Chef Marino at a Common Threads community event and pulling some mozzarella with her, we had to visit her restaurant, try out the food and find out more about her and this Design District gem. So that's exactly what we did.
A New Jersey native, Chef Marino knew she wanted to cook at a young age — food was always a part of her life. Sunday Italian family dinners were commonplace, and her first job was at an ice cream shop when she was just 13. She thoroughly enjoyed Home Economics in high school and ended up taking a day trip to the Culinary Institute of America, which would help cement her decision to become a professional chef. She would later go on to graduate from CIA at 19.
Her journey to Miami wasn't a straightforward one. Right out of school, she worked at Atlantic City's Caesars Palace and then ended up on the West Coast working at Michael Chiarello's Tra Vigne in Napa Valley. Following a five-year stint there, she accepted a chef position at another Chiarello eatery: Ajax Tavern in Aspen. It was during her time in Aspen working in multiple kitchens — including at D19 and Ellina — that the pieces really started coming together for MC Kitchen in Miami.
"I got an enticing offer to come to Miami by a gentleman who stopped by the restaurant in Aspen," Chef Marino said. "It was one of those 'I'll make you an offer you can't refuse' deals." After moving to Miami with now-husband Marcus Wade, the deal turned out too good to be true and she found herself at a crossroads. That's when she partnered up with her former hostess at Ajax Tavern: Brandy Coletta (the C in MC Kitchen).
Opening a restaurant is no easy feat — let alone in the fairweather city of Miami — but the duo was up to the challenge. Finding the right location took about six months; they bought out the previous occupant, gutted the place and brought their vision to fruition. Upon entering, you'll notice there's a distinct feminine touch that gives the restaurant a warm, home-y feel; rustic wood and Italian marble are prevalent throughout the venue. The open kitchen complements the welcoming aura, allowing Chef Marino, Wade (who runs the front of the house) and the rest of the team to see who's out there on the floor and acknowledge guests.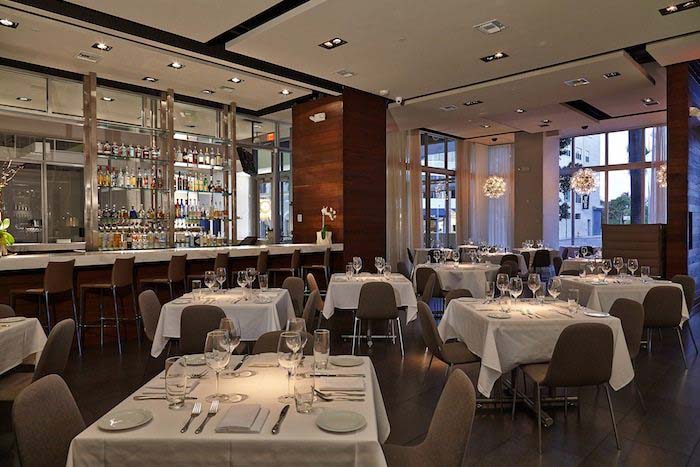 Although the decor is gorgeous, the food is the real star here. Like we said earlier, we've visited the restaurant a number of times in the past month alone. Each time, we've had a satisfying experience. Why? Chef Marino's emphasis on consistency.
"I'm a hands-on person, and consistency is one of the things that means the most to me," Chef Marino said. "It's one of the reasons we've been around so long. I want our guests to always expect a great meal."
And a great meal was exactly what we had the first time we visited … and the second time … and the third time. Seriously, it's actually kind of scary how consistently good the place has been to us.
When you visit, you can expect an extensive modern Italian menu focused on simple dishes with a lot of layers; Chef Marino wants diners to be able to identify each ingredient on the plate as they taste their way through it. In particular, she's a big fan of acids; guests will notice vinegar, fresh lemon, orange and other acidic flavors across the menu.
We certainly did experience a plethora of flavors during our culinary journey through the menu. Here's a list of our favorites (and what you should order when you visit):
Black Mission Fig Pizzetta: Comprised of cippolini marmalade, parma prosciutto, fontina cheese, arugula, and saba, this is a sweet, perfectly-portioned starter that's so good you won't want to share.
Artichoke Heart Bruschetta: A beautiful dish that's equally delicious. Truffle lovers, in particular, will adore the plate for its shaved black perigord truffles, which pair excellently with the artichoke heart. And don't get us started on that creamy parmigiano fondata.
Heritage Breed Poulet Rouge: So simple yet so delectable — it's top-of-the-line poultry. Hats off to Chef for creating such a flavorful plate with only a modest set of ingredients.
Mascarpone Risotto: Our quest for good risotto in Miami is complete. This is a steal at $9. We'd order it five times over.
Why we waited three years to visit is beyond us. The bar program — developed by Wade — is phenomenal, too, with an extensive selection of Dogfish Head beers, delicious cocktails and tasty bites including some of the best truffle fries we've ever come across (a recipe that Chef Marino brought from Aspen). It's honestly no surprise that the restaurant has captured the attention of star clientele like Justin Timberlake, Beyonce and — her crush — Usher as well as a loyal, local following.
Delivering a fine dining experience for everyone from locals to celebrities wasn't a walk in the park at first. Staffing, in particular, was a big issue when the restaurant first opened. "Building the right team was tough. We interviewed a ton of people to find the right ones." This exhaustive interview process paid off: Several team members who opened the restaurant are still around today.
Chef Marino knew it was going to take long hours, occasional sleepless nights and patience to make her culinary dreams a reality. Despite her work schedule, she still finds time to follow another passion: philanthropy. She's been involved with Oxfam, an organization fighting global poverty, as well as other programs like Fit to Fight, a weight-loss challenge that pit her against 12 other chefs to lose the most weight and raise the most money for charity. "As chefs, everybody thought they were fit because we're on our feet 16-17 hours a day. In reality, we eat like crap," she noted.
Her son — a regular presence at MC Kitchen — is also following in his parents' philanthropic and culinary footsteps. In April, he helped make 400 orders of cavatelli for the VeritageMiami Interactive Dinner, an event whose proceeds benefited the United Way of Miami-Dade. When you visit the restaurant, don't be surprised to see him help unpacking food, counting reservations and otherwise helping his parents out.
"I want my son to have a better understanding of where food comes from and the industry we're in," Chef Marino said. "I want him to know why his parents are here doing what they do and to recognize the value of hard work."
Chef Marino's hard work has resulted in MC Kitchen coming a long way in just three years, but she's just getting started — personally and professionally. While she can't divulge too many details about what the future holds, she's considering writing a cookbook or a book about life behind the line. "Nobody believes what we go through on a daily basis," Chef Marino said. "There's just so much going on behind the line — the cooking is the easy part. It's what people say and do that's crazy and make for great stories."
If MC Kitchen is any indication, Chef Marino should find success whichever path she chooses.
MC Kitchen is located at 4141 NE 2nd Ave in the Design District. Hours of operation are Monday to Sunday from 11 AM – 11 PM. For more information, visit their official website or call 305-456-9948.