The Local Craft Food & Drink isn't the same place it was a year ago. If you haven't visited the Coral Gables American gastropub recently, it's time you did. Why? Because Chef Phillip Bryant is in charge.
Since taking over the kitchen late last year, the former Swine/Yardbird chef has made his mark with a delicious menu of Southern staples and innovative dishes that are constantly changing and evolving.
This creativity is something that's been evident in Bryant for a long time. The Virginia native got his start in the kitchen at the young age of 15 as a way to get some quick cash. But then, it turned into something more. Once he realized how creative and free he could get in the kitchen, he knew he wanted to pursue a culinary career.
"Working in the kitchen is really all I know — it's the only job I've really ever done," says Bryant. "It's fast paced, and you're always doing something different. It drives me."
He's come a long way from his humble beginnings as a short order cook at Shoney's. Bryant credits his brother — a chef himself — and culinary superstar Norman Van Aken with helping him along his path. After being introduced to the latter chef's fine dining cuisine in Los Angeles, Bryant moved to the City of Angels and started work as a line cook at Norman's.
When the opportunity arose to follow his mentor to Florida to work at a Key West resort, he jumped at it. Another opportunity opened up on the mainland at Norman's 180 in Coral Gables, which was short lived. Around this time, he met Chef Albert Cabrera — the former owner/chef of The Local.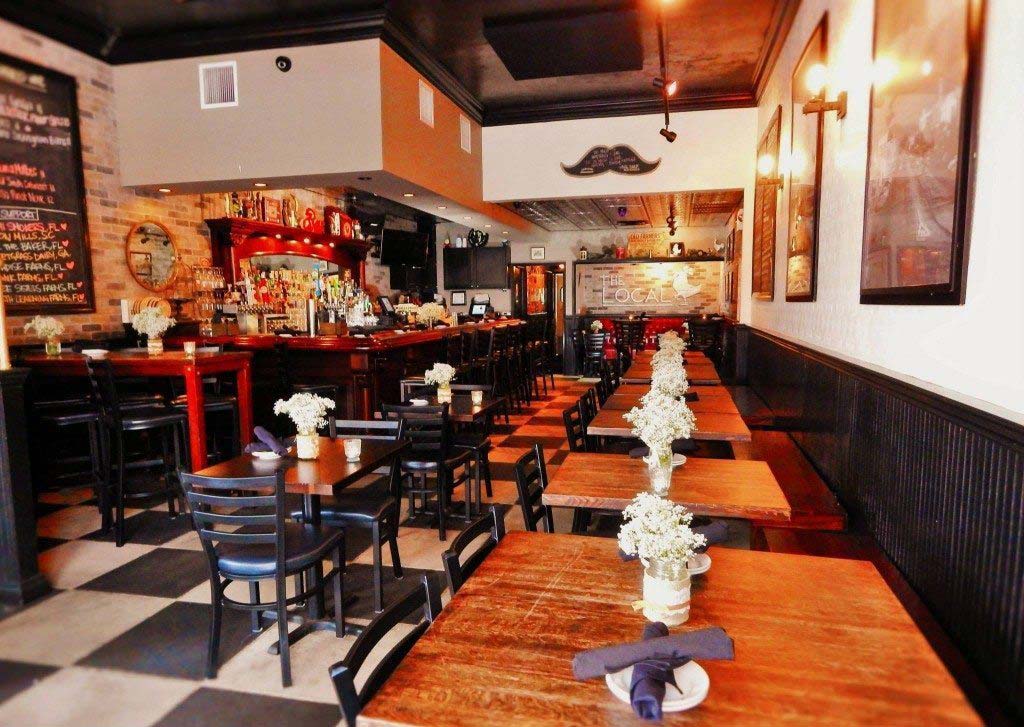 So although Bryant took over the kitchen just a year ago, his connection with the restaurant goes further back. While waiting for Yardbird — his next venture — to open, he worked the lunch shift at The Local and met his girlfriend Veronica there. Both would eventually leave when Bryant took the role of Chef de Cuisine for the 50 Eggs concept. Bryant would go on to work for another 50 Eggs property — Swine Southern Table and Bar — before ultimately ending up at the gastropub.
"Both Yardbird and Swine were opportunities I couldn't pass up," he says. "We did some great things with Southern food and BBQ. I like to think of Yardbird as an introduction and Swine as a natural progression for me."
Having honed his skills at these larger concepts, Bryant hit the ground running at this cozier neighborhood spot. Within eight days of starting his new role as Executive Chef, he turned The Local's menu on its head; more than half the menu was replaced upon his hire.
"It was sad to see how the restaurant fell after Albert left," he says. "It lost its footing. I wanted to take The Local back to its original concept."
That concept — an inviting gathering place with an emphasis on small plates and local ingredients — is exactly what Bryant has done in such a short period of time. Craft beer continues to be a big focus, too, with an always-rotating selection. Similarly, certain food items you see on the menu one week are replaced by another selection of tasty plates the next.
As a result, it's always a new experience when you visit for dinner. Regulars need not worry, though: Staples like the steak tartare and the pulled hen and buttermilk dumplings aren't going anywhere.
"I sowed my culinary oats by changing most of the menu when I started," he says. "Now, we're changing about 1-2 dishes a week. I get bored easily, so I'm always pushing for inventiveness. It also gives people another reason to come back."
Bryant's vision for The Local Craft Food and Drink also includes an emphasis on the "Craft" part of the name.
"We're trying to make a lot of things in-house," Bryant says. "For example, our butter, vinegars, mustard and even the American cheese on the burger are all done here. We're also big fans of cross utilization since we have a small kitchen. Like we'll use the milky buttery water from our housemade butter to brine the fried chicken or use our flank steak for both the tartare and jerky."
Bryant and the team have some big plans, including full brunch service by the end of the year. In the meantime, the Roast & Toast Brunch Series — a monthly brunch collaboration with local culinary stars — is keeping bellies full on the weekend. The next one is this Sunday (September 6): a five-course affair with Finka Table & Tap's Eileen Andrade. Tickets can be purchased here.
"The brunch series is going to help us transition to our regular brunch service when that gets going," he says. "We also hope to do more beer dinners and wine dinners. We want to do events that bring people together and make people feel welcome. Like I said, we want The Local to be a gathering place."
And that it is. In just one year, Bryant and his team have transformed The Local — and they're just getting started.
The Local Craft Food & Drink is located on 150 Giralda Avenue. For hours of operation and more information, visit their official website.