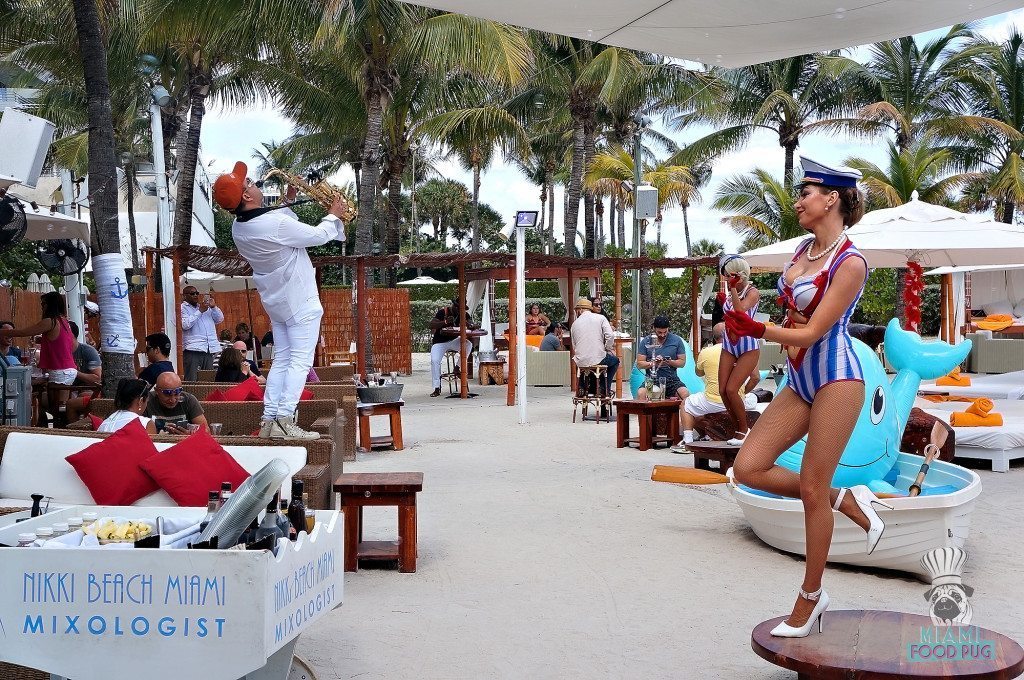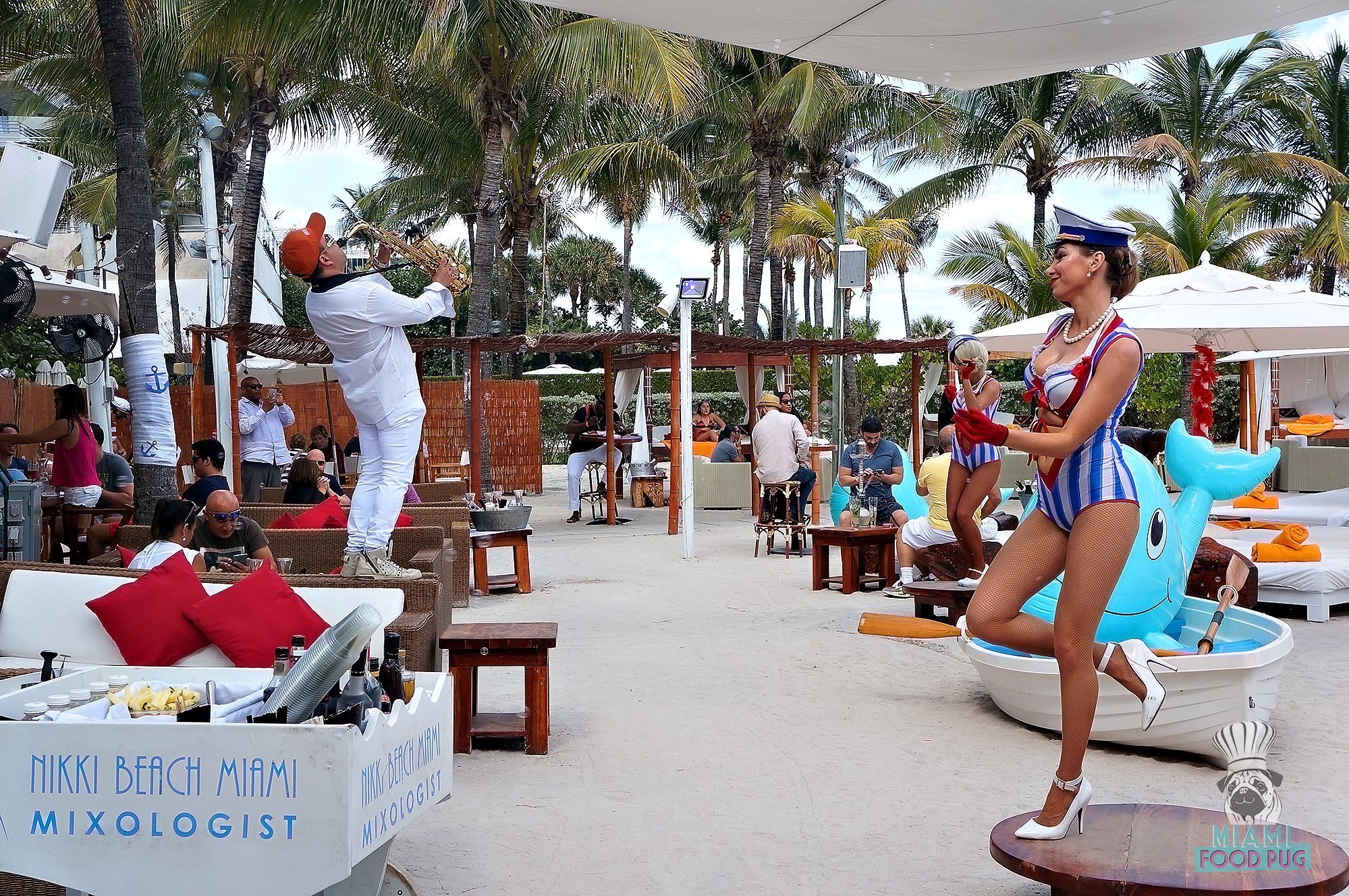 Brunch on Miami Beach can be an expensive affair, but it doesn't have to be. Nikki Beach, which we've always known for its memorable parties, is also offering a memorable brunch service with a beachfront view that won't cost you an arm and a leg.
For just under $50, you can enjoy an extensive selection of  brunch fare including your favorite classics as well as innovative dishes (more on that later). On Miami Beach, deals like this are hard to find. And this is one deal you should take advantage of.
So what does that $49.95 get you? Quite a bit. It's an all-you-can-eat feast so come hungry. Seriously, don't eat anything before you come here — there's a ton of food. Throughout the venue, there are stations to satisfy your every craving. If you're in the mood for breakfast dishes, you can swing by the breakfast stations near the entrance, which feature crepes, waffles, omelettes and eggs made to order. Further inside, there's charcuterie and cheese for diners who feel peckish while salads, sushi and other lighter bites line the walls.
Seeking heavier fare? Don't miss the Pad Thai station, paella station and carving stations, where you can pick up items like Japanese sticky rice, prime rib and hearty seafood paella with jumbo shrimp and other delicious proteins. Did we mention the extravagant dessert station? Raspberry mousse cups, French apple tarts, freshly baked cookies … you name it and they probably have it here. With so many stations to visit, you're definitely getting your money's worth.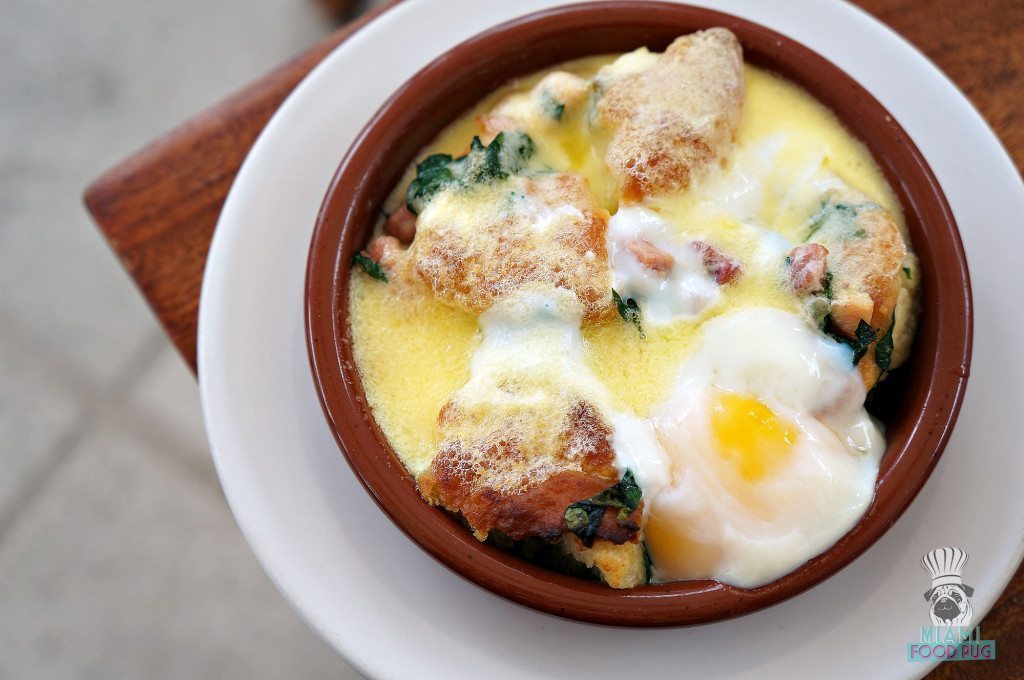 There are two things you must try: the Deconstructed Eggs Benedict Casserole and the Bloody Mary selections. Chef Frank Ferreiro has elevated the traditional Eggs Benedict into something even more delicious. It features a sous vide-style egg, broken biscuit and Chef Ferreiro's signature Hollandaise sauce, all baked in a terra-cotta cazuela dish. It is creamy, tasty and a sight to behold. Because it's made to order, there can sometimes be a line for it but don't be deterred — it went by pretty fast.
As for the Bloody Marys, you haven't seen anything like these before. There are 12 handcrafted Bloodys to choose from, ranging from the Kobe & Mary (garnished with a Kobe beef slider) to the BLT Mary (topped with bacon and cherry tomatoes and a Romaine lettuce leaf). You also have the option of crafting your own from the bar, but try the ones we mentioned … you won't be disappointed. Just a heads up: the Bloody Marys are not included in the brunch price. They're offered at a reasonable $7 each, though.
You'd think that for these insanely low prices, there has to be some glaring flaw, right? Was the service bad? Nope. Service was impeccable.
Our waitress made sure our glasses were topped off and our plates were cleared efficiently. She even gave us an insightful tour of the whole layout and offered her own recommendations. Every diner around us was getting the same guided tour and treatment from their wait staff, which we thought was a nice touch especially since we came on the super-busy Valentine's Day weekend.
And don't get us started on the view — such a fun, chill setting on the beach. The price for the view on a clear day is worth the price alone. Look at the photos if you don't believe us.
One sentence sums up how we felt about this meal: brunch for when you want to feel rich but aren't. For less than $50, you're not only getting a ton of food, but you're hanging out at one of the coolest spots on the beach. At other places on the beach, something like this would cost you somewhere in the triple digits. So if you want a high-quality experience at a low price point, pick up the phone and make your reservation. This is one brunch you don't want to miss.
Nikki Beach is located at 1 Ocean Dr. on Miami Beach. For hours of operation and other information, visit their official website or call 305-538-1111.