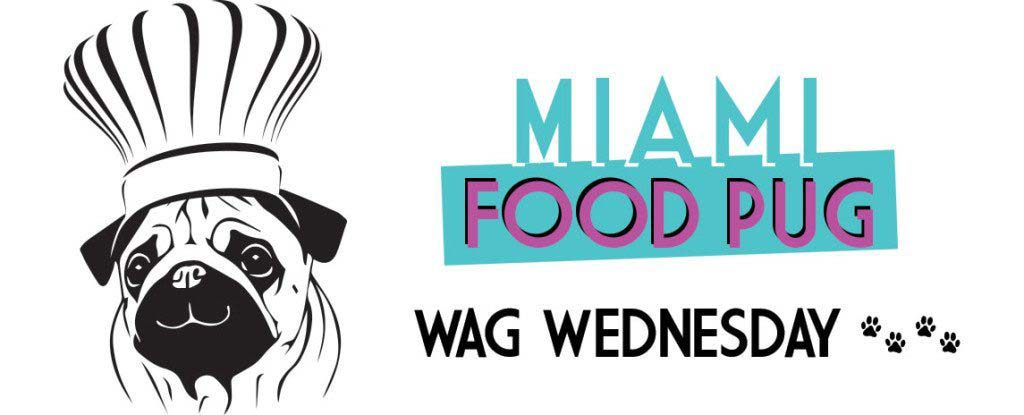 Since starting the blog, we've interviewed many members of the hospitality industry, and one constant among the interviewees has been a profound love for their pets. We thought it would be great to share this love with our readers. That's why we launched an ongoing feature called "Wag Wednesday" to showcase industry peeps and their pets. Know someone who wants to be featured? Email us at bark@miamifoodpug.com.
This week, we're featuring Sef Gonzalez, the Burger Beast, and his dogs, Elsa and Shelley.
Your Name: Sef Gonzalez
Your Pets' Name: Elsa & Shelley
Sex: Both Female
Age: 3 3/4 Years (Elsa) and 8 months (Shelley)
Breed: Elsa – Poodle/Bijon Frise;  Shelley – Shih Tzu
How did you come to own your dogs? What drew you to them?
My wife Marcela's mom helps unwanted dogs find homes. People are always dropping off dogs at her home, and she looks for a loving home for them. Elsa and her two sisters were dropped off at her home, and Elsa ended up with us. Shelley's scenario was a little different in that her mom got her from a vet's office where the owners didn't want her any longer. She thought we would love her, and she was right.
What's the story behind their names?
So, Marcela and I are big time horror film fans. We're not talkin' recent films either; we go back to early German horror and — of course — the Universal Monsters. It was only logical (to us, anyway) that we name all of our pets after favorite actors and actresses from horror films.
Elsa's name comes from Elsa Lanchester, who portrayed the Bride of Frankenstein. Shelley's name came about since we love The Shining, and Shelley Duval in it. And even though you didn't ask, our cat is named Boris after one of my favorite actors, Boris Karloff, who originally portrayed the Frankenstein Monster for Universal Studios.
How would you describe their personalities?
Both Elsa and Shelley have very different personalities. Elsa is more of a Mama's and Papa's girl and likes to hang out, follow us around and lounge about. Shelley is more active, and I'm sure the fact that she's very young adds to this. She loves to play fetch — it's almost an obsession, and from the minute we walk in through the door, it's the first thing on her mind.
How has owning a pet made your life richer?
I didn't grow up with any dogs or real pets that my sister & I needed to take of. When Marcela and I first moved out together, we got two pups. There was a bit of a learning curve for me as Marcela had owned cats and dogs in the past. I've learned to enjoy just lounging around with Elsa just sitting with me as I binge watch some horrible Netflix series. And Shelley — she's a handful. I could sit and watch her antics for hours.
It's said that dogs reflect their owners and vice versa. How does this apply to you and yours?
Elsa's habit of hanging around and being a sleepyhead really is closer to Marcela than me, even though I enjoy the latter. Shelley's more maniacal personality leans toward more of my "eccentric" side. They're also both very friendly, which we both are or try to be. 🙂
Tell us a funny story about you and your dogs.
We recently lost our dog Max (named after Nosferatu's Max Schreck) who was almost 17 years old. I really love this story about him so I'd rather say this one. Max had a particular fascination with one of the colognes that my dad would wear. One day, I guess he couldn't take it any longer and jumped on my dad's leg, held tight and went ta' humping.
After my dad was able to separate him, Max began to cry and it didn't end there. My dad began to walk away, and Max followed him. The faster my father walked, the faster Max went after him until they had built up to a light jog in circles (in through one side of the kitchen and then out through the other). Max was now running and barking at my dad,  and everyone else in the house was laughing. Ah man, I miss that dude.
We follow a lot of dog social media accounts like Doug the Pug, Rocco's Contemporary Life, and Menswear Dog. Do you? Which are your favorites?
I don't really follow any dog social media accounts except for Born Free Pet Shelter (make sure you follow them on Instagram). My wife, on the other hand, is a different animal or beast if you will.
See past editions of Wag Wednesdays here.