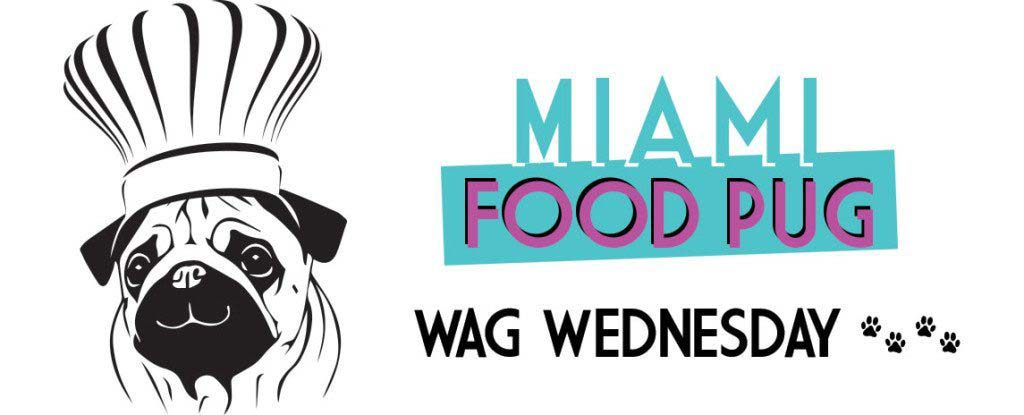 Since starting the blog, we've interviewed many members of the hospitality industry, and one constant among the interviewees has been a profound love for their pets. We thought it would be great to share this love with our readers.
That's why we launched an ongoing feature called "Wag Wednesday" to showcase industry peeps and their pets. Know someone who wants to be featured? Email us at bark@miamifoodpug.com. Starting with this edition, Wag Wednesday will be turning into a bi-weekly feature.
This week, we're featuring Spencer Taliaferro, Lead Mixologist at LILT Lounge, and his Australian cattle dog, Sophie.
Your Name: Spencer Taliaferro
Your Pet's Name: Sophie ("Sophia" when she is in trouble)
Sex: Female
Age: 2 years old
Breed: Australian Cattle Dog
How did you come to own your dog? What drew you to her?
One day, I was running errands in a plaza near my house. In this plaza, there was a Petco and they were advertising puppies for adoption. I mean, who doesn't like to play with puppies? So I went in to see what all the fuss was about.
After going in, I was prepared to walk away without commitments. However, I saw a breed I was familiar with — one that's very challenging but equally as smart and loyal: Australian cattle dog. It was a total cliché; I picked up Sophie, played with her for a bit and then put her down. After trying to walk away, she was squealing with her piercing bark. I couldn't leave without her, and I am extremely grateful I didn't.
What's the story behind your dog's name?
Initially, I really wanted to name her "Mick." Sophie is Australian and my favorite surfer in the whole world is Mick Fanning, who is also Australian. I've looked up to Mick for quite some time now, and I was set on that name. However, with my dog being a girl, I decided it wasn't the perfect name. I began looking at different names that started with the same letter as mine, and Sophie was a hit for me.
How would you describe your dog's personality?
Oh, she's got personality! The breed is remarkably smart. It took some adjusting and critical thinking on my own to keep up with her at first. She's totally a daddy's girl. Very jealous at times and lots of attitude. She's not afraid to bark her mind.
How has owning a pet made your life richer?
I'm really grateful for Sophie. She has made my life more than richer. She gave me a lot of the structure and discipline that I was missing, and I can only repay her by giving her all the love she needs. I really enjoy my time with her. I'm able to disconnect when we are together.
It's said that dogs reflect their owners and vice versa. How does this apply to you and yours?
Sophie and I are both very active and love the water! When Sophie was 9 weeks old, I took her to the dog beach in Key Biscayne with no expectations. She blew me away. I went in the water to take a dip, and she was right behind me fearlessly swimming through the water because she didn't want to leave my side.
Sophie loves being outside, given the cattle dog nature. Her favorite thing to do is put on a show at the park. If the Frisbee is out, she's locked in and knows it's time to work. If the Frisbee is out, she won't give anyone the time or day. I love running for workouts, and she's used to running for several hours a day. We share similar hobbies.
Tell us a funny story about you and your dog.
I enjoy cooking almost as much as I enjoy making cocktails. One time after a long night of work, I had this beautiful rib eye steak marinating in the fridge; I was talking about that steak all night. I had plans to come home and cook the steak with some vegetables. So I carried through with those plans and cooked the steak perfectly when I got home.
After grilling the steak, I removed it off the heat and put it on the island of my kitchen. I was finishing up the vegetables and made a big mistake: I turned my back for two minutes too long. When I turned back to grab my steak, Sophie was licking her lips. I was so upset that I just laughed. I couldn't believe it! I'll never forget that I never got to try that steak. Sophie 1; Spencer 0.
Are you involved in any pet organizations or philanthropies?
When I was younger, my grandmother and I were involved in some organizations in New Jersey where I grew up. I am affiliated with Chefs Cycle and No Kid Hungry. I am currently offering Ride with the Team, a great cocktail at LILT with our own Mount Gay Black Barrel Rum blend, sea salt pistachio syrup, fresh lime juice and cycle lime wheel garnish. Part of the proceeds will benefit No Kid Hungry's upcoming Chefs Cycle. Help LILT raise the most funds for this great cause and fun culinary event!
We follow a lot of dog social media accounts like Doug the Pug, Rocco's Contemporary Life, and Menswear Dog. Do you? Which are your favorites?
I follow @cattledogs_daily, which is probably my favorite. @heelergus is another good one I enjoy.
See past editions of Wag Wednesdays here.