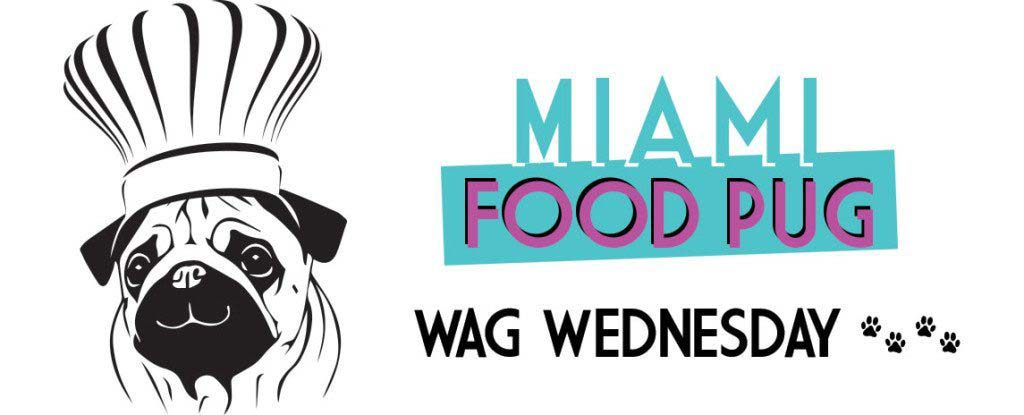 Since starting the blog, we've interviewed many members of the hospitality industry, and one constant among the interviewees has been a profound love for their pets. We thought it would be great to share this love with our readers.
That's why we launched an ongoing feature called "Wag Wednesday" to showcase industry peeps and their pets. Know someone who wants to be featured? Email us at bark@miamifoodpug.com.
This week, we're featuring Linda Villafane, Director of Public Relations for the Loews Miami Beach Hotel, and her mini schnauzer, Roger.
Your Name: Linda Villafane
Your Pet's Name: Roger
Sex: Gentleman
Age: 7
Breed: Mini Schnauzer
How did you come to own your dog? What drew you to him?
Roger was the gift my husband Scott gave me for my 30th birthday! I've always wanted a beardy dog and schnauzers have pretty amazing beards; I knew when it came time to get one, that breed was the way to go.
At the time, I was on a business trip and Scott got Roger while I was away. When I'd speak to him on the phone, Scott would try to wrap up the conversation quickly, which irked me to no end since I thought he didn't want to talk to me. In reality, he just didn't want me to hear the puppy bark and ruin the surprise! I came home from my travels and Scott opened the door, let Roger out of his crate and it's been pure love ever since.
What's the story behind your dog's name?
I love the idea of giving animals human names. Roger is quite the dapper fellow and I thought the name fit well with his beardy-ness and fun personality.
How would you describe your dog's personality?
Roger is a love sponge, but he'll cut you if you cross him or his crew. In all seriousness, aside from the occasional spoiled doggy tantrum, he is the sweetest, most loyal, playful and loving dog that I've come across.
How has owning a dog made your life richer?
Roger is pure love, and it's so rewarding to be a recipient of that unconditional affection and to foster it as well. Life can be a hectic ride at times and knowing there's a tiny, furry Roger waiting for me at home — who wants nothing more than to play and hang out — makes a girl feel fantastic! Plus, at this point, Roger has won the hearts of all of our friends and family, with many requesting we bring him on trips to visit them. He's brought countless adventures and laughs into our lives.
It's said that dogs reflect their owners and vice versa. How does this apply to you and yours?
Roger is social just like me. He's also a loyal companion and friend, as I like to think I am. He can be cranky and demanding … like me (we all have our moments), but overall he's a good boy trying to bring happiness and fun times to all he meets, which is pretty much what I try to do on a daily basis.
Tell us a funny story about you and your dog.
When Roger was a puppy — I'd say two years old or younger — we took him to New Jersey to spend Thanksgiving with our family. My brother-in-law and his wife recently had a baby: Nate, who was in the process of learning to walk. One afternoon, while we were all in the living room, Nate was stumbling by trying to walk and then started crawling. Roger soon appeared behind him.
We thought nothing of it other than how cute it was that they were pretty much the same size and height when Nate crawled next to Roger. Well, all that changed when Roger proceeded to mount my nephew and air hump him in front of us all! Hilarity ensued, pictures were taken (which will surely be shown to whoever Nate brings home when he gets older) and then we, of course, helped Nate out and removed Roger.
Are you involved in any pet organizations or philanthropies?
The Make Roger Stop Barking at Us While We're In the Pool Foundation takes up a lot of my time. However, I also donate to the ASPCA.
We follow a lot of dog social media accounts like Doug the Pug, Rocco's Contemporary Life, and Menswear Dog. Do you? Which are your favorites?
Remix the Dog is one fly mini schnauzer and Rocco the Pug is the world's cutest bartending pooch.
See past editions of Wag Wednesdays here.