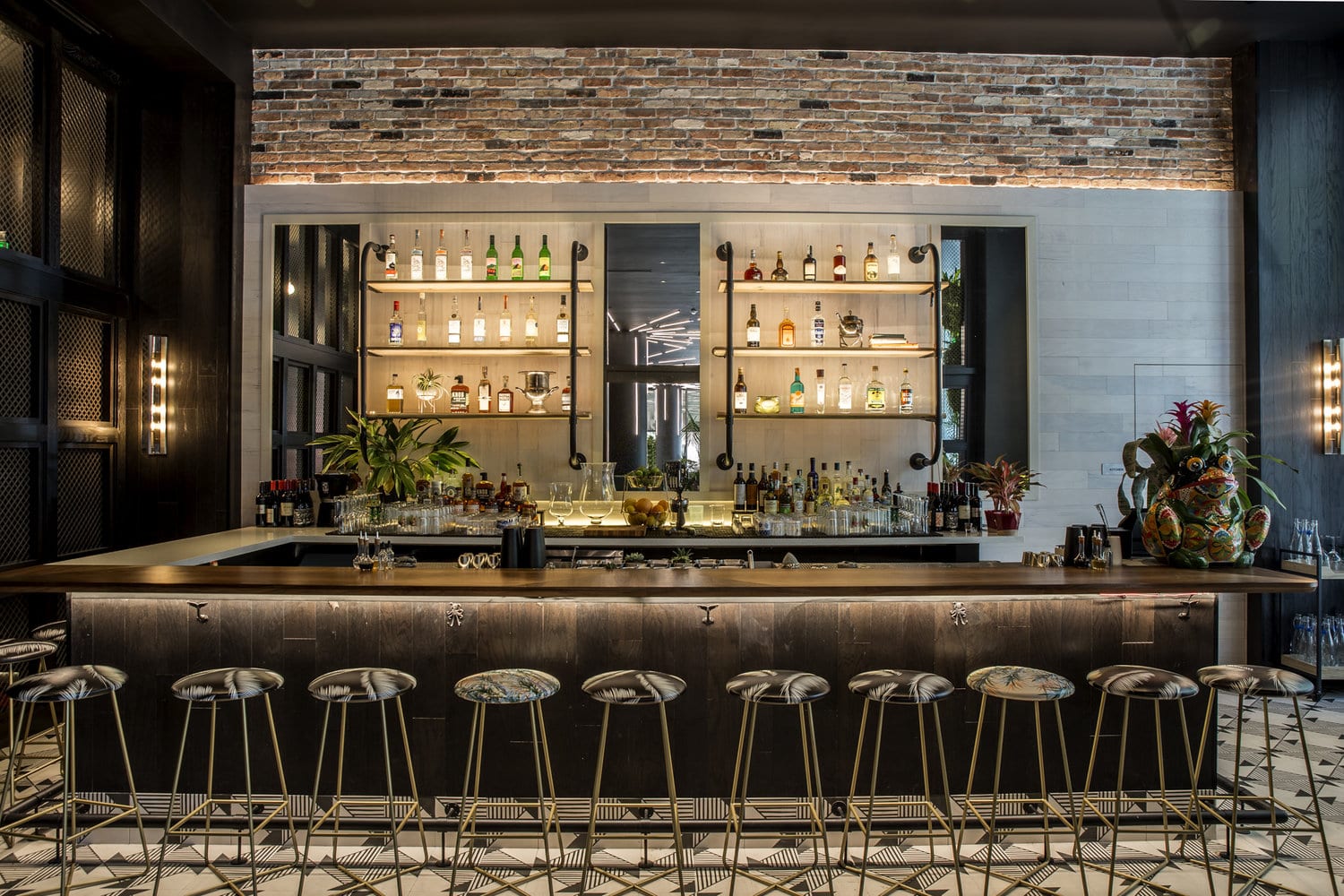 There's a new bar in (Down)town: Jaguar Sun. Located on the ground floor of the X Miami Apartments, this new watering hole — named after a collection of short stories by Italo Calvino — is helping turn the neighborhood around. Those of us who work in the area (::raises hand::) don't feel the need to rush home at 5 p.m., and residents have less of a reason to head to Brickell for some good times.
We've been here probably 20 times already, and each time the place is full of new faces and regulars. No surprise there: Word is getting out that Jaguar Sun is the place to be.
There's a good reason for its rising popularity in the scene. The duo behind Jaguar Sun — Chef Carey Hynes and Bar Chief Will Thompson — want to make sure you have a excellent experience, and they've taken all the necessary steps to ensure that: a service approach backed by a varied libation menu and plenty of delicious carbs to soak all of that alcohol up.
Along the way, though, they've had to overcome several challenges. One of those challenges has been a small kitchen, which limits the bar's food offerings.
"There wasn't originally going to be a kitchen in this space," Hynes says. "There's no hood, and he had to make sure the building could handle all our power needs. I approached the kitchen as a problem I needed to solve. I had to ask myself, 'How do I make people happy given the tools I have?'"
Due to the lack of a hood, Hynes had to go with induction burners and a combi oven. Hence, the bucatini, rigatoni, campanelle (Editor's Note: get this), and lasagna on the menu.
"We have the equipment for pasta, and pasta is very versatile," says Hynes. "It can be a quick bite or a full meal. Plus, it's a way to offer hot food to patrons."
The food, which also includes bites like 'nduja toast, Parker house rolls (a must) and country ham, pairs perfectly with the more relaxed atmosphere that Hynes and Thompson are going for — a place more conducive to conversation rather than partying. That's not to say you can't party at Jaguar Sun: Thompson and his large-format drinks make sure of that.
As the man behind the bar program — and unofficial Music Playlist Director — Thompson is the first person that patrons interact with, so he has a direct effect on their evening. He doesn't take that responsibility lightly.
"Our goal is to consistently deliver good service," says Thompson. "The menu is set up so that we can identify your likes and then gradually help you find more things that fit your palate. The menu can seem a little scary to some, but we want to give customers the feeling that we're here for you. You want the guest to trust the bar."
Quirky drink names and decor further drive home that message of putting patrons at ease. Cocktails like the Disco Politician, which gets its name from a mispronunciation of cosmopolitan, and Young Astronaut — an ode to the space race and '60s tiki drinks — are fun and complement the giant frog, humongous cafetera and other kitschy items around the venue. 
As far as what the future holds, the duo is already planning new programming. With the seasonal changes, Chef Hynes intends to use more citrus, whole mackerel and blue crab, plus make a few additions to the dessert menu. He's also working on pastries for neighboring cafe Mockingbird, where guests can enjoy treats not often seen in Miami — we're looking at you, kouign amann. On the bar side, Thompson hopes to host events like a "wine and records" night, where friends bring their music and the bar provides the wine.
Jaguar Sun is doing its part to make Downtown Miami less of a ghost town and more of a destination. Now, it's on Downtown to do its part and show up. With Jaguar Sun paving the path, it's only a matter of time.
Jaguar Sun is located at 230 NE 4th St. in Downtown. For more information call 786-860-2422 or visit their official website.