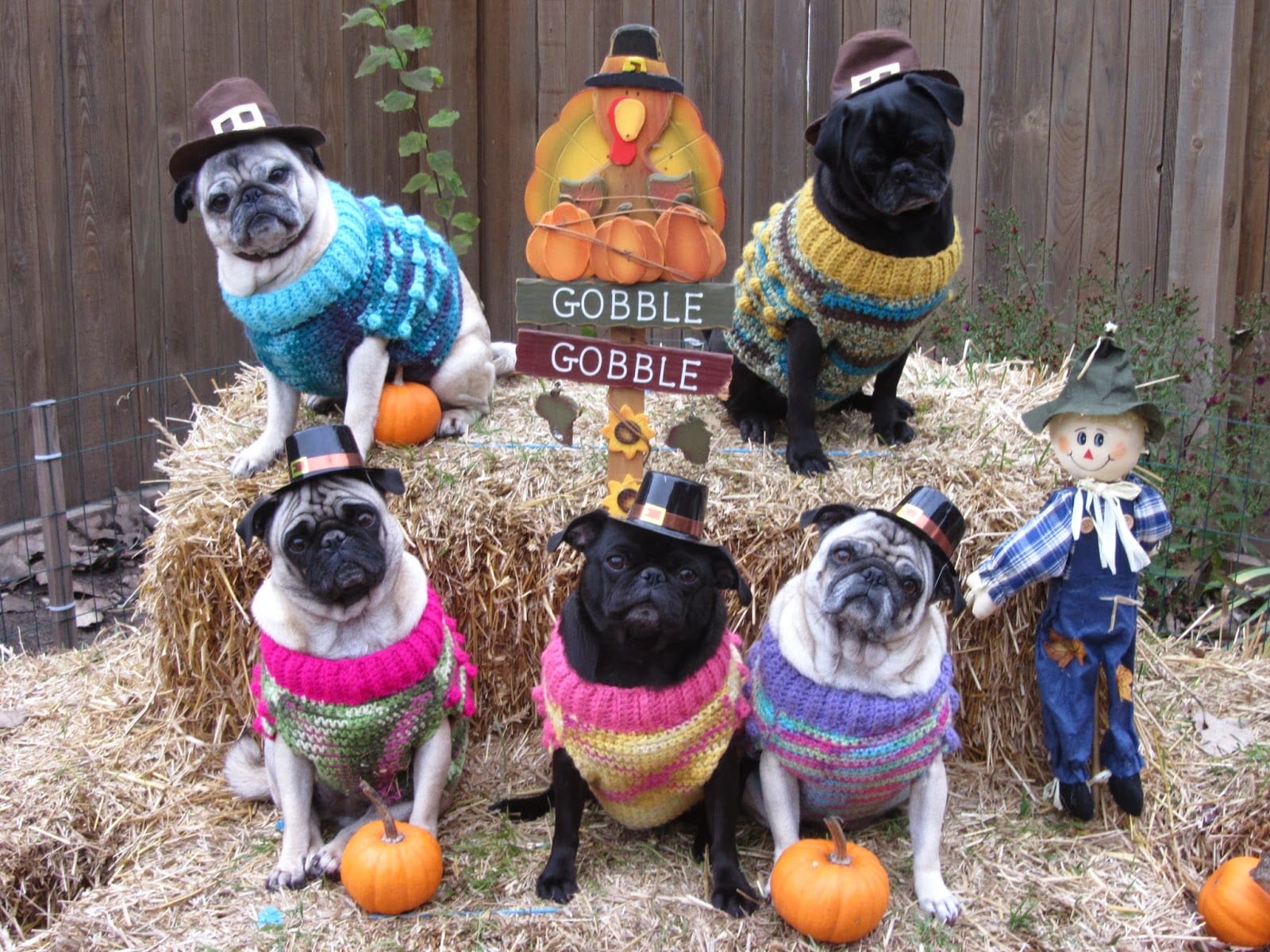 Thanksgiving is around the corner. Where are you celebrating? If you don't have plans with the family or you just don't feel like cooking, Miami's many restaurants have you covered.
Below, you'll find a list of Thanksgiving Eve and Thanksgiving Date specials throughout South Florida. As always, details are subject to change, so contact the venue in advance for the latest offerings. Happy holidays!
ADDiKT
W Miami will be offering a $55 three-course Thanksgiving brunch menu at its newly launched restaurant, AddiKT. Available from 12 p.m. to 8 p.m. on November 22, Thanksgiving Day, ADDiKT's menu by Chef Christian Quinones will feature a number of traditional Thanksgiving items with a contemporary twist including various signature dishes including the Roasted Fig and Pecan Brie frisee salad, orange-brined Pibil Turkey Breast, and the classic Pumpkin Pie. Truly relish the holiday spirit with the addition of $25 bottomless mimosas or $35 bottomless champagne.
The Anderson
The night before Turkey Day has become a notorious party holiday, especially in Miami. This year, The Anderson will be hosting Lip Gloss, it's newest monthly party with Telescope Thieves. Vibes will be on a dance/indie wave, so come ready to drink and get down until dawn!
Ariete
Ariete is offering guests the opportunity to take the night off from cleaning and cooking and enjoy an All Night Happy Hour on Thanksgiving Eve (Wednesday, November 14th) from 4PM to 1AM. Think: punch specials, cocktail specials and of course, snacks including Ariete's unique charcuterie offerings. What better way to decompress and mentally prepare for the madness that is hosting family for Turkey Day?
For those in search of a family-friendly dining experience on Thanksgiving Day, Ariete will be serving an authentic New American feast on Thanksgiving Day. From 3PM to 10PM, diners can indulge in an all-you-can-eat buffet priced at $65 per adult and $35 per child under 10 years old, excluding tax and gratuity. Menu offerings include an assortment of Thanksgiving favorites and Chef Michael Beltran's beloved family recipes with a contemporary twist.
Guests can enjoy plates like Roasted Turkey; Fried Turkey; Porchetta A La Romana; Stuffing; Honey Baked Ham; Grilled Chicken served with salsa verde; Local Fish served with heirloom tomato ragout; Green Bean Casserole; Mac and Cheese; and more. Diners can end on a sweet note with classic desserts like Pumpkin Pie; Pecan Pie; Chocolate Cake and Tres Leches. For those looking to host, The Cave is available for private parties of up to fifty guests with the option of a customized menu. Ariete is located at 3540 Main Highway in Coconut Grove.
AQ Chop House by Il Mulino
AQ Chop House by Il Mulino and Il Mulino New York, two distinctive dining destinations at the Sunny Isles' five-star Acqualina Resort & Spa, present an exquisite Thanksgiving brunch and dinner for guests and locals. From noon to 4 p.m. at AQ Chop House by Il Mulino, brunch enthusiasts can feast on a beautifully presented spread of Thanksgiving turkey, carved meats and fish, fresh sushi, homemade pasta stations, seafood (lobster, shrimp, oysters and seafood salad), made-to-order omelets and a buffet of dessert.
The all-you-can-eat brunch is $85 per person inclusive of unlimited Mimosas, Bloody Marys, Mojitos and Prosecco. Children ages three through 13 can dine for $35. Guests can enjoy live music both in the main dining room and on the terrace, as well as a caricaturist for a memorable keepsake. In addition, a traditional Thanksgiving dinner will be available from 5 p.m. to 10 p.m. for $45 per person, featuring roasted turkey, cranberry sauce, walnut and sausage stuffing, green beans and pumpkin cheesecake.
Azabu
Open for its first Thanksgiving, the Michelin-starred concept is offering a $50 prix-fixe dinner menu for the holiday. Beginning with a chef's selection starter of the day, the menu then breaks into a choice of appetizer including Wagyu Beef Tataki; a choice of entree including Branzino with Umami Butter; and a choice of dessert including Masa's Chocolate Cake. There will also be Sake Flights with three seasonal selected sakes for $22 and Japanese Whisky Flights for $35. AZABU will give diners an intimate, luxurious and Japanese-inspired Thanksgiving option.
Bird & Bone
Chef Richard Hales' Bird & Bone is offering a three-course $50 prix-fixe dinner menu. The menu combines a mix of restaurant favorites and holiday classics, with appetizer options consisting of the Butternut Squash Soup or Waldorf Salad, a festive entree of the Young Slow Roasted Turkey accompanied by Green Bean Casserole, a potato dish and stuffing, and dessert choices ranging from the Pecan Chocolate Tart, Apple Cobbler Tart or Pumpkin Tart. Bird & Bone will also offer select appetizers and entrees priced a-la-carte.
Boulud Sud
Join Chef Daniel Boulud's newest concept for its first ever Thanksgiving feast! Enjoy an exclusive $75 'celebration menu' offering a unique selection of seasonal dishes inspired by the Coastal Mediterranean. Executed by Chef Clark Bowen and Pastry Chef Saeko Nemoto, highlights on the menu include 'cinderella' pumpkin agnolotti, truffle risotto, spiced pumpkin soup, tradition turkey with sweet potato puree, spiced pumpkin custard and much more!
Burlock Coast
The rustic seafood eatery Burlock Coast invites families to enjoy Thanksgiving offerings on Thanksgiving and the day after. Offerings include Thanksgiving Dinner, Thanksgiving To Go and a Leftovers Menu.
Thanksgiving Day: On Thanksgiving guests can enjoy an extravagant food buffet from carving stations and cold tapas to a seafood display, caviar station and a variety of delicious dishes to choose from. Available from 12PM to 8PM the feast is priced at $129 per adult and $49 for children (ages 5 through 12). The bottomless drinks package is included – BC Brew, Rum Punch, Mimosas and Bloody Marys. Guests can finish with a multitude of decadent confections to choose from at the Dessert station. For reservations, please call (954) 302-6460 or email burlockcoastrsvp@ritzcarlton.com.
Thanksgiving Dinner To Go: For those who want to indulge from the comfort of their own home can pre-order Thanksgiving Dinner To Go. For $369 plus tax the family dinner package will serve 6-8 people. Menu includes Herb-Rubbed Whole Roasted Turkey with Gravy and Cranberry Sauces; Homemade Traditional Bread Stuffing; Creamy Potato Puree; Green Bean Casserole; Roasted Sweet Potatoes; Buttermilk Biscuits and Pecan Pie. No substitutions. Orders must be place by Monday, November 19th. Pick up will be located in the lobby of the hotel on Thanksgiving Day from Noon – 4PM. Call (954) 302-6430 to order.
Day After Thanksgiving Leftovers Menu: A special Leftovers menu created by Executive Chef Paula DaSilva is available Friday, November 23 from 7AM – 11:30AM during breakfast. Featured items include Pumpkin Spice Latte ($5); Sweet Potato Pancakes ($12) and Turkey Eggs Benedict ($16).
Diez y Seis
For those visiting Miami for the upcoming Thanksgiving holiday, or those who just want to sit back and relax with family instead of laboring in the kitchen, Diez y Seis at Shore Club and Chef Jose Icardi have got you covered with plenty of delicious offerings at the new Mexican eatery. At $45pp++, guests can enjoy the holiday prix-fixe menu and indulge Chef Icardi's mouth-watering Thanksgiving inspired dishes with a Mexican twist.
Dig into three courses beginning with a choice of appetizer including Camote Salad; roasted sweet potato, watercress, dry cranberries, goat cheese, onion ashes, and raspberries vinaigrette, Aguachile Negro; Scallops, cucumber, avocado, red onion, mango, and Tacos Dorados; Turkey, avocado cilantro sauce, spring onions, watermelon radish, Mexican cream, cotija cheese.
Continue on to the main course with options such as Turkey Peanuts Mole; Turkey with Mexican stuffing, baby red beets, baby corn and Pork Belly En Salsa Verde; Roasted pork belly, salsa verde, onion, pork skin, micro cilantro with Roasted Cauliflower and Sweet Potato sides. End the meal with a Pumpkin Texture dessert made with macaroons, mousse, baby pumpkin, tuile, topped with vanilla ice cream.
What's more? If a prix-fixe tasting menu isn't what you're going for this holiday – guests are more than welcome to order off of Diez y Seis' Thanksgiving menu a la carte.
ETARU
ETARU, known for its contemporary Robatayaki cuisine, will offer their decadent specialty brunch on Thanksgiving Day from 12PM until 6PM at both of their South Florida locations. The brunch will include all of the signature offerings and will feature a Turkey Carving Station in celebration of the holiday. Priced at $75 per person, brunch includes a welcome cocktail, bottomless pours of Whispering Angel Rosé, Sauvignon Blanc, Primitivo Sasseo or for an additional $20 Louis Roederer NV champagne.
Guests will also enjoy an array of hot and cold starters on the robata counter, choice of one main course and a decadent dessert presentation. The robust spread of hot and cold appetizers at the counter include some of ETARU's signature plates – an assortment of hand rolled Maki; Crispy Rice Cake with choice of salmon or avocado; Brown Rice and Quinoa Salad; and White Miso Soup with scallions.
Main course options include the Grilled Short Rib with puffed rice and shiso; Prawns with sweet potato and asparagus tempura with yuzu shichimi sauce; Salmon Teriyaki with sansho salt and lemon; for an additional $15 guests can enjoy Lamb Cutlets with Korean spices; Prime Beef Fillet with eryngii mushrooms and wasabi ponzu sauce; and Black Cod with yuzu miso.
Faena
Gather your loved ones this holiday season and indulge in a delicious Thanksgiving celebration at Faena Miami Beach's award-winning restaurants.
At Los Fuegos by Francis Mallmann, a decadent asado buffet awaits. Pile your plate with a bevy of mouthwatering dishes like traditional whole roasted turkey, octopus 'a la plancha,' and slow-cooked ribeye served alongside holiday-inspired offerings like roasted pumpkin and goat cheese salad, smoked cranberry sauce and caramelized brussel sprouts.
Under starry skies on Pao's ocean view terrace, feast on an array of innovative dishes from a prix fixe holiday-inspired dinner menu, including grilled winter squash with 24-month aged parmesan, caramelized miso soup with black truffle, and savory fried turkey adobo topped with grilled corn pudding and cranberry jam.
Los Fuegos' Asado buffet priced at $115 per guest. Pao's Thanksgiving prix fixe dinner menu priced at $95 per guest. Prices exclusive of tax and service charges. Limited a la carte menu available at Pao.
Fontainebleau
On Thursday, November 22, 2018, Scarpetta by Scott Conant, StripSteak by Michael Mina and Vida, at the iconic Fontainebleau Miami Beach, will offer delectable Thanksgiving menus and specials that give diners plenty to be thankful for.
StripSteak by Michael Mina, the acclaimed modern American steakhouse, is serving up a Thanksgiving feast for $75 per person, excluding tax and gratuity, from 5PM – 10PM.
Seaside Italian eatery, Scarpetta by Scott Conant – also celebrating 10 years at the iconic Fontainebleau – is offering a Thanksgiving feast for $75 per person, excluding tax and gratuity, from 5PM – 10PM.
For a more casual celebration, try Vida, the hotel's American brasserie, which will offer a bevy of autumnal options with their traditional Thanksgiving buffet from 2PM – 9PM. The buffet is priced at $59 for adults, and $29.50 for kids ages 12 and younger; excluding tax and gratuity.
For more information or reservations, please visit fontainebleau.com/thanksgiving or call (877) 326-7412.
Kiki on The River
To celebrate, Kiki on The River has prepared a prefix specialty dinner for $49 per person. Featuring dishes like Roasted Turkey brined and marinated with delectable fixings of Roasted Butternut Squash with marshmallow brûlée, sautéed Green Beans with toasted almonds and dried cranberries and more. Top the evening off with a slice Pumpkin Pie and Chantily cream.
La Centrale
This Thanksgiving La Centrale, Miami's premier Italian Food Hall home to three floors of pure Italian-cuisine bliss at Brickell City Centre, is opening its doors and cucina giving guests two ways to enjoy a deliciously stress-free holiday feast. Book a reservation at La Centrale's Caffe and indulge in a four-course prix fixe menu with a mix of American and Italian classics or pre-order all the fixings prepared by the executive chef to celebrate at home. For more information, please visit https://www.lacentralemiami.com/thanksgiving/.
Malibu Farm Miami Beach
This Thanksgiving, families and friends can gather around the table at Malibu Farm and enjoy an oceanside holiday meal filled with the "fresh, organic, local" flavors the popular dining destination has become known for. Priced at $75/per person and $35/per child 5-12 (children under 5 eat free), Malibu Farm will be hosting two seatings on November 22, one at 2PM and one at 5PM.
Guests will be welcomed with a complimentary Cranberry Mimosa before indulging in a Thanksgiving Day buffet featuring: BLT Salad, Herb Roasted Turkey served in a Rocotto Garlic Sauce, Traditional Brisket, Portobello Balsamic Mushrooms, Whole Snapper with a Hazelnut Crust, Vegetarian Paella Salad, Green Beans with Roasted Red Bell Peppers and Toasted Almonds.
For dessert, guests can choose from Pumpkin Chocolate Bread Pudding with Tequila Sauce, Apple Cranberry Cake topped with Whipped Cream or Vegan Pecan pie with Vanilla Ice Cream. Guests can also take advantage of Malibu Farm's all day rose, which is bottomless for the duration of the meal and priced at $30. Full menu can be viewed here.
Guests interested in taking a piece of Malibu Farm home for their holiday dinner can pre-order a selection of delecatable sides. Priced at $32 per side, each dish feeds up to eight and plates on offer include Sweet Mashed Potatoes, Green Beans, Broccoli Mash and Vegetable Paella Salad. Orders must be placed ahead of November 22 via email or phone and can be picked up on Thanksgiving Day. Quantity is limited, so place your Malibu Farm take out order today.
Reservations are required and can be made at 305-674-5579 or reservationmfmiami@nobuedenroc.com.
Nautilus South Beach
Drink, dine and repeat at Nautilus South Beach's mouthwatering buffet. Grab the whole family and enjoy an abundant spread, which features a Salads Station with options of Seafood Ceviche, Roasted Corn and Quinoa salad, Little Gem Salad, Kale Salad, Roasted Beets Salad, Duck Gesiers Salad, and Butternut Squash Soup; a Bread Station with Pita Bread and Artisan Breads to pair with Hummus Dips, Eggplant Dip, Tzatziki, Pickled Vegetables and Roasted Sweet Peppers; a Cold Cut & Cheese Station; a Carving Station with a selection of Roasted Turkey with wild mushrooms stuffing, preserve cranberry and rosemary au jus, Atlantic Salmon with brown butter sauce, Prosciutto & Foie Gras Beef Wellington, and sides of Creamy Mashed Potato and Market Vegetables.
Pinch Kitchen
Although Pinch Kitchen won't be open for Thanksgiving dinner, you can still feast on all the delicious and homemade dishes you love about Pinch with their "Thanksgiving Dinner Feast" to go.
Guests will have the option to either let Pinch take care of it all or choose whether they just need some help with the sides or desserts.
The options for Thanksgiving include:
– Full Thanksgiving Feast: 12lb Whole Roasted All Natural Turkey and three sides – Truffled Mashed potatoes with gravy, Pinch Style stuffing, Spicy Brussel Sprouts with bacon and balsamic glaze. It serves 6 to 10 people and is $155.
– 12lb Whole Roasted All Natural Turkey only: $125
– Pinch Sides only: Truffled Mashed Potatoes with gravy, Pinch Style Stuffing, Spicy Brussel Sprouts. $40
– Homemade Thanksgiving Pies: 9 1 /2 Pumpkin Pie and/or Pecan Pie – $25 each
Orders can be placed by emailing info@pinchkitchen.com.
After all the early morning Black Friday shopping, refuel with a special Black Friday Brunch at Pinch from 10:30am to 4:30pm. You'll be able to enjoy all of your Pinch Brunch favorites along with bottomless mimosas for $25.
Point Royal
Located at the gorgeous Diplomat Beach Resort, Point Royal by Chef Geoffrey Zakarian is offering a lavish Thanksgiving Day brunch buffet which features an expansive seasonal spread with everything from a whole deboned roasted turkey to a traditional pumpkin pie. Other standout dishes include a pepper crusted long bone ribeye, turkey pot pie, duck hash, roasted banana maple pecan cheesecake and much more.
The experience is complemented by a center bar focused on fresh juice based cocktails and an extensive wine list. $75 Adults (includes bottomless hard cider punch, coffee or juice) | $25 Children 12 and under.
Quinto la Huella
Gather at EAST, Miami's signature Uruguayan eatery to celebrate Thanksgiving with a special dinner menu and select wine pairings. For $56 per person, guests will be served a four course Thanksgiving meal with two glasses of wine priced at $58/per person from 6pm – 11pm.
The menu will include a choice of salad to start the feast include a Haricot Vert salad topped with Almonds, Crispy Shallots and a red wine vinaigrette or Dolcelatte, Raisins and Pecans over a bed of Arugula. Main courses of Roasted Turkey with Cranberry Sauce and Gravy and Herb Crusted Rib-Roast, Au Jus. Sides of Mashed Potatoes, Brussels Sprouts with Smoked Bacon, Sherry and Dried Cranberries, Brown Butter Sage Roasted Squash, Cheesy Cauliflower Gratin, and Pan de Campa stuffing with Swiss Chard, House Sausage and Pine Nuts. The meal is finished with guest choice of Pecan-Bourbon Tart or Signature Pumpkin Pie.
Reservations can be made at 786-805-4646 or at dine@quintolahuella.com.
Rusty Pelican
Rusty Pelican, known for its dazzling waterfront views, is inviting families to a fabulous feast on Thanksgiving Day. For $85 per adult and $35 per child (excluding tax and gratuity) the Brunch Buffet served from 10AM to 3PM is a cornucopia of choices including breakfast favorites like made-to-order Eggs Benedict and Omelets. Plentiful spreads from land and sea are a perennial favorite with Sushi, Raw Bar, Ceviche and Tartare, and American Caviar. Carving stations feature Rosemary Crusted Leg of Lamb, Garlic Crusted Prime Rib and Coconut Crusted Mahi-Mahi as well as traditional holiday favorites like Whole Roasted Turkey and Whole Roasted Chipotle Honey Ham.
End the meal on a sweet note with an assortment of Mini Desserts and Pastries like Pumpkin Pie, Carrot Cake, Pecan Cheese Cake, Apple Tarts and Chocolate Mousse Cake. For Dinner, beginning at 6PM, diners can choose from a la carte options for both children and adults or a special pre-set menu for $70 per person (excluding tax and gratuity).
The prix fixe bounty includes Butternut Squash with Blackened Shrimp Soup, Salad with Mixed Greens, Candy Beets, Spiced Candied Walnuts, Goat Cheese and Lemon Vinaigrette, a choice of entrées like the classic Maple Roast Turkey with Cornbread and Apple Sausage Stuffing Cranberry Jelly, Grilled Baby Carrots with Chipotle Sweet Potato and Toasted Pistachios; Branzino en Papillote with Baby Heirloom Tomatoes, Fregola Pasta, Tarragon; or Honey Glazed Pork Tenderloin with Manchego Cheese and Rosemary Polenta, Cilantro Corn Relish and a dessert option of Bourbon Apple Pie with Pumpkin Spiced Ice Cream. The Rusty Pelican is located at 3201 Rickenbacker Causeway in Key Biscayne.
For reservations, please call (305) 361-3818; www.therustypelican.com.
Seaspice
Enjoy reinvented classics and water views at Seaspice, with Executive Chef Angel Leon's Thanksgiving Menu. Whet your appetite with a choice of Pan-Seared Hudson Valley Foie Gras with maple Sweet potato, crispy filo, pistachio tuille and duck jus, Autumn Soup with celery root, carrot, fennel and basil, or Spinach Salad with pettite Tatsoi spinach, mustard greens, pecans, butternut squash, red beets, pomegranate, pears, red wine vinaigrette, pumpkin seeds and breakfast radish.
Continue your feast by gobbling up the Slow-Cooked Organic Free Range Turkey Roulade with foie gras plantain stuffing, green bean casserole, cranberry gel and turkey jus, but be sure to leave room for the delicious finale, the Winter Fruit Torrejas – a seared brioche pudding with dried apricot, cranberry and apples, caramelized apples, grain streusel and brown butter ice cream.
Stiltsville Fish Bar
Stiltsville Fish Bar is inviting families of all sizes to indulge in a three-course menu served family style. Trust us, you will be thankful to share because guests will receive not just one item from each section, but all items from the entire menu! Try the Brussel Sprout Leaf Salad, the iconic Okeechobee Smoked Fish Dip and the Sour Orange Yellowtail Snapper Ceviche from the Starters; have a Pan Roasted Fish Triple Tail and the Bay Leaf Citrus Crusted Fried Turkey from the Mains; make room on the table for all sides including Sweet Corn Spoon Bread, Cranberry Smash and Dade County Tangelo among others; and make sure to leave space in your tummy's for the Pumpkin Pecan Crunch Pie and Coconut Key Lime Pie.
Adults can enjoy this menu at just $65++ per person and kids under the age of 12 at just $25 per person. The local eatery overlooks the harbor allowing guests to partake in a food comma with a stunning view.
Tamara's Bistro
Tamara's Bistro is testing our will-power with its Thanksgiving Temptation menu. The featured menu will be offered on Thursday, November 22nd from 5 to 10 p.m. The prix fixe menu is $39.95 per adult and $19.95 per child, with featured wine specials. The three-course menu includes a first course of either Potato Leek Bisque or Autumn Salad; a Thanksgiving turkey entrée served with sides such as fig stuffing; and a choice of Pumpkin Cheesecake or Warm Apple Tarte Tatin for dessert.
In addition, The National Hotel will offer a hotel package of 15% off best available rate, with a welcome amenity. For restaurant reservations, click here or call (305) 532-2311. For hotel reservations, visit www.nationalhotel.com.
ToroToro at the InterContinental Miami
This Thanksgiving day, bring your appetite downtown because ToroToro at the InterContinental Miami is serving up a Thanksgiving buffet – con sabor Latino.
Open for lunch and dinner from 11:00 AM – 8:00 PM, guests can enjoy sweet potato bravas, chorizo cornbread stuffing, and an ancho rubbed turkey sure to leave you coming back for seconds. But what's Thanksgiving without a dessert bar, drink specials, and football and parade showings all day long?
Prices start at just $55/person, $27/kids 5-12 (little ones under 5 eat free!), so gather the troops and leave the cooking to ToroToro this year.
*Calling ahead and making reservations are highly encouraged.
vista
This Thanksgiving, friends and family can enjoy the fusion of Italian cuisine with Miami flavors at vista, located in Upper Buena Vista. Priced at $36 per person, guests will be served a chef-driven Thanksgiving menu that will include: Slow Roasted Turkey, Vista Stuffing and Gravy, Sweet Mashed Potatoes and Cranberry Sauce, Caramelized Brussels with shallots and pecans, and House Corn Bread.
Dinners can finish their Thanksgiving meal off with their choice of Cinnamon Strudel, Chocolate Pumpkin Cheesecake or Pecan Pie. Located in Miami's Upper Buena Vista neighborhood at 5020 NE 2nd Avenue, vista has quickly become a culinary destination for locals and visitors alike.
For reservations, call (305) 405-7547.
Wolfgang's Steakhouse
Spend Thanksgiving overlooking the gorgeous Miami River at Wolfgang's Steakhouse in Miami's Brickell neighborhood. Enjoy a four-course prix fixe menu with seasonal items such as the Butternut Squash Soup with Ginger Essence to start, followed by an Arugula Pear and Apple Salad. The main course consists of a delicious Traditional Roast Turkey served with Vegetable Stuffing, Sweet Mashed Potatoes, String Beans and Cranberry Sauce. Finish the meal with a slice of homemade Pumpkin Pie for a perfect end to the holiday.