What's the first thing that comes to mind when you think of Benihana? For many people — including ourselves — it's the teppanyaki experience. There's just something about getting a group of friends together to enjoy dinner AND a show by an awesome Benihana chef right in front of your eyes.
Now what if you could be part of the show? You can, thanks to the restaurant's Be the Chef package. Round up a few of your closest friends and get ready to show off your grill skills.
For only $200, three guests can take part in an interactive training session with one of Benihana's master chefs. You'll get to make a variety of dishes like fried rice, steak, shrimp and — of course — the famous onion volcano. Guests will also enjoy a meal of Benihana soup, salad, shrimp appetizer, hibachi vegetables, Splash N' Meadow entrees, homemade dipping sauces and Japanese hot green tea as part of the promotion.
That's not all: In addition, prepare to learn some fun tricks and leave with cool Benihana swag like an apron and certificate (plus some potentially embarrassing videos that your friends can blackmail you with).
On that note, we know some people might be a little nervous about getting behind the grill — we were super nervous. "What if we mess up? What if our food comes out not so good?" All these fears were for nothing.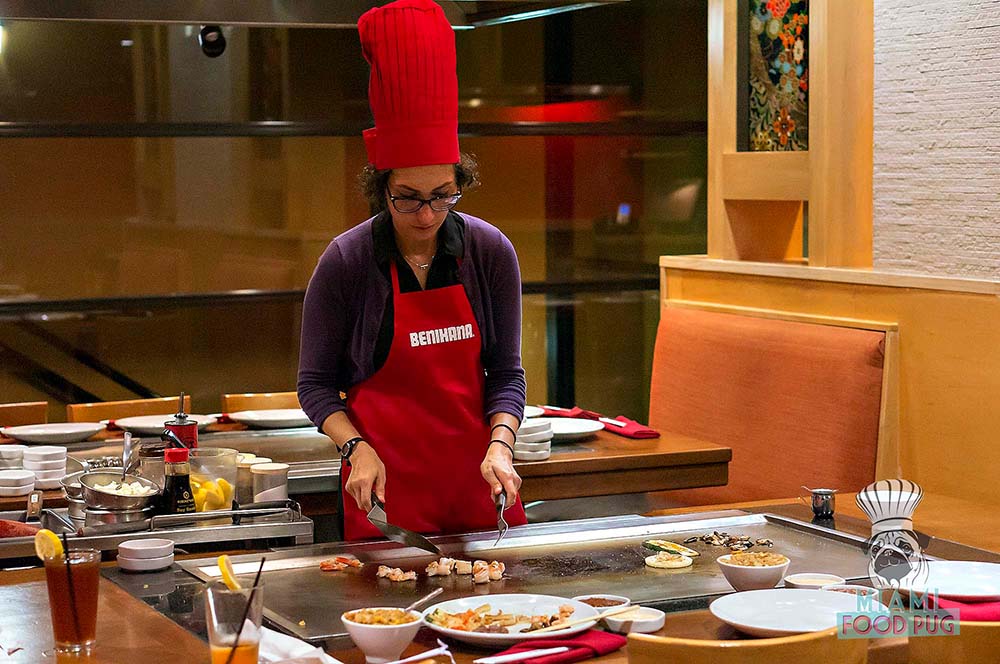 Oscar, our master chef at Benihana of Coral Gables walked us through every step; his sense of humor and incredible patience helped put us at ease. Before we knew it, we were doing "egg rolls" and flipping shrimp tails into our hats like pros. Everything we made, from delicious steak to yummy vegetables, came out great (much to our taste buds' delight)
Here are a few other things you should know about the promotion:
1. You don't need to know how to cook. If you've never stood in a kitchen before, don't worry. Like we mentioned above, your Benihana master chef will show you the ropes. Even if the extent of your kitchen experience is cereal with milk, you'll be fine and wowing your crew in no time.
2. The unexpected can — and will likely — happen. Don't be too hard on yourself if you mess something up or forget a step. The experience is forgiving, and your chef will step in as needed. Case in point: One of us tried flipping a bowl of fried rice and failed — miserably. In the end, we got some laughs and good video out of it. And no, we won't be sharing that video.
3. You can bring more friends. The Be the Chef package starts at $200 for four people (a guest chef and three guests). If you want to bring more people, you can: It's $50 for each additional guest. If you want to go all out, opt for the $360 package for eight people (one chef and seven guests). Trust us when we say the more, the merrier.
Want to learn more about the promotion? Visit the official webpage.
This post is sponsored by Benihana. All opinions expressed are our own.