August 28, 2020
Miami, it's been a minute. Now that things are kinda-sorta returning to a (new) normal in the local food scene, we're bringing back Nom News. Each Friday, we compile South Florida food-related news and events that we couldn't fit on the site earlier in the week, as well as other local news that piques our interest. Want to be included in our next roundup? Shoot us an email at bark@miamifoodpug.com.
COCHON555 Goes Carryout
Shokudo Launches Hand Roll Sushi Party Kit
Michael's Genuine Teams Up With Tâm Tâm
Cake Thai Pops Up at La Mar
New Offerings at Baby Jane
Weekly Wine Tasting at Meraki Greek Bistro
COCHON555 Goes Carryout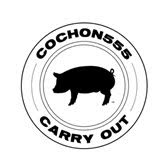 A much-anticipated annual culinary event with stops in cities across the United States, COCHON555 will return to Miami Tuesday, September 22-Sunday, September 27, 2020 as CARRYOUT WITH COCHON555 presented by Citi, a virtual and interactive feast featuring five of the city's top talents. Across five different nights, a stellar line up of South Florida celebrity chefs – Michael Lewis (KYU), Michael Schwartz (Amara at Paraiso), Janine Booth & Jeff McGinnis (Root & Bone, Stiltsville), Giorgio Rapicavoli (Eating House) and Brad Kilgore (Ember) – will conduct "vir-tual dinners" via Zoom, offering participants the opportunity to partake in an intimate, interactive dining experi-ence, complete with all of the ingredients necessary to enjoy a pork-centric meal including wine and cocktails.
Guests will purchase tickets ($115 for one; $200 for two) which will include a multi-course meal, prepared by the featured chef with almost all of the ingredients sourced from heritage breed pig farms; a bottle of wine (red or white) from Bodegas Ontañón and a cocktail kit or pre-mixed cocktail comprised of either Buffalo Trace or Wheatly Vodka. During a 45-minute live Zoom, the Chefs will recreate one of the featured dishes (guests will cook along); the other dishes will be pre-prepared and ready to heat and/or serve. Guests can choose to pick up their kit at the chef's designated restaurant or have it delivered for an additional $30 fee.
Click here to get your tickets.
SHOKUDO Launches Hand Roll Sushi Party Kit
Staying in for the night and enjoying high-quality, delicious and healthy sushi just got a whole lot more fun with family and friends! SHOKUDO, an Asian bistro located in the heart of Buena Vista, will be launching a "Hand Roll Sushi Party Kit" (serves 4) for $95. It comes with a choice of soup or salad (one per person) and an order edamame. The meal kit will be available as of Tuesday, Sept. 1 for pickup and delivery by ordering directly on their website.
From a Bagel Hand Roll to a Shrimp Tempura Hand Roll to a simple Cucumber and Avocado Hand Roll… the possibilities are endless. You can order your kit here.
Michael's Genuine Teams Up With Tâm Tâm
Tâm Pham, was a lead host for the opening of Tigertail & Mary and later on a shift leader. His partner, Harrison Ramhofer, also worked for the Genuine Hospitality Group at Amara. Together, they have started a new Viet Street Food Restaurant, Tâm Tâm currently in 1-800 Lucky. To celebrate this delicious take on Vietnamese food and create more awareness for this new local restaurant, Micheal's Genuine and Tâm Tâm have collaborated to create four takes on signature Viet Street food dishes to be served on the Michael's Genuine Menu from September 7th to September 13th. Items include a crispy pork belly banh mi, papaya salad, Viet elote and steamed mussels.
Cake Thai Pops Up at La Mar
Chef Cake of Cake Thai will be popping up for one-night-only at La Mar by Gaston Acurio at Mandarin Oriental, Miami on Thursday, September 3 from 6 to 10 p.m.
Join Chef Diego Oka as he celebrates Chef Cake's contribution to the Miami food scene and gives us the opportunity to taste Cake's signature flavors before he heads home to Thailand.
Make your reservation soon to secure your spot; indoor and outdoor dining will be available. Reservations can be made here.
Below are menu items that will be available at the Cake Thai at La Mar Pop-Up:
PHA RAD PRIKE: Florida grouper with house spicy blend aji Amarillo, chilli paste, kaffir lime leaf, coconut cream.
NUM TOK MOO: Marinated charred grilled pork, cut thin with Eastern Thai spicy sauce, toasted rice.
PHA MENG PAD KAI KEM: Cutter fish and prawns, salted egg with cake house sweet chili paste, chives and onions.
New Offerings at Baby Jane
Baby Jane, Brickell's premiere watering hole, recently announced new Beverage Partners, Gui Jaroschy & David Cedeno of Something Personal Hospitality who have unveiled a duo of new boozy offerings available daily on their terrace for Happy Hour from 4-7pm.
Baby Jane's Build Your Own Margarita starting at $7 allows you to mix your own Margarita by checking off custom ingredients on a handy multiple choice "betting slip" with choices of tequila, citrus like lime or grapefruit, sweetness like sugar or agave, fresh fruits like watermelon, ginger, or mango, and a Grand Mariner float.
For National Rum Month, Baby Jane has teamed up with Havana Club to present the jumbo size large-format Mojito Claro for here, or to go that serves 2 guests for $24. The Mojito Claro features Havana Club Anejo Blanco rum, self-carbonated with champagne yeast, fresh mint and lime essence.
Weekly Wine Tasting at Meraki Greek Bistro
Transport yourself to the Greek islands every Thursday evening with a new weekly wine and meze tasting on the patio at Meraki Greek Bistro in Downtown Miami.
Join Meraki's in-house wine expert, Constantino Papdiotis, who will choose a selection of natural Greek wines to feature every week and discuss their history and origin. Enjoy a selection of regional meze creations from Executive Chef Giannis Kotsos, which will change every week.
The event costs $10/person and if you make a reservation to stay for dinner after, you can credit that money towards your final bill.
Reservations are encouraged (4 people max) and can be made by calling the restaurant at (786)773-1535 or through their website here.