October 30, 2020
Each Friday, we compile South Florida food-related news and events that we couldn't fit on the site earlier in the week, as well as other local news that piques our interest. Want to be included in our next roundup? Shoot us an email at bark@miamifoodpug.com.
Shooters Unveils New Fall Menu
The Lincoln Eatery Opens Miami's Vice Canteen
Now Open: Casa Tiki
LPM Restaurant & Bar Relaunches Lunch Menu
Crema Gourmet to Open in Downtown
Shooters Unveils New Fall Menu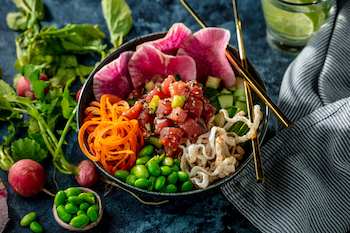 Shooters Waterfront is casting a wider net to introduce new menu items, including new brunch, lunch and dinner items that put a sophisticated twist on coastal classics.
New brunch entrees include, Blue Crab Benedict ($19), Jumbo lump crab, tomatoes, arugula, and bearnaise sauce; Buttermilk Fried Chicken ($19), 24-hour- brined chicken, buttermilk- dipped, breaded and golden-fried, white cheddar mashed potatoes, bacon gravy, green beans, and a buttermilk biscuit; and Lox & Bagel ($15), Norwegian Atlantic smoked salmon, red onions, beefsteak tomatoes, capers, chives, and cream cheese.
New lunch and dinner specials include, Quinoa Beet salad ($17), red and gold beets, kale-spinach, mesclun, quinoa, pistachios, crispy peas, goat cheese crumbles, red onions, alaffia sprouts, watermelon radish, and roasted poblano ranch; Flash fried mahi tacos ($18), tangy slaw, pickled radish, lime crema and elotes; and Grilled Cobia ($25).
The Lincoln Eatery Opens Miami's Vice Canteen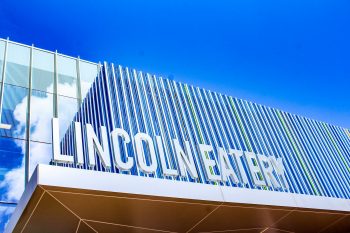 The Lincoln Eatery, Miami Beach's first modern food hall, announces the opening of Miami's Vice Canteen. The bar is a new mixology concept that pays homage to Miami Beach in the 1970s and 1980s, offering a price point that takes bargoers back in time.
Menu highlights include the bar's classic Miami Vice Cocktail ($9), a mixture of traditional strawberry daiquiri and pina colada, The Classic Mojito ($7), comprised of fresh mint, white rum, sugar cane and lime juice, El Perucho ($11), a mixture of Pisco Quebranta, fresh kiwi, white grapes, citrus syrup and lime juice, and The Java Punch ($11), a flavorful combination of green apple-infused vodka, cilantro ginger citrus syrup, chlorophyll, lime juice and fresh apple slices.
The bar will also offer an interactive Highball menu, which will allow the guest to pick their own spirits and mixer. The bar also offers a selection of refreshing caipirinhas. Additionally, Miami's Vice will serve a selection of fresh seafood at the venue's raw bar, offering oysters ($1), Key West pink shrimp ($2) and Florida stone crabs ($4).
Now Open: Casa Tiki
Homecookin' Hospitality Group, the team behind two South Beach speakeasies, Foxhole and Drunken Dragon, and rácket, an upscale bar and lounge located in Wynwood, has unveiled a trending, yet one-of-a-kind, concept to Little Havana.
Casa Tiki is HHG's 4th venue and opened its doors to the public this October. The tiki bar and lounge is a modern take on Polynesian culture, catering to an escapist longing for travel. Located in the heart of Calle Ocho, the hideaway haven allows guests to create their own tropical escape from reality. Every visitor will have a personalized touch from the second they walk in, to the custom potion and glassware that's served.
The cocktail menu features a variety of exotic-infused libations using the freshest fruits, spices, and finest spirits. Led by a highly skilled and experienced bar staff, the tiki team has researched and trained extensively to curate the perfect combination of flavors for an iconic, yet classic, tropical experience.
From the rum-making and shaking to the interactive personalized experiences, surrender all your worries and let Casa Tiki whisk you away. Casa Tiki is open Thursday through Sunday from 5:00 pm to city curfew and offers a happy hour from 5:00 pm to 8:00 pm.
LPM Restaurant & Bar Relaunches Lunch Menu
Internationally-renowned French Mediterranean restaurant LPM Restaurant & Bar is thrilled to announce the relaunch of Déjeuner D'affaires, its executive lunch menu, on Tuesday, November 3rd. The world-renowned restaurant, which focuses on the authentic elements of Niçoise food to create an exquisite Mediterranean micro cuisine that is light, healthy and deliciously palatable, will offer the Déjeuner D'affaires menu Tuesday through Friday from 12pm to 2:30pm for just $29++ per person.
The prix fixe lunch menu includes a choice of two starters and one main course; additional side dishes are available as add-ons for $4.50 and dessert for an additional $8. Specially priced French wines by the glass and signature cocktails are also included in the Déjeuner D'affaires menu.
LPM's Déjeuner D'affaires menu will feature ingredient-forward dishes and will rotate seasonally to ensure that only the freshest ingredients are used. Guests will indulge in a choice of two starters including the Salade Verte, mixed leaf salad; Betteraves Marinées, marinated beetroot; Poivrons Marinés á L'Huile d' Olive, sweet peppers in olive oil; Salade de Maïs et Grenade, corn and salad pomegranate; Ratatouille et Feta, Mediterranean vegetables marinated in olive oil with feta; and Burrata et Tomates (additional $7), burrata with fresh Datterini tomatoes and basil, to name a few.
For the main course diners can indulge on dishes such as the Gnocchi á la Tomate Fraîche, gnocchi with cherry tomato, garlic and parmesan; Poisson en Croûte de Sel de Guérande, baked fillet of red fish with artichokes and tomatoes; Bavette aux Chimichurri (4oz), hanger steak with chimichurri sauce; Coquelet au Citron Confit (half), roast baby chicken marinated in lemon; and Rigatoni Fraîches, Sauce Bolognaise de Boeuf (additional $8.50), to name a few.
Side dishes, available for an additional $4.50, include sautéed broccoli, green beans and french fries. End your meal on a sweet note with a variety of desserts, such as the Gâteau au Fromage Frais, LPM's signature cheesecake; Mille-Feuille, puff pastry with vanilla cream and strawberries; and the sorbet of the day.
Crema Gourmet to Open in Downtown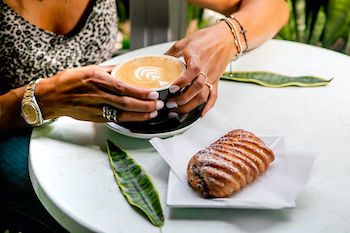 Crema Gourmet Espresso Bar, known for its Coral Gables and South Beach locations, is excited to announce its first franchised location in Downtown Miami. From cappuccinos to all-day breakfast, gourmet lovers can find delicious food and drink options now opening all over South Florida.
This new location in Downtown will be a 2,700 square feet storefront with the classic Crema Gourmet café feel and white bricks design, and that is set to open in December 2020. Crema Gourmet Espresso Bar offers a wide range of delicious options to choose from. A modern approach to a European inspired café, Crema Gourmet Espresso Bar attracts young entrepreneurs in need of a quiet place to work as well as groups of friends and family looking to catch up over a cup of delicious coffee, wine, or a flakey, hot melt in your mouth chocolate croissant.