November 6, 2020
Each Friday, we compile South Florida food-related news and events that we couldn't fit on the site earlier in the week, as well as other local news that piques our interest. Want to be included in our next roundup? Shoot us an email at bark@miamifoodpug.com.
Special Collaborative Dinner at La Mar
Chef Adrianne's Launches Aperitivo Hour
PINCHO Celebrates 10 Years
Culinary Panel at The Lincoln Eatery
Coming Soon to The Doral Yard: Barbakoa
Special Collaborative Dinner at La Mar
On Tuesday, November 10, La Mar by Gaston Acurio at Mandarin Oriental, Miami will host a special collaborative dinner to celebrate the release of Miami Cooks by Sara Liss.
For this one-night only, Chef Diego Oka will cook alongside local, award winning chefs Michael Beltran of Ariete, Mikel Goikolea of Leku Miami and Cesar Zapata of Phuc Yea to create a 6-course tasting menu highlighting several dishes from the book, as well as new creations. Welcome cocktails will be provided by Miami's favorite cocktail specialist Gio Gutierrez of @chatchowtv.
Tickets cost $120 per person, not including tax and gratuity. There will be two dinner seatings available at 6:30PM or 8:30PM.
Plus, the first 100 guests to purchase tickets, will receive a copy of Miami Cooks signed by Sara Liss and the visiting chefs.
Chef Adrianne's Launches Aperitivo Hour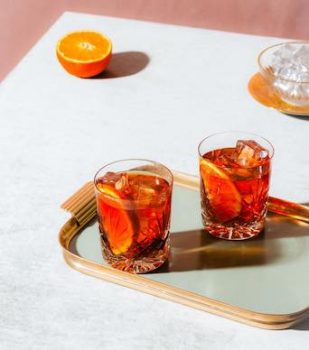 Chef Adrianne's Vineyard Restaurant and Bar invites guests to Aperitivo Hour Tuesdays-Fridays 4pm-7pm. Guests can look forward to items such as imported salumi, formaggi, and mouth-watering spuntini paired perfectly with a Spritz, Negroni, Bellini, Prosecco, or a simple glass of wine. Drinks range from $8-$16, small plates from $8-$18.
PINCHO Celebrates 10 Years
In honor of its 10-year anniversary, PINCHO is giving folks plenty of reasons to get excited with 10 Years, 10 Days of PINCHO!
Kicking off on November 6 and running until November 16, customers are encouraged to share photos from PINCHO on social media and will automatically be entered to win a PINCHO Black Card valued at $1,000. Ten days, ten winners, $10,000 total; $1,000 for each winner to use towards PINCHO menu items. To be eligible, guests' photos must tag @pincho and include the hashtag #10YearsofPINCHO.
On Monday, November 16, PINCHO will introduce two new versions of its recently launched and wildly popular fried chicken sandwich, El Crispy (and El Crispy Deluxe). By popular demand, the two new versions will be Spicy and Spicy AF. "We're bringing the heat to the chicken sandwich war for sure," quips Othman, who recently hosted a Chicken Sandwich Peace Summit to celebrate the arrival of PINCHO's own El Crispy chicken sandwich.
PINCHO is doubling down on their commitment to promote Chicken Sandwich Peace in 2020. The celebration will culminate on Thursday, November 19 from 11AM to 2PM with a BYOC special at all locations. On that day, PINCHO is inviting guests of Chick-fil-A and Popeyes to break bread. Customers who show up and "Bring Your Own Chicken" (a sandwich from either Popeyes or Chick-fil-A) will be able to buy an El Crispy original, Spicy or Spicy AF for $1.
Culinary Panel at The Lincoln Eatery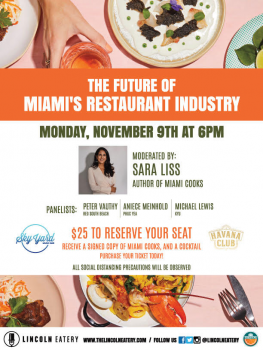 The Lincoln Eatery invites guests to The Future of Miami's Restaurant Industry, an Informative panel discussion hosted by the well-known culinary author of Miami Cooks, Sara Liss, at SkyYard on Monday, November 9, at 6 pm. The panel includes three world-renowned chefs.
This socially distantoutdoors event will feature signed copies of Miami Cooks, and complimentary cocktails from Havana Club. Enjoy this delightful opportunity while committing to the most rigorous health standards and enforced mask-bearing. Due to its limited seating availability, this event requires a $25 per guest reservation.
Click here to get your tickets and learn more.
Coming Soon to The Doral Yard: Barbakoa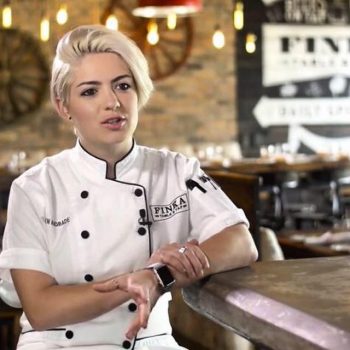 Following in the footsteps of Chef Eileen Andrade's iconic West Kendall dining, Finka Table & Tap and Amelia's 1931, Andrade takes her talents to The Doral Yard where she will be opening up her third brick and mortar restaurant, Barbakoa.
Barbakoa is a play on words from barbacoa which is a Latin derivative of barbeque. Andrade brings her staple Latin-Asian fusion to the table with a new twist, featuring barbacoa- style meats & artisanal pizzas. Guests will find curious combinations like the Korean BBQ Grilled Octopus with Patatas Bravas & Charred Scallion as well as her take on Latin comfort foods like the Crema de Malanga with Chorizo Verde & Fried Garlic.
For guests with an appetite, the Butter Chicken Tiffin with Arroz Chaufa and Fire Roasted Garlic Naan or the Churrasco Saltado with Papitas Fritas , Huevos Fritos & Aji Amarillo might satiate their hunger. Sharing is always a go-to with Andrade's concepts and her artisanal pizzas are just the choice like the Hot Honey Pepperoni Pizza made with Wasabi Honey or the Camaron Enchilado Pizza with Rock Shrimp, Sweet Plantains & Roasted Sofrito.
With her, Andrade is also bringing a new, curated list of hand-crafted cocktails that are as boastful, sophisticated & smooth as the crowd-favorite drinks at her Kendall location, Finka Table & Tap.
As Andrade's biggest location yet, Barbakoa will hold indoor & outdoor seating as well as a private dining area. Guests can enjoy anything from corporate functions to brunch with friends in a nature-inspired ambiance that provides an intimate & unforgettable culinary experience complimented by an eclectic playlist.
Later this year, Eileen Andrade will pop up at a progressive Sunday brunch series featuring all of The Doral Yard's culinary vendors, bringing her Latin-Asian fusion flavors to The Yard. Guests can currently enjoy The Doral Yard while Barbakoa finishes construction. Once open, the restaurant will be open for lunch, dinner and weekend brunch by Spring 2021.