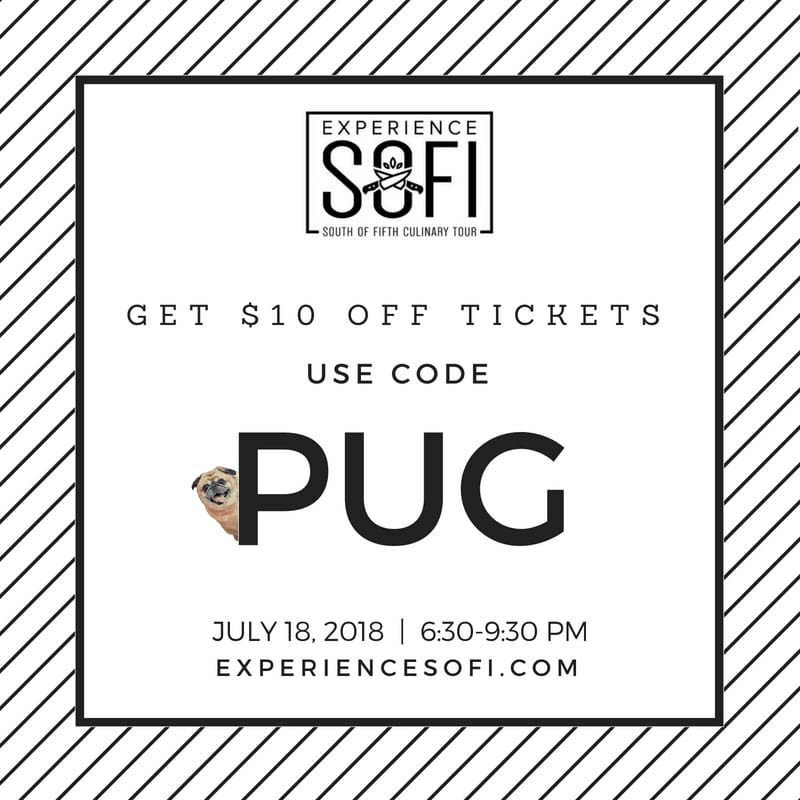 ExperienceSOFI is back! The Miami Beach food tour returns on Wednesday, July 18 at 6:30 p.m. This exclusive culinary adventure gives guests an all-inclusive behind the scenes taste of Miami Beach's South of Fifth neighborhood. 2018 will bring together 20+ chefs, globally acclaimed artist, spirits, wines, new restaurants and neighborhood favorites. And just like last year, you can use ExperienceSOFI 2018 promo code PUG to get a discount: $10 off.
On Wednesday, July 18th, guests will embark on a five block dine-around, entering each restaurant's VIP area to sample, sip, mix, & mingle with the city's most respected chefs, artists and celebrities. Upon arrival, guests will receive their all-access pass, an event map, and a menu of what our chefs and bartenders will be creating for their tour experience.
From 6:30 – 9:30 PM, guests will tour, taste and toast to their heart's content on this completely all-inclusive tour! It's a steal — especially if you use ExperienceSOFI 2018 discount code PUG for $10 off.
Restaurants returning to the tour include: Cibo Wine Bar, Forte dei Marmi, Fratellila Bufala, Lilikoi, Nikki Beach, Red the Steakhouse, Rosella's Kitchen, South Pointe Tavern and The Local House. ExperienceSOFI is delighted to introduce new additions to the tour for 2018: Lobster Bar Sea Grille, Seawell Fish & Oyster + Minnow Bar Pop Up, Stubborn Seed and The Lobster Shack. While guests enjoy the highly exclusive summer menu features prepared by each restaurant, they'll also be treated to wine or a cocktail at each location perfectly crafted to match the chef's culinary creativity.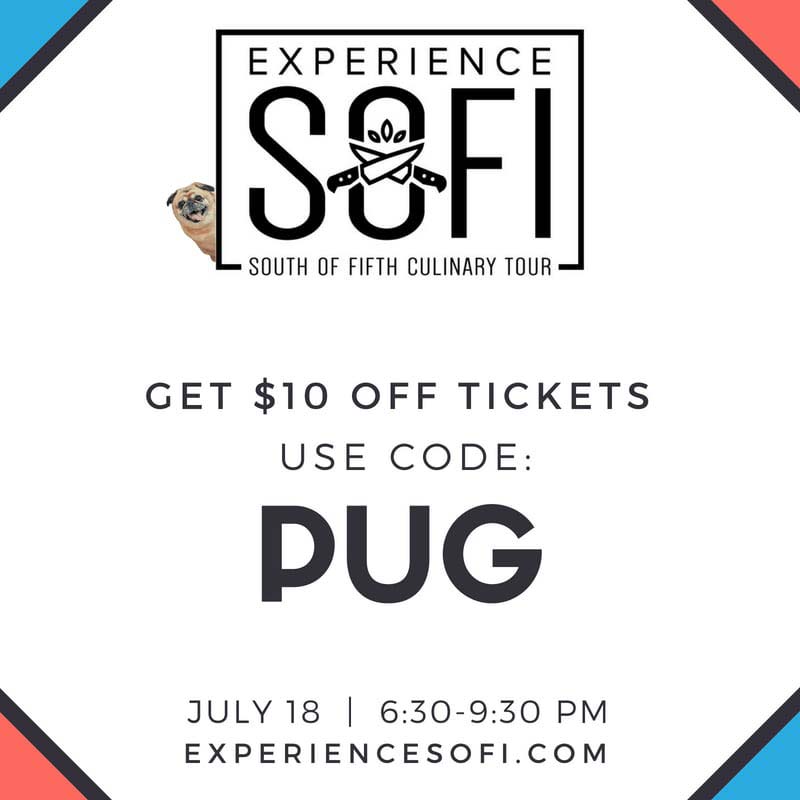 In an effort to fully immerse guests in the SOFI culture, a number of hot spots on the tour are galleries and museums. These locations will feature sips and samples as well! Tour the historic and luxurious blocks of SOFI in style; ticket holders will enjoy cool comfort while being chauffeured in luxury mini buses. When guests finish their Dine-Around Experience at 9:30 PM, they can head to the Celebrity Cruises After Party hosted at Cibo Wine Bar. Keep the party going, just like Celebrity Cruises does on their all-new $1 Billion Dollar ship, The Edge. Enjoy signature cocktails, desserts, entertainment, and the incredibly amusing silent disco until 11 PM.
ExperienceSOFI will benefit CI Foundation's EAT SMART Program, which focuses on the battle against childhood hunger and childhood obesity by finding the perfect balance through nutritional awareness, health, wellness and exercise. Tickets are $55 in June, and $65 in July. SOFI residents can email info@experiencesofi.com to redeem a $10 savings code. You can also use our ExperienceSOFI promo code PUG to save $10.
To purchase tickets and receive additional information, visit www.ExperienceSoFi.com.