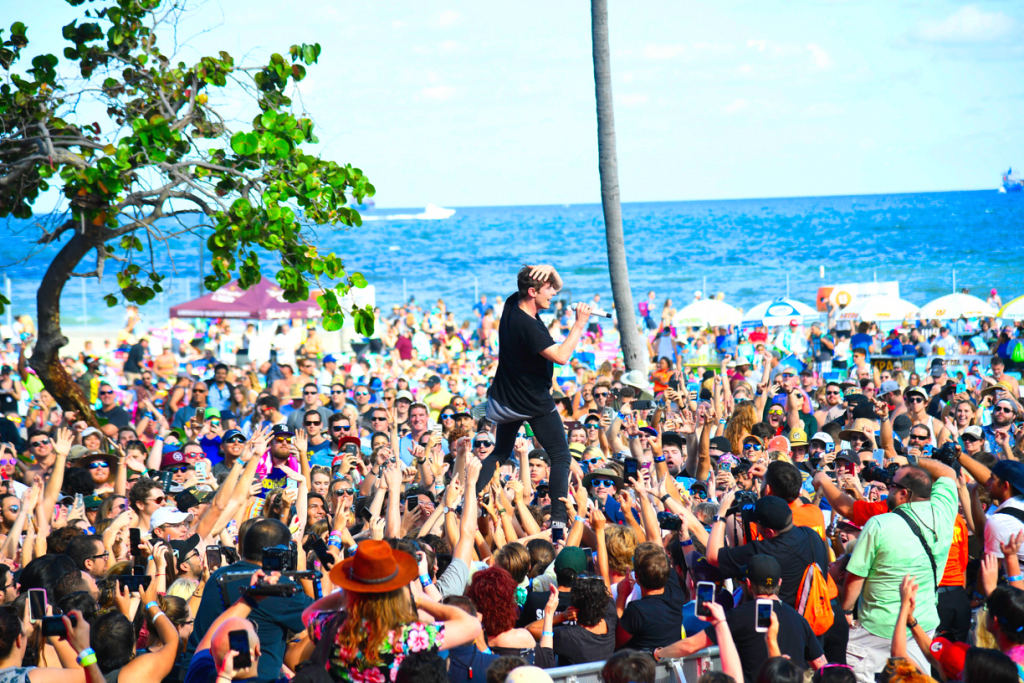 What are you doing this weekend? There's only one correct answer: Riptide Music Festival. The annual affair on Fort Lauderdale Beach is bringing some top-notch talent to South Florida for three days straight. Among the acts performing: Panic! At The Disco, 311, Matt & Kim, Cold War Kids, Sublime With Rome and Third Eye Blind. For us, it's the perfect opportunity to relive our childhoods.
During those three days, you're going to need food — and booze — to keep you going. That's why we've put together a quick, handy guide to some of our favorite spots near the festival. Check out these four places for pre-gaming.
El Vez
W Fort Lauderdale's El Vez has two great things going for it: location and quality. Located just north of the festival on the beach, this Mexican establishment from Stephen Starr serves up some stiff margaritas. Pick your poison: Stick to a glass (or pitcher) of a classic El Vez or live a little with a hibiscus-strawberry or burnt grapefruit iteration. There's no wrong choice, except not enjoying it outside with a beachside view.
On the food side, opt for lighter fare like the tuna tostadas or ceviches so you're not weighed down in the mosh pit. If you are really hungry, though, then go to town on the queso fundido or chicken milanesa torta — that last one is a monster.
Louie Bossi's
This is a bit further inland than El Vez, but the extra distance is worth it. The spacious Italian eatery on Las Olas is ideal for larger groups; it has a lively atmosphere and cooks up big portions of pizzas, pastas and practically the kitchen sink. The menu is gigantic, so it's likely that everyone in your party will find something to their liking.
Our recommendations for a group of four people: two pizzas, two pastas and at least a round of drinks. The capricciosa pizza with gorgonzola, pear, truffle honey and basil is a treat, as is the strozzapreti with Italian sausage, rapini, garlic, oil and chili — you'll love the kick. As for drinks, the cocktails on tap like the negroni or grilled fruit sangria should put you in a good mood.
Burlock Coast
Seafood is the star of the show at Burlock Coast, whose weekend brunch menu is nothing short of spectacular. Expect a little bit of everything here from raw bar selections like shrimp cocktail to substantial sandwiches like the best damn fish sandwich we've ever had.
Seriously: The tempura grouper sandwich with slaw and hot sauce on a brioche bun is a must — screw your diet. We wished it never had to end, and you will too. Meat eaters shouldn't feel left out, though; there are still plenty of options like the meat lovers and swiss omelet and the Hog and the Egg (a pork belly Benedict). Wash it all down with Burlock's extensive collection of fine rums, the restaurant's signature spirit.
The Wilder
If you plan to get to Riptide well after doors open, then The Wilder is your spot. The neighborhood watering hole opens at 4 p.m., so you can get your drink on before the night's headliners. Here, you'll encounter both classic cocktails with a twist alongside unique creations like the Don't Sleep On Me, which involves Afrohead rum and taro milk tea; it sounds weird but it works. For something a bit more familiar, there's the Pimm's Cup, Brown Derby and the Dark & Stormy — all of which do a great job at giving you that festival buzz. Should you be hungry, there's a small food menu that features short rib poutine, avocado toast and other shareable plates.
Riptide Music Festival runs from November 30 to December 2. To purchase your tickets, visit the official website.