July 26, 2019
Each Friday, we compile South Florida food-related news and events that we couldn't fit on the site earlier in the week, as well as other local news that piques our interest. Want to be included in our next roundup? Shoot us an email at bark@miamifoodpug.com.
Miami Bar Crawls Celebrates Christmas in July
CHICA to Open This Fall
Peruvian Independence Day at La Mar
Point Royal Launches New Lunch Menu
Miami Spice Culinary Kickoff at Jungle Island
Spicy Wing Eating Contest at Spring Chicken
Veza Sur Partners With Caja Caliente
Miami Bar Crawls Celebrates Christmas in July
Who said you have to wait until December to celebrate Christmas? Miami Bar Crawls is bringing the magic of the North Pole to the Magic City on Saturday, July 27th. Crawl your way through Brickell as Miami Bar Crawls celebrates Christmas in July!
Get into the holiday "spirit" and enjoy 5 FREE drinks & festive drink specials at five participating Brickell bars. Some venues will even be transformed into North Pole – from Santa's Workshop to a Gingerbread House – you'll have a bright and jolly good time.
Tickets are $20 per person and available via Eventbrite here. Check-in for the bar crawl will be held at Blue Martini Brickell from 7pm to 9pm.
CHICA to Open This Fall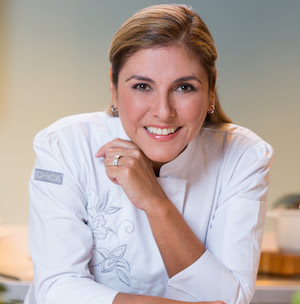 John Kunkel's 50 Eggs, Inc. is pleased to announce that they are expanding the CHICA brand with a second location in Miami. CHICA by Lorena Garcia will open Fall 2019 in Miami's historic MiMo district. The flagship location for the critically acclaimed CHICA by Lorena Garcia occupies a signature spot on Restaurant Row at The Venetian Hotel in Las Vegas and Chef Garcia is regarded as the first Latina chef on the Las Vegas Strip.
Located on Biscayne Boulevard and NE 4th Court in the iconic space formerly occupied by Soyka restaurant, the Miami incarnation of CHICA by Lorena Garcia will transport guests through Latin America, featuring the robust and vibrant flavors of authentic regional dishes. Celebrating a rich blend of native ingredients and techniques that are forever weaved into our American history and palate — from Venezuela, Argentina, Colombia, Cuba, Mexico, Peru, and more – CHICA will pay homage to each culinary tradition all in one dynamic environment.
From the wood-fire grill to the traditional plancha and rotisserie for the signature Meyer Lemon Chicken, a combination of family traditions and passions will unite guests around the table and deliver a legacy of culinary delights. The atmosphere will be musically charged with Latin beats while a lively bar scene will feature cocktails and fine spirits from a regionally inspired curated beverage program, as well as a wine inventory that emphasizes historical ties to old world wines.
CHICA by Lorena Garcia in Miami will be open for lunch, dinner, late night and weekend brunch.
Peruvian Independence Day at La Mar
Miami's top Peruvian chefs will join together this Sunday, July 28 from 12:00 p.m. to 3:30 p.m. at La Mar by Gaston Acurio at the Mandarin Oriental, Miami for a Peruvian Independence Day Brunch.
Valerie & Nando Chang of Itamae & B-Side by Itamae, Giancarlo Accineli & Vanessa Rivera of Mr. & Mrs. Bun, Christian & Frank Encalada of Divino Ceviche and Roxana Basurto of Sweet Mei-Lyng will join La Mar's Executive Chef Diego Oka to celebrate their homeland with enhanced brunch stations featuring their delicious Peruvian specialties and a heightened chocolate experience by 5150 Chocolate and La Mar's Pastry Chef Jamon Harper.
To book a reservation, click here.
Point Royal Launches New Lunch Menu
Celebrity Chef Geoffrey Zakarian's Point Royal at The Diplomat Beach Resort recently launched a new lunch menu in honor of the summer season. Guests will enjoy various menu items including Starters such as the Mezze Platter and Royal Wings, Sandwiches such as the classic Point Royal Ugly Burger, Chicken Avocado and Ybor Cuban Sandwich Dip, and Mains such as the Steak & Salad and Chicken Quesadilla.
Miami Spice Culinary Kickoff at Jungle Island
This year, the Greater Miami Convention & Visitors is celebrating the start of everyone's favorite time of year – Miami Spice season, of course! – with a culinary tasting experience for the books. The Miami Spice Kickoff & Heritage Showcase will feature bites from a selection of participating restaurants and sips – wine, beer and cocktails from this year's sponsors Stella Artois, and ABSOLUT JUICE ® Strawberry & Apple, Facundo Rum Collection, JNSQ Wines and Café Bustelo. And you can vibe to the sounds of Miami's musical collective, Spam Allstars and enjoy immersive cultural experiences like live art activations and much more.
The event takes place Wednesday, July 31 from 6 p.m. to 9 p.m. at Jungle Island. Click here to buy your tickets.
Spicy Wing Eating Contest at Spring Chicken
Monday, July 29th is National Chicken Wing Day so in honor of the occasion, 50 Eggs' Spring Chicken in Coral Gables will be hosting a Spicy Chicken Wing Eating Contest where 10 contestants will compete for the crown and prize. The first person to eat two pounds of SPICY chicken wings in under 10 minutes will win FREE Spring Chicken wings for the rest of the year! Click here to get your tickets.
Veza Sur Partners With Caja Caliente
Today, July 26, Veza Sur Brewing Co. is partnering with Miami's Cuban taco staple Caja Caliente for a special collab with the well-known BreakfastClub. This único de su clase breakfast for dinner pachanga will feature the release of Vezayuno, a Sourdough Breakfast Ale, and an exclusive breakfast menu by Caja Caliente.
Veza Sur's new Vezayuno pairs perfectly with Caja Caliente's menu that will be available à la carte at the brewery. Highlights include the Caja Cuban Nachos – plantain chips, Abuelo's crispy lechon, caja aioli, cotija cheese, pico de gallo, huevo frito ($13) – exclusively available with Eventbrite RSVP; Bougie Bean Toast – sourdough bread, red bean mash, feta cheese, sofrito, fried egg, everything bagel taco ($8); and Jamon Serrano & 12 Month Aged Manchego Cheese Empanadas – four mini empanadas served with locally sourced Homestead honey ($5).
The event will be hosted by Veza Sur along with BreakfastClub, run by internationally renowned authority on breakfast Emily Elyse Miller, who is celebrating the release of her first ever cookbook Breakfast: The Cookbook. The book features a collection of hundreds of home-cooking recipes that celebrate morning meals as they're prepared in kitchens across the globe. The book will be available for purchase for $50.
As a way of bringing a bakery into the brewhouse, the Vezayuno was brewed with a homemade sourdough starter, offering flavor notes of orange rind, rye, tart, and grain, and will be available on tap at Veza Sur.