November 1, 2019
Each Friday, we compile South Florida food-related news and events that we couldn't fit on the site earlier in the week, as well as other local news that piques our interest. Want to be included in our next roundup? Shoot us an email at bark@miamifoodpug.com.
Sunset Soirée and Yacht Chef Competition 
Now Open: Seawell Fish N' Oyster
Pop-Up Dinner at Central Fare
Mangolandia Bottle Launch at Veza Sur
Redhead Sandwich Opens on Miami Beach
Le Chick Expands With Le Coqtail
Juvia Miami Introduces New Brunch Menu
BLT Prime Hosts Wine Dinner
Sunset Soirée and Yacht Chef Competition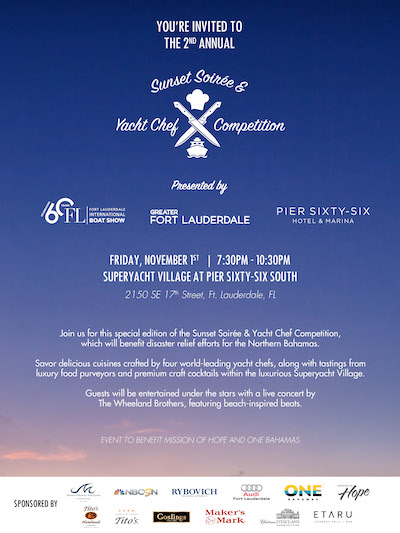 Accustomed to dining in the most exclusive restaurants around the world, there's no question that yacht owners expect the same level of five-star cuisine on their yachts. The Fort Lauderdale International Boat Show (FLIBS) will put these culinary expectations to a test at its 2nd Annual Sunset Soirée & Yacht Chef Competition taking place on Friday, Nov. 1 from 7:30 p.m. to 10:30 p.m., in the center of Superyacht Village at Pier Sixty-Six Hotel & Marina.
In partnership with the Greater Fort Lauderdale Convention & Visitors Bureau, Pier Sixty-Six Hotel & Marina and the Superyacht Builders Association (SYBASS), the culinary competition will benefit disaster relief efforts for the Northern Bahamas in the wake of the catastrophic category 5 storm, Hurricane Dorian.
Guests will have the rare opportunity to witness the world's leading yacht chefs, including Danny Davies of Excellence, battle it out for the title of 'Best Yacht Chef' while indulging in culinary tastings from luxury food purveyors and local restaurants. A selection of premium spirits including specialty Tito's Handmade Vodka cocktails, Makers Mark whiskey creations, Whispering Angel Rosé and a bubbly welcome from Moet & Chandon will also be available.
A live concert by The Wheeland Brothers and DJ will set the sounds for the dockside festivities. To be hosted by NBC-6 Miami reporter Kelly Blanco and the Miami Heat's DJ Dale, the competition will feature a panel of notable judges including foodie influencer Sami Schnur of @TheNaughtyFork, South Florida Sun Sentinel's Food Critic Mike Mayo, Bahamas Minister of Tourism and Aviation Dionisio D'Aguilar and Paula DaSilva, Executive Chef of The Ritz-Carlton Fort Lauderdale, who will sip and savor the curated dishes and decide who gets to take home the 'Best Yacht Chef' title.
The event will benefit two Bahamian relief organizations: Mission of Hope, a relief mission that is led by True North, a 110-foot vessel that has been deployed to Marsh Harbour and equipped with specialty teams to aid in the rebuilding of temporary housing and providing medical care; and the ONE Bahamas Fund created by Justin Timberlake, Tiger Woods, Nexus Luxury Collection, the Royal Bank of Canada and luxury residential community Albany to help support relief and rebuilding efforts for the country and its residents.
Tickets to the 2nd Annual Sunset Soirée & Yacht Chef competition cost $125 and are available for purchase at www.FLIBS.com.
Now Open: Seawell Fish N' Oyster
From the talented team behind Washington Avenue's Minnow Bar, Seawell Fish N' Oyster is now open. Adjacent to Kimpton Angler's Hotel South Beach, Seawell attracts locals and visitors alike with its coastal fare, raw bar, fresh fish and shellfish accompanied by a craft cocktail selection.
Executive Chef Julian Garriga leads the culinary program at Seawell. Serving dinner daily, Seawell's menu highlights a selection of east and west coast oysters, Fish N' Chips, 6 oz. Bone-in New York Strip served with escargot butter and Pan Seared Snapper made with andouille sausage, seafood nage served with Carolina rice.
Seawell also offers brunch on Saturday and Sunday with over a dozen plates divided by starters, early brunch and late brunch. Signature brunch items include Seawell's Wake n' Bake Bowl with poached egg, nueske bacon, peppers, onions, fontina and the Egg n' Sausage Sammy with cheddar, rosti potatoes, breakfast gravy among other specialties. Bottomless mimosas served with varying freshly squeezed juice options round out the full brunch experience.
Complementing the food is a modern, four-seat petit bar serving classic cocktails and coastal brew favorites. The restaurant's unique bar program features a carefully curated wine list with a strong focus on rosé and bubbles. Early Americana and the coastal fishing communities inspire Seawell's cocktail program.
Pop-Up Dinner at Central Fare
PF by Delicatessen Patagonia is giving guests the perfect chance to sample their delicious, traditional flavors during a pop-up dinner on Nov. 7 at 6:30pm. The Argentinian-inspired eatery, located at Central Fare in Downtown Miami, is hosting a unique opportunity for a private after-hours dining experience. Guests will indulge in a 5-course menu, paired with wine and beer, sponsored by Patagonia Flavors, all for $65.
For more information, RSVPs and reservations please email oddkitchen14@gmail.com.
Mangolandia Bottle Launch at Veza Sur
Veza Sur is keeping summer alive with the release of its best selling Mango Blonde Ale, Mangolandia, in their signature stubby bottles. To celebrate the release, Veza Sur will transform its expansive outdoor patio into a haven for mango lovers on Saturday, November 2 starting at 2:00 p.m. The pachanga will feature DJs all day long, tons of giveaways, and unique mango-themed moments, photo opps and Mangolandia bottles all around.
Redhead Sandwich Opens on Miami Beach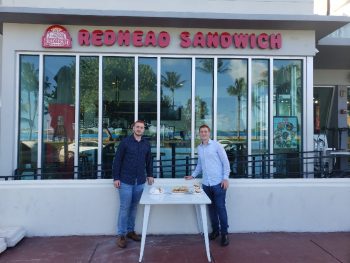 Located in the heart of South Beach, Ocean Drive will soon get a new sandwich spot Redhead Sandwich, making its debut with their first location next door to The Villa Casa Casuarina at the Former Versace Mansion on Friday, November 1, 2019. The fast-casual concept owned and operated by brothers Sammy and Christian Mounayyer will offer an array of deli-style daily fresh sandwiches, crepes, salads and smoothies, coffees and fresh juices, all made-to-order.
Redhead Sandwich will open its doors on November 1, 2019 with an open to the public grand opening event from 5PM to 8PM, featuring complimentary tastings from the menu. Additionally, the eatery will extend a 10 percent off discount to all customers from November 1 through November 15, 2019.
The Ocean Drive eatery will deliver a selection of Italian and South American specialty sandwiches featuring simple, yet quality local ingredients, fresh bread and fast service much needed for its Miami Beach location. Menu items include a variety of Paninis like the Cheesy Melt with bacon, tomatoes, and American cheese; customize your own Sandwich with a variety of toppings, protein, and cheese; Salads including Greek, Caesar and Niçoise; and Crepes like the Nutella Lover with Nutella, white Nutella, and cookie crumbles.
You have the option to 'create your own' version of all of the categories above as well and everything is priced at just $9.99. Additionally, they will offer a variety of Smoothies, Milkshakes, Shaved Ice, and Redhead Fresh Pineapple Juice in a whole pineapple or Coconut Water in a whole coconut, ranging in price from $4.99 to $14.99.
Le Chick Expands With Le Coqtail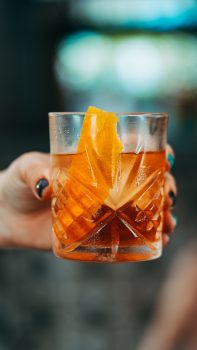 Le Chick, inspired by a wildly-popular Dutch restaurant and a Wynwood hotspot since it premiered Spring 2018, is doubling down on its popularity this fall with the launch of Le CoqTail, its new outdoor bar & lounge now officially open. Featuring stylish, comfortable outdoor seating – a rarity in Wynwood – Le CoqTail boasts a retractable roof, a gorgeous design very much in sync with Le Chick's industrial-chic allure, live DJ music, as well as an exclusive cocktail list and bar bites menu by Executive Chef Nicole Votano.
The space encompasses 2,000 square feet including an expansive bar, communal seating, lush greenery and – a added benefit to the many who have waited patiently for a table during dinner service at Le Chick – an additional 40 seats for dining. But at its heart, Le CoqTail is a sophisticated but unpretentious cocktail lounge; the perfect hotspot for Happy Hour, late night carousing or a cocktail and a bite before exploring one of the hottest neighborhoods in the world.
Behind the bar is mixologist on the rise Rebekah Stone; on offer, a bevy of creative concoctions only available at Le CoqTail. Priced between $12-$18 they include: 305 Key Lime Pie – vanilla vodka, Midori, lime foam and graham cracker rim; Santeria – Zacapa 23 Rum, blood orange liqueur, chocolate bitters, Palo Santo smoke; Bangin' Sangria – red wine blend, blackberry brandy, tropical juices and floral tea and La Pelirroja – blanco tequila, mezcal, lime guava nectar, Ancho Reyes Verde, lime and chili.
Juvia Miami Introduces New Brunch Menu
Take your brunch plans to new heights with Juvia's all new prix-fixe brunch menu. Available on Saturday and Sunday, Executive Chefs Sunny Oh and Gregory Gourreau have taken their favorites and Juvia's signature dishes to the menu with highlights like Oh-Granola, Smoked Salmon Eggs Benedict, Croque Madame and Strawberry Salsa with Lychee Sorbet from Pastry Chef Gregory Gourreau. The menu is priced at $65 per person and includes bottomless mimosas, bellinis, prosecco or a avion tequila margarita. The a la carte menu will also be available.
BLT Prime Hosts Wine Dinner
BLT Prime Doral continues its partnership with honored vintners to host the fifth of six interactive wine dinners that showcase the best in food and global wine in an intimate setting. On Tuesday, November 5, BLT Prime's Chef de Cuisine Tim Elmore will present a menu perfectly paired with the acclaimed wines of Michael Mondavi Family Estate.
Dinner will begin at 7:30PM in the Nicklaus Private Dining Room at BLT Prime Trump National Doral. A vineyard representative, along with Chef Elmore, will provide tasting notes and take guests on a one-of-a- kind journey to explore the flavor profiles and components of the pairing.
Tickets are $135 per person and can be purchased online at BLTRestaurants.com or by calling the restaurant at 305-591-6606.