October 23, 2020
Each Friday, we compile South Florida food-related news and events that we couldn't fit on the site earlier in the week, as well as other local news that piques our interest. Want to be included in our next roundup? Shoot us an email at bark@miamifoodpug.com.
Chicken Sandwich Peace Summit at PINCHO
New Lunch Offerings at Le Jardinier
Happy Hour at Rocco's Tacos
Sunset Menu at Juvia
MAYAMI Opens in Wynwood
Frohzen Offers Free Scoops for Voters
Tito's and Taquitos at Rivertail
Fooq's Announces Next Pop-Up Residency
Toro Toro Reopens at InterContinental Miami
Chicken Sandwich Peace Summit at PINCHO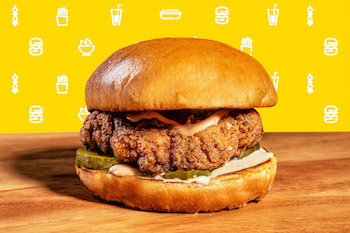 On Saturday, October 24th at 12:30PM PINCHO is hosting a Chicken Sandwich Peace Summit to create some peace in the drama filled year that is 2020. PINCHO has published an open letter inviting representatives from Popeyes and Chik-fil-A to take part in the 'Peace Summit,' where they will all meet at PINCHO Hialeah to make amends, break bread and officially end the longtime Chicken Sandwich War. The event will be livestreamed on PINCHO's Instagram (@pincho) so fans can participate.
New Lunch Offerings at Le Jardinier
Le Jardinier, the vegetable-forward concept by Michelin-starred Chef Alain Verzeroli which reopened at the beginning of the month, has debuted lunch service. Lunch is offered Tuesday through Saturday from 12PM until 3PM and include an à la carte menu as well as three-course prix-fixe menu. Like the restaurant's signature items, the new menu embraces local and seasonal ingredients, elevated by classic French technique.
The menu was created by Verzeroli alongside Le Jardinier Miami's Chef de Cuisine Seth Blumenthal, who was named one of "Miami's Chefs to Watch" by Forbes in 2018 while working on the opening team for James Beard Award-nominated restaurant, ALTER. Blumenthal will oversee day-to-day operations and menu development at Le Jardinier Miami while working closely with Verzeroli, Le Jardinier's NYC-based Culinary Director.
The à la carte lunch menu features dishes such as:
Red Kabocha Burrata with honey crisp apples and marcona gremolata ($22)
Roasted Beet Salad with herbal goat cheese, pistachios and arugula ($19)
Sunchoke Velouté & Chips with sauteed chanterelles and chervil ($16)
Desserts created by Executive Pastry Chef Salvatore Martone include Flaky Apple Tart with cinnamon ice cream ($10); Passionfruit & Kumquat Tart with sponge and meringue ($10); Cheese Selection ($25); and Plant Based Ice Creams ($10).
The three-course prix-fixe, priced at $40 per person, gives guests the choice of one starter and one entrée. For dessert, guests may choose between the Flaky Apple Tart and two scoops of ice cream of their choice from Frohzen, Martone's whimsical and innovative ice cream shop concept located directly adjacent to Le Jardinier.
Happy Hour at Rocco's Tacos
Rocco's Tacos & Tequila Bar invites you to its vibrant Mexican Restaurant destination to fiesta during Happy Hour…all week long! Enjoy the option of its Daily Happy Hour from 4pm – 7pm (at the bar and table seating) or Late Night Happy hour.
Daily Happy Hour menu offerings at the bar and table seating include $4 select bottles of beer and glasses of wine, $4 drafts, $5 select liquors and margaritas, and $25 Margarita Bottles with flavor options; Traditional, Strawberry, and Mango.
Sunset Menu at Juvia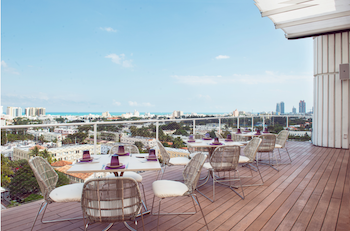 Juvia Miami is bringing back their famed Sunset menu for locals to enjoy al fresco while overlooking unobstructed views of the Atlantic Ocean. Available Wednesday – Saturday from 5:30PM to 6:45 pm, the lavish 3-course menu is paired with a complimentary glass of prosecco for only $45 dollars per person.
Guests can enjoy delicious starters like the Salmon Tartare with avocado, scallions, crispy rice, and sesame soy; or the Shrimp Anticucho with fingerling potato and chimichurri sauce. Entrees include the Panko Bread Organic Chicken with garlic artichoke, caper brown butter, micro arugula; the Mediterranean Branzino with eggplant ragout, garbanzo peppers, sun dried tomatoes, and onions; or the Grilled Skirt Steak, served with yucca fries and Juvia's famous steak sauce.
Saving the best for last, guests can end their night on a sweet note with the Old Fashion Chocolate Mousse topped with whipped mascarpone, or Vanilla Poached Pear with Lychee Sorbet.
MAYAMI Opens in Wynwood
Located in the heart of Miami's artistic Wynwood neighborhood, Mayami is the newest Mexican Cantina & Bar brought to life by White Feather MGT, the renowned team behind El Patio Wynwood. The 10,000-square-foot indoor and outdoor restaurant and lounge transports guests to ancient Maya Civilization with Mayan Revival architecture, traditional Mexican cuisine, upbeat party-atmosphere with Tulum vibes, uniquely crafted cocktails and insect-infused Mezcal shots. L
Mayami, which expertly combines the words "Maya" and "Miami" into one, truly embodies its name by fusing the historical Mayan culture with Miami's trendy, scenic and metropolitan vibe. Upon entering the 200-seat indoor-outdoor restaurant and lounge, guests leave modern day at the door as they enter the sweeping amphitheatre-like room inspired by the Mayan Revivalism of the Art Deco period.
Led by Executive Chef Juan Carlos Flores, formerly at Brickell's Cantina La Veinte and Coral Gables' Plomo Tequila & Taco Bar, Mayami serves a wide variety of authentic regional Mexican dishes made with fresh, artisanal ingredients. The cocktail menu offers fresh Mexican ingredients and feature unique cocktails such as the Blood Moon made with Patron Reposado, Chinola Maracuya Liqueur, and Peanut and Desert Pear Syrup; and the Yellow Warrior with Jack Daniels Honey, Ancho Reyes, and Angostura.
Much like El Patio, Mayami conveys an even more upscale, lively and welcoming nightlife environment. The space showcases an expansive pyramid-shaped bar in the center of the room, and a state-of-the-art DJ booth perched above the multi-level terrazas, surrounded by lush trees, stages and numerous VIP booths.
Frohzen Offers Free Scoops for Voters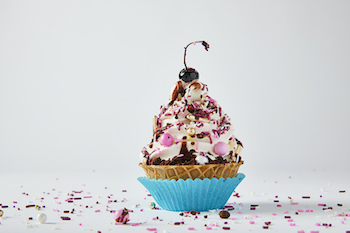 For the week leading up to the election (October 27 – November 3), guests who bring in their "I Voted" sticker will receive a complimentary scoop of ice cream of their choice with toppings. The whimsical ice cream shop has indulgent flavors including tres leches, red velvet cake, mango passionfruit, birthday cake, guava maria, frutti di bosco and more. Frohzen is located in the Miami Design District's Paradise Plaza. The store is open Tuesday through Saturday from 12:30pm until 8pm.
Tito's and Taquitos at Rivertail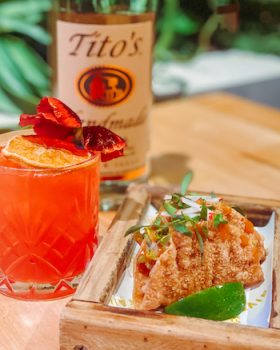 Rivertail is excited to launch its new Tito's & Taquitos Tuesdays every week starting on 10/27. Guests who dine on Tuesdays will get a free Taquito with every Tito's cocktail purchase. The special is available every Tuesday / All Day from opening 'till close (Starting October 27th). The first 100 reservations will receive their first Tito's cocktail on the house.
Located on the Riverwalk in Downtown Fort Lauderdale, where the New River meets West Las Olas Boulevard, Rivertail is open for dinner, as well as Saturday lunch, Sunday brunch and weekday Happy Hour. Five-time James Beard Award-nominated chef Jose Mendin Rivertail's menu places an emphasis on global preparations of seafood-driven sharable plates, drawing on inspiration from Chef Mendin's experiences around the world.
Fooq's Announces Next Pop-Up Residency
Fooq's, Downtown Miami's award-winning restaurant, is excited to unveil, Da Lida, its next Pop-Up Residency in partnership with Lina Goujjane from Los Angeles. Da Lida will open for dinner with indoor dining, delivery and takeout on Tuesday, October 27th.
Da Lida is a casual pasta bar specializing in traditional Italian dishes of the highest quality alongside a focused collection of wine. The rotating menus will incorporate the freshest seasonal produce with choices in antipasti and pasta, accented with fine Italian olive oils and fresh herbs.
From October 27th through December 2020, Goujjane and her team of expert sauce makers will take over the Fooq's kitchen and dish out her old world Italian dishes that took Los Angeles by storm during COVID. Dinner will be available Tuesday-Saturday from 7:00 p.m.-10:30 pm. with staggered indoor and outdoor seating. Reservations can be made via Opentable.
The Da Lida Pop-Up menu will offer a selection of traditional Italian courses through a weekly rotating menu. Also available A la Carte, the signature Prix Fixe ($39) menus will offer an appetizer (Antipasti) course, followed by a salad (Verdure) and three choices of pasta (Primi) and a Dessert (Dulce).
Rotating Antipasti & Verdure dishes will include Burrata & Pesto, Aged Prosciutto & Finocchiona Salami, Burrata & Anchovies, Grilled Bread, and Gem Lettuce with Calabrian Chili and Breadcrumbs. The signature Primi dishes will offer a selection of flavorful pastas such as Spaghetti Alla Nerano and Rigatoni Bolognese, while a classic Fooq's Favorite, Buccatini Amatriciana, will make its return to the menu.
Toro Toro Reopens at InterContinental Miami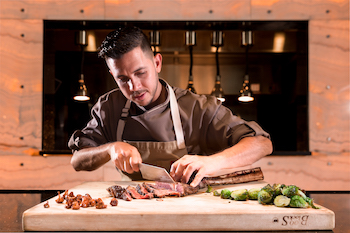 Toro Toro, Chef Richard Sandoval's Pan-Latin steakhouse located at the InterContinental Miami in the heart of Downtown Miami, has officially reopened to the public. With the reopening, the restaurant brings back its diverse offerings, embracing the bright and flavorful cuisines and techniques from the islands and Americas.
Helming the kitchen at Toro Toro Miami, Executive Chef Jean Delgado has elevated the restaurant's already-coveted lunch and dinner menus. The cocktail menu has also been updated with a selection of innovative new drinks.
Keeping the safety of their staff and guests a top priority, Toro Toro has implemented enhanced safety protocols in accordance with recommendations of the CDC, local government and health officials.
The restaurant will have socially distanced tables, a maximum of six (6) guests per reservation, extensive sanitation including readily available hand sanitizer throughout the restaurant and mask requirements for staff and guests. Plexiglass partitions have been installed at the restaurant's popular bar, allowing guests to imbibe safely.
On the dinner menu, offered from 5PM 10PM, guests will recognize many signature favorites. Highlights include Chicharrón de Camarón with crispy shrimp, aji Amarillo, avocado and rocoto; Lomo Saltado Empanadas with beef tenderloin, soy sauce and mozzarella, served with avocado sauce; Organic Heirloom Tomato Burrata Salad with watermelon, endive, frisée and black garlic vinaigrette; and Togarashi Tuna Salad with farm greens, arañitas, edamame, Asian pears, tobiko caviar and lemon wasabi vinaigrette. Hearty and impressive cuts of meat will also be available including the classic Toro Toro Skewers and Tomahawk Steak.
During lunch, 12PM – 5PM, a casual á la carte menu will be offered with dishes including Braised Short Rib Arepas topped with avocado; Chicken & Chorizo Croquettes with gruyere cheese; Truffle Mac & Cheese with cheddar and gruyere cheese; Toro Toro Burger with chipotle aioli, avocado, smoked cheddar and bacon; Churrasco Steak Sandwich with caramelized onions, provolone and garlic aioli, served with a side of fries; and Wild Mushroom Flatbread with goat cheese and caramelized onions.