January 29, 2021
Each Friday, we compile South Florida food-related news and events that we couldn't fit on the site earlier in the week, as well as other local news that piques our interest. Want to be included in our next roundup? Shoot us an email at bark@miamifoodpug.com.
The Wharf Fort Lauderdale Has Reopened
Bottomless Brunch at ADDiKt
Reunion Ktchn Bar Launches Weekend Brunch
Tijuana Flats Offers Limited Time Fajita Tacos
Local Miami Chef Wins on Food Network
New Dishes at Lona Cocina & Tequileria
The Wharf Fort Lauderdale Has Reopened
Breakwater Hospitality Group (BHG) is happy to announce that The Wharf Fort Lauderdale has reopened to the public. The outdoor multi-use, entertainment and event space is located along Fort Lauderdale's Riverwalk at 20 West Las Olas Blvd.
Last year, BHG decided to voluntarily close the Broward outpost of its wildly popular concept amid increasing concerns of safety due to the spread COVID-19 within the community. In anticipation of the reopening, these matters of safety are being addressed by enhancing and enacting stricter measures and protocols, such as:
Mandatory Masks – Masks must be worn to enter the property and when not seated at a table.
Mask Patrol – Hired additional staff to enforce mask-wearing.
Limited Capacity – Guests are strongly encouraged to reserve tables in advance to ensure entry. Walk-ins are limited.
Additional Seating – A number of tables have been added but are still spaced-out accounting for social distancing.
Bar Access – No one will be allowed to congregate at the bar. Access to the bar will be via a single file, socially distanced line. Plexiglass protection has been installed at the bar areas.
Bottomless Brunch at ADDiKT Modern Kitchen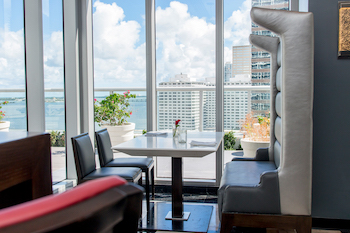 ADDiKT Modern Kitchen's new bottomless brunch launches on Saturday, January 30th. Located on the 15th floor rooftop of W Miami in Brickell/Downtown, the restaurant invites locals and hotel guests to surround themselves with stunning views of Biscayne Bay and the Miami Skyline as they enjoy a selection of classic brunch favorites including an Omelette station.
Brunch will be available Saturdays and Sundays from 11:30am to 3:00pm for $36 per person. Guests who would like to add a boozy touch to their brunch can add on unlimited mimosas and bloody marys for $25.
Reunion Ktchn Bar Launches Weekend Brunch
Known for its world-spanning, eclectic menu, exquisitely crafted cocktails, polished service and chic décor, Aventura hotspot Reunion Ktchn Bar (RKB), is now offering weekend brunch. With indoor and patio dining available, its new sister lounge next door and the restaurant's brand-new brunch, Reunion Ktchn Bar truly offers something for everyone.
Brunch is served Saturday and Sunday from 11AM – 4PM. Dishes, designed to be shared, are internationally-inspired with an emphasis on Spain, Asia and the Mediterranean. In addition to Bottomless Mimosa or Sparkling Wine ($35 per person), brunch-goers have a bevy of options, from pastas, salads, cheeses, and meats to seafood, breads and sweets.
Sweets and Savory selections include Old Fashioned Almond Pancakes (GF) with either classic bourbon maple or Belgian chocolate chip; Honey Saganaki Cheese with pistachio crumble; a S'mores Croissant with Belgian chocolate and marshmallows; House Smoked Salmon Eggs Benedict; Hass Avocado Toast on a French baguette; and Grilled Raclette Cheese Croissant.
For a truly indulgent daytime affair, diners should try fire-melted Alpine Raclette served with artisan bread, potatoes, cornichons and onions or French Escargot with garlic and parsley butter. Brunch can be elevated even further with caviar service or a caviar flight.
Naturally, no brunch is complete without a cocktail or two. If you aren't a Bottomless Mimosa or Sparkling Wine person, a variety of domestic and international beers are available as well as some of the best signature cocktails in town. They include the Mercumbe (Cumbé Premium Aguardiente, coconut cream, grapefruit bitters, lemon); Berry Italian (Gra'it Grappa, Solerno Liqueur, raspberry, lemon) and the El Viejo Fashioned (Corazon Anejo, agave and chocolate bitters), among others.
Tijuana Flats Offers Limited Time Fajita Tacos
Tijuana Flats, the fast-casual Tex-Mex-For-All original, today announced an exciting start to 2021 with the launch of Fajita Tacos. Tijuana Flats is known for pushing the boundaries of bold flavors and this limited-time offering combines all the past parts of fajitas and takes them to the next level.
Fajita Tacos are part fajita, part taco, and all awesome.
Guests can choose from grilled chicken or steak inside warm, flour tortillas, packed with sizzling fajita peppers and onions, tangy garlic lime sauce and fresh guajillo chile salsa. They are topped with cheddar jack cheese, crisp iceberg lettuce and house-made pico de gallo. Order Fajita Tacos at the restaurant, online at tijuanaflats.com, or through the Tijuana Flats Rewards app for $7.99. Upgrade to steak for $1 extra.
Fajita Tacos will be available in stores and online through Sunday, March 7.
Local Miami Chef Wins on Food Network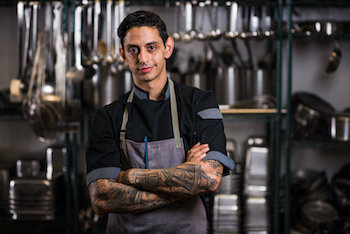 Local Miami chef, Abel Veulens, just took home a BIG WIN for his hometown. The beloved executive chef at Miami's famed Mediterranean hotspot, Byblos Miami, is the newest champion of Food Network'sSupermarket Stakeout, a spirited three-round chef competition held in a California supermarket parking lot.
Chef Abel proudly won over the judges during all three frenetic rounds against three other top chefs and claimed the $10,000 grand prize on the hour-long premiere that aired at 10:00 PM yesterday, January 26th, on the Food Network.
"You may have seen me at Byblos before," says Chef Abel Veulens, Executive Chef, Byblos Miami. "Well now you can see me on the Food Network's Supermarket Stakeout, so honorably given the opportunity to represent our brand back home!"
In Supermarket Stakeout, hosted by frequent Chopped judge and an Iron Chef, Alex Guarnaschelli, four chefs square off in a competitive pop-up kitchen outside a grocery store. Assigned a theme for each round, the chefs must size up shoppers as they exit the store and attempt to negotiate for their grocery bags.
During Chef Abel's episode (Season 3, Episode 4), Alex Guarnaschelli threw a parking lot themed party, and Chef Abel, along with three other top chefs, had to rustle up ingredients from supermarket shoppers to create perfect party snacks, followed by a hearty breakfast dish, and then it was a mad dash to the finish as the chefs prepared dueling decadent desserts for a date with destiny … and the $10,000 grand prize.
"It was honestly such a crazy time for me. During these times of uncertainty in the business, it's a real blessing to be able to have such a strong and genuine family at the restaurant, that sticks together and provides each other with a true support system through these tough months," says Chef Abel Veulens, Executive Chef, Byblos Miami. "To be given the chance to go to L.A. to compete with other really amazing chefs, and be able to bring some money home for my family, it's a genuine blessing."
New Dishes at Lona Cocina & Tequileria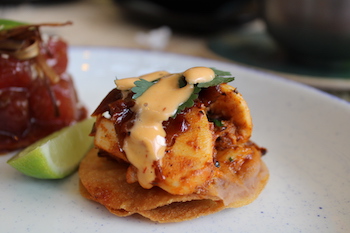 Lona Cocina & Tequileria, Fort Lauderdale's hottest Mexican restaurant, has introduced a bevy of new dishes. The restaurant, by celebrated Chef Pablo Salas, is known for eclectic, soulful Mexican cuisine and a top-of-the-line cocktail program, in a chic, yet funky environment, with sweeping views of the Atlantic courtesy of its expansive oceanside terrace.
Menu newcomers created by Chef Jorge Gutierrez include new appetizers such as the Octopus Tostada, "a la gallega" served on a crispy tostada with refried beans, caramelized morita onions, cilantro and aioli ($15); and Tortilla Soup with avocado, queso fresca, tortilla stripes, crema fresca and aged cotija cheese ($10). Flavorful new entreés include the Brisket Quesadilla, slow roasted with adobo peppers, white onion, melted Mexican cheese, cilantro and guacamole ($15); and Arroz Cremoso con Langosta topped with butter-poached lobster and truffle oil ($32).
The new decadent dessert offering is Mi Corazon, Mexican rum spiked dulce de leche ice cream with raspberries and chocolate covered peanuts ($10). "The new dishes honor the unique authenticity of Mexican cuisine while also adding our own twist to highlight a variety of flavors, textures and colors," says Gutierrez.