March 26, 2021
Each Friday, we compile South Florida food-related news and events that we couldn't fit on the site earlier in the week, as well as other local news that piques our interest. Want to be included in our next roundup? Shoot us an email at bark@miamifoodpug.com.

National Beer Day at EST. 33
Estrella Damm Culinary Journey Returns
Shelter Opens in Wynwood
Bou-gie Brunch at Sushi by Bou
Coming Soon: Botánico Gin & Cookhouse
National Beer Day at EST. 33
To celebrate National Beer Day on Wednesday, April 7 EST. 33 Thai Craft Brewery & Kitchen will release four new Sour Beers and will be offering complimentary guided brewery tours by Head Brewer Todd Space with the purchase of any beer flight.
On National Beer Day (April 7), the brewery will debut four brand new sour beers crafted in the Berliner Weisse style, and guests will have the option of picking their choice of puree for infusion between Mango, Guava, Passionfruit and Kaffir Lime. The new Berliners can be enjoyed as a pint for $7 or all four in a Sour Beer Flight for $14. Guests who purchase any beer flight can enjoy a complimentary guided brewery tour led by EST. 33's talented Head Brewer Todd Space, every half hour from 4-7PM.
Estrella Damm Culinary Journey Returns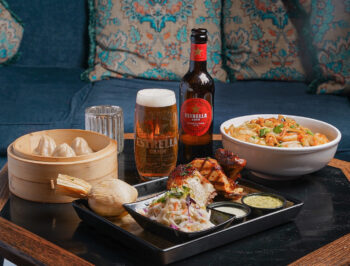 For six consecutive years, the Estrella Damm Culinary Journey has illuminated the culinary talents of chefs across South Florida by pairing multi-national cuisines with Barcelona's most cherished beer. The program returns to the Sunshine State April 1 through April 30, 2021 featuring fabulous restaurants in Dade and Broward County. During the month of April adventurous foodies will be able to order specially-priced offerings from local restaurants, from exclusive entrées to 3-course meals, all paired with an ice-cold Estrella Damm.
This year, each participating restaurant will present a chef-curated, multi-course menu and/or a standalone entrée to pair with Estrella Damm for a set price. Brewed in Barcelona with Mediterranean ingredients since 1876, Estrella Damm boasts a versatile and approachable flavor profile, making it an attractive pairing to cuisines from around the world, as evidenced by the eclectic line-up of participating restaurants.
This year, one lucky foodie will win a luxurious two-night escape to Little Palm Island in the Keys, complete with gourmet dining experiences and water activities. To enter, guests must snap a picture of their Estrella Damm Culinary Journey meal and beer, tag the participating restaurant and include #EstrellaDammJourney in the caption. The more photos you upload, the more chances you have to win. Instagram posts must be made between April 1st – April 30th to be considered.
For more information on Estrella Damm Culinary Journey, including a full list of participating restaurants and menus, please visit www.estrelladammjourney.com.
Shelter Opens in Wynwood
In 2021, it's more than a bit ironic that a restaurant from New York named Shelter would find a home in sunny South Florida. The 305 has long been a destination for snowbirds or weary northerners seeking shelter during the coldest of months and 2021 has seen that spades.
Among some of the hippest new spots to take root here this winter is Shelter, Brooklyn's acclaimed wood-fired restaurant and bar, which opened there September 2013. Opening to the public today (Friday, March 26), Shelter Wynwood will feature the woodsy, "hunting lodge chic" design and style that has made it such a Williamsburg staple and will certainly play well in Wynwood given its artistic, bohemian vibe.
Overflowing with delicious, rustic fare, informed by its creators' Italian and Argentine roots and fueled by wood-burning oven, the menu promises variety, bold flavors and crave-able simplicity. Starters range from steamed mussels with crunchy fire-toasted bread; crispy artichokes with pecorino cheese dip, a meat & cheese board with all the fixings; truffled mac & cheese and fresh ceviche mixto.
Pizzas, available gluten free if desired, are a fixture here. Standouts include Brussels sprouts with smoked mozzarella, fontina and pancetta; ham & peppers with mozzarella; quattro stagioni – mushroom, artichoke, olives and prosciutto cotto and truffle pizza with fontina, mushroom cream, mozzarella, Parmesan and, of course, truffle.
Here, empanadas are a must, with traditional and un-traditional offerings abounding. Destined to be big sellers: BBQ piggy empanadas served with coleslaw; humita – sweet corn, scallion, nutmeg and bechamel and mushroom, kale and goat cheese, among others.
Main-plates range from a roasted half-chicken with mashed potatoes and a delicious burger to parillada for two – ribeye, chorizo, morcilla, skirt steak, chicken – served with roasted vegetables and fries and slow-braised double rubbed pork ribs. Shelter Wynwood is located at 10 NE 27th Street in Miami. Dinner served nightly.
Bou-gie Brunch at Sushi by Bou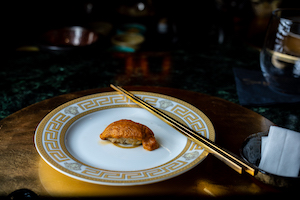 Acclaimed omakase hotspot, Sushi by Bou located inside the Gianni Versace Suite at the former Versace Mansion, is debuting a Bou-gie Brunch experience beginning Saturday, March 27, 2021. Accommodating up to eight diners for an afternoon of dazzling nigiri and knife play presenting 17-courses, the restaurant offers a spirited culinary journey complete with signature brunch libations within an intimate speakeasy setting.
In celebration of the launch, the restaurant is offering a complimentary brunch cocktail to each guest who dines for brunch this weekend on Saturday, March 27 and Sunday, March 28. The Bou-gie Brunch will be offered on Saturday and Sunday from 12PM to 4PM.
Upon arrival at The Villa Casa Casuarina, guests must "check-in" with the front desk attendant in the lobby who will escort them to the G-Lounge, a 25-seat breezy bar lounge overlooking Ocean Drive that is adjacent to the original Gianni Versace Suite. Guests are encouraged to come early and enjoy the atmosphere which includes lavish interiors in the neoclassical style honoring the mansion's original architecture and design.
Brunch is priced at $125 per person and will feature 17-courses of handcrafted nigiri sushi ranging from Hamachi yellowtail, Bluefin tuna, marinated Ikura, Uni sea urchin, and fatty tuna to Wagyu and Uni surf and turf and Hokkaido scallop topped with charcoal salt.
Guests can enjoy a selection of refreshing libations including Mimosas and Bellinis as well as a selection of fine Japanese whiskeys or craft cocktails such as the Shiso Southsider with Suntory Haku vodka, shiso leaves, and lime and the Yuzu Honeybee with Maker's Mark bourbon, honey syrup, yuzu juice and pink peppercorns.
Those interested in sake can partake in G-Lounge's sake vending machine where guests can sample a glass of three different sakes. Sake selections are also available by the glass or bottle. All sakes are served in a variety of handmade Edo Kiriko glassware; sporting elegant, transparent and clean Japanese-style designs.
Photo Credit: Libby Vision
Coming Soon: Botánico Gin & Cookhouse
Opening Spring 2021, Botánico Gin & Cookhouse (Botánico) will be Miami's first gin-centric eatery — a convivial gathering place where contemporary cuisine and neighborhood gin bar converge. Conceptualized by Partners/Co-Owners Ricardo Ordoñez and Chef Gerardo B. De Negri, the restaurant is located in the recently redesigned and relaunched CocoWalk complex in the heart of Coconut Grove.
For the food at Botánico, Chef Gerry is employing his classic French training with inspirations from his culinary sojourns abroad to create an upscale yet approachable dining experience. Born and raised in Mexico, Gerry has decades of experience in the culinary industry, including owning/operating several concepts in Mexico, and helming the kitchen at Dominique Bistro and Mexicana Cantina in Miami.
Botánico's menu will invite sharing, with a focus on modern American cuisine, divided into the following categories: Finger Food, Ceviches, Tartares, Salads, Sandwiches and Entrees.
Among the standouts on the opening menu are goat cheese dip; octopus carpaccio; arepas topped with duck confit, short rib, and pulled pork; a cheese board with assorted artisan cheeses, fig spread and olives served with toasted baguette; and Ecuadorian ceviche – a family recipe passed down to Ricardo from his mom – made with fresh shrimp marinated in flavorful a tomato-lime base with onions and cilantro.
Entrees include a French burger served on a croissant bun; filet mignon with green pepper and cognac cream sauce; grilled branzino with roasted vegetables; seared jumbo scallops; and pan roasted chicken with citrus sauce.
As the name suggests, Botánico will offer an extensive gin-focused cocktail menu in addition to a well-stocked full bar menu. Derived from juniper, the chief botanical, gin is a versatile spirit which can be delicate or aggressive. That flavor can be modified by adding other botanicals such as citrus, herbs and fruits to create different flavor combinations.
At Botánico, guests can choose from fifteen Gin & Tonic botanical variations including cucumber jelly & lime twist; green apple & thyme; grapes & crystalized ginger; and lavender & lemon twist.
The wine program at Botánico is meant to complement the diverse cuisine. With an impressive selection of more than 2,000 bottles from across the globe – including Mexico, Croatia and Uruguay – all housed in a dramatically-designed, state-of-the-art glass enclosed wine cellar, there is sure to be something for everyone.