March 5, 2021
Each Friday, we compile South Florida food-related news and events that we couldn't fit on the site earlier in the week, as well as other local news that piques our interest. Want to be included in our next roundup? Shoot us an email at bark@miamifoodpug.com.

Sports Grill Celebrates 35th Anniversary
Navé Launches Sunday Brunch
Lobster Tuesdays at Marion
COYO Taco & Sanguich Collab
Eleventh Street Pizza Now Open
Miami Diner Debuts Weekend Brunch
Intimate Rum Tasting at Toro Toro
Sports Grill Celebrates 35th Anniversary
While 2021 may just be another year, it's a HUGE one for us over at Sports Grill – we're celebrating our 35th Anniversary! Established on March 17, 1987, we're using this anniversary to bring much-needed excitement to our seven locations.
However, this isn't just a one-day thing, we will be celebrating our 35th year anniversary all year long! Each month will have various specials to keep the celebrations going. Check out what we have going for March:
Wed., 3/17: $3.50 pints of Guinness, green beer and green tea shots
Thurs., 3/18: $.35 boneless wings
Fri., 3/19: All day happy hour, $3.50 Long Island Iced Teas & Margaritas
Sat. & Sun., 3/20-3/21: 2 for $35 – we will provide a pre-fix menu that includes an appetizer, two entrees and a dessert
Wed. 3/24 and 3/31: 35% off ribs to commemorate our old school fan-favorite
Every Friday moving forward will be "Follow Us Friday" – show your server that you followed us any social media platform (Instagram, Facebook, Twitter) and you'll unlock all-day happy hour. Additionally, our old school menus are BACK! It may have our current items but we're throwing it back to the old design.
As a sneak peek to our April specials, we will be officially launching our brand new burger: The 35.
Navé Launches Sunday Brunch
Since reopening in December 2020, Navé is once again the go-to destination for sumptuous eats, creative cocktails, and feel-good vibes. Lauded as "one of the best restaurants in Coconut Grove," the neighborhood gem by Chefs Michael Beltran and Justin Flit recently launched a new Sunday Brunch featuring a seafood-centric menu, house-made pasta dishes, wood-fired pizzas, and specialty breakfast items.
Guests can now flock to the stunning indoor/outdoor space in the Grove every Sunday from 11AM to 3PM for a brunch that is sure to please. Raw Bar selections include oysters on the half shell; large Florida stone crabs; chilled lobster; shrimp cocktail; and scallop crudo served with ajo blanco grapes and Marcona almonds. Appetizers include the bread basket with zucchini raisin bread, honey butter biscuits, milk bread, goat milk butter, seasonal jam.
Other options include the Tuesday night salad made with iceberg lettuce, banana peppers, Pecorino, oregano-balsamic vinaigrette; burrata served with tomato Panzanella, pearl onion, charred cucumber, red wine vinaigrette; the wildly popular gnocco fritto served with a soft scramble and Pecorino; and lobster roll – butter poached lobster served on a potato bun with Old Bay and dill.
Brunch Entrees feature a decadent crab toast benedict with Filone bread, Old Bay hollandaise, poached eggs; salted espresso French toast with whipped mascarpone, Manjari curls; silver dollar pancakes with whipped ricotta, candied Meyer lemon, seasonal fruit; hot fried snapper with Pullman bread, coleslaw, pickles; and rigatoni cacio e pepe with black pepper and Pecorino.
Pizza fiends can also enjoy Chef Flit's delicious pies from the eatery's built-in wood-fired oven. Pies include breakfast pizza with bacon, eggs, mozzarella, provolone; smoked whitefish pizza with crème fraiche, red onion, capers, smoked trout roe; and an indulgent meatlovers pizza with Soppressata, pepperoni, tomato sauce, and mozzarella.
As no Miami brunch is complete without drinks, Navé offers an array of creative cocktails such as Elderflower Spritz – Fiorente elderflower, Lillet Blanc, sparkling wine; Italiano – Cappaletti, Mancino Chinato, soda; and Corpse Reviver #2 – gin, Cocchi Americano, Cointreau, lemon, absinthe, among others. A selection of wine from the eatery's notable wine list are also available.
Lobster Tuesdays at Marion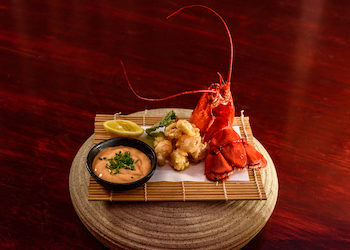 Brickell's favorite chic dining destination Marion, by Mr. Hospitality Miami, launches Lobster Tuesdays starting Tuesday, March 16, from 7 p.m. until midnight, and will continue the weekly seafood love affair every Tuesday thereafter.
Lobster lovers will get to delight in the delicate sweetness and savory richness of their favorite shellfish thanks to an elevated dining menu crafted by Executive Chef Gustavo Vertone, who expertly fuses American flavors with a touch of Asian flair. Guests can groove to the sounds of DJ Hushmoney who sets the vibe every week, while they taste their way through the entire Lobster Tuesdays menu.
An extravagant and lavish evening filled with decadent and indulgent cuisine, Lobster Tuesdays at Marion showcases exciting new menu features including crave-worthy starters ranging in price from $9-$25, such as the Crispy Lobster Tempura, featuring Maine lobster fried in tempura batter and served with ponzu butter, spicy aioli and lime; Lobster Dynamite, spicy lobster meat served on crispy rice; and Imperial Lobster Cocktail, steamed lobster with brown butter and lime.
Guests can also savor delectable entrées, ranging from $16-$145, exclusive to Lobster Tuesdays and an incredible deal for lobster enthusiasts, 2-4-1 Grilled Lobster Tails, featuring two large lobster tails for the price of one smothered in a buttery garlic herb sauce and cooked over a charcoal grill; and Lobster Mac and Cheese, tender chunks of lobster baked together in a rich and savory four-cheese sauce.
COYO Taco & Sanguich Collab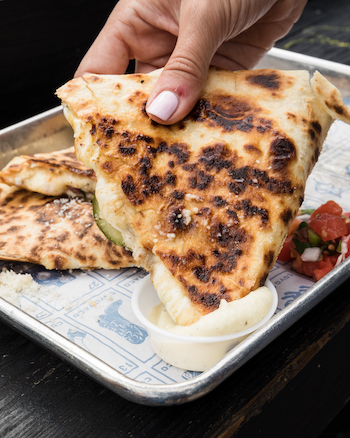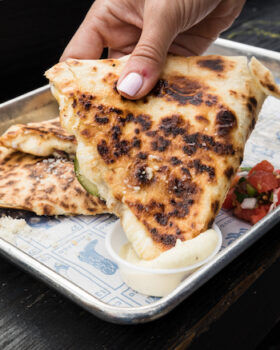 In spirit of 305 Day, two of Miami's most popular concepts are joining forces for the unofficial ode to the magic city! The beloved taqueria (which still has a line outside of Wynwood daily, COYO Taco is teaming up with Little Havana's infamous sandwich shop, Sanguich. From March 5th through, March 7th quesadilla lovers and Cuban sandwich fans can get the best of both worlds with a special edition 305 Quesadilla.
The Miami tribute features Sanguich's 24-hour marinated roasted mojo pork, 7-day brined sweet city ham, Swiss cheese, homemade pickles and mustard all served on a flour tortilla with a mixture of shredded Mexican cheeses and chipotle aioli from COYO Taco. To tie this all together, every quesadilla is served with a side of the iconic mojo sauce from Sanguich for dipping.
The 305 Day Quesadilla ($14) will be available at COYO Taco (Coral Gables, Wynwood and Brickell).
Eleventh Street Pizza Now Open
David Foulquier recently announced that Fooq's is closed (to reopen at a later date in a larger location) but now you can get your fix at Eleventh Street Pizza. And this is not just any pizza—at Eleventh Street, the baking process starts with a sourdough mother that has been nurtured for seven years. The dough is fermented for 48-hours, then hand-pulled and hand-tossed to form round crisp pies, and two styles of square pies, a Grandma and a Sicilian.
Guests will have the opportunity to choose from a selection of eight round pies including classics like the The Brooklyn Cheese ($26) with sauce on top and a Pepperoni & Hot Honey ($32), while others show off Foulquier's epicurean influence like the Nerano ($32) a homage to the Italian pasta dish baked with roasted zucchini, pistachios, mozzarella, caciocavallo cheese, and topped with homemade stracciatella.
Patrons can also expect rotating weekly pie specials such as the Fooq's Pie ($32) inspired by the original concept's Middle Eastern flavors topped with braised lamb, tahini garlic white sauce, caramelized onions, dill, and mint. Additionally, six square pies can be purchased by the slice ($12) and include La Provençal and a nostalgic Pepperoni.
Starters include two salads featuring produce sourced from Miami-based, Urban Oasis Project, the Spicy Caesar with little gem lettuce ($16) and the Escarole & Walnut ($16). Likely to become an add-on favorite are the Fooq's Signature Meatballs ($16) made with Florida grass-fed beef and served with the Fooq's tomato sauce.
Stay tuned for weekly subs that will rotate every Wednesday and include Spicy Vodka Chicken Parm, Meatball, and Classic Italian.
Photo Credit: 52 Chefs
Miami Diner Debuts Weekend Brunch
Miami Diner, the new classic American diner by Meraki Hospitality in Downtown Miami, has announced a new weekend brunch featuring a mix of sweet and savory comfort dishes, over-the-top milkshake, unlimited mimosas ($25) and live entertainment from DJ Demenz in a vibrant, vintage Miami setting. From omelets and waffles to burgers and sub sandwiches, brunch favorite include:
• Huevos 305 featuring avocado topped with grilled shrimp and fried egg ($13)
• Stuffed Avocado with fried eggs and baked in the oven ($11)
• Bacon Cheddar Waffle with bacon, cheddar cheese, fried eggs, and topped with hollandaise ($13)
• Miami Waffle with Oreo cookies, walnuts, Nutella, bananas, chocolate syrup, and served with vanilla ice cream ($15)
• Miami OG Burger with caramelized onions, crispy bacon, Swiss cheese, fried egg on brioche ($18)
• This Chef's Salad with sliced ham, Asiago cheese, hard-boiled egg, cherry tomatoes, corn, croutons and Thousand Island dressing ($12)
No Miami Diner experience would be complete without a taste of premium milkshakes like the Guayaba Y Queso Crema with guava and cream cheese ice cream topped with mango guava cheesecake ($13) or the Nutella Ferrero with Nutella and vanilla ice cream topped with Ferrero Rocher chocolates and a Kinder Bueno chocolate bar ($14).
Can't get enough? Miami Diner's new Morning Breakfast Club offers a 20% discount to local residents on weekdays from 7-10 a.m.
Intimate Rum Tasting at Toro Toro
Rum enthusiasts can rejoice as Toro Toro, Chef Richard Sandoval's Pan-Latin steakhouse, is the setting for a carefully curated Rum Tasting and Pairing, hosted by Don Q. Priced at $39 per person, excluding tax and gratuity, the limited attendance 3-course tasting by Executive Chef Jean Delgado pairs expertly with Don Q's smooth finishing rums.
The intimate tasting, which will take place in the restaurant's spacious lounge area, will begin with Corn Croquettes with Wagyu beef and smoked cheddar fondue, paired with Don Q Reserva 7, followed by Don Q Gran Reserva XO served with Tomahawk Pork Chop atop a green plantain cake. For a sweet note, guests can enjoy Mayorca Beignets offered with Don Q Spiced Rum.
Click here for more information.