April 16, 2021
Each Friday, we compile South Florida food-related news and events that we couldn't fit on the site earlier in the week, as well as other local news that piques our interest. Want to be included in our next roundup? Shoot us an email at bark@miamifoodpug.com.
Bulla Launches New Catered Box Lunches
Bodega to Expand Across South Florida
Itamae Debuts Studio Sessions
Blowfish at The Wharf Miami
Chef Adrianne Launches New YouTube Series
Now Open in South Beach: Miami Diner
Bulla Launches New Catered Box Lunches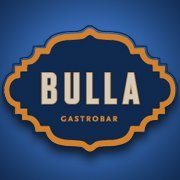 This week, Bulla Gastrobar launched catered boxed lunches at all their Miami locations.Those looking for Bulla's catered boxed lunch can choose from a variety Spanish favorites such as paella. Other individually packaged boxed lunch options include sandwiches, salads, and half sandwiches & salad.All options start at $12.95.
Bodega to Expand Across South Florida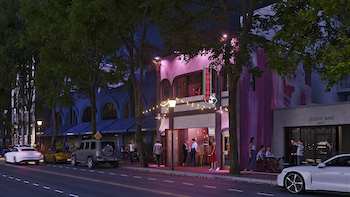 Bodega Taqueria y Tequila is expanding! Joining the Bodega Taqueria y Tequila in South Beach (2015) and Fort Lauderdale (2020), the four new locations will be a mix of the flagship Bodega Taqueria y Tequila concept (doubling as a fast-casual taco joint and a late-night speakeasy-style lounge) and the new Bodega Taqueria concept (food-only portion).
The four new locations include:
West Palm Beach – full Bodega Taqueria y Tequila concept, slated to open late 2021, construction has started.
Coconut Grove – full Bodega Taqueria y Tequila concept, slated to open late 2021, construction has started.
Aventura – food-only Bodega Taqueria concept, slated to open early summer 2021, construction has started.
Wynwood – food-only Bodega Taqueria concept, slated to open early summer 2023.
Other new locations, which have previously been announced, include:
North Beach – food-only Bodega Taqueria concept, slated to open 2022
Natiivo Miami – food-only Bodega Taqueria concept, slated to open 2023
Itamae Debuts Studio Sessions
James Beard Award "Rising Star Chef of the Year" semifinalist Nando Chang is pleased to announce that his family's highly acclaimed Nikkei-inspired restaurant Itamae, will host a series of collaborative dinners aimed to showcase the talents of brilliant culinarians, as well as pay tribute to the cultures and cuisines that make up the 305.
To kick things off, the restaurant has tapped local Chef Timon Balloo, the culinary visionary behind Sugarcane Raw Bar & Grill, Mrs. Balloo at The Wharf Fort Lauderdale, and the beloved and sorely missed Balloo Restaurant. The talented toque – who has received several James Beard Award nominations including "Best Chef: South" and "Best New Restaurant" for Sugarcane – will join forces with the team at Itamae to create an unforgettable menu that blends each chef's unique style and heritage. Itamae's refined Peruvian-Japanese flavors will be at play with Timon's more rustic Asian-Caribbean cookery.
The a la carte dinner will take place on Sunday, April 25 beginning at 7PM. A nod to both Itamae and Balloo Restaurant, the menu features five tantalizing dishes. Standouts include Curry Calabaza Tiradito – black lime, sarza criolla, huacatay-cilantro leche de tigre; Nikkei Chili Crab – lump crab, ají rocoto, spiced torrejitas; and Mussels – curry amarillo. The restaurant's natural, low intervention wine list created by Wine Director Karina Iglesias, will also be on offer.
Blowfish at The Wharf Miami
The Biggest Inflatable Extravaganza is returning to the Wharf! Enjoy the day with friends and family along with over 1,000 inflatables of all sizes, and special CO2 cannons installed just for this special event. Drink specials include $10 Blowfish Punch (available all day, served in a fishbowl); and $25 bottles of Côtes de Provence Rosé from Noon-4PM. Eats by The Chicken Spot, Sake Room, Spris Artisan Pizza, MOJO Donuts, & La Santa Taqueria.
Chef Adrianne Launches New YouTube Series
Chef Adrianne Calvo, culinary personality and restaurateur, best known for her "maximum flavor" brand of culinary innovation and her South Florida restaurants – Chef Adrianne's Vineyard Restaurant and Wine Bar, Redfish by Chef Adrianne, Cracked by Chef Adrianne, and the forthcoming Forte by Chef Adrianne – will launch a unique new travel and food series, Searching for Maximum Flavor with Chef Adrianne, premiering on YouTube today, April 16.
In Searching for Maximum Flavor, Chef Adrianne explores various cities around the United States seeking out inspiration through culinary treasures, riveting adventure, and compelling conversations with chefs, distillers, winemakers, and every spirited storyteller in between, all to help creating her signature "maximum flavor" style.
The immersive experience truly stimulates all the senses with a variety of sights, sounds and flavors. As Chef Adrianne and her team describe the tastes of the dishes and libations, the viewer is captivated as well with mouthwatering depictions of palate-pleasing bites and drinks. What makes this series distinct, is each city's segment ends in one of Chef Adrianne's restaurant kitchens, where she shows her followers how to recreate each iconic dish with a vibrant dose of "maximum flavor."
The show launches on April 16 on her YouTube Channel with her trip to Puerto Rico as the first installment. In the episode, Chef Adrianne visits the famous Bacardi® factory, interviews expert mixologists, ziplines on the longest line in the Americas, and goes to Old San Juan mainstay restaurant, Raíces, to try "pork done 'Maximum Flavor' style" — classic Puerto Rican chuleta can can, fried pork loin and belly with crispy chicharron. She then returns to Miami to recreate the chuleta can can on the mainland in her flagship concept Chef Adrianne's Vineyard Restaurant and Wine Bar.
After the release of the inaugural episode (Puerto Rico), the four subsequent segments will be published and includes notable cities and regions and throughout the country: Austin; New Orleans; Napa Valley; and Phoenix.
Now Open in South Beach: Miami Diner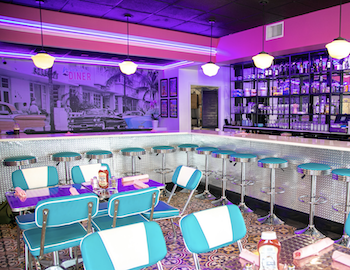 Meraki Hospitality Group, the team behind Meraki Greek Bistro, Meraki Coconut Grove and Miami Diner Downtown, has quietly opened the second Miami Diner on 9th Street and Alton Road in South Beach. Located in the space previously occupied by the iconic David's Cafe, the 110-seat classic American diner aims to be an affordable all-day neighborhood eatery focused on quality made-from-scratch comfort food in a retro setting serving all-day breakfast, lunch, dinner and weekend brunch.
The expansive menu offers a wide selection of diner staples including Classic Omelettes like the Mesogeio Omelette with smoked turkey, tomato, green peppers, scallions, olives, feta cheese, oregano, and black pepper; Sweet and Savory Waffles like the Miami Waffle with Oreo cookies, walnuts, Nutella, bananas, chocolate syrup, and served with vanilla ice cream and the Waffle Sandwich with ham, Swiss cheese and fried eggs; and Burgers including the Juicy Lucy double burger on brioche.
Already an Instagram sensation, mouthwatering Milkshakes include the Nutella Ferrero Milkshake with Nutella, vanilla ice cream, whipped cream, Ferrero Rocher chocolate and a Kinder Bueno chocolate bar and the Vanilla HEAT, a Miami Vice twist topped with whipped cream, rainbow sprinkles and glazed doughnuts. Classic soda floats are also available. Umbria Coffee is offered with a selection of hot or iced coffee creations. Craft local beer brews and an international wine list are also featured.
Photo Credit: Stillwater & Co.