September 10, 2021
Each Friday, we compile South Florida food-related news and events that we couldn't fit on the site earlier in the week, as well as other local news that piques our interest. Want to be included in our next roundup? Shoot us an email at bark@miamifoodpug.com
Casa Mariano to Open September 18
Now Open: Chug's Diner
New Lunch Deal at Jaguar
Tasting Menu at TUR Kitchen
Ted's Burger Popup at Eleventh St. Pizza
Casa Mariano to Open September 18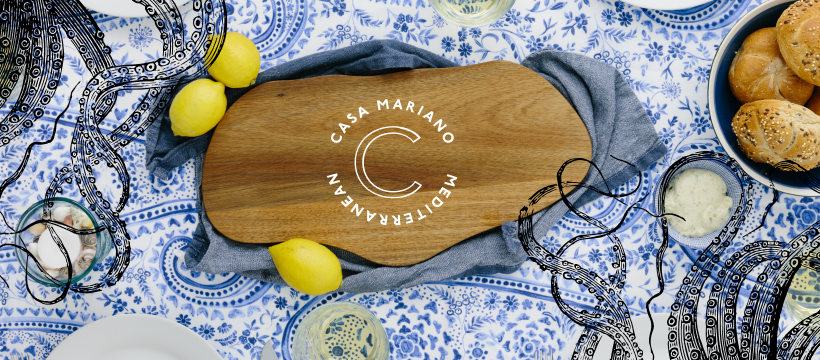 Executive Chef-Owner Mariano Araya is pleased to announce the opening of his Mediterranean concept, Casa Mariano, on September 18, 2021. At Casa Mariano, Chef Mariano will share his personal style of cuisine with a menu representing an impressive career, drawing inspiration from his most beloved dishes.
The menu at Casa Mariano will feature Hot and Cold Appetizers, Salads, Pastas, as well as different choices of Entrees, Steaks, and a special selection of Chef Mariano's suggested house specialties – all made with the highest-quality ingredients sourced from local farms whenever possible.
Guests can expect stand-out starters (prices starting at $12) like Black Garlic Shrimp with oyster mushrooms and Chardonnay vanilla cream; Morcilla Spring Rolls served with raisin-brandy sauce for dipping; and Galician Mussels steamed in Albariño wine and served with Gorgonzola cream and coffee powder. Cold appetizers include Corvina Ceviche with aji amarillo and bonito leche de tigre, purple potato and fried edamame; and a Tartare de Filet served with quail egg, carrot aioli and crispy rice for the perfect texture.
Enticing entrée selections (prices starting at $20) include Basque Branzino served with grilled asparagus; an Asian-inspired Black Ink Seafood Risotto with Singapore-style laksa sauce; and Chicken Roulade with smoked, aged Gouda, cotto ham, roasted bell peppers and tender asparagus. Casa Mariano will also offer four different steaks and chops, including the Grilled Veal Chop; a 10-ounce cut of Prime Skirt Steak; a 14-ounce Prime Ribeye; and an eight-ounce center-cut Filet Mignon. Chef Mariano recommends savoring them alongside one of the house-made sauces: Chimichurri, Peppercorn, Truffle, Bearnaise or Bordelaise.
The beverage program at Casa Mariano is spearheaded by General Manager and Sommelier, Victor Tapia, who left a previous career in telecommunications to dedicate his life to the conviviality and passion of hospitality, food, and wine. He has developed a creative and exciting list of exceptional wines to pair with Chef Mariano's dishes.
In addition to the thoughtfully curated wine list, Casa Mariano offers innovative wine-based, craft cocktails with a nod to the classics, including the Casa Americano which combines Cappelletti, vermouth, grapefruit soda, fresh basil, and a twist of aromatic grapefruit peel. The Rose-Peach Sangria is one of Tapia's secret recipes, and includes fresh stone fruit in season, fresh herbs and sparkling water for effervescence. The sangria is also available by the pitcher.
Now Open: Chug's Diner
In the spring of 2019, acclaimed chef/restaurateur Michael Beltran expanded his restaurant empire with the small, unassuming pop-up Chug's, located just blocks from his Coconut Grove restaurants, Ariete, Navé and The Taurus.
Named after the chef himself – an old high school nickname that stuck – the scrappy little spot was Beltran's take on an American diner with a Cuban spin, a tribute to both classic American cookery and his rich Cuban heritage. Chef's "little restaurant that could," which has been closed for months, finally re-opened its doors on Wednesday, September 8 as a permanent and expanded full-service diner and modern day ventanita.
Like a true diner, Chug's serves breakfast, lunch and dinner seven days a week with an exclusive selection of breakfast items available 'til close. Unlike most diners, Chug's features a full bar with a curated cocktail list on par with what cocktailers have come to expect from any Ariete Hospitality Group concept. Creative conctions crafted by talented cocktail guru and Ariete Hospitality Group Beverage Director Tom Lasher-Walker include Diner Old Fashioned – apple brandy, bourbon, maple, cinnamon, angostura & orange bitters; Guava Gimlet – gin, guava, lime; Miami Vice – pineapple rum, strawberry Campari, coconut vermouth; and Hemingway Margarita – blanco tequila, Pamplemousse, orange, lime, salt.
As it should, a day at Chug's starts at breakfast. Diners can kick the day off right with a number of selections from the Starters or Breakfast menus. Options include salmon tostada with Cuban bread, whipped cream cheese, smoked salmon, red onions, capers and dill; ricotta toast served with house-made jam or avocado, sunflower seeds, herb salad; quiche – maduros, bacon, caramelized onions, mixed greens; Chug's famous cast-iron pancake – slow-cooked in clarified butter, served with warm butter on a pool of decadent maple syrup; breakfast sandwich – Taylor ham, fried egg, American cheese and Duke's Mayo on Cuban bread; and, naturally, La Completa – two-eggs with potatoes a la Jonathan Waxman and tostada, among others.
Many of the items above are available all-day. Those "in the know" know all about Beltran's longtime collaborator, chef Giovanni Fesser, best known as Pastelito Papi. Prior to Chug's original opening, his incomparable pastelito creations were found only at Ariete and the occasional pop-up. The launch of Chug's meant the permanent home for Fesser and that continues to be true with Chug's 2.0. Available to-go until sold out or for enjoyment on site seven days a week, a variety of Pastelito Papi's precious pastelitos are on offer daily.
Moving into lunch and dinner hours, a plethora of options ranging from Soups, Salads and a variety of Handhelds. Standouts include a wedge salad – baby iceberg lettuce, Beltran's bacon, Green Goddess dressing, blue cheese and hardboiled eggs; the famous Chug burger; The Frita with Swiss cheese, caramelized onions, mojo ketchup, yuca papitas; foie gras peanut butter & jelly buñuelo; pan con bistec and minuta sandwich – snapper, tomato and shaved lettuce.
The sweet side of all-things-AHG is corporate pastry chef Devin Braddock. With AHG since 2018, Braddock oversees all aspects of the group's dessert and bread programs. For Chug's she is creating a special menu of treats designed as meal-enders as well as an array of sweets, treats, cakes and pies that will also available to go. She is also bringing back some of Chug's signature desserts, including the decadent arroz con leche and classic flan.
New Lunch Deal at Jaguar
The best lunch deal just hit the Grove! Starting Tuesday, September 14th Jaguar Latin American Habitat will bring back their famous "Hot Lunch" menu! Guests will be able to order from a delicious, fresh, and fast lunch menu. Enjoy a hearty lunch for just $19! The Hot Lunch will include a soup of the day, salad, main dish, sweet spoon bite dessert, and fresh natural fruit water. The Hot Lunch menu will be available Monday through Friday from 11 am to 3 pm.
Tasting Menu at TUR Kitchen
Yearning to travel abroad? This four-course tasting menu and cocktail pairing explores the flavors of Southern Europe, Turkey and Greece, North Africa, and the Middle East. Each dish is accompanied by a unique libation featuring a brand from the Diageo portfolio. Dishes such as the "Pot" The Vase Down – phyllo dough pot, black olives dust, goat cheese foam, heirloom tomatoes, caperberries, and flowers and herbs; served with the "Tomor'Rose Another Day" – Ketel One Botanical Grapefruit Rose, aloe vera liquor, ramazzotti rosato, lemon juice, and rose water. Available for Dinner Sunday-Thursday; $95 person++.
Ted's Burger Popup at Eleventh St. Pizza
This collaboration will feature local favorite Ted's Classic Burger as well as a special Collaboration Burger ($14) – double patty, roasted mushrooms, thyme, garlic, shallot, mozzarella, garlic confit, caramelized onions, parsley, and sourdough breadcrumbs. The special promotions will only be available via TOCK, purchase your tickets HERE. Due to the pop-up, Eleventh Street Pizza will only serve slices (no pies) and salads in addition to the burger and pizza slice combo ($20).
Photo by 52 Chefs