September 24, 2021
Each Friday, we compile South Florida food-related news and events that we couldn't fit on the site earlier in the week, as well as other local news that piques our interest. Want to be included in our next roundup? Shoot us an email at bark@miamifoodpug.com.
National Lobster Day at Lure Fishbar
Dia De Los Muertos at Toro Toro
La Cañita Opens at Bayside
National Coffee Day at Half Moon Empanadas
National Lobster Day at Lure Fishbar
National Lobster Day is September 25th and Lure Fishbar at Loews Miami Beach Hotel is celebrating all week with a decadent lobster add-on menu that salutes the delicious crustacean. In addition to Lure's regular dinner menu and Miami Spice menu, guests can choose from an add-on menu featuring lobster bisque, lobster thermidor and Florida spiny lobster tail. This is in addition to the tasty lobster items on Lure's regular dinner menu like Lure's famous lobster roll, an incredible lobster mac and cheese, whole 2 lb stuffed lobster, chilled lobster from the raw bar and lobster fra diavolo. It's a true celebration of all things lobster!
Dia De Los Muertos at Toro Toro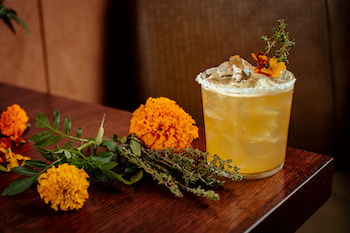 ro, celebrated chef/restaurateur Richard Sandoval's Pan-Latin steakhouse, is honoring Día De Los Muertos, or "Day of the Dead," a festival originating from Mexico that unfolds in an explosion of color and life-affirming joy aimed at demonstrating love and respect for the past while setting intentions for the future. As part of Richard Sandoval Hospitality's first-ever immersive global campaign honoring the Day of the Dead, guests will have the opportunity to partake in the multi-sensory celebration at Toro Toro highlighting elements of taste, through marigold-inspired food and drink specials; sound, with a Spotify Latin-music playlist curated by Paco Rozas and Christophe Bourlon; smell, with a marigold-infused custom candle; and sight, with visuals and a grand Altar de Muertos or "Altar of the Dead" on display at the restaurant.
As part of the month long campaign, Toro Toro will be featuring an exclusive a la carte menu inspired by Altar de Muertos and marigold notes including Chile Ancho Confit, pork belly stew served with star anise, sweet plantain, almonds and mole rosa ($20); Braised Short Rib served with orange blossom purée, espadin-mezcal sauce, baby patipan and sun-dried chili ash ($48); and Pumpkin Bread Cake with caramel "tacha" pumpkin, orange blossom milk, spiced pepitas and cinnamon ice cream for dessert ($16).
The flavorful menu will be accompanied by specialty cocktails, sponsored by Patrón, including El Ojo (The Eye) – Patrón Reposado, pumpkin, lemon, Fernet Vallet, egg white and marigold flowers ($18); and the Flor de Muertos Margarita – Patrón Reposado, tonic, fresh marigold simple syrup and lime ($18).
The Día De Los Muertos campaign will begin on Tuesday, October 5 through Tuesday, November 2, 2021. Advance reservations are encouraged and can be made on OpenTable – HERE. Toro Toro is located at InterContinental Miami at 100 Chopin Plaza in Downtown Miami. For more information, visit https://www.torotoromiami.com/events; (305) 372-4710.
La Cañita Opens at Bayside
La Cañita is officially open, bringing bold, exciting Caribbean and pan-Latin flavors, invigorating live music and a celebration of rum culture to Bayside Marketplace.
La Cañita, which translates from Spanish to "little sugarcane," celebrates the food and flavor of tropical, sun-drenched destinations like Cuba, Jamaica, Haiti, Trinidad and Tobago, and Puerto Rico, along with influences from Central and South America. The restaurant offers spectacular waterfront views of Miami and is located on the second floor in the north building of the complex, at 401 Biscayne Blvd.
The new restaurant is jointly owned by James Beard Foundation Award-winning chef Michelle Bernstein, known for her command of pan-Latin cuisines, and husband/partner David Martinez, equally well-known for his expertise in world-class, award-winning hospitality. Together, they've partnered with Davide Borgia and Orestes Pajon to bring this high-energy space to life. While guests shouldn't expect to see Michy in the kitchen, she is very hands-on in the concept, its menu creation and positioning it for success and vast potential for expansion.
Photo by Michael Pisarri
National Coffee Day at Half Moon Empanadas
Half Moon Empanadas is celebrating National Coffee Day with $1 freshly brewed American coffee! Guests can enjoy a delicious hot coffee for just $1 on Wednesday, September 29, 2021, at Jackson Health Hospital. In addition to $1 freshly brewed American coffee, starting September 27th until
October 1st customers will get a free American coffee with the purchase of 2 empanadas! Pair your delicious freshly brewed American coffee with their famous oven-baked empanadas. The famous empanadas are made from scratch with artisanal dough and quality ingredients, making them the best empanadas in South Florida!