November 5, 2021
Each Friday, we compile South Florida food-related news and events that we couldn't fit on the site earlier in the week, as well as other local news that piques our interest. Want to be included in our next roundup? Shoot us an email at bark@miamifoodpug.com.
Fireman Derek's to Open in FTL
Now Open for Lunch: Mimi's
Manjay Opens in Brickell
Tickets Now Available for Cochon555
Fireman Derek's to Open in FTL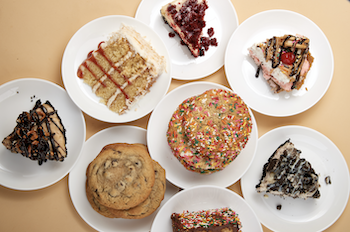 Pie master/entrepreneur Derek Kaplan and the talented team behind Fireman Derek's Bake Shop have been whisking up extraordinary confections in their Wynwood and Coconut Grove shops for years. Now, this one-of-a-kind Miami dessert destination has announced the launch of its first Broward County location in downtown Fort Lauderdale slated to open in Spring 2022.
At the new Fort Lauderdale shop, cakes, pies and savory items will have their own separate display cases for a more customer-friendly experience. Kaplan will also offering his own line of hand-churned ice cream inspired by the bakery's signature goodies; his Coconut Grove shop has been slinging frozen cups of creamy goodness since September 2020, shortly after he graduated from Penn State University's Ice Cream School.
A state-of-the-art kitchen will be hidden in the back where pot pies, empanadas and cookies will be baked onsite with pies and cakes made daily at Kaplan's Little Haiti bakery. Staying true to its Wynwood roots, the new location will retain an artsy feel, with décor in sync with the laidback atmosphere. Guests can expect instagrammable neon signage and hand-painted, pie-themed murals stretched across the walls by Miami design gurus, Chalk and Brush.
Now Open for Lunch: Mimi's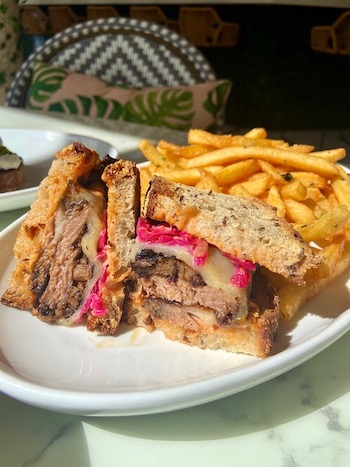 Mimi's is now officially open for lunch. The debut of this stylish new cafe and bistro concept opened to much fanfare. Named for the doting nickname Michael's nieces and nephews have given him, this all-day cafe is the neighborhood favorite that has delighted Edgewater residents and visitors with a creative, casually upscale twist on classic American fare.
Lunch menu highlights include:
– A refreshing selection of salads from a creamy Burrata, Caesar, and Salt Roasted Beets to which you can add any Roasted Bell & Evans Chicken or Crispy Skin Branzino
– Short Rib Reuben *Staff Favorite
– Mouthwatering Burger *fan favorite
Manjay Opens in Brickell
Manjayy invites everyone to visit their newest location located in 609 Brickell Ave, Miami, FL 33131 behind the First Miami Presbyterian Church. You can find the truck in the lot Monday through Friday from 11 am to 9 pm.
Manjay serves a fresh modern approach to Caribbean cuisine, and provides affordable, quality food, which is fast and efficient while honoring its core values of passion and integrity in the food they serve. Manjay is a delightful food experience for all looking for a bite of the Caribbean.
Serving something a little more elevated in terms of food and presentation, but still in a fast-paced manner. Manjay looks to celebrate diversity, essentially expressing how excited and happy owners feel to share with the world, through their food, a part of their culture, and of themselves.
Customers can enjoy favorites like the BIG UP BOWLS, Caribbean bowls served with banana Payzay and Manjay pikliz, Mofongo My Way, served with crushed sweet plantains, garlic, and Creole sauce, their famous Caribbean Conch Fritters, served with Manjay pikliz, and honey mustard remoulade, savory Jerk Chicken wings, home-made Plantain Fries, and more!
Tickets Now Available for Cochon555
Tickets are now on sale for Cochon555's Heritage Fuego presented by Goya Foods, the first Miami edition of America's beloved, live-fire, open-air culinary experience.
Taking place at the historic Biltmore Hotel on Sunday, November 21, the event will feature an all-star lineup of local chefs and artisans, each grilling globally-inspired heritage-breed proteins al fresco with offerings including dry-aged beef, whole pigs, lamb, goat, squab, rabbit, duck, fish, chicken, oysters and heirloom vegetables.
Produced and owned by Agency 21, the event's ultimate aim is to provide education to consumers and create an experience that guests can sink their teeth into, honest food from real farmers.
More than 20 of South Florida's top chefs will be on-site dishing up the delicious over live fire. Participating chefs/restaurants include Chef Cesar Zapata (Phuc Yea), Chef James Pastor (The Rusty Pelican); Chef Scott Linquist (Como Como; Chef Paula DaSilva (Burlock Coast Seafare & Spirits); Chef Danny Bouza (The Barrel BBQ); Chef Jean Delgado (Toro Toro); Chef Jorgie Ramos (Cebada Rooftop), Chef Jordan Kirk (Harry's Miami Beach); Chef German Vollbracht (Meat N' Bone); Fernando Desa (Goya Foods), Chef Brian Nasajon (Beaker & Gray); Chef Giorgio Rapicavoli (Luca Osteria); Jonathan Bromet (Llarna Meats); Chef Rafael Barrera (Cooking with My Doctor); Chef Ricardo Jarquin (St. Regis Bal Harbour Resort) and Andrew Gonzalez (Night Owl Cookies). More to be announced.
In addition to one-of-a-kind live-fire culinary creations, Heritage Fuego will feature an array of fine spirits, craft cocktails and a selection of sweet endings.
For an in-depth look at the Heritage Fire event series, watch the save the date video, and for more details, visit www.cochon555.com/heritage-fuego/.