April 29, 2022
Each Friday, we compile South Florida food-related news and events that we couldn't fit on the site earlier in the week, as well as other local news that piques our interest. Want to be included in our next roundup? Shoot us an email at bark@miamifoodpug.com.
Dirty French Steakhouse to Open in Brickell
New Happy Hour at Veza Sur
Tur Kitchen Launches New Menu
New Brunch at Casa Mariano
Dirty French Steakhouse to Open in Brickell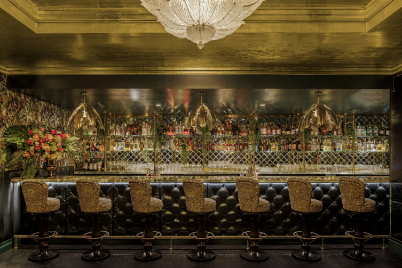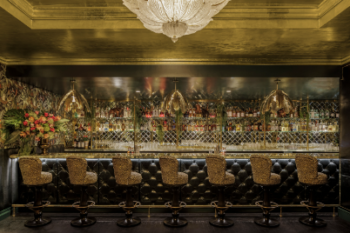 Major Food Group (MFG), the globally acclaimed hospitality brand that has taken Miami's restaurant scene by storm, will soon unveil its first-ever project in Brickell, Dirty French Steakhouse, a glamorous, energetic, and extraordinary interpretation of the classic steakhouse. Located at 1200 Brickell Avenue, the restaurant welcomes guests beginning April 29th and is poised to become one of the most celebrated and sought-after steakhouses in America.
This new steakhouse from MFG Co-Founders Jeff Zalaznick, Mario Carbone, and Rich Torrisi breathes new life into the storied genre while remaining true to its history. The expertly conceived menu combines the finest meat and fish, sourced from the world's most esteemed purveyors, with French influences and an irresistible flair for bold flavors. Dirty French Steakhouse offers everything one would expect to find at a steakhouse of the highest caliber—abundant raw bar selections, elegant seafood entrées, indulgent aged steaks, and an array of amazing sides—all executed to perfection, with a dose of Dirty French style that makes them more satisfying and seductive than ever.
Complementing these steakhouse essentials are thrilling takes on classic French preparations, including a Dover Sole Meunière to share served tableside, the best Duck à l'Orange in the country, and a stunning Soufflé program. Dirty French Steakhouse is the culmination of MFG's decade-long search for the very best ingredients and reflects the mastery honed during that journey, which includes the opening of their American chophouse The Grill in New York City, now widely considered an icon.
At the heart of Dirty French's expansive menu is its collection of Prime Aged Steaks, beginning with Filet Mignon, Ribeye, and New York Strip, which can be paired with a variety of sauces, from Au Poivre to Cajun. There are two options to share: a 40-ounce Porterhouse and a Wagyu Tomahawk. Several prized off-menu cuts of beef will also be available on a nightly basis.
The Hors d'Oeuvres, or appetizers, include Giant Grilled Oysters "Bourguignon"; Dirty French's famed Mushroom Millefeuille with Green Curry and Peas; Tuna Tartare with Bird's Eye Chili and Crepe Indochine; Lobster Ravioli with Sauce Nantua; and an ethereal, impossibly crisp Crab Cake Croustillant with Butterball Potatoes and Cayenne.
Soup & Salad consists of options ranging from a Caviar Vichyssoise to the Dirty French Wedge. These lead the way to the steaks, as well as Seafood entrées, like a delicate Bass Citron with a Thai Basil Pistou, and Chops & Birds, where guests will discover such preparations as a Pork Chop with Apple Brandy Sauce and the aforementioned best Duck a l'Orange in America.
Last but certainly not least is Dirty French's spit-roasted Prime Rib—gently cooked to a luxurious texture and presented on a trolly and carved tableside—following a technique MFG perfected at The Grill in New York City. It may very well be the finest example of a prime rib in the world.
For Dessert, soufflés from MFG's celebrated pastry chef Stephanie Prida are sure to be a star, as are several items flambéed tableside.
New Happy Hour at Veza Sur
Friday Happy Hour at Veza Sur just got a whole lot better! The Wynwood brewery, known for its buenas vibras and iced cold cervezas, has debuted a new curated happy hour menu to kick off the weekend in the best way!
Every Friday from 4 to 7 p.m., guests can take advantage of $4 beer specials including fan favorites such as Spanglish, South Coast IPA and Lulo Sour, $7 cocktail specials including Shoot the Moon, and even $7 food specials from Chifa!
Tur Kitchen Launches New Menu
Coral Gables' exquisite Mediterranean eatery just introduced an array of fresh new seasonal dishes for patrons to discover. Highlight include new Appetizers include like: Cappalletti featuring baba ghanoush, onion consommé, chili and parsley; Manti-Turkish dumplings with lamb, labneh, tahini, sumac and pistachio; and the Organic Greens salad featuring lemon oil foam, tomato, radish, pickled carrot and grapes.
Among the new Mains to look forward to are the Bluehouse Salmon, prepared using a Mi-Cuit technique and accompanied by asparagus velouté, sprouts, aquafaba aioli, and tomato; Braised Goat featuring curry and charred leek, purple potato, preserved lemon, and clementine; Moroccan mint tea infused Lamb Chops served with carrot puree, crispy yukon, and green peas; and Farro with Emmer wheat berries and Gratitude Garden Farms mushrooms.
New Brunch at Casa Mariano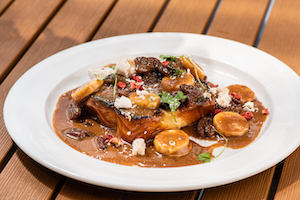 Just in time for Spring, Doral's premier dining destination for Mediterranean-inspired dishes has launched brunch! Helmed by Executive Chef-Owner Mariano Araya, Casa Mariano's exquisite Sunday Brunch menu reflects Chef Mariano's passions for both South American and Mediterranean flavors and techniques. The highly-anticipated menu is available from 11AM-2PM on Sundays and includes several classics such as: Huevos Rancheros, Crispy Chicken & Waffles, Crab Cake Benedict Eggs, Wagyu Burger, and Bananas Foster French Toast as well as a selection of "brunchy" cocktails.
Photo by @rmstudiocorp