June 3, 2022
Each Friday, we compile South Florida food-related news and events that we couldn't fit on the site earlier in the week, as well as other local news that piques our interest. Want to be included in our next roundup? Shoot us an email at bark@miamifoodpug.com.
Bâoli Miami Debuts Bâoli Garden
Pura Vida Opens in Sunset Harbor
New Happy Hour at A Fish Called Avalon
Maker's Mark Special at American Social
Bâoli Miami Debuts Bâoli Garden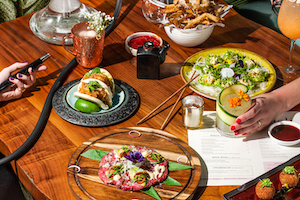 Bâoli Miami, known for its elevated Asian American cuisine and nightly transformation into a champagne-infused dinner party paradise, is launching a brand-new concept within the venue's outdoor patio with Bâoli Garden. Every week, Wednesday through Saturday, guests can enjoy late nights in the outdoor oasis of Bâoli from 11PM to close. The Bâoli Garden offers a more intimate setting while enjoying a special Moonlight Menu, featuring food items exclusive to the garden. New menu highlights include: Crispy Rice Tuna, Bâoli Hamachi Sashimi, Beef Carpaccio Pizzeta, among others.
Additionally, guests can look forward to a brand-new secret cocktail menu with five cocktails created with invisible ink, which diners will only be able to view using a special UV light provided by the bartender or table staff. For any tequila lover, The Don is the perfect cocktail meshing citrus flavors with a sweet honey Beragamot tea paired with fresh ginger made with only the best, Don Julio Primavera. For those that prefer a vodka base, the B.B.D is a flavorful raspberry cocktail topped with champagne and blackberry dust. Bâoli Garden will also offer top-tier Hookah table service with an abundance of delicious flavors that pair perfectly with each new secret cocktail.
Photo credit: Daniella Piantini
Pura Vida Opens in Sunset Harbour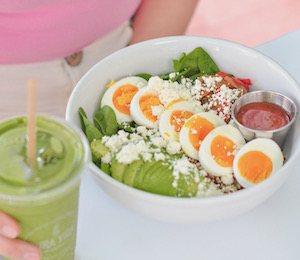 Pura Vida continues to expand its presence across the region with the debut of its Sunset Harbour outpost. Characterized by its delicious health-driven menu and topical chic aesthetic, the esteemed all-day cafe now holds several highly coveted properties and continues its strategic expansion across the region. The opening marks the brand's 11th location and third on Miami Beach, with more on the horizon for 2022.
Located steps away from the water's edge, the latest Pura Vida outpost is nestled in the heart of Sunset Harbour and in close proximity to main attractions such as the Miami Beach Golf Club, Magnolia Park, and Lincoln Road. The 5,000 square foot space offers indoor seating characterized by the brand's minimalist design elements, natural tones and light wooden finishes as well as outdoor seating lined with Pura Vida's signature blue umbrellas.
Patrons can expect the brand's signature quality-driven menu which includes Pura Vida's famed All-Day Breakfast offerings showcasing a range of avocado toasts, pasture-raised egg sandwiches, wraps, bowls, raw organic Açaí Bowls and crisp and refreshing salads topped with wild ahi tuna, chicken, salmon, or vegan-lentil based adashah. Other health-focused highlights include a variety of cold-pressed juices, superfood smoothies, kombucha, artisanal coffees and an assortment of fresh-baked gluten-free and vegan sweet treats.
New to Pura Vida's beloved menu is a distinct blue smoothie, "Coco Azul" made with blue spirulina, moringa, hemp seeds, coconut water, banana, pineapple, mango, coconut flakes; and a sweet potato base option for bowls. To coincide with the Sunset Harbour opening, Pura Vida will introduce exciting new menu items like the 'Miami Beet' juice, a signature croissant sandwich with Pura Vida's egg salad and four new wellness shots; Daily Green, Eternal Youth, Immunity, and Shot of Glow which will be made available across all Pura Vida outposts.
New Happy Hour at A Fish Called Avalon
For more than 30 years, A Fish Called Avalon has set the standard for culinary excellence, impeccable service and the freshest seafood delivered daily. Now the iconic restaurant can boast a Happy Hour that features some of its most popular creations, along with beer, wine and cocktails ranging from $5 to $10.
Located within the Avalon Hotel in the heart of the historic Art Deco District on Miami Beach, A Fish Called Avalon's Happy Hour takes place seven days a week, from 5:30 pm 'til 7 pm.
The Happy Hour menu, available at the bar, includes some of the restaurant's signature dishes, artistically crafted under the direction of Executive Chef Kal Abdalla. These include the legendary Bang Bang Shrimp, Globe Artichoke with a Tuscany Marinade, Copps Island Oysters, North Atlantic Wild Mussels in a light Champagne Broth, Beet & Apple Salad, and more. Happy Hour appetizers range from $6 to $15.
And what is Happy Hour without a cocktail (or two)? In keeping with the innovative culinary fare, the libations include an assortment of creative cocktails, all priced at $10. This includes the Avalon Mule, consisting of El Silenico Mezcal, Amarena Cherry, lime and ginger beer; the Ocean View, made with Tinkerman's Gin, fresh pressed cucumber and Domaine Canton; and the Maracuyă, fashioned with Three Olives Orange infused vodka, Dry Curacao, fresh passion fruit and pineapple.
There is also a choice of beers at $5 per glass, and Prosecco, French Rosé, Italian Pinot Grigio and French Merlot for $7 per glass.
Maker's Mark Special at American Social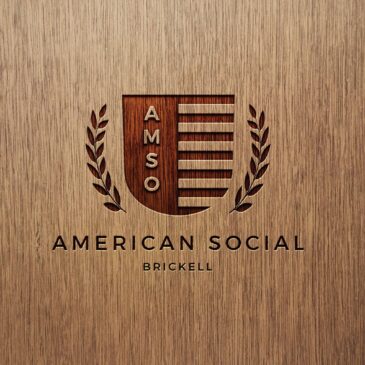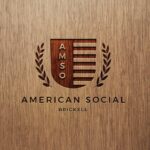 American Social made its own expression of Maker's Mark – just in time for Father's Day. After visiting a Maker's Mark Distillery in Loretto, Kentucky, the American Social team was introduced to a variety of oak staves that could create up to 1001 combinations. The team stepped up to create an expression – entirely unique and exclusive to American Social.
Guests have the opportunity to purchase AmSo's limited edition Maker's Mark expression for $75.99 from June 6 – 19.
Over Father's Day weekend, guests will get the chance to try the exclusive AmSo whiskey. Sip on $14 Private Select Old Fashioned served smoked or regular or treat the ol' man to a cocktail served in a wax-dipped Maker's glass – and keep the glass for $20.