July 1, 2022
Each Friday, we compile South Florida food-related news and events that we couldn't fit on the site earlier in the week, as well as other local news that piques our interest. Want to be included in our next roundup? Shoot us an email at bark@miamifoodpug.com.
New Vendor at Shoma Bazaar
Golden Summer Experience at Villa Azur
Half Off Mangolandias at Veza Sur
Vinya Table Host Daily Happy Hour
New Vendor at Shoma Bazaar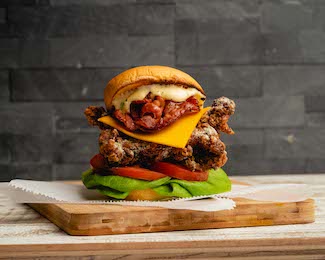 Shoma Bazaar is welcoming CHIKIN as their newest vendor on National Fried Chicken Day, July 6th.
The fast-casual concept from Scotch + Bacon Hospitality group brings crispy fried chicken sandwiches, Asian-inspired sides and refreshing salads to the stunning 13,000 square foot indoor/outdoor venue. New to the menu, and exclusively sold at Shoma Bazaar, is CHIKIN's Lunch & Brunch specials, available Mon-Sun from 11am-4pm, as well as their hot and fresh Yuzu Donuts.
To celebrate, Shoma Bazaar + CHIKIN are inviting guests to enjoy clucking good CHIKIN sandwiches at the reduced price of $10 all day long on National Fried Chicken Day. Pro-tip: From 4-5:30pm, free CHIKIN sandwiches will be passed out at Shoma Bazaar for all chicken-lovers to enjoy.
Golden Summer Experience at Villa Azur
This summer, Villa Azur Miami Beach (309 23rd St, Miami Beach), is celebrating the season by transporting guests to the French Riviera with the debut of "L'été en Or", meaning "The Golden Summer" – an elegant French Apéro experience every Wednesday through Sunday from 6:30 – 9 p.m.
Starting on Wednesday, July 6, guests at Villa Azur are invited to capture Europeans' finest qualities while taking on the tradition of The French Apéro with two unique experiences: Fresh & Flirty ($145 or $260) or Le Somptueux ($270 or $385). Both options include sipping on rosé wine while delighting in oysters and/or Petrossian Caviar, accompanied by live music and entertainment from the experienced DJ Yez & Stephen M.
Half Off Mangolandias at Veza Sur
Veza Sur Brewing Co. wants to help you get through this summer's hottest days with an ice cold cerveza on hand at an incredible price! From now until the end of August, when the temperature in Miami hits 100 degrees or more, Veza Sur will be offering MANGOLANDIA, a Mango Wheat Ale packed with fresh mango flavor, for 50% off! Why Mangolandia? Two words: Mango Season!
Just in case you're having trouble keeping track of the temperature, Veza Sur will display a physical thermometer at their Wynwood pub, giving you access to the rising temperatures every time you pass by. Once the temperature reaches 100 degrees or more, listen for the sound of la cazuela being hit (just like you hear it every time the Miami Heat win a championship), signaling that MANGOLANDIA will be on sale for the day. If you're not in the area, make sure to keep a close eye on Veza Sur's Instagram, as they'll play weatherman for you, but only when the temperature hits 100 degrees or more!
Vinya Table Hosts Daily Happy Hour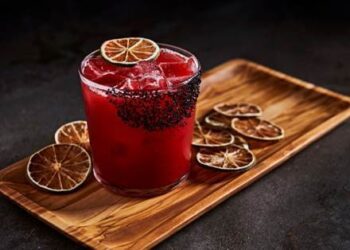 Why should happy hour stop at 6pm? Why is happy hour only a Monday through Friday thing? Well, at Vinya Table, you don't have to worry about beating the clock for happy hour, because it's every day, from 3 p.m. to 7 p.m. The new popular wine bar and bistro boasts Miracle Mile's longest happy hour with half-off select cocktails, wines by the glass, and tasty bar bites.
On the heels of The New York Times recently declaring, "At long last, happy hour is back," Vinya Table announces the launch of its happy hour – arguably the longest in Coral Gables – starting at 3 p.m. and ending at 7 p.m., seven days a week.
Focused on connecting with their locals and providing a welcoming environment, Vinya Table aptly named their happy hour the "Social Hour." Poised to become the neighborhood hot spot amongst professionals and locals, the social hour menu features a selection of Vinya Table's favorite small plates, sommelier-approved wine, and handcrafted cocktails, ranging from $4 to $10.
Food menu highlights include Manchego croquetas, Medjool dates, grilled shrimp tacos, and oysters on the half-shell. From the bar, cocktails include the crowd favorites, like the strawberry margarita, the summery Chin-Chin tonic, Ceci's rosé sangria for two, and the whitecap negroni.
Vinya's award-wining sommelier and co-founder, Allegra Angelo offers-up a "Somm's Choice" Petit Chablis, a classic dry Provence Rosé, and a bold Napa Cabernet-Zinfandel blend to round-out the social hour's wine options. Well spirits are also discounted at half-off.
Adding to its lively, high-spirited ambiance, Vinya Table features live music every Wednesday from 5 pm to 9 pm.