July 15, 2022
Each Friday, we compile South Florida food-related news and events that we couldn't fit on the site earlier in the week, as well as other local news that piques our interest. Want to be included in our next roundup? Shoot us an email at bark@miamifoodpug.com.
KC Matinette at Kuba Cabana
New Lunch Menu at Crudos Arthouse
Closing Soon: della bowls
Summer Programming at Dogfish Head Miami
KC Matinee at Kuba Cabana
Kuba Cabana has revamped and elevated their brunch menu introducing their NEW brunch KC Matinee with delicious dishes! For those wondering, Matinee is a well-known day party in Cuba where lounges bring their nightlife vibe to life early, and Kuba Cabana is doing just that!
Chef Jorge and Chef Pedro revamped the Sunday menu to enhance the dining experience further. Highlights from the KC Matinee menu include raw bar dishes such as the Beef Carpaccio (Lemon Vinaigrette, Pickled Golden Raisin Sauce, Fried Capers, Crispy Papitas, and Grana Padano), the award-winning Kubiche (Ají Cachucha Leche de Tigre, Red Onion and Cilantro), and SO much more.
No brunch would be complete without drinks! Guests can enjoy unlimited Mimosas and Cubanitas! Head on over every Sunday from 12-4 PM for a Sunday Funday like no other.
Photo credit: @MunchMiami
New Lunch Menu at Crudos Arthouse
MoonMat Hospitality, the team behind SoFlo favorites Crudo's Fusion Art Wynwood and Crudo's Fusion Art Hallandale, recently added the newest masterpiece to their portfolio with Crudos ArtHouse.
Wowing guests for dinner with a lively, delicious and immersive experience since opening in May 2022, the newest Crudos, located in the heart of Coral Gables at 2415 Ponce De Leon, has just launched a new Executive Lunch menu providing guests with prix fixe, omakase, and a la carte menu options.
The four-course prix-fixe menu, priced $35 per person, is a blend of Asian, Latin and American cuisines. Guests first embark on this gastronomic experience with the choice of an appetizer such as Edamame, Duck Gyoza, Tuna Tartare, Salmon Sashimi, or Hummus Edamame.
Main courses include the ArtHouse Burger, Steak Rice, Langostino Rice or Cioppino with bread ($8 supplement). The experience continues with a course from the grill – either Lemon Pepper Chicken Breast, Red Snapper, Grilled Salmon, Grilled Langostinos or Churrasco ($8 supplement).
If that weren't enough of a midday feast, diners can also choose two sides from any of the restaurant's house favorites including white rice, corn casserole, fingerling potatoes, glazed mushrooms, asparagus, and seasonal vegetables as well as consider sorbet or ice cream for dessert.
Sushi lovers can engage in the option to indulge with the Sushi Lunch Experience, an omakase tasting at the hands of the talented Itames (sushi chefs) in the upstairs space, AKA Room. Patrons can choose from the AOI ($32) menu that includes Chef's Appetizer, Sashimi Dish, Tuna Nigiri, Salmon Nigiri, Hamachi Nigiri, Truffled Avocado Nigiri, and Salmon Maki; or the slightly more elevated AKA ($40) option featuring Chef's Appetizer, Sashimi Dish, Tuna Nigiri, Hamachi Nigiri, Scallop Nigiri, Truffled Avocado Nigiri, Tuna Maki, and Blue Crab Maki.
A la carte lunch options include traditional maki rolls like Salmon ($14), Hamachi ($9), Tuna ($11), Scallop ($12), Blue Crab California ($12), and Veggie ($9); or 2 piece nigiri including Salmon ($8), Hamachi ($9), Tuna ($9), Scallops ($10), and Avocado ($5).
Lunch service is offered Tuesday through Friday from noon to 4PM.
Closing Soon: della bowls
After seven years in business, guests have until July 24 to enjoy their plant-based della bowls, avocado toast and gluten-free treats.
Founder Della Heiman Goldkind made this decision after much careful consideration. She says, "I've worn two hats, as both the CEO and founder of The Doral Yard and della bowls, and have decided to place my focus entirely on The Doral Yard. While I'm sad to say goodbye to della bowls, I feel so proud of the amazing community we've built and the opportunity to have played a role in South Florida's plant-based movement. The Doral Yard is thriving and we're excited to share what's coming next."
Looking forward, The Doral Yard welcomes Pokekai. With current locations in Brickell and Orlando, Doral will soon have a taste of customizable poke bowls with hearty grains, sustainably-sourced proteins, and over 15 fresh toppings and sauces.
Pokekai is slated to open later this month in The Backyard of The Doral Yard.
The Yard team is also thrilled to welcome ¡Los Buenos! by the iconic Miami brand, Coyo Taco. The ¡Los Buenos! menu–also featured at Oasis Wynwood and Moxy South Beach, as well as a location in Porto, Portugal–will bring rajas con papa, chicken tinga, seared shrimp and other tacos, along with burritos, quesadillas and bocadillos like street corn and guacamole to The Doral Yard this August.
Later this summer, The Doral Yard is also excited to announce expanded coffee options for guests with a new Juan Valdez kiosk in The Hub. Savor lattes, cappuccinos, and delicious pastries very soon.
Summer Programming at Dogfish Head Miami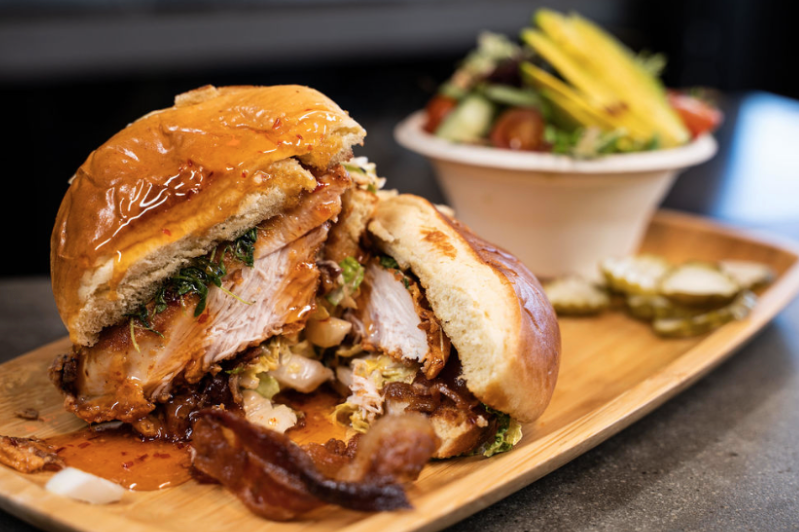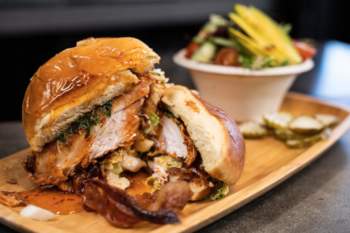 Everyone's favorite Wynwood brewery, Dogfish Head Miami, is celebrating this HOT season with a brand new summer menu including one-of-a-kind events, limited-edition beer releases (think: blood orange juice infusions, sweet orange peels, a guava sour ale + more!) as well as the official launch of the Guava Belly, an exclusive collaboration beer with Georgia-based Creature Comforts Brewing Co.
Conceptualized by Chef Charlie Mendoza-Sewell, the menu's new eats will be complemented by an array of scratch-made, beer-infused dressings and sauces prepared in-house.
To continue the buzz, the brewery is also celebrating Shark Attack Day on Saturday, July 23 with an array of activities for guests throughout the day including beer slushies, raffles and more. To accompany the day's theme, a portion of the day's proceeds benefiting the Surfrider Foundation, an environmental non-profit dedicated to protecting and preserving the world's oceans.