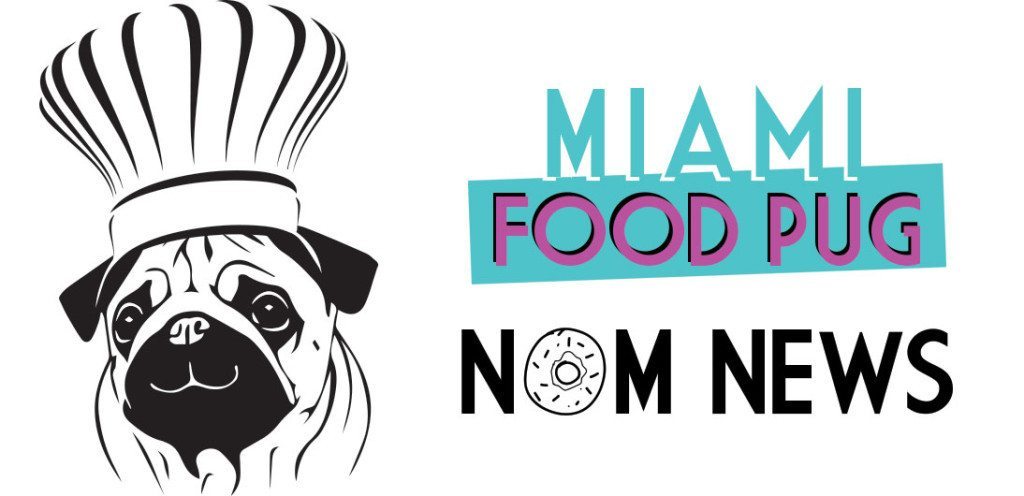 February 17, 2023
Each Friday, we compile South Florida food-related news and events that we couldn't fit on the site earlier in the week, as well as other local news that piques our interest. Want to be included in our next roundup? Shoot us an email at bark@miamifoodpug.com.
The Schmucks Pop Up at Moxy South Beach
New Weekend Brunch at Joliet
Cinco Jotas Dinner at TUR
Bulla Coral Gables Celebrates 10 Years
The Schmucks Pop Up at Moxy South Beach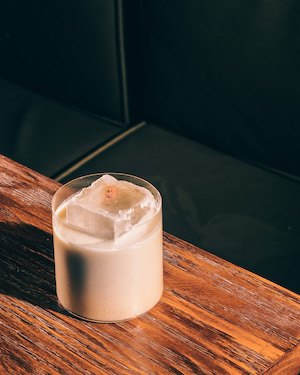 Internationally renowned and award-winning bartenders Moe Aljaff and Juliette Larrouy will be hosting a two-month residency, The Schmucks at Moxy South Beach to bring their iconic 'five-star dive bar' concept to life in Miami. Raised in Sweden, Aljaff is most well known for founding the popular Barcelona bar Two Schmucks in 2017. Aljaff and his Bar Director Larrouy led Two Schmucks to be a mainstay on The World's 50 Best Bars list, most recently reaching the number seven spot in October 2022. Aljaff, Larrouy, and most of the bartending team left the bar and business shortly after this time in pursuit of a new chapter, with sights on the US.
Their new project – entitled The Schmucks – will see this acclaimed bartending team reunite for the first time since their departure.
The Schmucks at Moxy South Beach residency will run through April 1st. The star-studded team will be bringing their innovative cocktail culture, five-star hospitality, and irreverent charm for their first-ever Residency in the US.
The Residency will intersect with some of Miami's most noted events this season, including; the South Beach Wine & Food Festival, Ultra Music Festival, and Spring Break. The Residency will commence on February 5th and will kick off with an event together with Tato Giovannoni of Argentina's Floreria Atlantico, ranked number 18 on the World's 50 Best Bars list, Additional, highly curated food & drinks events and artist collaborations will be activated throughout the residency and will be announced soon.
Photo Credit: The Schmucks
New Weekend Brunch at Joliet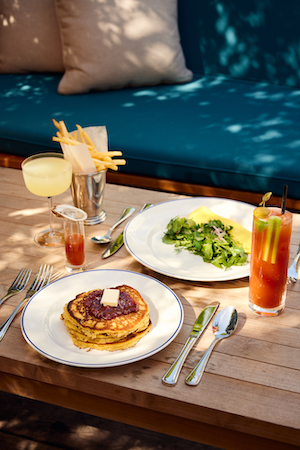 Now, brunch lovers can flock to Joliet to enjoy Chef Juan Garrido's bold, flavorful dishes for brunch. Standouts include BBQ Shrimp & Grits – New Orleans style, Worcestershire, garlic butter; Johnny Cakes –cornmeal pancakes served with smoked lemon butter, seasonal jam, maple syrup; Steak 'n Eggs – grilled skirt steak, fried egg, Joliet butter, herb salad, fries; a giant Cinnamon Roll with a cream cheese glaze served tableside, graham cracker streusel, coconut flakes; and the New Orleans inspired "Hot Brown" Toast – oven roasted turkey, confit tomato, fried egg, black pepper gravy. Joliet's signature raw bar items, appetizers and salads are also available. Boozy brunch offerings by the talented beverage team include Bloody Marys, Mimosas, French 75, Espresso Martinis; and more. Brunch is available every Saturday and Sunday from 11 am – 3 pm.
Photo Credit: Patrick Michael Chin
Cinco Jotas Dinner at TUR
Beyond its delicious a la carte offerings and sleek, sophisticated design, TUR Kitchen in Coral Gables is known for its luxurious, creative and thrilling tasting menus. Here, most diners opt for one of Chef Christian Chirino's tasting menus to best experience this restaurant, among the Gables' finest. To that end, Chef Chirino is collaborating with Cinco Jotas for a not-to-be-missed dinner on Wednesday, February 22, 2023.
Priced at $195 per person (all-inclusive), diners have the unique opportunity to embark on an indulgent and intimate culinary journey with a multi- course menu with the world's best acorn-fed 100% Ibérico Ham from Cinco Jotas paired with exquisite pours by Rioja and Nordes Gin from Spain.
Photo Credit: @rmstudiocorp
Bulla Coral Gables Celebrates 10 Years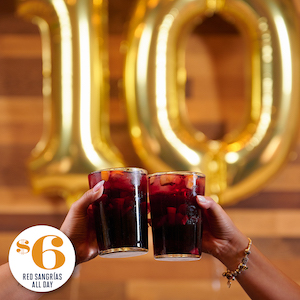 Can you believe Bulla has been on Ponce de Leon for 10 years? The location's thriving happy hours have made the years fly by and on Tuesday it'll be an extra special HH with $6 ALL DAY red sangria. In addition to the sangria promo, the coveted Coral Gables location will offer Paella on the Patio, and an extended happy hour until 10PM. The first 100 guests to arrive starting at 5pm, will get a complimentary Bougie Palmer sponsored by Tito's Handmade Vodka and be submitted for a raffle including a $50 gift certificate and more fun prizes!