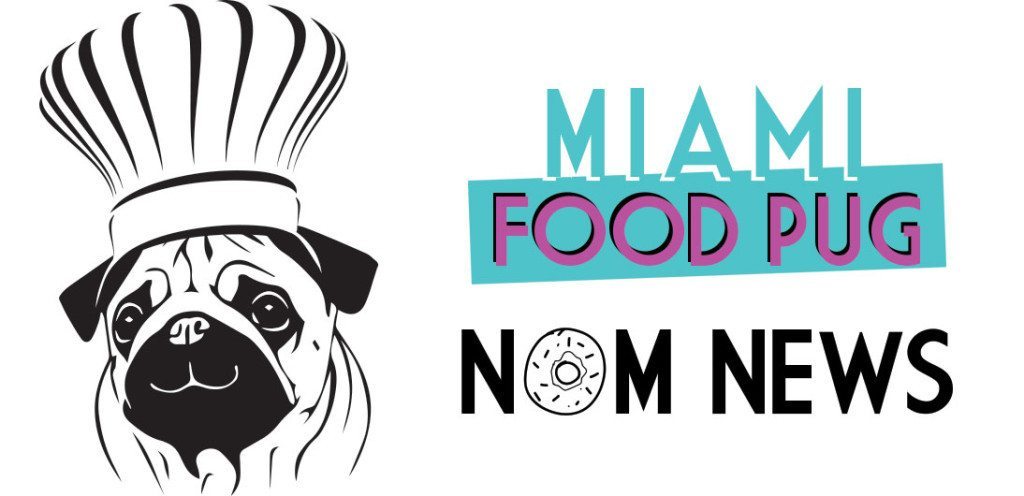 February 3, 2023
We're back after a much-needed break last week. Each Friday, we compile South Florida food-related news and events that we couldn't fit on the site earlier in the week, as well as other local news that piques our interest. Want to be included in our next roundup? Shoot us an email at bark@miamifoodpug.com.
Now Open: Giselle Miami
Midorie Opens in Coconut Grove
DC Pie co. Opens in Downtown Doral
Black History Month at Beaker & Gray
Now Open: Giselle Miami
After much anticipation, Giselle Miami, the new restaurant concept from E11EVEN and The Restaurant People, is now open in the heart of Downtown's Arts and Entertainment District. Situated on the rooftop of E11EVEN Miami, Giselle will serve as a lively addition to the local culinary scene merging Asian, Mediterranean & French-inspired cuisine, elevated cocktail programming, and exquisite design with supreme hospitality-driven service. Boasting mystique and an undeniable sense of allure, the rooftop restaurant concept will transport guests on a journey into the world behind the eyes of Giselle.
Executive Chef Gustavo Zuluaga brings years of experience to the anticipated concept and has designed a menu packed with unexpected flavors and refined Asian, Mediterranean & French influences. Guests can look forward to fresh fare enriched with Giselle's signature added flair:
• At 'First Glance,' you'll experience Bluefin Tuna Truffle Cones (Seasonal Truffles, Wasabi Creme Fraiche, 24K Golf Leaf), Hamachi Crudo (Duo of Coconut Sauces, Agrumato Lemon Olive Oil, Puffed Amaranth), Truffle Toast(Seasonal Truffles, Raclette, Cremini Duxelles); and Kurobuta Pork Ribs (Yakiniku Glaze, Togarashi, Scallions), etc..
• See her 'Seaduction' with the Chilean Sea Bass (Miso Japanese Eggplant, Baby Bok Choy, Tarragon), Mediterranean Branzino (Fennel Confit, Garlic Broccolini, Lemon Chervil Nage), and Flaming Lobster Thermidor (2lb Maine Lobster, Cognac & Dijon Mustard Sauce, Crispy Shitakes), among other options.
• Reach your 'Desire' with mouthwatering meats such as an 8oz Filet Mignon(Piquillo Peppers, Pearl Onions, and a Choice of Sauce) and Free-Range Peking Chicken (Bao Buns, Hoisin, Leeks, and Radishes).
• Experience pure 'Indulgence' with the Japanese A5 (Snow Aged A5 Wagyu, Sushi Rice, Shiso Leaves, Truffle Ponzu), and Flaming Australian Wagyu Tomahawk (Pomme Puree, Wild Mushrooms, Sauce Selection).
• Treat yourselves to ''The Finer Things' including Champagne & Caviar (Dom Perignon Vintage Luminous, 4oz Siberian 5-Star & Accompaniments), or a Seafood Tower (Maine Lobster, Stone Crab, Oysters, Shrimp).
• Or perhaps, providing the most ''Temptation' is the impeccable Chef's Selection 6-course tasting experience.
• But, don't forget to satisfy your 'Pleasures' with the Giselle's Pearls (Gold and Silver Pearls, 6 Leches Sponge Cake, Crème Chantilly) or the Flambé Roquefort Tart (Savory Cheese Tart, Grand Marnier, Cabernet Poached Petite Pears).
Giselle will lure guests in with an indulgent collection of skillfully-crafted cocktails and an extensive list of high-end wines and spirits. Her curated cocktail program is centered around names and flavor profiles that provoke thoughts of memorable adventures and nights out on the town. The refreshing 'Head Over Heels' cocktail is a mix of E11EVEN Vodka, Sparkling Rosé, Raspberry, Lemongrass & Citrus served in a glass stiletto and designed to be shared, while the French Kiss is made with Sipsmith London Dry Gin, Champagne, Lemon, Maraschino Cherry.
Giselle is located at 15 NE 11 St., Miami, FL 33132. Opening hours of operation are Wednesday – Sunday, from 6:00pm until late.
Midorie Opens in Coconut Grove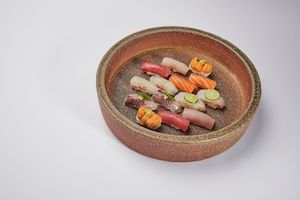 Alvaro Perez Miranda, the Venezuelan restaurateur and art dealer behind the much-acclaimed Hiyakaya and Wabi Sabi, has debuted a new Japanese restaurant in Coconut Grove. Midorie, an indoor/outdoor eatery, showcases an all-day menu of upscale fast-casual donburi (Japanese bowl meals), omakase platters, and a concise selection of sushi. The offerings feature the same combination of high-quality ingredients, craft, and authenticity that have become hallmarks of Perez Miranda's work.
At Midorie, guests can enjoy an ever-changing seasonal array of seafood brought daily from Tokyo's famed Toyosu fish market served in multiple formats. Midorie's menu mirrors its sister restaurant Wabi Sabi's: a list of a la carte sushi choices such as Golden Eye snapper, rosy snapper, fluke and other hard-to-find offerings, along with three omakase platter options. Choices of meticulously prepared bowls range in price from $17 to $24, including a vegetarian braised shitake iteration and the signature Midorie option made with tuna, salmon, crab, tobiko, cucumber, avocado, seaweed, and shiitake mushroom.
Decked in light wood, Midorie's indoor dining room offers only 10 seats to guarantee intimacy and "kikubari," the Japanese art of caring for others. The serene atmosphere is complemented by an easy listening playlist and art works from Perez Miranda's Blackship Art Gallery, a 400-fish ceramic installation by local artist Jaudtani and two 3D pieces by Rafael Rangel. The outdoor terrace features seating for 12 people.
The restaurant also offers shidashi, the curated catering of individualized Japanese dining experiences based on theme and budget for up to 12 people.
Perez Miranda is also planning a Midorie outpost in the South of Fifth neighborhood and will be opening an omakase-style eatery called Ogawa in Little River later this year.
DC Pie co. Opens in Downtown Doral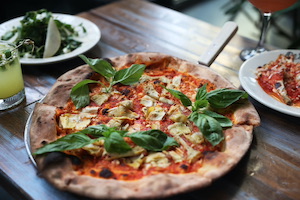 DC PIE co., the popular neighborhood pizzeria by Dominic Cavagnuolo, is expanding its South Florida footprint with the opening of a new location in Downtown Doral. The second location for the brand opened Saturday, January 28 at 8455 NW 53 Street, Suite G101. DC PIE co. brings its Brooklyn-style pizza and homemade Italian favorites to Doral's rapidly growing culinary scene.
Offering authentic and quality Italian fare, DC PIE co. Doral opened alongside a growing list of sought after restaurants and retailers in Downtown Doral. The new 2,800 square-foot location has 170 seats and features an open kitchen where guests can watch their pizzas being made from start to finish. Garage doors bring the outdoors in and a center indoor/outdoor U-shaped bar gives guests the option to imbibe inside or out.
On the menu, guests can expect to find the restaurant's classic Brooklyn brick oven pizza, made with DC PIE co.'s signature homemade sauce, Italian imported mozzarella di bufala, fresh mozzarella, and 18-month aged Parmigiano Reggiano. Guests are able to customize their pies with a selection of quality toppings including veggies, meatballs, all-beef pepperoni and extra cheeses. Personal pies and vegan pies are also available.
Other menu highlights include shareable dishes such as the pepperoni chips, grilled artichokes, and an array of fresh salads; and Italian staples including homemade all-angus beef meatballs, eggplant parm, chicken parm, meatball sandwiches and the ravioli special. For dessert, DC PIE co. Doral offers an indulgent Nutella pie, dessert calzone and mini cannolis.
Following this Doral opening, DC PIE co.'s expansion plans will continue with a third restaurant slated to open in South Beach and other exciting new concepts in the works.
Black History Month at Beaker & Gray
In honor of Black History Month, Beaker & Gray and Uncle Nearest Whiskey present: REBELS & LEGENDS, a journey into obscure figures in black history. Each week in February will feature an inspired cocktail:
WEEK 1: Black Caesar, thought to be African royalty, was a fugitive slave and pirate. He was known for his size, strength and intellect and raided ships in the keys before joining forces with Blackbeard in the 1700's. Cocktail: Black Caesar (coconut infused Uncle Nearest Rye 100 Proof, Appleton 12yr, lime, pimento dram);
WEEK 2: Ada Thompson was a domestic worker most of her life but during the prohibition era she was one of the only African American women to supplement her income by running an illegal liquor house, or speakeasy in her neighborhood. Cocktail: Sneaky Sneaky Sazerac (Uncle Nearest 1884, Peychaud's Bitters, berbere spice cordial, cardamon absinthe);
WEEK 3: In the 1800's Peter Hemmings was an African American Brewmeister that oversaw brewing and malting at Thomas Jefferson's Monticello house. Cocktail: Hemmings Float (Uncle Nearest 1884, Averna Amaro, amaretto, coconut, cinnamon, vanilla, imperial stout float);
WEEK 4: Wendell Scott was the first African American recruited into NASCAR, but before his professional racing career he had a side job running whiskey. He was only caught by the police once and sentenced to probation but continued to make runs. Cocktail: High Octane (Uncle Nearest Rye, Disaronno, Aperol, pineapple, raspberry, citrus)