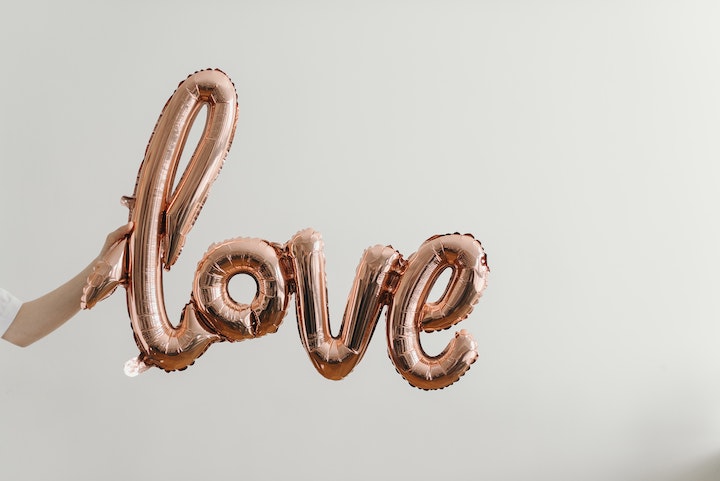 Valentine's Day is right around the corner! If you don't have any plans yet, fear not: There's still time to schedule something special for your partner in crime. Check out our roundup for local events and specials that celebrate love.
Anthony's Coal Fired Pizza & Wings
Valentine's Day is just around the corner and cupid has already shot his shot. If you've been #blessed by his aim look no further than your nearest Anthony's Coal Fired Pizza & Wings.
This year, the chain famous for its coal-fired pizza wants you to split a heart-shaped pizza and enjoy a few cream-filled cannolis complete with prosecco, or an espresso martini, at participating locations. Nothing says I love you more than a gourmet coal-fired pizza while you sip on stars.
For a cool $35, you and your boo can enjoy a totally IG-friendly treat and celebrate your love.
Beaker & Gray
Wynwood's go-to date-night spot will be open on Tuesday, Feb 14th offering their globally-inspired shareable plates and inventive cocktails from 5 p.m. to 10 p.m. In addition, Beaker & Gray will feature a special holiday cocktail and dessert:
• Cocktail Special: Velvet Revolver with Tanqueray London Dry Gin, El Silencio Mezcal, Cocchi Americano, raspberry, maraschino, grapefruit – $16
• Dessert Special: Mexican Chocolate Molten Cake with strawberry syrup & chocolate ice cream – $14
Burlock Coast
Set along the waterfront, Burlock Coast at The Ritz-Carlton, Fort Lauderdale is the perfect setting for a romantic evening. In honor of Valentine's Day, the seaside restaurant will offer a Special Valentine's Day Package from February 11th – 14th. Priced at $125 per couple (not including tax and gratuity), the package includes a Seafood Platter with 4 oysters, 4 shrimp cocktail, poke and smoked fish dip; Crustacean Kisses featuring butter poached lobster, sweet corn risotto, watercress, roasted mushrooms; and Piece Of My Heart, a white chocolate Grand Marnier mousse with Torrone pistachio. Dinner is served from 5pm-10pm.
Cafe La Trova
This Valentine's Day, celebrate love Cuban-style in the heart of Little Havana at one of the World's Best Bars! On Tuesday, February 14th guests can enjoy a four-course prix fixe ($110 per person ++) featuring flavorful dishes by James Beard Award-winning chef Michelle Bernstein and cocktails by one of the world's most celebrated bartenders, Maestro Cantinero and co-owner, Julio Cabrera, alongside his team of authentic cantineros.
The romantic, high-energy evening will include special live bolero and jazz music; a glass of prosecco or a Mojito Criollo per person; and at the end of the evening, guests will be given a rose or cigar.
Casa Bufala
Located in the heart of Miami Beach's Sunset Harbour neighborhood, the newly opened Casa Bufala offers a casual setting to savor Italian delicacies, making it a low-key yet indulgent hot spot for a more laid-back Valentine's Day.
The restaurant features a Neapolitan pizzeria and a first-class Italian kitchen to showcase staple Italian dishes. This holiday, link arms and feed your loved one a heart shaped classic Margherita Pizza ($20), made over wood fire with fresh mozzarella and basil. For couples searching for an affordable night out, stop by between 4-7 p.m. for the Italian aperitivo ritual, featuring an expansive list of bar bites from $5-$10, $6 beers, $8 wines by the glass and $8 cocktails, including the signature Aperol Spritz, Martini, Margarita, Negroni and Basilicjito, a unique twist on the classic mojito.
Carbone Miami
This Valentine's Day, the Major Food Group staple will offer an elegant four-course dinner featuring some of Carbone's most iconic dishes along with a few special additions perfect for a romantic Italian dinner. Available from 5:30PM to 11PM, the menu features the Burrata & Caviar, Caesar alla ZZ, Spicy Rigatoni Vodka, Mario's Meatballs, Whole Branzino, Scampi alla Scampi, the famed Veal Parmesan, and Lemon Cheesecake for dessert.
COTE Miami
The Michelin-starred restaurant in NYC and Miami will be offering their "Cupid's Feast" (serves 2-3) featuring a medley of meats including a lovely melody of 1 USDA Prime Hanger Steak (7 oz.), 1 American Wagyu "COTE" Steak (7 oz.) and USDA Prime Marinated Galbi (5 oz.); 1 pc. Dry Aged Beef Fat; 4 House Pickled Vegetables including Pickled Cucumber, Pickled Radishes, Pickled Cauliflower & Garlic Scape and Pickled Fennel; 1 jar of Ssamjang Sauce (6 oz.); 1 jar of Gastronome's Salt® (4 oz.); 8 pcs Lettuce; and special Valentine's Day accompaniments including a tin of Regiis Ova Golden Ossetra Caviar and "The Love Below" mocktails with Chrysanthemum, Pomegranate and Verjus (2 servings).
Fiola Miami
Cozy up to your sweetie this Valentine's Day at Fiola Miami, the third location of the brand ideated by Chef-Owner Fabio Trabocchi, who is celebrated as one of the world's leading restaurateurs. The popular Coral Gables restaurant is inviting diners to celebrate the special holiday with a Pre-Valentine's Day and Valentine's Day Michelin-caliber five-course menu curated by Executive Chef Daniel Ganem.
Priced at $185 per person on Monday and $225 per person on Tuesday (not including tax + gratuity), the menu includes a decadent desert and is sure to impress your significant other. An optional wine pairing will also be available for $155 per person. All Valentine's Day dishes will be available as specials the weekend prior (Friday – Sunday) in addition to the eatery's signature a la carte menu.
With romance top of mind, Fiola's talented beverage team has created two Valentine's Day cocktails including Love Potion #9 and the perfect gentleman's drink, Hearts on Fire, which will also be on offer in honor of the holiday.
Joliet
Celebrate Valentine's Day with a bottle of bubbly, oysters, and more at New Orleans inspired South Beach eatery Joliet. The newcomer that has taken Miami's dining scene by storm will offer a special Valentine's Day Menu by Executive Chef Juan Garrido. Designed for two, the menu is priced at $100 per person plus tax and tip and includes a bottle of Champagne.
Offerings include Half Dozen Oysters, selection of East and West Coast Oysters with a choice of house mignonettes; Choice of Local Fish Crudo, grated tomato vinaigrette, coriander OR Scallop Crudo, buttermilk yuzu kosho, cucumber, dill & fennel; Choice of Whole Maine Lobster, herb salad, lemon OR Hanger Steak, potatoes Joliet, herb salad, cajun butter.
An indulgent Chocolate Cake will be available for dessert. The restaurant's signature a la carte menu will also be available. Just in time for Valentine's Day, couples will also be able to dine poolside on the newly opened outdoor terrace.
Loews Coral Gables Hotel
This Valentine's Day, treat someone special to a delectable multi-course dining experience at Americana Kitchen. Enjoy a romantic meal, made with love by Executive Chef Ricardo Jarquin, and pair your dinner with the Feeling Pretty specialty cocktail, a refreshing, fruit forward libation made with Ketel One Vodka, peach cordial, muddled raspberries, egg white and sparkling wine.
Course 1: Crab Parfait – avocado, cilantro, crispy corn fritter
Course 2: Potato Gnocchi – Parmesan beurre monte, serrano ham, spring peas, mint
Course 3: Choice of Wagyu Tenderloin or Seared Branzino
Course 4: Chocolate Mousee Cake – Calrhona rice crips, raspberry gel
Book your experience here. $125+ per person.
Lure Fishbar at Loews Miami Beach Hotel
Enjoy seafood and bubbles for two at Lure Fishbar this Valentine's Day, featuring the award-wining restaurant's signature seafood tower and a bottle of Veuve Clicquot champagne for $199+. The decadent Plateau Royale shellfish tower features Alaskan King Crab, Seafood Salad, Tuna Tartare, a half-pound of lobster, eight oysters, six shrimp, six clams and six crab claws. Available for the entire month for those who want to keep the romance going.
MaryGold's
reat your special someone to an evening at MaryGold's, Miami's highly-anticipated new restaurant collaboration by Chef Brad Kilgore and Bar Lab. Recently opened in Wynwood, the Florida brasserie will showcase a 4-course ($90 per person ++) or 7-course ($140 per person ++) tasting menu beginning Friday, February 10th. Open for dinner Wednesday through Sunday from 5pm – 10pm (11pm on Friday and Saturday), the menu features an array of delicious dishes.
Choices include Stone Oven Baked Oysters, Line Caught Sashimi, Steak Au Poivre and Ribioliina Tortellini with Winter Black Truffle. Both menu options end with a delectable dessert of Key Lime MaryGold's with Butterscotch Custard and Salted Graham, or The Baked Florida of Tropical Fruit Semifreddo, Yogurt and Pineapple Rum.
No evening at MaryGold's would be complete without one of Bar Lab's hand-crafted cocktail creations. Sip a little romance with the Pink Peppercorn & Seasonal Fruit cocktail ($18) or the Tomato & Strawberry Mezcal cocktail ($18).
Reservations are required and can be made online at marygoldsbrasserie.com or by calling (786) 522-6601.
Negroni Bistro & Sushi Bar
Negroni Bistro & Sushi Bar is the first and only Miami location of the renowned brand from Latin America. The urban-chic destination is a favorite local hot spot in Midtown Miami, perfect for a modern Valentine's Day date. On February 14, Negroni is serving a beautiful four-course menu ($85 per person) by Executive Chef Pablo Latif, complemented by a glass of Moët & Chandon champagne.
The meal will begin with Tuna Geisha, followed by a choice of appetizer, entrée and dessert. An exclusive holiday cocktail, The Incondicional, which comes with gin, grapefruit juice and aquafaba, will be available for purchase. Live music will be playing all night long. Each couple will also receive a souvenir: a stunning envelope encased with a printed picture that they can select from the on-site professional photographer.
North Italia
This Valentine's Day, North Italia is speaking every foodie's love language by offering a special three-course prix fixe menu perfect for an intimate dinner out, or cozy day at home with some takeout and good company. Indulge in your choice of a starter such as the Wild Shrimp Scampi, Seasonal Salad or a Chef's Board for the table. To follow, enjoy a main course of the Roasted Porchetta, Squid Ink Tonnarelli or Roasted Salmon.
Finish the meal off with a dessert that's guaranteed to be as sweet as your date –– the Strati Di Torta –– which is elegantly crafted with hazelnut chocolate, strawberry, and almond cake. Oh, and did we mention North Italia's expansive wine list that pairs wonderfully with everything on the menu?!
The prix fix menu will only be available on the day we heart (2/14); however, the dishes from the special menu will be available to order in addition to North Italia's regular menu from 2/10-2/13.
Pelican Café
Located in the heart of South Beach, the newly opened Pelican Cafe will offer a three-course menu which kicks off with a complimentary welcome cocktail: Love Potion, made with Campari, orange, vanilla and salt. For the first course, guests can choose from either Scallops, Tuna and Veal, or Shellfish Salad. Main Course offerings include the Risotto, Gnocchi, Octopus, Angus Filet or Seabass. Lastly, desserts include the Tiramisu or Meringa.
Phuc Yea
On Tuesday, February 14th the Viet-Latin mainstay will be offering several chef specials, as well as menu staples perfect for sharing with your Valentine. Start your night off like Lady and the Tramp with the signature PY noodles ($14) – a house-made signature egg noodle dish served with garlic butter, oyster sauce and Parmesan cheese.
To share, options also include Millionaire Fried Rice ($26), egg, black truffle, truffle oil, black pepper, chives, quail egg; Sweet n' Sour Pork Bun ($14); and Caramelized Chicken Wings ($14), with house-made pickles. Bar maven Ani Meinhold will be curating a Valentine's Day Cocktail Flight ($45) featuring three specialty craft cocktails. Gift your crush a flight of cocktails or the Hot As Phuc Hot Sauce Trio ($30) that includes Hot As Phuc Thai Bird Chili Vinegar, Hot As Phuc Thai Bird Chili Paste, and Hot As Phuc Mama's Sauce [Nuoc Cham].
Both the Valentine's Day Cocktail Flight and Hot As Phuc Hot Sauce is available for purchase at the restaurant's online store front www.phucyea.com/store. Phuc Yea's Valentine's Day offerings will be available for dine-in and takeout/delivery via Ubereats.
Pura Vida
Because it's no secret that Valentine's Day means indulging in sweet treats and goodies, Pura Vida Miami, will be offering Valentine's Day heart-shaped cookies and promotions on their mobile orders and merchandise. As a simple but sweet way to show your love, the limited edition cookies will be available through the 14th in two flavors: Lemon Lavender and Earl Grey Rose. A complimentary cookie also comes with any order of $45+ when you order through the Pura Vida MIami app from February 12th through the 14th.
Shoma Bazaar
Shoma Bazaar is hosting a Valentine's Day Cocktail Making Class led by the talented Gio Gutierrez on February 14 from 7-9pm.
As guests enjoy passed bites from select vendors in Shoma Bazaar's romantic Bar & Lounge area, Gio will teach participants how to make the following three Valentine's Day-themed cocktails:
Rosé Royal
Creme de Cassis Granita scooped into champagne glass, topped with Rosé, lemon twirl garnish
City Crush Cosmo
Grey Goose Vodka, St-Germain, White Cranberry Juice, Lime Juice
Last Beet Of My Heart
Havana Club Añejo, Beet-infused Martini Rossi Sweet Vermouth, Martini Bitter, Cherry Bark Bitters
Tickets are priced at $50 each, and includes a gift bag at the end of the class with additional goodies. Sign up here.
Sugarcane Raw Bar Grill
Love is in the air this Valentine's Day at SUGARCANE raw bar grill who will be serving up specialty all-day plates to win over your loved ones on Monday, February 13 and Tuesday, February 14.
Begin your meal with Oysters with passion fruit-aji amarillo, yuzu pearls and heat up the night with a chilled shot of vodka. Follow with their Applewood Smoked Beef Carpaccio with truffle aioli or Four Hearts Salad with hearts of palm, hearts of celery root, hearts of romaine, artichoke hearts, pistachio, blood orange segments, pomegranate seeds, crumbled goat cheese, champagne vinaigrette.
Featured entrees will includeRobata-Grilled Lobster with yuzu kosho panko crusted Maine Lobster or Robata-Grilled 16 oz. Bone-in Ribeye with shishito-chimichurri and duck fat potatoes. Save room for a decadent dessert of Flourless Chocolate Cake with Raspberry coulis, Chantilly cream.
Tanuki
The modern pan-Asian eatery located on 11th and Alton will celebrate with a multi course menu for $90 pp and an optional beverage pairing upgrade for $56 pp. The menu will feature: Salmon Crudo with Diced Salmon, Avocado Puree, Micro Cilantro / Pairing: Piper Heidsieck Champagne Brut; Warm Mushroom Salad with Exotic Mushrooms, Arugula, Parmesan / Pairing: Duck Horn Sauvignon Blanc, North Coast CA; Crab Cake with Yuzu Kosho, Pomegranate Reduction / Pairing: Angeline by Martin Ray Chardonnay, CA; Cinderella Beef Puff with Wagyu Beef, Cilantro, Chili Sauce / Pairing: Block Nine Pinot Noir, Caiden, CA; Sushi Tasting with 5-pieces chef's choice nigiri / Pairing: Kikusui Junmai Ginjo; Surf And Turf with Short Rib, Shrimp, Chimichurri/Pairing: Chateau Greysac; and a Dessert Platter / Pairing: Dessert Martini.
TUR Kitchen
Celebrate Valentine's Day with a romantic and elegant experience at TUR Kitchen in Coral Gables. Priced at $125 per person (exclusive of tax and gratuity), Chef Christian Chirino's special three-course Valentine's Day menu will be available beginning Monday, February 13 and continuing all day Tuesday, February 14 (for lunch and dinner). First course appetizers will include Tuna Crudo, made with local chili lime emulsion, orange, capers and mint; Manti, Turkish dumplings with labneh and pistachios; Warm Vichyssoise, served with Winter Black Truffle and Jerusalem Artichoke Chips; and Grilled Octopuswith Chraimeh sauce and dukkah.
The main courses will include Wagyu Striploin with dauphinoise, truffle carrots and crispy mushrooms; Black Grouper, with sea glaze, charred corn, corn puree and pearl onions; Butternut Squash Ravioli, complemented with zucchini cream, roasted asparagus, pistachios, guindilla pearls, arugula and roasted feta; and Duck Magret, with cauliflower puree, duck confit and cocoa nibs.
Ending the night on a sweet note, guests will enjoy Chocolate Tart, made with dukkah praline, chocolate ganache and dukkah gelato; and Orange Blossom Pannacotta, served with strawberries and elderflower elixir. TUR Kitchen is located at 259 Giralda Avenue in Coral Gables.
Vinya Table
Add a twist to the usual Valentine's Day plans this year at Vinya Table. On Monday, February 13th, Chef Xabier Oteiza of Vinya Table and Chef Josh Elliott of QP Tapas will join forces to bring guests a delicious six-course dinner, inspired by the theme, "A Night in San Sebastián!" Priced at $175 per person (inclusive of tax and gratuity), guests will be welcomed with a cocktail and light bites before enjoying a menu of unique flavors that honor the culinary traditions of the great Basque region.
Expert sommelier, Allegra Angelo, will helm the beverage pairings, exploring wines from northern Spain and beyond. This unique private dining experience begins at 6:30 pm and is limited to 50 guests. For more information and to purchase tickets, please visit vinyawine.com.