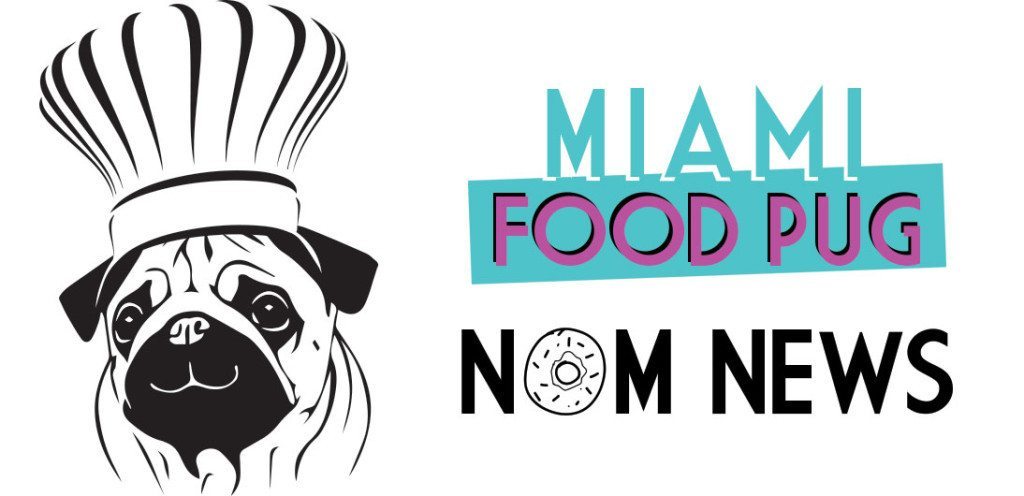 May 26, 2023
Each Friday, we compile South Florida food-related news and events that we couldn't fit on the site earlier in the week, as well as other local news that piques our interest. Want to be included in our next roundup? Shoot us an email at bark@miamifoodpug.com.
Katsuya Unveils New Programming
Macchialina Wins Big
Tanuki Opens 2nd Location
New Chef & Menu Debut at CORSAIR
Katsuya Unveils New Programming
Katsuya at SLS South Beach is relaunching this summer with a brand-new menu of rare Wagyu cuts, Miami-inspired sushi rolls, elevated happy hour specials, and a rotating selection of lavish Japanese-imported delicacies.
Debuting this month, Katsuya's exotic new additions offer gourmands a taste of the world's most-revered meats and lesser-known Japanese specialties sourced directly from award-winning purveyors, including melt-in-your-mouth A5 Wagyu from Miyazaki, Kagoshima and the Sendai regions; fatty Nodoguro and other seasonal fish flown in from Tokyo's famous Tsukiji Market; and an impressive 42-ounce Tajima Tomahawk Ribeye from Jack's Creek, a world-renowned Wagyu farm in southern Australia. All beef served at Katsuya will be exclusively sourced from Wagyu.
Additionally, Katsuya has partnered with Wagyu experts at Wagyu Sommelier to educate its team on the regions, farms and distinct qualities of Wagyu available at the restaurant, thereby offering guests educational insight in a fun, sophisticated setting.
Along with signature sashimi platters and an extensive raw bar selection, Katsuya's luxurious summer menu also features new tropical temptations like the Miami-Style Langosta Roll made with chili, cilantro aioli and succulent lobster prepared two ways; and a Biscayne Bay-inspired roll with salty and sweet ingredients like unagi, crab salad, crispy garlic, and a shishito-tomato chimichurri.
Experiential dining is a key ingredient of Katsuya's new offerings. Visually-stunning dishes like Yasufuku's Aburi-Style Miyazaki Nigiri are masterfully prepared tableside with 24-karat gold flakes, offering foodies some fabulous photo opps. At the sushi bar, guests are immersed in the sights and sounds of Katsuya. And in the newly-revamped dining room — originally designed by French artist Philippe Starck and reimagined by Avenue Interior Design — budding chefs can learn the art and centuries-old traditions of the Robata grill.
Hotel guests and locals alike can enjoy special pricing on select new dishes, craft cocktails and other delights during Katsuya's Social Hour, the restaurant's new daily happy hour available 6:00-8:00 PM at the sushi bar, cocktail bar, and upstairs in the hidden Dragon Lounge, a sultry venue perfect for group celebrations and intimate dinners.
The world-famous Katsuya brand was founded in California in 1997 by Master sushi chef Katsuya Uechi, who pioneered a new wave of Japanese-inspired cuisine that pairs American palates with fresh coastal ingredients. Like its predecessor, Katsuya at SLS South Beach continues to forge the path for unique culinary experiences with an exciting, upscale ambiance to match.
Summer reservations for Katsuya South Beach are available now online or by phone at +1 305-455-2995.
Macchialina Wins Big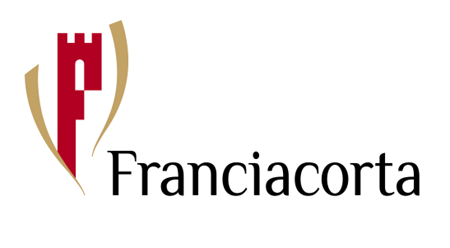 Macchialina of Miami, FL was declared the winner of the first-ever Miami Restaurant Weeks hosted by Consorzio Franciacorta April 14-30, 2023.
Following a successful walk-around tasting at Seaspice Miami on March 7, 2023, the Consorzio Franciacorta chose to keep the momentum going with the first-ever restaurant promotion involving 11 restaurants from around the city.
"We are looking to grow Miami in the next years as a key market for Franciacorta," said President of the Franciacorta Consorzio, Silvano Brescianini, "We view the city as the perfect place for Franciacorta incorporating the lifestyle, the fashion, the food, and, of course, the city's passion for great wines."
Macchialina as well as the establishments Boia De, Water Lion Wine + Alchemy, Happy Wine in the Grove, The Patio at The Continuum, Toscana Divino, Happy Wine Calle Ocho, Wine By The Bay, Chevre, Flight Wine Bar, and Ruka Winewood all promoted Franciacorta throughout the Restaurant Weeks featuring various activities such as Chef Tasting Pairings, Caviar and Wine Pairings, and special retail promotions.
Owner, Jacqueline Pirolo, will travel to Franciacorta in September 2023 for taking the top prize. "Here at Macchialina our wine list focuses on Italy; that means covering the indigenous grapes while showcasing the differences and versatility the regions around the country play," said Ms. Pirolo, "The quality offered in Franciacorta wines is remarkable. Through the many different styles offered, it's an easy choice for an aperitivo and to also carry you through a meal. I am ecstatic to finally have the chance to visit this region and see first hand what I've been learning about (and sipping on) for years."
"We're ecstatic to welcome Ms. Pirolo to Franciacorta this fall," continued Brescianini, "fostering a continued partnership with one of Miami's top restaurants is exactly what we're aiming to do here."
The Franciacorta Restaurant Weeks will also take place in Chicago this year from July 25 – August 9, 2023 following a trade seminar in the city. Sign-up opportunities are to be announced in June.
Tanuki Opens 2nd Location
Modern pan-Asian eatery, Tanuki, announces the opening of its highly anticipated second location at the exclusive River Landing Shops and Residences (1400 NW N River Drive, Miami, FL, 33125). Boasting a completely reimagined organic design, the 4,500-plus square-foot indoor and outdoor space is situated alongside the historic Miami River and marks the brand's first expansion outside of its Miami Beach flagship.
Beloved by both critics and customers alike, Tanuki has built a cult-like following for its Asian-fusion dishes, innovative craft cocktails and cool, high-energy vibe. With its newest locale, Tanuki River Landing is primed to elevate the fan-favorite concept to another level while catalyzing a new dining destination in the Mid River District.
Now open for lunch and dinner, Tanuki River Landing, led by Vladimir Kulikov, Development Director U.S., showcases both new and popular items from the beach location including sushi; premium sashimi; dim sum; rice dishes; and hot and cold noodle dishes.
Newly appointed Brand Chef Gustavo Montes, whose background was built on traditional methods of cooking Asian cuisine, incorporates a refreshing approach to the menu with twists on classic Chinese and Japanese dishes inspired by the prevalent Latin cuisine found in Miami.
Unique and surefire bestsellers include A5 Kamameshi with wild foraged mushrooms; Mango Salmon with a mango mirin glaze that incorporates delicious umami with the fresh, tangy fruit to invigorate the palate; Wet Aged Prime Ribeye with shiso chimichurri; and Black Cod served with saiyako miso glaze and hijikami, among other exciting dishes.
A Maki and Nigiri program specially curated by Chef Montes is rolling out at the new River Landing location, as he pairs freshly flown in fish from the world-famous Tsukiji Outer Market in Japan with accompaniments, sauces, garnishes and other elements with 305-inspired flair.
Guests will be buzzing about the Karaage Chicken & Watermelon Maki Roll, an imaginative take on the classic Southern dish, featuring a roll made with crispy chicken and watermelon compressed with shiso. On the dessert menu, Montes also boldly reinvents a Miami staple, flan, through his thoughtful and creamy Azuki Chawanmushi: a version of the dish made with sweet Azuki beans and savory chawanmushi (Asian egg custard) with a perfectly balanced finish to delight even the strictest fan of the original sticky-sweet treat.
An exclusive list of sake and wine, as well as innovative Asian-inspired cocktails, pair beautifully with the crave-worthy cuisine and can be enjoyed at the table or the not-to-be-missed bar area. Guests celebrating a special event or simply preferring an intimate dining experience will be welcome to book Tanuki's semi-private dining room which will accommodate intimate gatherings as well as larger parties for dinner events.
Tanuki River Landing is located at River Landing Shops and Residences at 1400 NW N River Dr, Miami, FL 33125. Photo courtesy of Bulldozer Group.
New Chef & Menu Debut at CORSAIR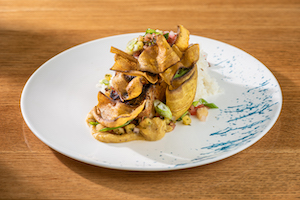 Director of Culinary Operations Chef Bill Gideon has unveiled his first menu for CORSAIR Kitchen + Bar, the acclaimed contemporary American restaurant at JW Marriott Miami Turnberry Resort & Spa. Under Chef Gideon's direction, CORSAIR now offers an all-day menu that will showcase more Floridian and regional influences with new dishes that appeal to casual and adventurous guests.
"For my first menu, I wanted to further emphasize the fresh, locally-sourced ingredients that guests have come to love, while adding nuance and creativity to each dish, so that every taste feels like your first time dining at CORSAIR," Chef Gideon says. "This combination of familiar favorites infused with innovative twists alongside bold new creations will satisfy the palette and ignite their curiosity."
Among the most delectable and inspired dishes on Chef Gideon's new menu: a Charred Broccolini Reuben that takes the beloved American sandwich and replaces the corned beef with broccolini; a Grilled Cheese that adds calabaza squash to the mix of Gruyere, Fontina and aged cheddar on country bread to add a Floridian touch; and a Blackened Grouper with coconut rice, sweet plantain puree and grilled pineapple salsa – evoking the Caribbean influences in Florida cuisine.
Table shares include the Cauliflower Steak with lemon tahini, pistachio-mint lentil salad and dukkah spice; Smoked Fish Dip with vegetables and house made crackers; and a Warm Salted Pretzel with cheese sauce and craft beer mustard sauce. CORSAIR's menu of entrees includes a cross section of irresistible sandwiches such as The French Dip and The Cuban Sandwich as well as the Simply Grilled Salmon, Filet Au Poivre, and Shrimp Scampi.
CORSAIR Kitchen + Bar is open Mondays through Saturdays for breakfast, lunch, and dinner from 7 a.m. to 10 p.m. and Sundays from 7 a.m. to 9 p.m.