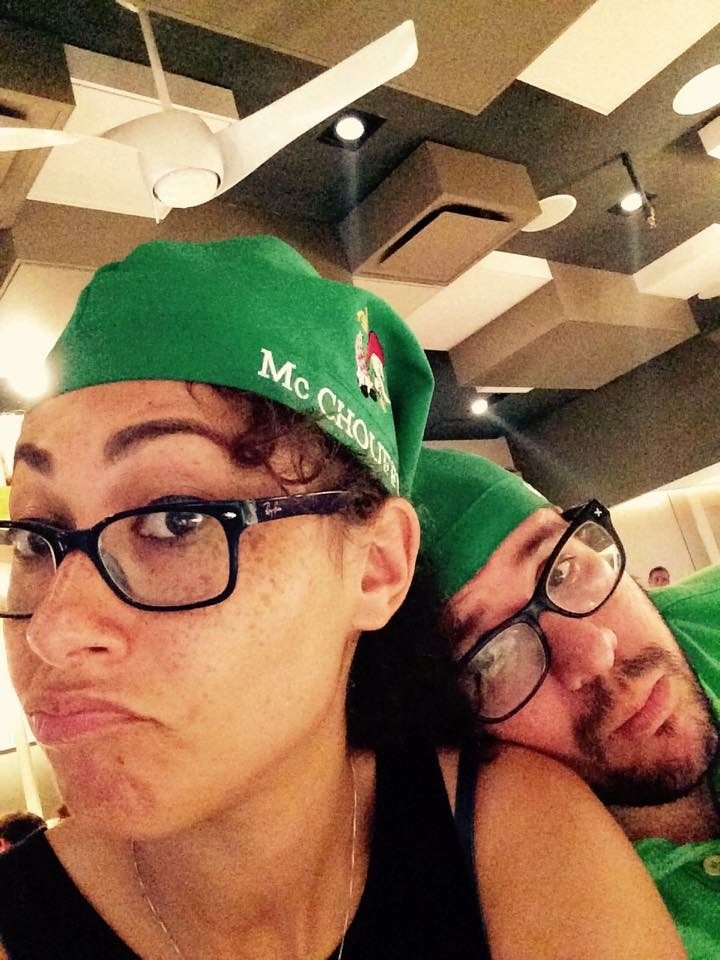 A few weeks back, our buddies at Borrowed & Blue reached out to learn more about our blog. It's probably the most in-depth interview we've ever done, so if you want to find out more about our ideal day in Miami, some of our fave restaurants, or just a little bit about us personally, you're in for a treat.
Below, you'll see the fun questions we answered from Borrowed & Blue, the online resource for planning Miami weddings. But first, a quick word from their team:
"Calling all Miami lovers near and far: Miami Food Pug is, for sure, the dining resource of your dreams. I love their wonderful sense of humor that they bring to each of their restaurant reviews and event descriptions. Whether you're local to Miami or just heading to town on vacation, check in with Geoff and Dianne's work to get a sense of the best spots to eat, drink, and play in the area. Their comprehensive knowledge of these area spots—plus, their love of pugs—make this blog such a fun follow."
– Helen, Borrowed & Blue's Miami Market Specialist
Without further ado, the questions:
1. Geoff! Dianne! How did you come to start Miami Food Pug?
It started when we were visiting a friend in Chicago a few years back. We both really like dining out, and our friend was encouraging us to start a food blog. We thought about it, but we needed something to stand out; everyone and their mother has a blog these days. We decided to incorporate our other big love — pugs — into our social media pictures to be funny, and it kinda snowballed from there.
2. Tell us about what it's like to work closely with your life partner.
It's great. We trust each other completely, so when we pitch ideas to each other, we know the other person is being honest. If something sucks, we'll speak up; if something is great, the same holds true. We also make sure to carve out some non-business time to just enjoy each other's company and strengthen our personal bond. That's critical to not driving each other crazy.
3. As Miami experts, what are some of your favorite places to bring out-of-town guests?
We live right by Coral Gables, so that's always at the top of our list. The area has quite the nightlife but it's not as hectic as, say, Miami Beach. It's a nice balance with some great restaurants. We love love love The Seven Dials and The Local — we always recommend those places. Uvaggio is another great Gables spot for our wino friends.
Outside of Coral Gables, Wynwood is probably our go-to. There's so much art and culture in the place. No matter what your interests, there's something for you. Love art? The street art is awesome, and there's no shortage of it. Love food? Beaker & Gray, The Lunchbox, Proof Pizza & Pasta, GKB and Alter are all outstanding spots. Want to just chill with friends? Wood Tavern, Gramps and breweries in the areas have you covered.
4. Any dream date restaurants that you'd like to share with us?
We mentioned them earlier, and we must mention them again: Proof Pizza & Pasta. The food and service are always on point, in our experience. And the desserts — sooooo good. SUGARCANE is another prime spot. It has a really upbeat vibe, delicious tapas and is ideal for people watching.
Our last recommendation: The River Seafood and Oyster Bar. It's a neighborhood landmark, and it's a staple for good reason. Exceptional bites, tasty drinks and just an overall ambiance that screams "Most epic first date ever."
5. Describe your ideal day in Miami.
Obviously, our ideal day in Miami involves a lot of food. We'd probably grab breakfast at Latteria Italiana in Midtown Miami and then head over to Purdy Docks for some kayaking. After that, lunch on the beach is a must. Depending on our mood, we would opt for something like Shake Shack for a quick bite or Lucali for a sit-down lunch involving some of the best pizza in town.
We'd then probably catch a movie on Lincoln Road, do some people-watching in the area and then grab dinner closer to home. Maybe The Seven Dials or Bulla if we're feeling fancy.
6. Do you have any suggestions for fun day trips in the Miami area?
We're huge fans of outdoor activities — gotta burn off all those calories — so a day at Oleta State Park in North Miami would be a fun day trip. It's so calm there and you can have a picnic, go kayaking, soak up some sun or just hang out.
If you're in South Miami, the Upper Florida Keys are just an hour away. You can grab some delectable seafood in Key Largo or Islamorada, scope out the area and be back in half a day. It's super convenient, and you get a taste of the Keys without having to drive the four hours to Key West.
7. What is your favorite neighborhood to explore?
Wynwood. Every week, there's new art or some new restaurant, bar, lounge or something opening up. We never get bored of the scene there since it's a unique adventure every time. If there's one neighborhood to explore in Miami, it's this one.
8. What sets Miami apart from other cities you've lived in?
It really is a melting pot. You hear that term thrown around all the time, but Miami truly is a place where you can find a smorgasbord of cultures. For us, it's most evident in the food scene here. There's Cuban, Indian, Italian, American, English, Spanish, Thai, Mexican … no wonder we've gained weight. But in all seriousness, Miami is its own little country. Head one county over, and it 's a different world. We love the diversity here.
A big thanks to Borrowed and Blue for taking the time to interview us. Make sure you check them out as a go-to guide for finding Miami wedding catering. It's just a matter of time before we need them for our own wedding.