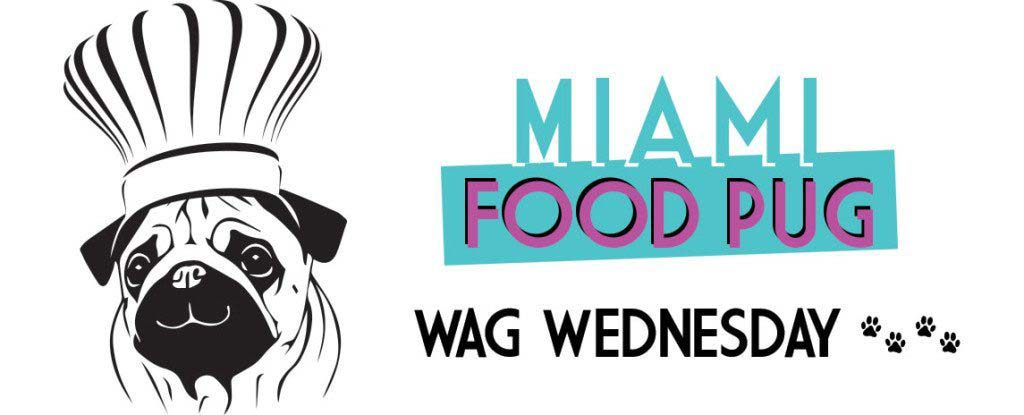 Over the past year, we've interviewed many members of the hospitality industry, and one constant among the interviewees has been a profound love for their pets. We thought it would be great to share this love with our readers. That's why we launched an ongoing feature called "Wag Wednesday" to showcase industry peeps and their pets. Know someone who wants to be featured? Email us at bark@miamifoodpug.com.
This week, we're featuring Evan Benn, Editor in Chief of INDULGE Magazine, and his "Miami mutt," Belly. 
Your Name: Evan Benn
Your Pet's Name: Belly
Sex: Male
Age: 4
Breed: Mix. We call him a "Miami mutt," but sometimes get bad looks for that. We think he's got some Maltese, poodle and terrier in him.
How did you come to own your dog? What drew you to him?
My family had Chili, a German shepherd, when I was growing up, but my wife had never lived with a dog and was somewhat hesitant at the idea of bringing one into our home. We set some parameters that we were comfortable with, including size (under 30 lbs.), age (no puppies, please) and traits (the less shedding, the better). And we sort of just kept an eye on PetFinder and visited local shelters looking for "the one."
Then one day we went to an adoption event at a pet store near us hosted by Born Free, a no-kill, nonprofit rescue group in Homestead. A lot of the other dogs were roaming around and playing with volunteers, and we saw this quiet little guy by himself in a crate; we asked to walk with him. He was totally scraggly and marked his territory every two steps, but something about him just told us he was special. We filled out the paperwork on the spot, took him home the next day, got him cleaned up, and he's been an integral part of our family ever since. (And that whole marking thing miraculously stopped almost immediately.)
What's the story behind your dog's name?
The name he had at the shelter was Billy. (His backstory was unclear as to whether he was picked up as a stray or given up by someone who couldn't care for him.) They said if we changed it, we should make it similar-sounding. And his favorite move, right away, was rolling over for a belly rub, so we thought Belly was fitting.
How would you describe your dog's personality?
Belly's very chill, very easygoing, very loving and sweet. He's not a guard dog. About the most aggressive thing he does is chase lizards outside. It's usually a futile effort, but on the rare occasions he catches one, he lets it go.
How has owning a pet made your life richer?
Besides the instant gratification that comes from a wagging tail to greet you in the morning and at the end of a long day, dogs are so good at providing unseen benefits. Simple things like walking Belly are very calming to me and a good reminder to breathe and relax. And having shared responsibilities, like coordinating the dog's schedules and feeding routines, is a good exercise for my wife and me in compromise and communication — things that are fundamental to any relationship.
It's said that dogs reflect their owners and vice versa. How does this apply to you and yours?
Belly and I both approach everyone we meet as a potential friend. I like that better than growling.
Tell us a funny story about your and your dog.
We were definitely those dog parents who freaked out in the beginning about any possible ailment. We took him to the vet once because we thought he had a leg injury, another time because he was sneezing a lot, and again when we were worried he had a cyst on his head. The diagnoses: a stubbed toe, mild allergies and a pimple. He's resilient; we learned to chill.
We follow a lot of dog social media accounts like Doug the Pug and Menswear Dog. Do you? Which are your favorites?
I follow @miamifoodpug, obvi. You guys stand out in a crowded field of Miami food bloggers because you really care about what you do and the people you cover, the information you put out there is super-useful to Miami eaters and visitors, and who can get enough of sexy food pix with pug watermarks? In non-food pet accounts, I am partial to @flynn_thecorgi and @ceilithepuppy.
See past editions of Wag Wednesdays here.